originally published: 03/23/2020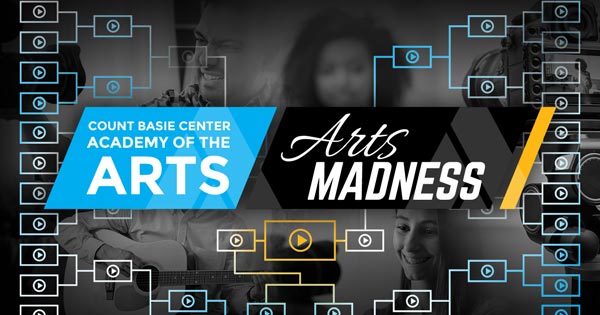 (RED BANK, NJ) -- The Count Basie Center for the Arts kicked off a three-week tournament called Arts Madness on March 23. They are soliciting one-minute videos from musicians, local bands, dancers, actors, comedians, musical theatre performers and all others aged 10 and up. 32 of the best videos will be entered into the tournament, with the first selections in the "round of 32" debuting on the Basie's social media channels the week of March 23.
From there, it's up to the general public: voting rounds will be posted, and fans and artists alike will cheer on their favorites, moving all the way down to a Final Four and championship round in April.
Potential qualifiers include Musical theatre actors submitting a snippet of their favorite song; a violinst, pianist, flautist, drummer, guitarist, or any instrumentalist who wants to share a piece; a burgeoning comedian, lyricist, singer/songwriter; or spoken word poet; dancers; local bands; or all other performance artists.
Interested performing arts may submit a video (or link) to artsmadness@thebasie.org. Full info is available at www.thebasie.org/madness
Count Basie Center for the Arts is located at 99 Monmouth Street in Red Bank, New Jersey.
---