originally published: 03/18/2020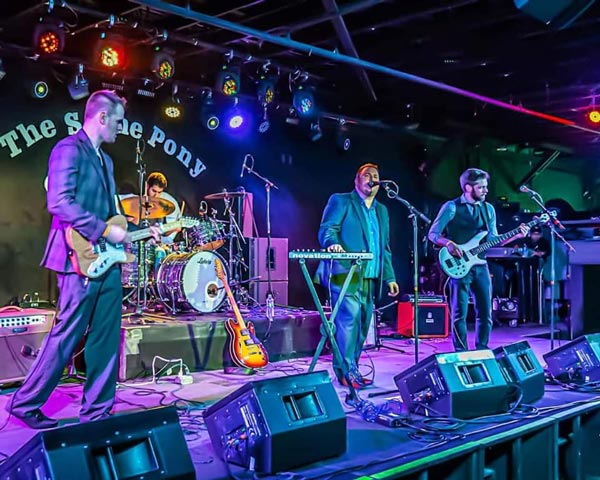 New Brunswick-based alt-rock veterans The Clydes continue to work hard in support of "Old-Time Monarchy," their third release for North Jersey indie Mint 400 Records. Upcoming shows include April 3, Stosh's, Fair Lawn; April 17, The Asbury Soundbooth, and May 22, The Asbury Rooftop. PHOTO BY FRANK CERVONE
While I was growing up in the 1970s, The Brothers Johnson were an L.A.-based R&B band who offered me and plenty of others some good ol'funky times. I have had as much fun watching East Brunswick-raised brothers Brent and Brian Johnson's 11-year rise within the veteran New Brunswick alt-rock outfit The Clydes. With co-founding bassist Andrew Lord and relatively new drummer Pete Gambino, lead singer-rhythm guitarist-keyboardist Brent and lead guitarist Brian have grown not only in skill but also professionalism, as well as respect and stature throughout the rich and fertile New Jersey music scene.
Now on North Jersey-based Mint 400 Records and represented by Jersey Shore-based 3143 Artist Management, The Clydes have a handle on a large swath of the Garden State and are looking to continue to grow into a regional touring act. In the meantime, they'll play April 3 at Stosh's, Fair Lawn, with Even Eden, Anna Oh, Don Ryan and Paul from the Internet; April 17, The Asbury Soundbooth, with Jesse Beeze, The Well Wish and The Belveduo, and May 22 on The Asbury Rooftop opening for The Abbey Road All Stars' recreation of The Beatles' iconic rooftop concert in celebration of the 50th anniversary of their "Let It Be" LP. That event kicks off the New Jersey Stage-sponsored Makin Waves Fest 2020 taking place through June 1 in Asbury and Long Branch.
On behalf of his brother and other band mates, Brent chatted about the band's past, present and future. Enjoy!
The Clydes have been together a long time with three-fourths of the original membership intact. How did Andrew connect with the Johnson brothers?
Brian and Andrew were both high school volleyball players who played for opposing teams in Central Jersey — Brian for East Brunswick and Andrew for South Brunswick. And later, Brian, Andrew, and I went to college together at Rutgers University. There, we all discovered we had similar tastes in music — Prince, Roxy Music, David Bowie. I even used to chat about bands with Andrew as we shaved next to each other in the hallway bathroom when we lived in the same dorm.

The Clydes got their name from a favorite basketball player, Walt 'Clyde' Frazier. What bands were the Johnson Brothers in before The Clydes, when, and did any of them include Andrew?
Brian and I formed our first band when we were just kids growing up in East Brunswick. It was called The Dials. But it never made it past our living room.
In college, we fronted a band with friends from high school called Rest Assured. We played around Rutgers and even finished second in the school's battle of the bands in 2004.
But while Andrew went to Rutgers and we were friends, we didn't play with him until after college. Around 2009, Brian and I wrote a bunch of new songs and were looking to record them. But we needed a bassist, and we recruited Andrew. He was really a guitar player, but he quickly learned bass. And he has infused our songs with creative bass lines ever since. He's also contributed some great lyrics throughout the years.

What bands were Andrew and Pete in before The Clydes and when?
Andrew and Pete played in a number of local Jersey groups. Andrew was a member of Across Four Aprils. Pete was a member of Beneath the Serenity and The Famous Few. But Andrew has been with us since we formed in 2009. And Pete joined us last year.

Which brother gravitated to music first and how, and why did that inspire the other?
I'm two years older, so it was probably me. I took piano lessons around age 9 because I loved Billy Joel and Elton John. Guitar lessons came a few years later after I fell in love with The Beatles. Brian quickly took guitar lessons after that.
But there was always music in our house. Our dad is a former radio DJ who often taught us music trivia. Our mom had a big record collection that we devoured in the living room.
Brian and I were always playing music in the house, teaching each other guitar riffs and writing songs at a very young age. It was never a question that we would form a band together.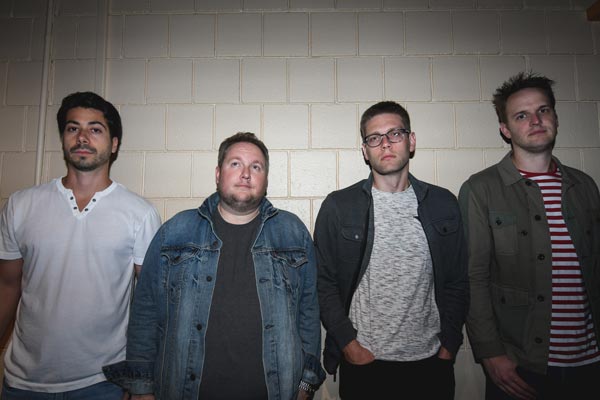 The Clydes, from left to right, drummer Pete Gambino, lead vocalist-guitarist-keyboardist Brent Johnson, bassist Andrew Lord and lead guitarist Brian Johnson. PHOTO BY AL MANNARINO
What music act are the brothers' greatest common ground, why, and what influence did they have on both of you?
The two bands we both love the most are The Smiths and Roxy Music. Both taught us that you can be unique and still melodic — interesting both visually and musically. Yes, you're immediately struck by the way Morrissey, Bryan Ferry, and Brian Eno look. But their songs are also incredibly well-constructed and catchy. They taught us how to find different chord changes and songs structures and how to write lyrics that defy cliches.
You can also hear Johnny Marr's influence in the way Brian plays guitar. I always say his playing is a mixture of Johnny Marr, Jonny Greenwood, and Lindsey Buckingham.

What was it like growing up together playing music, and what is the fondest memory you have that?
Our bedrooms were next door to each other growing up, and often one of us would be playing a riff or a chord change or something, and the other would come in to help finish it. It was always very natural.
I often say: Having brothers or family in a band creates a bond that helps keep the group together. We all hear about the brotherly fighting in The Kinks or Oasis. But those bands lasted longer than most. It's because you have a built-in connection. Brian pushes me to be better and vice-versa because we care about each other.

When and how did Pete join the band, and what does he bring that wasn't there before?
By day, Brian and Pete are teachers at the same high school. And a while back, Brian and I were playing an acoustic set at Maxwell's in Hoboken just before it closed. Pete was playing in another act that night. But he offered to sit in and play drums without ever playing with us before. It was immediate chemistry. Pete is the kind of drummer who can provide a dependable, creative beat to any song, but he also has great musicality because he's a songwriter too. He just gets what we're trying to do.

The Clydes have been releasing LPs, EPs, singles and videos since 2010. How and why have you gotten better at it over the years, and has that translated into respect among peers?
For us, it's always been about the song, the song, the song. All the great bands have good songs first. We care deeply about writing good songs and then focusing on the sound that fits those songs. I think that pursuit has kept us going. Songwriting hasn't grown boring, and we keep trying to test out new styles, new instruments, and new kinds of stories in our songs.
I think we've also become a much better live band. Our shows now are the most energetic they've ever been.

What is the greatest impact Mint 400 Records and 3143 Management have had on The Clydes, and why?
Both Mint 400 and 3143 are great because they care about the musicians they represent. It helps that both are run by smart, thoughtful, and incredibly hard-working people — Neil Sabatino and KL Martin, respectively. They push us to take chances and protect us when we do.

Could you accomplish those things without them, why or why not?
It's definitely become a lot easier to be a band with them supporting us. I truly think we've made more interesting music since Neil began producing us, and he's directed a number of cool music videos we couldn't have made on our own. And I truly think we've taken great steps forward since KL began managing us.

Of those accomplishments, which has had the most impact on The Clydes, and why?
Releasing three records on Mint 400 has given us more exposure. We have a place to make music for a label that will record it and promote it. And our last album especially, 'Old-Time Monarchy,' is our best collection of songs. I'm not saying that because it's the most recent one. I've never been more proud of a piece of music we've made.
And then, hats off to KL at 3143 for getting us booked at The Stone Pony for a third time earlier this year. It's always a thrill to play such an amazing, historic stage. And this time was our most electric set there. We hope to play there again soon.
What are you most proud about 'Old-Time Monarchy' and why?
It's both melodic and mature, which is not easy to pull off. Brian's riffs are among his catchiest, but the lyrics also delve into some topics we've never touched before — like one song about a royal wedding and another about a shotgun wedding. There's also some surreal lyrics in songs like 'Beggar Ballin'' and 'Tobacco Point' where I was trying to focus more on how the words sounded than what they mean. And we used more keyboards and synths than ever before, which adds new color to the music.

Did the self-imposed exile of Prince Harry and Princess Meghan give the title track a bump or at least another avenue of promotion?
It didn't hurt. The title track came about because Brian was playing this incredible riff over and over, and I started singing about doom at a royal wedding because Meghan and Harry were getting married at the time. I kept thinking: You don't need the extravagance of such an affair to be happy. Then, soon after the album was released, Meghan and Harry announced they were leaving the Royal Family. That's serendipity for you.
How do you plan to continue to promote 'Old-Time Monarchy'?
We're about to make another video for the title track. We also released a lyric video for '27/31.' And there will likely be another single or two from the album. Plus, we're playing a bunch of shows throughout the year in New Jersey and beyond.

How do you plan to follow it, and are you performing live any new songs being considered for that project?
We've already written a slew of new songs that we've been rehearsing and sprinkling into our sets. One is called 'Because, Because' — we played it at the Pony in January. It's a little dark at first but explodes into a very hummable chorus. And it's a love song, which is rare for us.
When and where will you be performing through summer, and which of those shows are you looking forward to most and why?
We're playing Stosh's in Fair Lawn on April 3 and the Makin Waves Fest in Asbury on May 22. There will also be other shows in New Jersey and New York. More details to come soon.
The Saint has always been very good to us, and it's a great, intimate place to see original music. And Stosh's has become a cool place to play in North Jersey. Neil from Mint 400 puts on a lot of cool shows with great acts there throughout the year.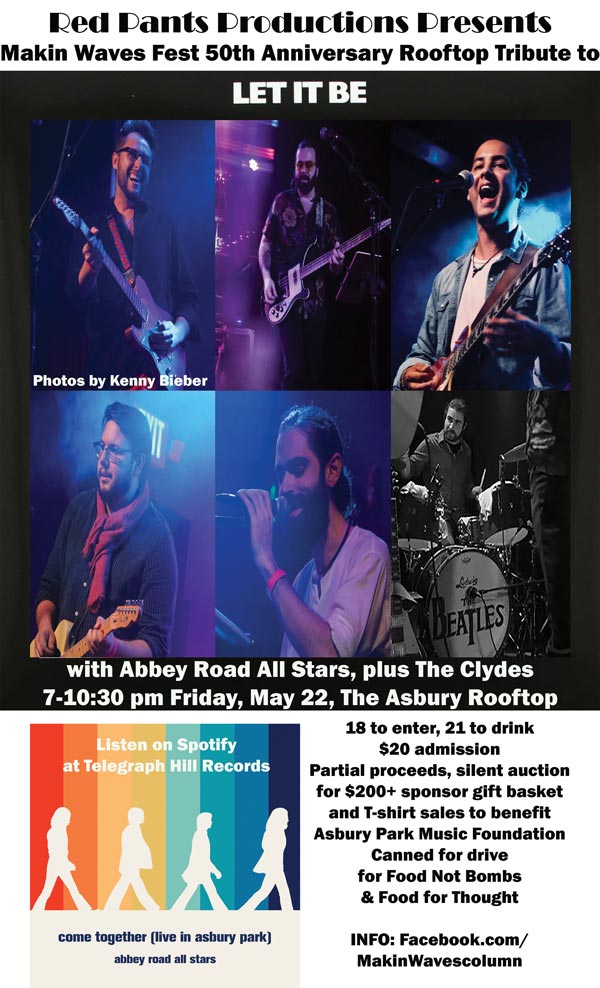 What do you think of Makin Waves Fest and the rooftop show you'll be playing during it and why?
We appreciate outlets like Makin Waves because New Jersey has a great music and art scene, and coverage is important to share it. Music and entertainment journalism is important to make sure bands don't go unseen. And having a festival like this helps even more.
Plus, having a show focused on The Beatles' 'Let It Be' album is great. It's not their best work, but it's a Beatles album. So it's better than most groups' best work. We get behind any record that opens with 'Two Of Us.'

Like Makin Waves, The Clydes are based in the New Brunswick area, but also like Makin Waves, you've been active a lot more in the Asbury Park area simply because there's so much more original rock music in AP than in NB. What do you think of the state of both music scenes?
It's amazing to see how much Asbury has grown in recent years. And it's a place where there's never a shortage of original music. That's special. It feels like a movement.
New Brunswick was similar for decades, but it has become less vibrant in recent years. We miss the days where we'd play for packed crowds in the basement of The Court Tavern. Seeing that come back (again) would be great.

New Brunswick has produced more national acts than Hoboken, Jersey City, Asbury Park and Trenton combined. Would you like to be one of them or are you content keeping The Clydes a regional indie effort that sustains themselves? Either way, why?
We love being part of a state where original music gets cranked out consistently. Seriously, New Jersey is one of the best music states in the U.S. But we'd also love to expand our audience. When you're writing a song, you never know which one might catch on. That's why you keep writing and why we keep going.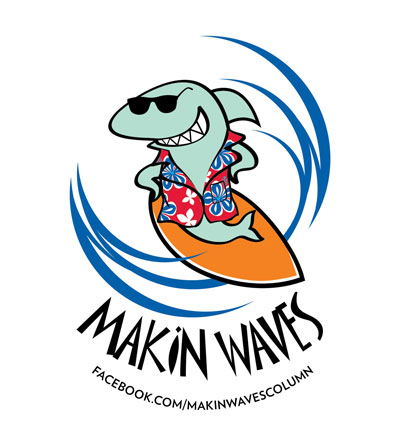 Bob Makin is a reporter for MyCentralJersey.com and the former managing editor of The Aquarian Weekly, which launched this column in 1988. Contact him via email. And like Makin Waves on Facebook.