originally published: 03/13/2020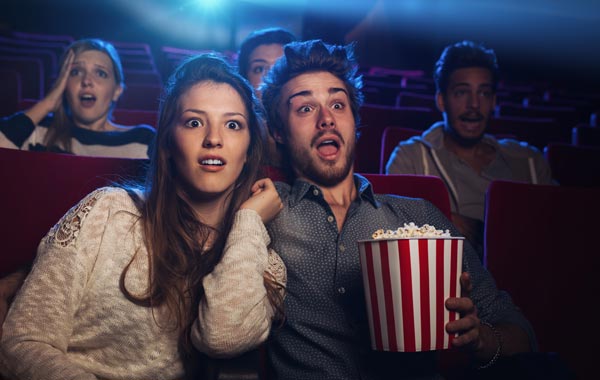 (ASBURY PARK, NJ) -- In light of the global COVID-19 crisis, and the announcement from the Governor of the State of New Jersey further restricting public gatherings, the 2020 Garden State Film Festival will be presented virtually through parallel and dynamic digital streaming. Physical festival events such as industry activities, workshops, and panels have been canceled. Films will now be showcased online out of concern for the health and safety of our attendees.
The 2020 Garden State Film Festival, which brings over 25,000 attendees annually, was set to take place over 5 days in Asbury Park, from 25 - 29 March 2020. Although, GSFF is an international festival that screens locally within venues found in the city of Asbury Park, NJ, and the surrounding area the GSFF 2020 digital experience provides a new reach, global in scale, to a legion of film fans who can now view the festival on their computer, tablets, or mobile devices and from the comfort of their own homes.
GSFF will be honoring official GSFF 2020 screening tickets in 2021.*This does not include the black-tie awards dinner.
Celebrating its 18th anniversary, the artistic philosophy of the Garden State Film Festival is rooted in the celebration of the independent film genre and underscores this spirit through dramatic screenings and unparalleled film collaborations attracting a diverse audience. Each year the Garden State Film Festival presents world premieres, high-profile films, industry panels, and celebrity guests. The 2020 edition, now launching via live stream, will deliver a five-day online program stocked with over 240 films, for accredited ticket buyers to view virtually within the wake of coronavirus considerations.
"Although impacted by the coronavirus pandemic which has forced the cancellation of the Garden State Film Festival's annual event, we believe the opportunity to venture into a new digital frontier can serve as a blueprint for festivals worldwide and we look forward to bringing global film fans GSFF 2020 through online and virtual exposures. It promises to be a celebration of independent film that you can't see anywhere else, all from the comfort of your home. Our top priority remains with the health and well-being of all those involved in this global event" - Lauren Concar Sheehy, Executive Director, Garden State Film Festival
---
The article continues after this ad
---
---

"Our frontline efforts right now must be to aggressively mitigate the potential for exposure and further spread. We are taking this step because social distancing works. It is our best chance to 'flatten the curve' and mitigate the chance of rapid spread, so we can respond to this public health emergency in an even more focused manner." – Governor, State of New Jersey, Phil Murphy

"At this time of uncertainty, when many are exercising social distancing and refraining from public gatherings, our Board of Directors wants to assure the opportunity for our fans — both in New Jersey and globally —the opportunity to experience the high-quality entertainment our festival offers in a safe and meaningful way", comments Garden State Film Festival Chairman, Eric Ascalon. Towards this, we intend to "virtually" reach not only our traditional attendees but also an expanded homebound audience yearning to interface with the arts."
The Garden State Film Festival presents 2020 virtual screenings of films with notable talent including Linda Hamilton (Terminator), Matthew Modine (Stranger Things), Robert Patrick (Terminator), Ashley Platz (Grey's Anatomy), John Goodman (The Big Lebowski), Harry Shearer (Spinal Tap), Jodie Foster (Taxi Driver), Dash Mihok (Ray Donovan), Uzo Abuda (Orange is the New Black), Vanessa Williams (Ugly Betty), Richard E. Grant (Star Wars: The Rise of Skywalker), Devon Bostick (Diary of a Wimpy Kid), Frank Stallone (Rocky), Cathy Moriarity (Raging Bull), M Emmet Walsh (Blade Runner), Xander Berekely (The Walking Dead), Jessica Siposa (DC's Legend's of Tomorrow), Joel McHale (Ted), Jason Mewes (Clerks), Supermodels Chanel Iman, Elsa Hosk, Jessica Stam, Nadine Leopold, John Carter Cash (Walk the Line), Sam Waterston (Law & Order), Catherine Hardwicke (Director, Lords of Dogtown), Lou Gossett Jr (Officer and a Gentlemen), Evan Handler (Sex and the City), Garry Pastore (The Deuce, The Sopranos), Barry Primus (The Irishman), Charles Dance (Game of Thrones), Chad L. Coleman (The Walking Dead), Kevin Kane (Inside Amy Schumer), Natalia Dyer (Stranger Things), Tate Donovan (Argo), memorial music video for Avicii by Chris Martin (Coldplay), original music by Patrick Carney (The Black Keys), The Bouncing Souls, members of Gaslight Anthem, Travis Barker (Blink 182), James Arthur (musician), NBA superstar Shaquille O'Neal's award-winning film Foster Boy, and many more.
TICKETS The Garden State Film Festival's 2020 virtual film event will remain the same with film blocks beginning and ending during the previously scheduled days and times. You can buy a ticket for an individual film block or get the unlimited all-access Multi-Pass for maximum fun. With the multi-pass you can view as many films as you wish during the days and times listed in the film block schedule.  All ticket holders will be able to log into the live stream with a unique password.  Our patrons and fans who have already purchased the Mulit-Pass are still able to see all film blocks during the scheduled time. All screenings are presented in Eastern Standard time.
Single block screening tickets are $15, All access Multi-Passes are $55.