By Spotlight Central
originally published: 03/12/2020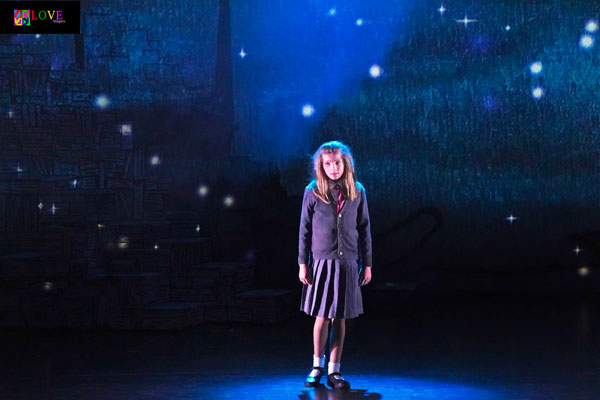 Broadway comes to the Jersey Shore with a new production of Roald Dahl's Matilda the Musical at Deal Park, NJ's Axelrod Performing Arts Center. The show runs from now until March 22, 2020 with an appealing line-up of weekday and weekend performances.
Produced by Andrew DePrisco and Jess Levy, the production is directed and choreographed by Luis Salgado. Salgado made his mark with Lin-Manuel Miranda on the original Broadway production of In the Heights working both as a cast member and as an assistant choreographer. He also acted in such Off-Broadway productions as Fame, danced in films like Across the Universe and American Gangster, and worked as an assistant choreographer on the popular Disney film, Enchanted.
Before tonight's March 6, 2020 preview performance of Matilda the Musical, we chat with Salgado who tells us about his vision for this production.
Explains Salgado, "This show is the battle between technology and literacy. Matilda's parents are locked into TV and fame — there's this conflict between what they're doing and Matilda's life which involves reading and learning — so the show has a strong pro-literacy message."
Continuing, "This production is a labor of love where we want to empower the next generation of young artists. We have a diverse cast of 36 including 20 kids, which is a mix of both equity players and local children," Salgado reveals, "We built this show in nine days. The energy of the children is amazing. We are very proud of all of our young actors — our 'little giants' — and I'm so grateful for their commitment and hard work and, also, for the support of their parents."
---
The article continues after this ad
---
---
"This is my fourth show at Axelrod PAC," acknowledges Salgado, pointing out, "This is a great venue in which we can play and discover — a place where we can take risks, see what's going to land, and experience the wonder of theater," before concluding, "I'm very proud of our creative team as well as the entire cast of Matilda."
Next, we chat with two cast members from Salgado's production — Elizabeth Ritacco and Elle Graper.
Declares Ritacco, who portrays the beloved teacher, Miss Honey, "Luis Salgado's vision for this show is just incredible!"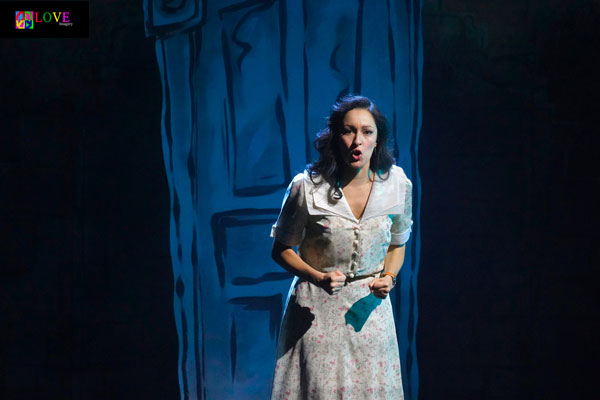 "Audiences ought to come out to see this show for its production values — we operate on a Broadway level," notes Ritacco before adding, "They should also come see the sheer unbridled energy of the children. They are so happy to be here and are so talented."
Elle Graper, who plays the title role of Matilda, exclaims, "It's an honor to play Matilda!"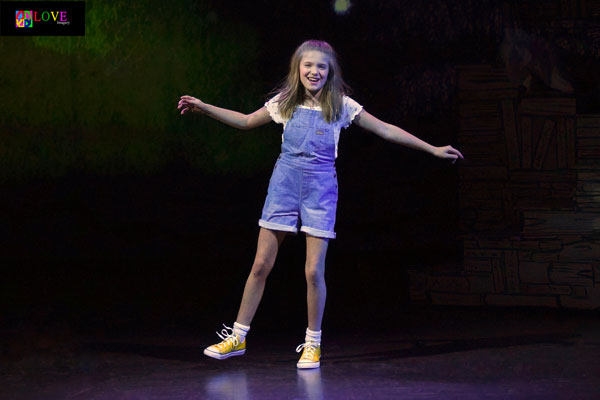 Acknowledging, "I just moved here from Houston, TX and this is my first show in New Jersey," Graper asserts, "The cast is just so amazing!"
Inside Axelrod PAC's modern Vogel auditorium, the lights dim and the show begins. Ominous music rises as lights swirl and projected images drift across the backdrop like paper dolls.
Soon, we meet the Wormwoods, who are about to have a baby. When Mr. Wormwood (Stephen Petrovich) first sees his new daughter — the infant Matilda — he wholly dismisses her because she is a girl.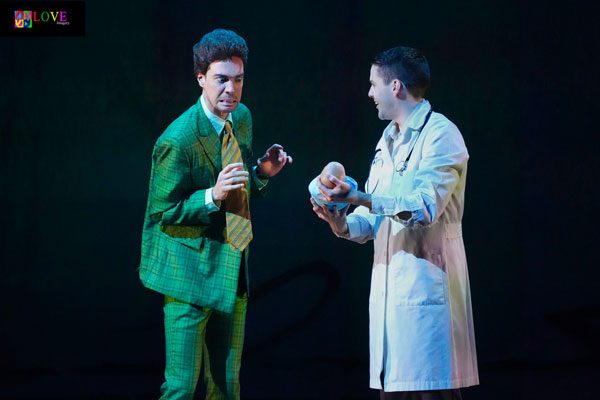 Matilda (Elle Graper) unhappily grows up in the Wormwood household, where her self-absorbed parents are oblivious to her intellectual brilliance.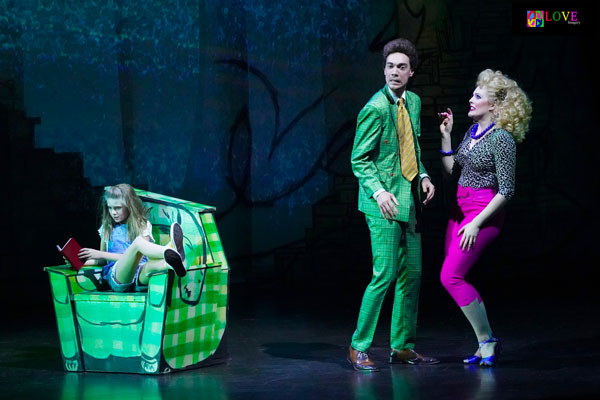 Despite her parents' addiction to television, Matilda becomes a voracious reader with a vivid imagination and vocabulary.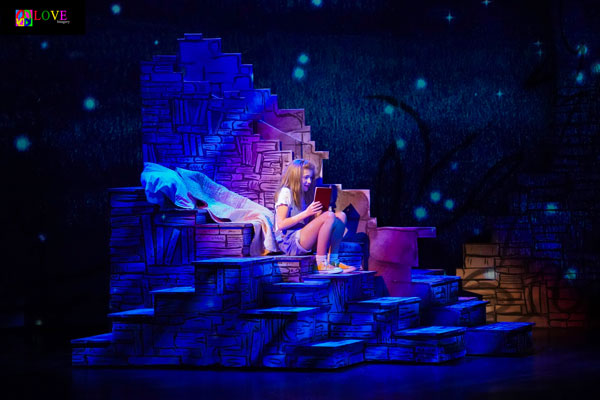 At the local library, Matilda befriends the colorful librarian, Mrs. Phelps (Florencia Cuenca), who recommends books for Matilda to read and encourages her imaginative storytelling.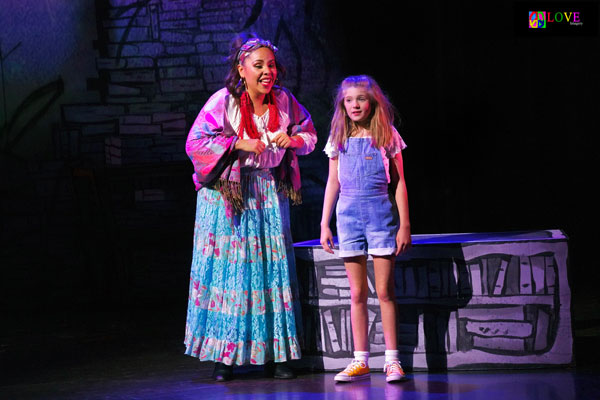 Matilda enthralls Mrs. Phelps with a captivating fable she concocts about a magical escapologist and his acrobat wife. As the story is revealed, it comes to life via the use of jumbo animated artistic projections which delight the audience.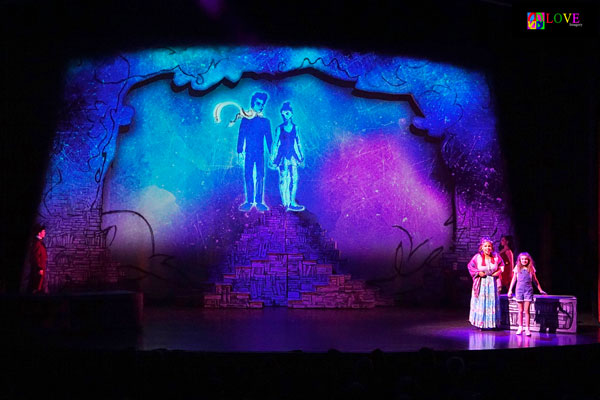 Entering school for the first time, Matilda meets her lovely teacher, Miss Honey (Elizabeth Ritacco), who immediately recognizes Matilda's intellectual gifts. She's also introduced to the school's wicked headmistress, Miss Trunchbull (Brian Charles Rooney), whose outrageous larger-than-life persona not only rattles the children on stage, but also elicits gleeful feelings of fear in some audience members, as well.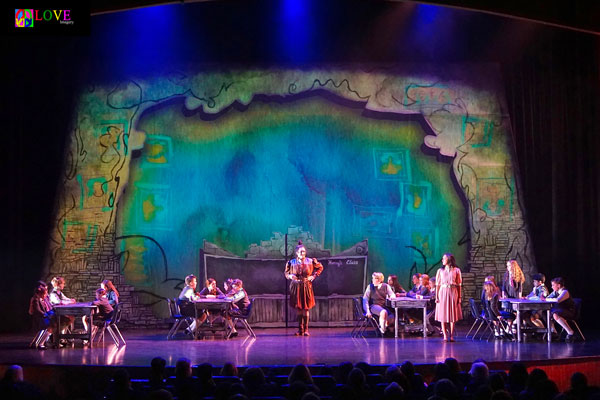 Trunchbull, a world champion hammer thrower, dismisses Miss Honey's suggestion to move Matilda to a more advanced class and, instead, keeps a close eye on Matilda and her classmates for any violations of her unreasonable school rules.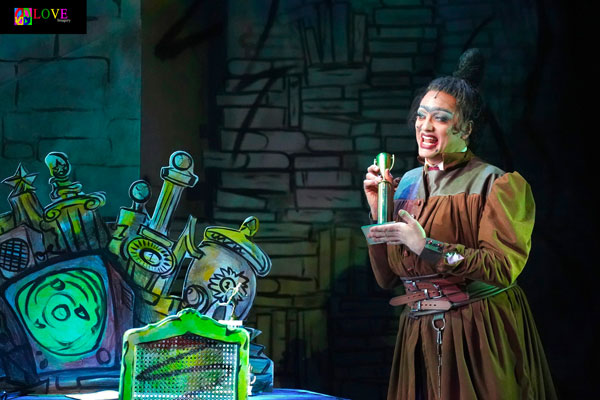 Miss Honey speaks to the eccentric Mrs. Wormwood about putting Matilda in a higher grade, but Mrs. Wormwood (Sarah Mae Banning) mocks Miss Honey, along with Matilda's interest in books and learning.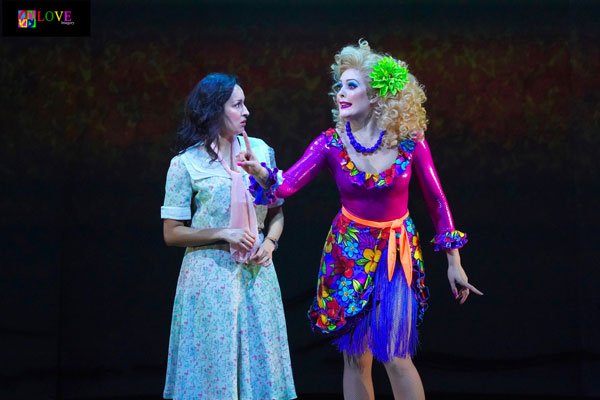 At school, Matilda learns how Miss Trunchbull punishes children who don't follow her unfair rules by locking them away in a terrible place she calls "The Chokey."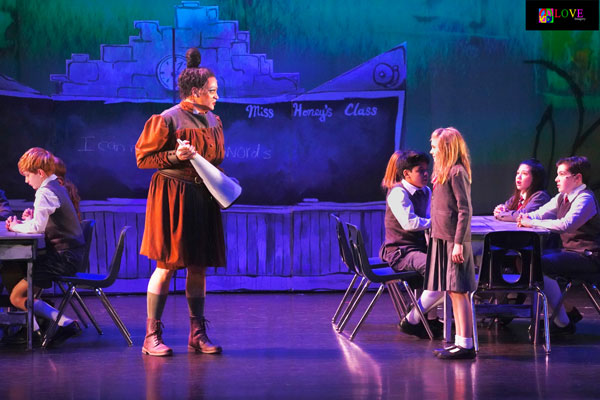 Miss Honey bravely tries to stand up to the overbearing Miss Trunchbull and her twisted philosophy which suggests that "to teach the child, you must break the child."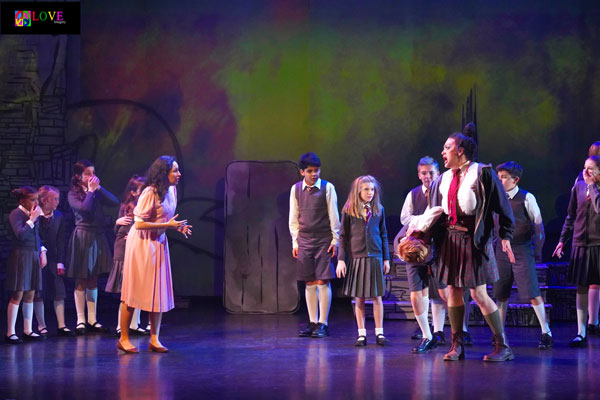 The ever-observant Matilda, however, comes to realize that there may be a connection between the story she's been telling Mrs. Phelps and the lives of those who surround her.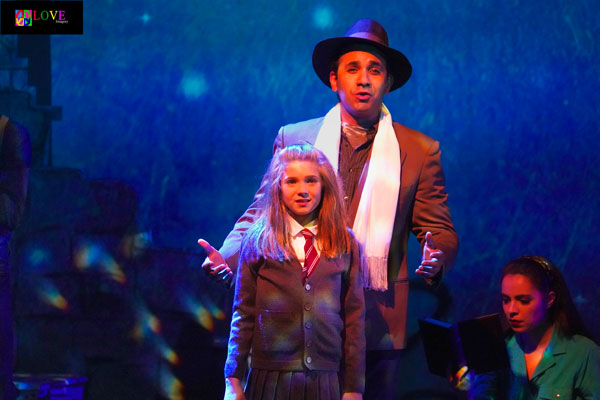 But what happens next?
With her superior powers, can Matilda can help Miss Honey assert herself?
What becomes of the evil Miss Trunchbull?
And, finally, what happens to the Wormwoods… and to Matilda?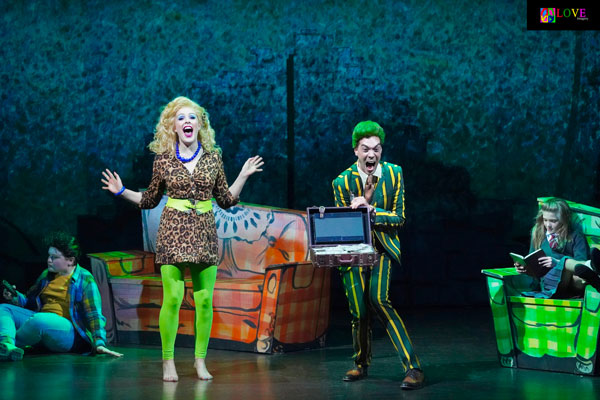 Audience members at tonight's preview performance know for sure, but what we want to know is: What do they think about Axelrod PAC's production of Matilda the Musical?
To find out, we take a moment to chat with audience members. First, we talk to a family of four from Jackson.
Says dad Ethan, "All the actors were phenomenal, and I also liked the production design and values. The projections took the flat backdrop of the stage and made it three-dimensional — the entire stage came alive!"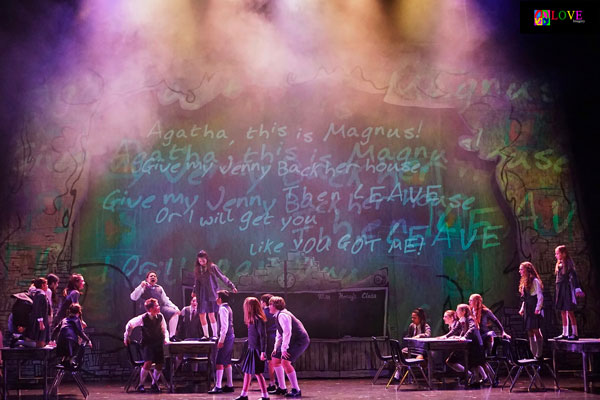 Ethan's wife, Lynnea, concurs adding, "It was a phenomenal production! We saw Matilda on Broadway but Luis Salgado made it his own. He put his own originality into it."
Continuing, "I loved the cartoon aspect of the set," Lynnea remarks, "The kids were impressive — they didn't miss a beat," before concluding, "And all of the adults in the show were great, too."
Whereas son Easton, 7 remarks,"It was a little scary and a little funny — a little of both," daughter Alaire, 5, exclaims, "I loved it!"
Next, we chat with Rachel from East Brunswick who is here with her son, Parker.
Comments Rachel, "We love theater — we go to see lots of productions — and we loved this show. The children were fantastic — and Mr. Wormwood reminded me of a combination of Christian Borle from TV's Smash and Tim Curry."
Remarks Rachel's son Parker, 8, "It was scary and sad — but really happy, too!"
Lastly, we chat with Lisa from Howell who asserts, "This show was perfectly cast — the entire company is so passionate," before concluding, "Axelrod PAC's production of Matilda is just phenomenal — it's magical and brilliant!"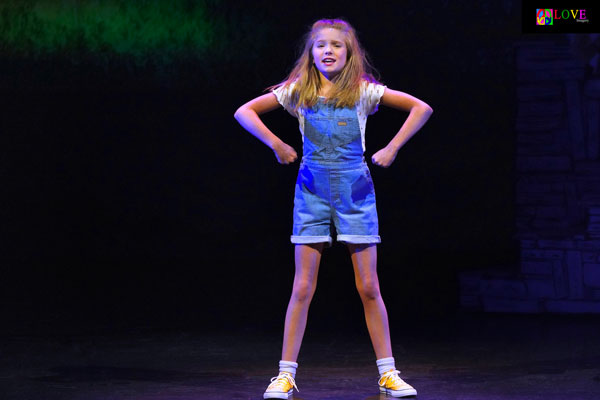 Performances of Axelrod's PAC's production of Matilda the Musical take place on Mar. 12 at 1 pm and 7:30 pm, Mar. 14 at 2pm and 8pm, Mar. 15 at 3 pm, Mar. 19 at 1pm and 7:30 pm, Mar. 20 at 1pm, Mar. 21 at 2pm and 8pm, and Mar. 22 at 3 pm at the Axelrod Performing Arts Center, 100 Grant Avenue in Deal Park, NJ. For further information and/or tickets please go to www.axelrodartscenter.com or call 732–531–9106.
Photos by Love Imagery
Spotlight Central. Your source for Jersey entertainment news and reviews
Love Imagery Fine Art Photography. all you need. peace/love/flower/power