originally published: 03/10/2020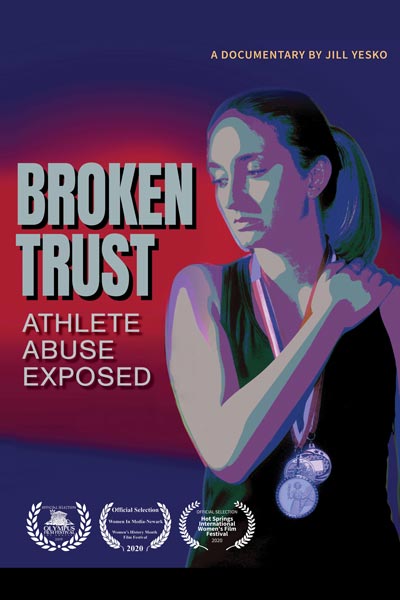 (NEWARK, NJ) -- Filmmaker Jill Yesko is showing her documentary across the United States in 2020, and on April 1 will bring it home to New Jersey. Broken Trust: Athlete Abuse Exposed will be one of three films shown that Wednesday at an event sponsored by Women in Media – Newark. Doors open at 5:45pm at the GRAMMY Museum Experience, and the screenings start at 6:00pm. Admission is free.
"I am beyond pleased to be showing my film in New Jersey and during an Olympic year," says Yesko, a Rutgers alumnus and native of Hillsdale in Bergen County. "The issue of athlete abuse and its aftermath is not going away, as evidenced by the Larry Nassar scandal in gymnastics and the rise of the #MeToo movement that has empowered victims of sexual abuse to speak out."
 Here's what sportswriter Liz Clarke of The Washington Post says about Broken Trust: Athlete Abuse Exposed: "The sexual and emotional abuse of athletes is a difficult, painful topic – one many would prefer to avoid. Through her documentary, Jill Yesko offers an entry point and invaluable educational tool for parents, gym owners, school administrators and athletes themselves. Couched in a love of sports, the film is honest, illuminating and in no way exploitative. I commend it highly to all who care about athletes' well-being."
 This is not the first documentary directed by Yesko, who is a fellow at the Center for Sports Communication & Media, University of Texas. Previously, she released to acclaim Tainted Blood: The Untold Story of the 1984 Olympic Blood Doping Scandal. A journalist who has written for The Baltimore Sun, Yesko is a cyclist who represented the U.S. at the 1983 World University Games and competed in the Olympic Trials. She continues to ride to this day in her adopted hometown of Baltimore.
The GRAMMY Museum Experience is located 165 Mulberry Street, Newark, NJ 07102. Parking is available at 25 Lafayette Street and elsewhere nearby.
---
The article continues after this ad
---
---
Films also to be shown April 1 in Newark:


Knocking Down the Fences - This is the story of a superstar athlete … and why the sports industry hasn't put her on your radar. Meg Shutzer, director.


Power Meri - follows Papua New Guinea's first national women's rugby league team, the PNG Orchids, on their journey to the World Cup in Australia. Joanna Lester, director.


Woman In Media – Newark is an organization that educates the public about issues affecting the lives of women, using film, video and new media as its platform.