originally published: 03/08/2020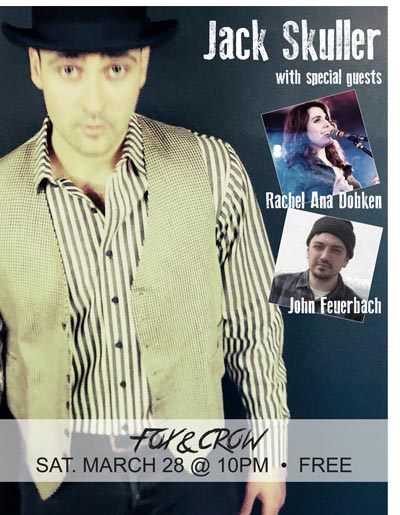 (JERSEY CITY, NJ) -- Jack Skuller (of blues rockers The Skullers) is celebrating his tenth year in the music business. He released his first single at the  age of 14 on Bar/None Records, setting the stage for an authentic rock  and roll life. Freight Trains & Party Games, the 2019 EP from  The Skullers, revealed Jack's ever-evolving songwriting and garnered  plenty of spots on respected "Best of 2019" lists. 
Now, a decade since the release of his rockabilly-tinged single "Love is a Drum," Jack is debuting his new side project: Trolley Valhalla. Celebrate as Jack plays a flurry of new songs and invites special guests Rachel Ana Dobken and John Feuerbach to join him on Saturday, March 28 at 10:00pm at Fox and Crow (594 Palisade Avenue) in Jersey City. Admission is free.
In 2014 Skuller was recognized by Songmasters and the Songwriter's Hall of Fame for his breakthrough talent as a singer/songwriter/performer.  They awarded him the Holly Prize in tribute to the legacy of Buddy Holly and in recognition of Skuller's all-in-one talent.
Shortly thereafter, Skuller was chosen as the cover story for the very first issue of New Jersey Stage magazine.  You can read the feature here.
---