originally published: 03/04/2020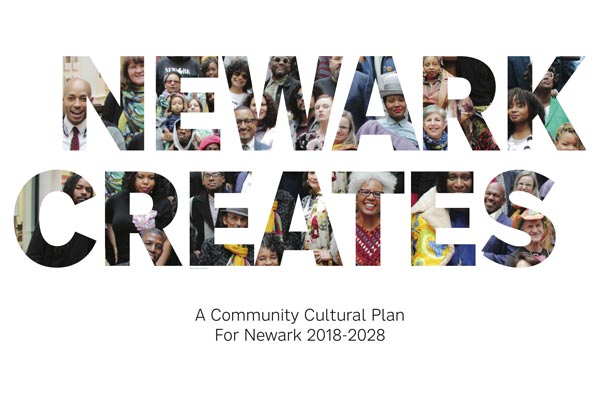 (NEWARK, NJ) -- Newark Arts, one of the city's prominent organizations championing equitable arts development, has announced the launch of Newark Creates: A Community Cultural Plan. The plan is a manifesto to distinguish Newark as a City of the Arts by expanding resources to bolster support for residents, artists, and art organizations who sustain the city's cultural history and thriving $178M arts economy.
On behalf of the City of Newark, leaders at Newark Arts conducted more than 30 meetings and forums over 18 months, with community members, artists, organizations, and government stakeholders. The sessions strategized how the city can thrive with arts and culture. Outcomes of the plan promote civic, social, and economic growth, and advance increased creation, production, and availability of arts and culture. The plan's implementation will be a collaborative effort led by Newark Arts that encourages more funding, space and coordination.
The plan outlines goals to achieve and sustain a strong arts community through three broad areas:
Funding of a cultural trust to support: arts and cultural activities, small and mid-sized groups, galleries, artists, and creative entrepreneurs.

Space that is affordable for artists and arts organizations to operate, create, live and work.

Coordination for equitable policies, partnerships, investments, and development that are connected through shared services and collaborative marketing.
"Newark's extraordinarily rich arts and cultural history have always made it unique. The arts enhance the lives of our citizens and the region at-large," said Jeremy Johnson, Executive Director of Newark Arts. "The plan and ensuing investment will retain and attract new creatives as we support the community and arts organizations that breathe life into our neighborhoods and fire the imagination of our children."
Newark Creates was made possible through the financial and technical support of Prudential Foundation and the Geraldine R. Dodge Foundation.
---
The article continues after this ad
---
---
"Newark's arts and culture are important to me and my Administration so it's great to see our collective efforts forge into a community cultural plan that provides the framework for the city's arts to flourish," said Mayor Ras Baraka. "In essence, Newark Creates is a blueprint for the arts that we can use to strengthen our community and it can also serve as a guideline to help others."
Newark Creates serves as a cultural-economy roadmap. It will live online and be downloadable by stakeholders such as neighborhood and community development corporations to infuse the arts into community plans. Already, community-based art projects in Fairmount, Lincoln Park, and Clinton Hill are examples of implementation that partners are advancing in the city.
---
Newark Arts' mission is to power the arts to transform the lives of those who work, live and play in the great city of Newark, New Jersey. Established in 1981, Newark Arts advances and expands the resources and offerings of arts and cultural organizations in the great city of Newark, New Jersey. Newark Arts provides leadership, direction, and technical assistance through partnerships with artists, arts administrators, community organizations, community development corporations, planning groups, economic development agencies, and government agencies as well as the general public.