originally published: 02/27/2020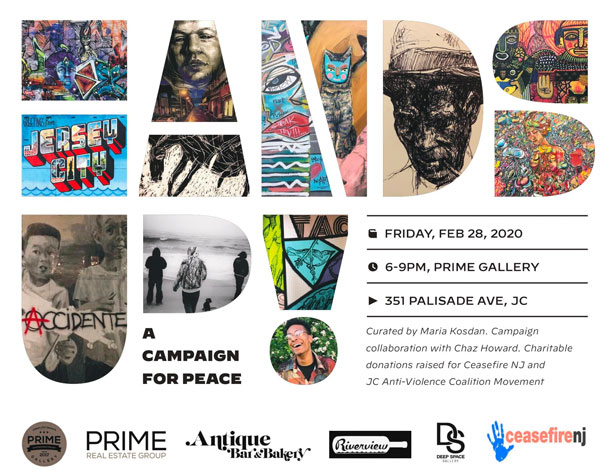 (JERSEY CITY, NJ) -- PRIME Gallery presents HANDS UP (A Campaign for Peace) showcasing a group exhibition of local North Jersey artists coming together to raise awareness of our campaign for peace and to promote love and unity through various forms of art and expression. The exhibition runs from February 28 through May 3.
A tribute to all of those who we have lost and have been affected by the recent 2019 Jersey City shootings. This tribute will also showcase Jahahd Payne, a young artist and victim of gun violence, who's work will be displayed in remembrance of our mission as we raise funds to support our peacebuilding organizations and the role they play in keeping our communities safe. Coalition for Peace Action's Ceasefire NJ and the Jersey City Anti-Violence Coalition Movement will be our special guest speakers. A percentage of all proceeds will be donated to both charities in support of this campaign for peace.
A sensible performing artist since birth, Jahahd Payne was born on March 5, 1996 to Oylema Lewis and Cheron Payne, and grew up in North Jersey. He spent most of his childhood and young adult life participating in the church as a praise dancer to captivating audiences with his emotionally charged self-choreographed mime and hip-hop routines to displaying his exceptional and unique talents as a painter. Jahahd's spirit and gifts as a visual artist was undoubtedly remarkable and blossoming into what had the potential to be more than extraordinary.  After 23 years of blessing the world with his effervescence and passion for life and art, Jahahd lost his life as a victim of gun violence in Newark, New Jersey on August 5, 2019. Whether affectionately known to some as "Hahd, " "Hodini" or  any other host of nicknames he had, Jahahd's infectious smile, Peter Pan spirit and creativity were known to all and will be missed dearly.
Curated by Gallery Director, Maria Kosdan and in collaboration with Chaz Howard, Hands UP: A Campaign for Peace will feature artworks by Maria de Los Angeles, Ryan Bonilla, The Real Love Child, Clarencerich, Leandro Comrie, 4sakn_CBS, D.Tunia, Distort, Jahahd Payne, Rebecca Johnson, Walter John Rodriguez, RU8ICON1 and TF Dutchman.  
PRIME Gallery is located at 351 Palisade Avenue in Jersey City, New Jersey. Embracing the robust Jersey City art scene, PRIME Real Estate Group takes on PRIME Gallery, a fully operational art gallery housed within their second office location of Jersey City Heights. The gallery presents a space for audiences to experience high quality, challenging, new artworks in a wide range of contemporary visual art media through solo/ group exhibitions, performances, publications and events. PRIME gallery features works by artists near and far in six curated exhibitions a year by Gallery Director, Maria Kosdan, as well as guest Curators.
---