originally published: 02/27/2020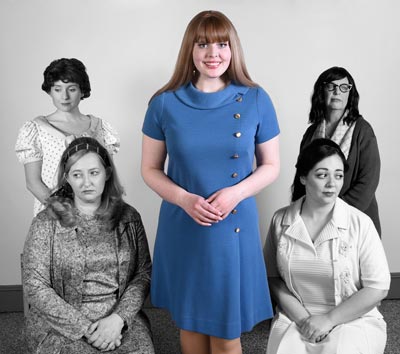 (MONTVILLE, NJ) --  Starting March 13, the Barn Theatre will present the North American community theatre premiere of The Revlon Girl, written by Neil Anthony Docking and directed by Bill Purdy of Riverdale. Set eight months following the Aberfan mining disaster in Wales (as featured in Netflix's hit show "The Crown") that killed over one hundred children, The Revlon Girl tells the real life story of a group of bereaved mothers who meet every week above a local hotel to talk, cry and even laugh without feeling guilty.
The play imagines one meeting at which they invite a Revlon representative to give a presentation about make-up. From that innocent premise,the play delves into the tragic situation with both deep emotion and humor.  "IT'S NOT JUST LIPSTICK"--it's unimaginable loss and the courage to carry on. This touching play gives voice to the community affected by the tragedy and tells a story of survival, resilience and grief. 
While the play has been performed by several professional and amateur theatres in the U.K., this marks the North American community theatre premiere. Director Bill Purdy first saw the play performed in London in 2017. "I was absolutely blown away by "The Revlon Girl" which takes the audience on a roller coaster ride of emotions.  After seeing the play, I started researching the 1966 Aberfan disaster and discovered a remarkable story of a community dealing with unimaginable tragedy. I found that most Americans, like myself, were previously unaware of this disaster. This play is a story about love and grief that speaks to our common humanity. "The Revlon Girl" received critical acclaim and awards in Wales, Edinburgh Fringe, and London. I am delighted to have our audiences be among the first in America to experience this singular theatrical event."      
Building off the play's important themes of resilience in grief, the Barn Theatre has also launched an innovative arts partnership with Boonton High School--a district that has recently experienced loss--to exhibit student artwork in the lobby. The art will include abstracts, illustrations and personal expressions that will reflect the vision & talent of some of our local youth.This year students have exhibited their art at NJPAC, MPAC, the New Jersey State Capitol, CCM and Mount Olive High School's National Honor Society Invitational. Several students have received awards and high honors.
The cast of "The Revlon Girl" features Messalina Morley of Ridgewood as Revlon, Ruth Morley of Ridgewood as Rona, Ali Archetti of East Hanover as Sian, Kathleen Mallon of Kinnelon as Jean, and Leslie Darcy of Oakland as Marilyn. 
Performance dates are March 13, 21, 27, 28 and April 3 & 4 at 8 pm, and March 14, 15, 22, and 29 at 2:00pm. The Barn Theatre is located on Skyline Drive in Montville, NJ, just minutes off Exit 47 from Route 287. For tickets, visit www.barntheatre.org For more information or directions, call The Barn Theatre Box Office at (973) 334-9320
---