originally published: 02/26/2020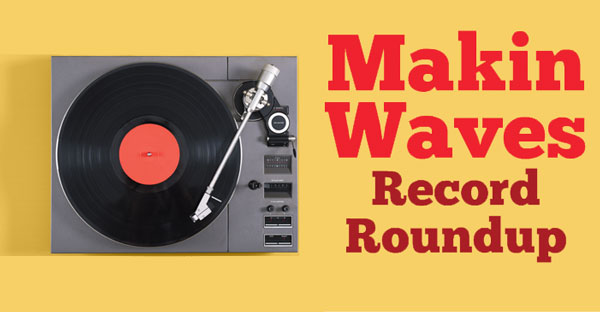 Like Tedeschi Trucks Band, Grace Potter, Spin Doctors and Edie Brickell & the New Bohemians, Northwest Jersey jam band The Outcrops expressively and joyously scratch a Grateful Dead and Allman Brothers Band itch with a psychedelic mix of blues, funk, soul and roots music. Their 2019 eight-song debut LP, "Peace of Mind," is expertly crafted by producer Tim Carbone of Railroad Earth, who gets exceptional performances out of the four-piece and their guest musicians in a way that showcases them as a soulful, bluesy jam band, yet compliments their strong songwriting, like the Dead, can be translated on just acoustic guitars.
Co-founding vocalist-rhythm guitarist Cassidy Rain stirs the sweetness of Edie Brickell, sass of Grace Potter and spice of Susan Tedeschi into her own soulful style. Meanwhile, longtime collaborator Bryan Schroeder on lead guitar alternates between a bubbly Jerry Garcia-like sound and an aggressive, yet tasteful and seemingly effortless blues-rock sound ala Duane Allman and Derek Trucks. Rounding out the regular lineup are the funk-steady rhythms of drummer Samuel Goldstein and bassist Jason Casanovas. In addition to Tim on string and percussion, joining them on "Peace of Mind" are exceptional keyboardist Joe Biglin of fellow Northwest Jersey band Doubleday and the swingin', soulful horn section of trumpeter Mathew Bricker, bari saxman Austin Zaletel and alto saxophonist-arranger Nathan Peoples.
Engineered by Don Sternecker at his Mix O-Lydian Studios in the Delaware Water Gap, the mighty collection kicks off with "Your Girl," an upbeat unrequited love song slightly reminiscent rhythmically of the Dead's "He's Gone," but faster. It would be fun for The Outcrops to segue into the Dead classic from this tune live and even better if they went back into the song, which also sounds a bit like Van Morrison's singer-songwriter daughter, Shana Morrison.
Joe demonstrates his piano prowess within the first 90 seconds of the opening track with a bouncy solo that immediately segues into organ accompaniment of Bryan's bubbly Jerry-like guitar solo. Both keyboard elements add to the track's blue-eyed soul. Gospel-like organ playing, as well as bright, swingin' horns well arranged by Nathan, compliments the richness of Cassidy's voice in a song dedicated to a man in the hopes he takes away the blues.
"Death at My Door" is a barn-burnin', juke-jivin', roots-rockin' Bourbon Street adventure about giving a guy a taste of his own blues. Joe delivers a soulful organ sound that strongly resembles a Hammond B-3, while Bryan switches to a cool Duane Allman vibe.
"Lost Days" mixes things up nicely. The pretty, highly percussive breakup song is about losing the love of and drifting apart from a drifter. The bridge picks up where the impressive percussion leaves off with a more uptempo spark of hope at the prospect of going it alone. Bryan's bubbly Jerry-atrics are accompanied by a vibes-like keyboard part.
The gospel-rooted title track offers a bluesier take on Bryan's bubbly guitar playing, which lays the foundation for the tune and is sandwiched by sweet horns in the intro and outro arranged in the style of Allen Toussaint. A plinky piano part surprisingly and disappointingly is at the start of the soulful track, but thankfully the keyboards soar with a gorgeous dual solo between Bryan on guitar and Joe on what sounds like a Hammond B-3. Their tandem recalls Duane and Gregg Allman.
What I also love the title track is that like many of my favorite gospel and soul classics, the song is about holding onto hope. In this case hope helps find the peace of mind needed to wash away the stress of everyday life and the strength to continue in the face of loneliness. To do that, The Outcrops suggest tapping into the beauty of nature.
Another standout is the nine-minute jam "Cryptic Blues," the first third of which is a whiskey-soaked Led Zeppelin-like tale reminiscence of "Gallows Pole," but much longer and less sparse. Similarly about a prisoner, the protagonist is entrapped by negative emotions and lack of faith rather than Death Row.
The rest of the tune is a bluesy swampadelic Radiators-meets-the-Dead-like jam layered beautifully by Tim and Don, especially a down 'n' dirty guitar solo by Bryan contrasted with a bright-sounding piano part by Joe. Bryan also has a swampy solo that recalls Bayou great Sonny Landreth. They are backed by the fierce, fuzzy rhythms of Jason and voodoo drums by Goldstein that sound like the death march of zombies rising from a swamp. Of the eight songs, Tim's thumbprint is most evident here in the complimentary way that a variety of different instruments snake in and out of each other, much like Railroad Earth, but in a different musical style and approach– swampy electric blues versus acoustic Americana and bluegrass. Fans of the Dead's exotic and trippy "Drums > Space" concert segments will dig the closing jam.
Up there in Rock 'n' Roll Heaven, Janis Joplin is beaming sunny rays of pride upon The Outcrops after hearing the blues strut of "Miss Melinda" and its quest for freedom. "Skeleton Key" is a rootsy mid-tempo groove reminiscent of the mellow fun of the New Bohemians and Spin Doctors.
Closing this excellent record is "Wishing Well," a funky blues with an inspiring reference to the Mississippi River. I don't know about you, but when I hear a funky blues about the Mississippi River, my soul soars. "Wishing Well" is a good-time rock 'n' roll tune that will appeal to fans of both Bob Seger and Mott the Hoople, especially the barrelhouse piano and ringing guitar solos that do battle one last time.
The themes of hope and freedom throughout the LP both are examined here, making the reference to fishing in the Mississippi a metaphor for the Big Muddy of life. I love the chorus -- "There's a fire in your eyes, and it's burning up in me. Just a bird in a cage that's been opened or a soul that's been set free" -- as well as the second verse: "Wild western skies and hope on the horizon, the need for freedom ran deep in bones. I ain't running away from a good thing, but home is with me wherever I go."
The album ends on a really high note that puts everything The Outcrops do best into one break with barrelhouse piano, ringing guitars and a soulful Hammond-like run. They lead into gang vocal that seems to say The Outcrops have arrived and are here to stay.
I can't wait to see this band live, which I hope to do at one of the shows in their jam-packed schedule. Highlights include Feb. 27, Village Brewing Co., Somerville; Feb. 29, Big Brew Festival, Morristown; March 4, Rockwood Music Hall, New York City; March 6, Ruthie's Bar-B-Q & Pizza, Montclair; opening for Southern rockers The Outlaws on March 28 at Carlisle Theatre, Carlisle, Pa., and March 29, The Lamp Theatre, Irwin, Pa.; May 2, Out of the Box Music & Arts Festival, Clinton; June 28, July 12, and Aug. 23, The Parker House, Sea Girt; Summerfest, July 7, Liberty State Park, Jersey City, and Musikfest, Aug. 6, Bethlehem, Pa.
Gypsy jazz pioneer Django Reinhardt is a masterful musician's musician who has influenced head Deadhead Jerry Garcia and his bluegrass buddy David Grisman, abandoned Allman Brother Dickey Betts, the classical axe of Julian Bream, session everyman Chet Atkins, and fellow jazz greats Wes Montgomery and Charlie Byrd. In May in little ol' Maplewood, NJ, that influence once again will be celebrated with Django disciple Stephane Wrembel's annual Django a Go Go, a guitar gathering that brings together players from all over the world. This year, the six-string summit will culminate in an all-star concert on May 9 at New York City's Town Hall.
Stephane has pretty much dedicated a storied career of his own to Django. Having fictionalized the guitarist's life in the 1999 comedy "Sweet and Lowdown," with Sean Penn as a Django-like character, four-time Oscar-winner Woody Allen returned to the master's music a dozen years later with "Midnight in Paris," which featured Stephane performing his own "Bistro Fada," a swinging Django-influenced waltz as theme song to the film's Grammy-winning soundtrack. The screen time put Stephane on the global music map.
Having released several albums of his own material since 2006 on his Water Is Life label, Stephane also has created seven Django tribute albums. They include the forthcoming "Django Experiment V," the latest of five studio and one live "Experiment" due on Jan. 23, and "Django L'Impressionniste," a 17-track collection of the guitarist's classical works inspired by French Impressionist composers Maurice Ravel and Claude Debussy. They include my favorite Django tune, "Nuages," which is given a gorgeous near nine-minute solo rendering by Stephane that is stunning in its beauty and intoxicating with charm.
"Nuages" also appears on "Experiment V," but as a full band effort by guitarist Thor Jensen, bassist Ari Folman Cohen, drummer Nick Anderson, saxophonist/clarinetist Nick Driscoll and guest violinist Daisy Castro. Theirs is a spot-on take of the Quintette du Hot Club de France, the band Django formed in 1934 with violinist Stephane Grappelli, the original Stephane associated with the guitar master.
Another highlight of "L'Impressionniste" is the "Stardust"-inspired opening "Improvisation 1" from 1937. It's fitting that Woody Allen paid homage to both Django and Hoagy Carmichael (198o's "Stardust Memories") given the latter's influence on the former, evidenced by the "Stardust" memories that surface throughout Stephane's nod only to his favorite influence but also his hometown. He, Django and Impressionism all were born in Fontainebleau.
A very similar solo version of "Improvisation 1" also opens "Experiment V," but that and "Nuages" are the only Django tunes duplicated between the two. "L'Impressionniste" also features Django originals "Parfum," "Naguine" and "Belleville," a variation of his interpretation of "Tea for Two," and 11 of his "Improvisations." With liner notes by Rolling Stone's David Fricke, the album fascinatingly is assembled in chronological order of composition from 1937 to 1950.
"Experiment V" also features full-band versions of Django's "Nympheas" and "Daphne," well as some of his favorite covers: Fats Waller's "Honeysuckle Rose," Tony Murena's "La manouche," Chris Smith's "I'm Confessin' that I Love You," Harry Akst's "Dinah" and Duke Ellington and Juan Tizol's "Caravan." Throughout Daisy adds greatly to the emotional impact of the project by dichotomously delivering vibrancy and melancholy. The latter sounds fascinating before and after a drum-and-bass duet that turns "Caravan" into out jazz.
Let's put into the Makin Waves rock 'n' roll blender dub pioneer Lee "Scratch" Perry, Rock and Roll Hall of Fame funkateers Parliament-Funkadelic and overlooked electronica pioneers Tangerine Dream. Ready to give it a whirl?
Viola! We end up with Dub Proof, the awesome Asbury Park band whose latest EP, "Robotracks," is an instrumental record created in collaboration with a robot, as well as for the last time, the late, great Joe Harvard, whose contributes buzz-saw guitar to the opening "Quickness Dub." The quirky tune, which is introduced by a voicemail, also features the tasty melodica playing of Addis Pablo, the Jersey-based son of the great Jamaican dub producer and keyboardist Augustus Pablo.
The robot was built by the band in its practice garage and programmed by leader Nick "Dubproof" Paolise to augment new jams, as well as a couple of previously recorded tracks. The computerized colab continues with "Circles," which features a cool jazz-groove complete with a synth horn section. The more the horns kick into play, the more the robot expresses accompaniment.
My favorite track is "Pancakes," a funk nugget that lives up to its title with a tasty jazz-groove along the lines of Parliament-Funkadelic if they teamed up with DJ Logic. The surprisingly soulful synthesis also recalls Tangerine Dream, the German band who, during their ongoing 50-year history, wrote and performed the original score to the 1983 Tom Cruise breakout film, "Risky Business," as well as the "Grand Theft Auto" video games.
The stoner delight "Medication" follows with hypnotically haunting rhythms and an intoxicating guitar loop that breaks off into a dreamy Pink Floyd-like synth-scape. The sum of the parts add up to an irresistible attraction to the dance floor.
With funk and jazz making up the bulk of the seven-song outing, a little less than half of "Robotracks" is dub. But a fine example of the namesake genre is "Sitar Dub," which adds greatly to the EP's most exotic elements with a worldly blend of styles.
One of the most chill records I've heard in 40 years of covering local music, "Robotracks" lives up to that with a Tangerine Dream-like electronica-jazz tune called "Chillout," the mellow beats of which still are very danceable, kind of like if we threw P-Funk and Pink Floyd into the Makin Waves blender.
The EP closes on the dub tip with the appropriately entitled "Digital Dub," which features a break that seems to be inspired by R2-D2. That makes sense considering it's performed by a robot.
What's fascinating and really impressive about "Robotracks" is that you would think the robotic results would sound synthetic, but they don't. They're surprisingly soulful, most likely because they also are jazzy. Because of that jazz sensibility, no other Asbury band sounds like Dub Proof. On "Robotracks," they're relaxing, yet never boring; a joy to listen to, especially on a long drive, and they can make a dead man dance, which makes their work as entertaining as it is artistic.
It doesn't look like the band will be playing out until spring, but in the meantime, pick up this fun, fascinating EP. I don't know what the Proof means in Dub Proof, but with "Robotracks," they certainly prove that they write tunes so well that even a robot can make them sound great.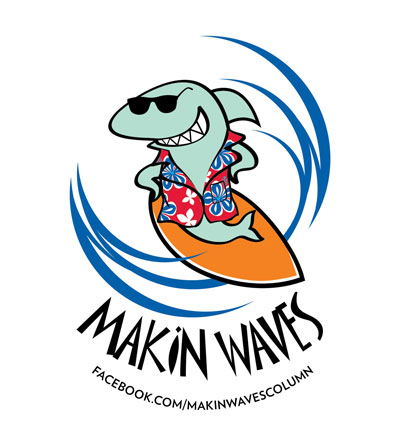 Bob Makin is the reporter for Home News & Tribune and a former managing editor of The Aquarian Weekly, which launched this column in 1988. Contact him via email and like Makin Waves on Facebook.