originally published: 02/26/2020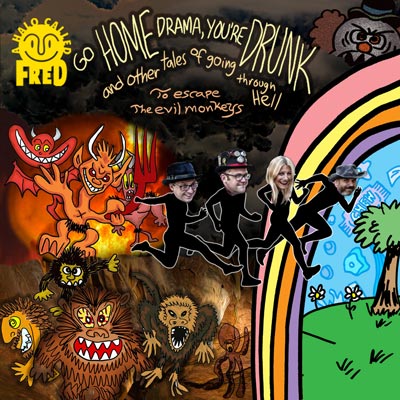 Veteran New Brunswick-based psycho-geek Tupperware-pop lunatics A Halo Called Fred will celebrate the release of their new album, "Go Home Drama You're Drunk and Other Tales of Going through Hell to Escape the Evil Monkeys," at their annual Freaky Mutant Weirdo Variety Show on March 21 at Roxy & Dukes Roadhouse in Dunellen. ARTWORK BY BRUCE CARL MEYERS
For the first 24 of the 28 years that New Brunswick-based indie-rockers A Halo Called Fred churned out their psycho-geek Tupperware-pop madness, I wasn't a big fan because I thought their music was a silly waste of time. Shame on me! Like Bob Dylan's "My Back Pages" says, "I was so much older then. I'm younger than that now." 
Sure A Halo Called Fred are silly, but that's what makes them fun and funny, as does irreverent political and social satire. They sometimes sound like the decline of western civilization in order to poke fun at it. 
Less than half of the new 13-song collection, "Go Home Drama, You're Drunk and Other Tales of Going through Hell to Escape the Evil Monkeys," features previously unreleased songs, but it is introduced with one, the fitting "Go See A Halo Called Fred." The sunny, funny a cappella opener features four-part harmony snaked by a smarmy spoken word. If the lyrics weren't so wonderfully weird, the innocent-sounding melody would make the song a perfect theme for a children's public television show.
Most the album is a collection of singles released during the past three years, but all have been remixed and re-mastered, along with an older album track, "The Essence of Comedy" from their 1996 outing, "Sgt. Pepper's Lonely Hearts Club Band" (did I mention they were irreverent?). The recent singles include "Zero Fucks," which I think is A Halo Called Fred's masterpiece. As irreverent as it is creative, "Zero Fucks" features intricate rhymes riddled with attitude backed by an incredibly beautiful early '70s-like easy-listening melody. The dichotomy of the lyrics and the melody is funny, unsettling, disturbing, thought-provoking and A Halo Called Fred at their best. A pretty unplugged version, "Zero Whistles," captured live on Rutgers University's WRSU 88.7-FM also is great as it replaces the expletives for clown whistles. 
The single "If You're Going through Hell, Keep Going," another one of A Halo Called Fred's best songs, is an inversion of a hopeful gospel tune that puts co-founding singer-songwriter-guitarist Geverend's twisted spin on perseverance. The reluctantly redemptive tale of a vanquished soul once lost to Satan features quirky accompaniment driven by Queenie's violin and a hurdy gurdy-sounding keyboard. High-pitched girl group-like backing vocals add to the track's dichotomously smarmy charm. And an hysterical spoken-word bridge with a ridiculous rhyme scheme and Addams Family-like finger snaps is dementedly delightful and has me laughing out loud as I write this. May the Rock Gods bless A Halo Called Fred! 
A Middle Eastern-spiced take on a Red Hot Chili Peppers-like rap, the funky "It's that Kind of Party" is a showcase for Queenie's or Tiny's rich bass talents, as well as Queenie's dense violin chops. If she's playing both on this track, she either has to be cloned live or Tiny has to step up to the bass. The tune also seems inspired by and expands upon Prince's "1999" as it contemplates an end-of-the-universe bash, while making fun of excess, such as the celebrity-parading, booty-shakin', cocaine-laden, bathroom-bangin' bacchanal of New York City's Studio 54. 
One of the brand-new songs, "This Song Is a Time Machine," shares that Red Hot Chili Peppers in the Middle East vibe. "This Song Is a Time Machine" is the Makin Waves Song of the Week, which can be heard at 5 and 11 a.m., 5 p.m. and midnight daily through Wednesday at thepenguinrocks.com and 6:45 p.m. on Friday and Monday on its "Radio Jersey" show. The satirical rap, which pokes fun at the horrors of time travel, sounds like it's fronted by Star Trek's Mr. Spock rather than the Chili Peppers Anthony Kiedis. Meanwhile, the drumming of co-founder Brushwood on his "Bang-O-Tron" of Tupperware, cookie tins and other unlikely percussion is pretty damn bangin'! 
A newly composed interlude, the primate-impersonating "Your Circus, Your Monkeys," introduces a reworked version of the single "Not My Circus, Not My Monkey," a nonsensical story about the woes of an unfortunate yak herder. Once again, as I write this, I am laughing out loud. 
Of the many weird songs that A Halo Called Fred have created for nine LPs and EPs, "Out of Respect for the Bronies," may be the weirdest. It's a tribute song within a request for a tribute song left on an answering machine by a fan of the band who apparently is a Bronie, an adult fan of My Little Pony (LOL!). This band is just so wonderfully weird, much to the delight of delusional grownup My Little Pony enthusiasts. 
What makes the song even funnier is that it poses the question of what a Bronie is, given how ludicrous both they and the song in tribute to them are. Throughout, Geverend states that out of respect for the Bronies, he won't do a tribute , but … Along the way, he points out not only the ridiculousness of Bronies, but overzealous fans of Star Trek, Star Wars, Harry Potter, the Grateful Dead, the NFL and so on. I love the line: "We can sing about the joys of not taking life so seriously." That seems to be theme of A Halo Called Fred's four hysterically satirical and well-meaning decades together. 
The previously unreleased title track is so riddled with expletives that I couldn't make it the Makin Waves Song of Week out of fear of giving my longtime friend Lee Mrowicki of "Radio Jersey" a stroke. That said, it's a very funny song, but also very vulgar. If that doesn't bother you, you may enjoy the psychological drama that fascinatingly unfolds and is, of course, oh so fuckin' weird! 
I love "A Little Bit Free: A Fascism Litmus Test" because it calls Donald Trump "a motherfuckin' Nazi!" One of the best-ever examples of A Halo Called Fred's hysterical irreverence, the freaky freedom song also is one of the best-ever disses of Trump. As "A Fascism Litmus Test," it makes a statement about the political cancer that continually chokes off our democracy, its freedom and justice, particularly for young black men enslaved to the prison-industrial complex. With "A Little Bit Free," the statement is about civil liberty, particularly freedom of speech. And the best part is that a country-style arrangement is a not-so-loving nod to the ignorance and hate that prevents the middle of the country from enjoying the cultural diversity of the coasts. As much a lament of a lack of freedom as a celebration of what we have left, the song features a hokey hoe down-like arrangement aimed at poking more fun at the orange-faced clown in the White House and the fascist assholes who support him. 
Like their hero, John S. Hall of King Missile, A Halo Called Fred often incorporate spoken word into their songs. On "A Little Bit Free," Geverend hysterically defends some of the most depraved sexual behaviorists, exclaiming that it isn't fair to them to describe Trump as one of them, but that he should be described as something completely unto himself because he's such a depraved and incompetent lunatic. And in order to accomplish that task, we must have freedom! A gang counter vocal hammers that home: "As long as we can say, 'Fuck Donald Trump!,' at least we're a little bit free."
Another new tune is the closing "Utz Utz Utz," a play on words seemingly dedicated to the manufacturer of pretzels and other snacks. The irreverent Geverend has so much fun ridiculously and at times disgustingly rhyming the title that he occasionally giggles during the song. Along the way, there's this equally ridiculous little chime that accompanies the wacky wordplay. 
What I like about A Halo Called Fred is that they make you think, not only with their hysterical satire and weird irreverence but also with crafty tunes that get lodged into your noggin. In 40 years of writing about music, I've never had as much fun and laughed so much as I did while writing this review. Take the advice of the album's opener and "Go See A Halo Called Fred" live at their annual Freaky Mutant Weirdo Variety Show on March 21 at Roxy & Dukes Roadhouse in Dunellen. The three-ring rock 'n' roll charitable circus will benefit the New Brunswick food justice and empowerment program Elijah's Promise. In addition to the band's music, highlights will include performances by their friends in The Eternal Frontier and Trio of Madness, as well as singing mermaids, puppets, sideshow daredevils, belly dancers, the illusions of Majik Mike and spooky burlesque queen Holly Ween.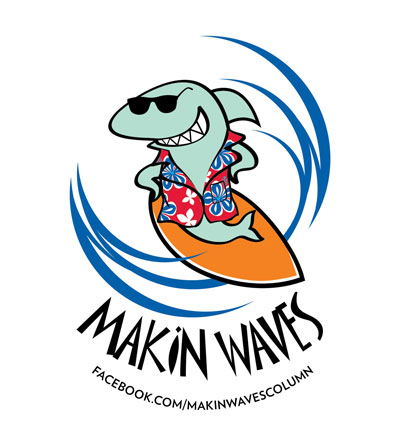 Bob Makin is a reporter for MyCentralJersey.com and the former managing editor of The Aquarian Weekly, which launched this column in 1988. Contact him at makinwaves64@yahoo.com. And like Makin Waves on Facebook.