By Ilana Rapp
originally published: 02/24/2020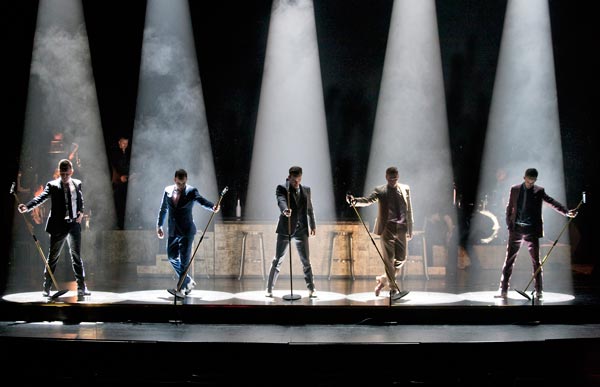 Who knew, that back in my childhood days when my parents signed me up for tap dance lessons with Henry LeTang and Phil Black, that I would have a lifelong obsession with tap?
So when I heard that Australia's The Tap Pack was coming to the Mayo Performing Arts Center in Morristown, NJ, I knew I had to secure a seat – and only because they are tap dancers. I've never heard of them previous to seeing their sizzle reel on YouTube.
It was a pleasant surprise to find out that they were tapping, singing and swinging to some fine tunes such as Lady is a Tramp, Come Fly with Me and Putting on the Ritz.
The Tap Pack, which formed in 2013, got their inspiration from The Rat Pack, which included names such as Frank Sinatra, Sammy David Jr. and Dean Martin. Literally, yearlong friends Jesse Rasmussen, Jordan Pollard and Thomas J. Egan were in a bar hanging out when they came up with the idea. 
The difference between these three friends and me is that when I write an idea down on a napkin, I lose the napkin and the idea is gone forever. Jesse, Jordan and Thomas are apparently much better at saving napkins than I am, because they quickly brought Nigel Turner-Carroll into the Pack as Director and Co-Creator, and Kym Halpin on board as Producer.
---
The article continues after this ad
---
---
Speaking of creating (I was, right?), when I was in the Sayreville War Memorial High School marching band, I played trumpet and sax, so these two instruments are very near and dear to my heart. Ask me to pick one and I just can't. Except I can, so I just lied to you. Saxophone, baby!
As I was taking my seat at the Mayo, the curtain was up and sure enough I was able to see that there was going to be live music! Out came Stefan Nowak on keys, Angus Gomm on trumpet, Nick Bowd on sax and Pete Skelton on drums! Score!
Rounding out the performers were Sean Sinclair and Tom Struik.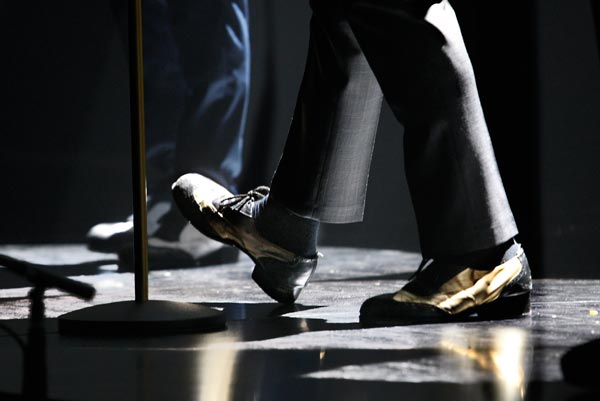 As I'm watching The Tap Pack banter back and forth (sometimes with jokes that were funny, some not so much), I couldn't help but think, "How are these guys dancing up a storm in their well pressed suits? Aren't they uncomfortably hot in their long sleeves?" The question quickly left my mind because I became distracted with the next song and dance. Kind of like how I'm being distracted right now with my phone beeping about The Blacklist television show being renewed for Season 8.
I must say, the energy and passion the players put into the show was very respectable. They kept my attention, even in the Second Act. Most of the songs they performed were not familiar to me, but it really didn't matter. All that mattered was that I enjoyed myself and learned about The Tap Pack.
The Tap Pack is currently on tour in the United States and heading back overseas on May 2020. You can see the tour dates here.
---
Ilana Rapp is a media-savvy Generation Xer with instinctive wit, quick humor and a taste for deep human emotions. As a former (child) actress with Broadway, film and television credits, she is adept at, well, lots of things.

She has blogged on The Huffington Post and writes entertainment pieces for NYCastings.

She is a huge fan of the television show V. Ask her why her favorite number is 22.

Follow Ilana on Twitter @LizardLadyNJ