By Al Nigrin
originally published: 02/19/2020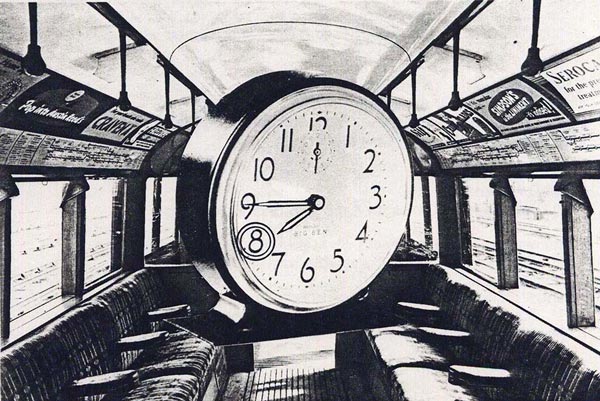 United States Super 8 Film + DV Festival Cover Art by Albert Gabriel Nigrin
Super 8mm film was introduced in 1965 by Eastman Kodak at the World's Fair in New York to help the average person document their everyday lives.   Super 8mm was most widely used for filming home movies between the mid 1960s till the early 1990s. Today amateur usage of Super 8mm has been replaced by digital video but the format is still regularly used by filmmakers, artists and students. Some hope to imitate the look of old home movies. Others want to create alternative looks for flashback sequences and altered states of consciousness. Some just like the idea of creating images in the classic style of using actual film. Super 8mm is a relatively inexpensive film, making it popular among filmmakers working on a low budget who still want to achieve the look of real film. Super 8mm has become quite common in theatrical features. J.J. Abrams 2011 film Super 8 pays homage to the little film format. Guy Maddin's surreal 2006 film Brand Upon The Brain  and Jim Jarmusch's 1997 film Year of the Horse -- a documentary on Neil Young's band Crazy Horse -- use it too.
I fell in love with Super 8mm when I started making films in 1982. I liked the fact that you were pretty much in control of every aspect of the filmmaking process. I could even develop the film myself. So it was the DIY aspect of Super 8mm that first lured me in but it was the grainy, oneiric (dreamlike) quality of the film stocks that sold me on this format. I have since made over 30 short (mostly experimental) films using Super 8mm.  I started touring my work and showing it all over and then met two of the biggest Super 8mm film supporters in the USA. They are the husband and wife team of Bob Brodsky and Toni Treadway. They founded and ran the International Center for 8mm Film and Video in Massachusetts for over 30 years. Through their non-profit organization they subsidized many Super 8 filmmaker by sending them to film festivals in the USA, England, France, Venezuela, Brazil, Canada, and others.  It was thanks to them that I got to visit so many wonderful festivals and countries. The largest United States-based Super 8mm Film Festival in the 1970s and 1980s was the one in Ann Arbor, Michigan. Bob and Toni sent me there to show a package of experimental films that I had curated in 1986 but by 1988 the people who ran this legendary festival decided they were going to cease operations. So Bob and Toni suggested that I create one at Rutgers since I had set up the Rutgers Film Co-op/New Jersey Film Festival back in 1982.  So I did and called it the United States Super 8mm Film Festival.  The first of these was a curated program where I invited Super 8 filmmakers that I admired to screen their work but the 31 that followed were juried festivals where a panel of judges picked the winners.  The Festival has changed over the last 3 decades going from screening Super 8mm films exclusively to then including Hi 8mm videos and now digital videos. So I thought it would be nice to ask some of the filmmakers who are finalists in the 2020 United States Super 8mm Film and DV Festival to talk about Super 8mm and the films they are showing at this year's program.  The filmmakers that I spoke to are: Timothy Amatulli, Director of Kegwarmer who is from Glenrock, New Jersey; Jason Ewert, Director of corruption who is from Bemidji, Minnesota; Gwendolyn Audrey Foster, Director of No Personal Checks who is from Lincoln, Nebraska, Ed Carter, Director of Spring II from Boston, Massachusetts,  and Emil Minasyan, Director of The Heist who is from Amarillo, Texas.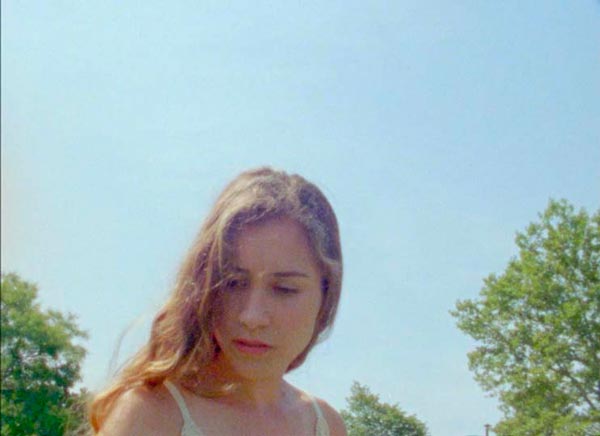 Still from Ed Carter's Spring II

Nigrin: Tell us about your film that is a finalist in the 2020 United States Super 8mm Film & Digital Video Festival and why you decided to make it.
Amatulli: I decided that I wanted to shoot a movie on actual film for the first time ever when a student I was enrolled in school with sweeped our annual film festival with a short he shot on 35mm in Prague. I loved the film and its look and thought that now was the time to experiment, especially since my school did not teach us how to shoot film and I felt that, as a filmmaker, it was a necessary skill to learn. Gradually Joe and I found our story in a Buster Keaton-esque silent comedy.
---
The article continues after this ad
---
---
Ewert: My film corruption is a Lovecraftian tale about a writer who gets a new apartment and descends into creativity and madness. In a nutshell, corruption is a gritty metaphor about the creative process. The story had been rolling around in my head for awhile and I already had a location and actor in mind, I just needed an excuse to shoot it. Cue the Straight 8 London competition.
Foster: I made No Personal Checks because I wanted to explore the idea of memory on film and also film as an aide-mémoire. I found some Super 8 film I had shot in the 80s, so I decided to hand-develop it and do something with it. I hand-baked, re-photographed, hand-processed, re-edited, and otherwise distorted my footage. I kept fooling around with it, and layering it, until I felt I had a magical film.
Carter: Spring II is a short piece that came out of some colliding ideas about nuclear technologies, the environment, and the strange nature of existence and human apprehension. I got a feel for the film stuck in my head, a sense of its timing and rhythm, and couldn't shake it.

Minasyan: The film was a labor of love for me. I just wanted to make a movie that I wanted to see.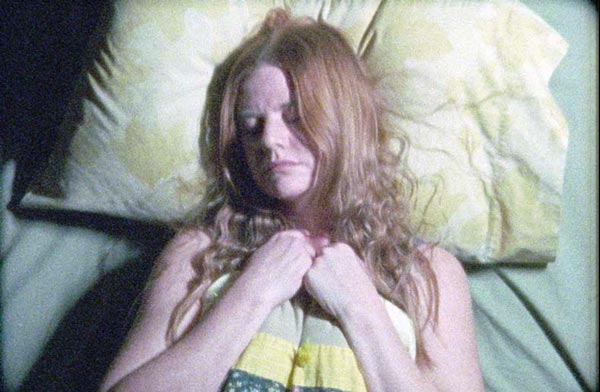 Still from Jason Ewert's corruption
Nigrin: Why did you use Super 8mm for your film?
Amatulli: Ultimately we went with Super 8mm film because it was the cheapest. Not exactly the best excuse, but we didn't have much money to play around with since we were still in school and not working full time jobs. But I think 8mm in particular helped add to the old time feel of the movie.
Ewert: I had the opportunity to compete in the Straight 8 film competition in London. The goal was to film a short using super 8mm film without editing (filmed in sequence) then after sending in the super 8 cartridge to a lab in London to be processed, I had to create an audio track without ever seeing the film. I was very intrigued by the limitations and the raw experiment lent itself to the subject matter of the story.
Foster:  I started using Super 8 years ago when I went to Douglass College as an undergrad. I have always loved the look and feel of Super 8mm. I have shot in 35mm and digital, but Super 8 is more painterly and much more tactile - more hand-made. I like to get my hands on the materials. I like to scratch the film, paint on it, drag it in the sand. I love the film stock itself, the feel of it. I do some Direct Animation too. I am into the materiality of film. It is precious but not pretentious. Film stock, film grain, scratches, and light streaks are like scars, freckles and wrinkles; tracings of life. I prefer the look of Super 8mm and 16mm film. I like the grain. It has a romantic look. I have become fascinated by the way film is a living memory in a sense. It is projected in our imagination. Like a phoenix, film comes to life by magic, by resurrection. Analog film has a living warmth. It breathes. Film is liminal, magical and ethereal.
Carter: I imagined the film taking place in bright sunlight, casting over it a sort of diaphanous haze, with a heady lightness and languor and a simmering sense of eeriness. I knew a rich-saturation lower-resolution film format like S8 would give it the strange quality of memory and hyperreality that would tease out these various atmospheres.

Minasyan: I used super 8mm film because I love the look of film! And super 8mm film has a specific film look!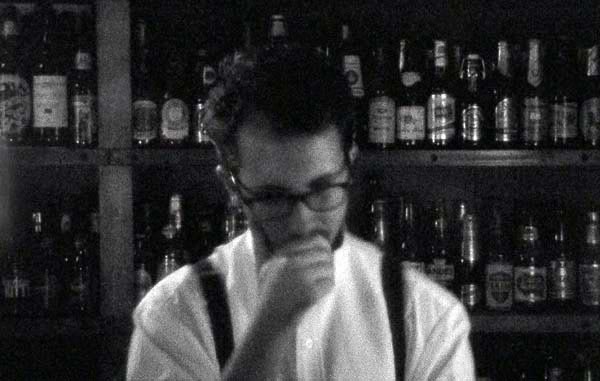 Still from Timothy Amatulli and Joe Saulenas's Keg Warmer
Nigrin: Do you find getting Super 8mm materials and film more difficult these days?
Amatulli: Joe and I went with Pro8mm film and found the entire process to be incredibly easy to work with. We easily ordered three cartridges which perfectly fit my Super 8 camera, shot with them, and shipped them back. Soon enough we got all the footage on a clean reel and it looked fantastic. I actually think it's easier than ever to shoot on 8mm. There is still such a love for it and it stands out from the look of digital.
Ewert: I assumed that the camera was going to be the easy part - I had several of them on my shelf, collected over the years. Unfortunately, three cameras broke in the preproduction test phase and I had to scramble to find a suitable, working camera in time. Film was very easy to purchase online from several sources. 
Foster: I am actually far more surprised to find so many people shooting in Super 8 these days, and there are so many wonderful film festivals around the world running analog film (both Super 8 and 16mm). If anything, analog and Super 8 seem even more far more popular these days. There are so many wonderful artists working in Super 8mm (many can be found on Vimeo) and there is a vibrant and supportive global artist sub-culture in Super 8 and analog film.
Carter:  I have only been working with Super 8mm the last 3 years, so it's not a comparison I'm especially equipped to make. Kodak supply an array of color stocks that fit my purpose (we used mostly 50D with some 200T for interiors) that you can get shipped from their website. Their pricing on a 50' roll (around 2m30s of usable footage if you shoot at 24fps, as we did for Spring II) has increased by a decent chunk o' change over the last couple of years, and that twinned with no longer being able to lean on a student discount means I now pay about $33 / roll where previously I was paying $18. For a 10 minute film shot at a ratio of 1:3, that's a $180 difference. If you're already in the business of budgeting for stock, processing, scanning, etc, it's not prohibitive - and obviously we'd be at sea without Kodak, alone today in manufacturing Super 8mm film stock. But it does make you think twice about experimenting.
Minasyan: I definitely wish there was more available on the market!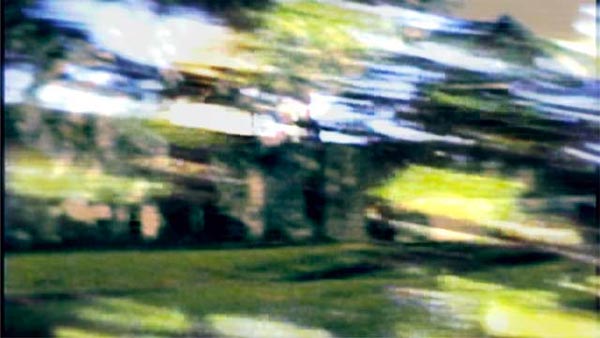 Still from Gwendolyn Audrey Foster's  No Personal Checks
Nigrin: Are there any memorable stories while you made this film or any other info about your film you can relay to our readers?
Amatulli: I think my favorite memory from the two days of shooting was doing a separate photoshoot with our actor Chris and the Keg in several funny and… interesting positions. I just hope everybody has a good time watching our little short and that the fun we had making it translates to the screen.
Ewert: The pressure of two months of preparation and three broken cameras, only to film my short in a day was intense to say the least! My advice to any future super 8 filmmakers is: Measure twice, shoot once! Out of all the entries in the London competition - 30 films were not completed. Finishing my film was the biggest rush I've ever experienced. Stress and anxiety were close companions but I'm definitely a better filmmaker now than I was before.
Foster: My film is a poem about memory. I get a lot of compliments on the film: people say it emulates their memories or "the feeling of memory." I think No Personal Checks is the opposite of a cursed film; it's a bit magical. It's so great to share it with people and it's playing in a number of international experimental film festivals. The funny thing is that it has played a few festivals as an "experimental documentary." I did not expect that to happen, but it is a welcome thing.
Carter: What came to me first about the film I wanted to make - before I'd even written down a single word or idea - were the editing rhythms, and how they would inform a peculiar, elliptical sense of time and space. I knew that realizing this would be as much a matter of forming the right images as accompanying them with the right mood and meter in the music. Very early on I knew this would be a silent film with a continuous, 10 minute piece of music. To that element I owe a great deal of gratitude to the film's other author, Donovan Sierra. His score started from a few scribbled references and videos I'd put together, then went far beyond anything I could have hoped. His work brings the film together.

Minasyan: I remember getting my film back from processing and seeing the transfer for the first time, it was magical to see your work come to life on Motion Picture Film!!! The film colors, the film contrast and that amazing film look!!! Took me straight to the world of cinema! And also seeing my film the first time at the premiere on the big screen at the movie theater was special!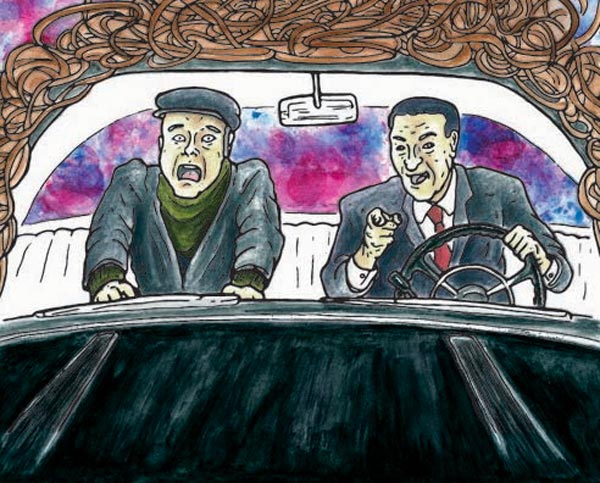 Still from Kevin Lonano's Richard Nixon: Getaway Driver
Many thanks to Phil and Rhonda Vigeant and Jaclyn Vigeant Melo of Pro 8mm for sponsoring this Festival for the last decade plus.

Here is more info on the 2020 United States Super 8mm Film & Digital Video Festival:
Saturday+Sunday, February 22+23, 2020 at 7PM in Voorhees Hall #105, Rutgers University

71 Hamilton St, New Brunswick, New Jersey

$14 Advance; $12=General; $10=Students+Seniors
Go to www.njfilmfest.com/super8.html to see the complete line-up.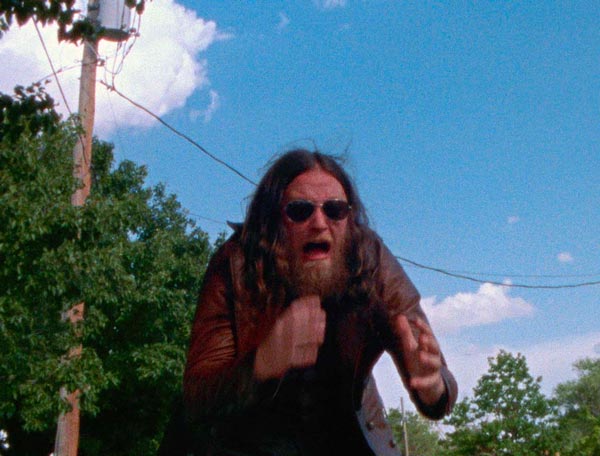 Still from Emil Minasyan's The Heist