originally published: 02/17/2020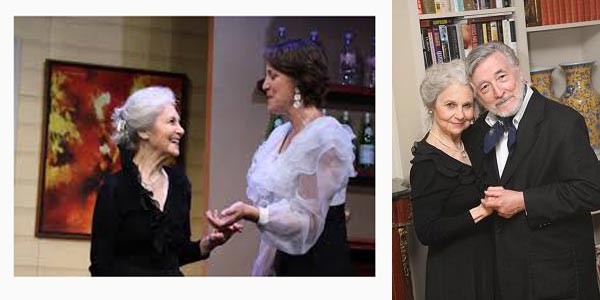 Lynn Cohen, an actress who had performed on Broadway, in films, and on television (most notably playing the nanny on Sex and The City) died on February 14, 2020. The actress had a special relationship with Cape May Stage who honored Lynn and her husband Ron at the annual NJ Theatre Alliance Applause Awards held on October 18, 2010 at the Bickford Theatre in Morristown.
Roy Steinberg, Artistic Director of Cape May Stage issued a statement to the media.
"When I became the Producing Artistic Director of Cape May Stage the first actor I phoned was Lynn Cohen to play in Social Security.  The owner of the New York Conservatory of Dramatic Arts, an acting school in Manhattan, brought the entire graduating class to Cape May to see her entrance, which she called 'a master class in using props'.  Lynn's character was talked about leaving hard sucking candies all over the apartment.  The set was an upscale New York art dealer's apartment with priceless paintings.  Lynn came to the door.  I gave her a sucking candy.  She spent what seemed like five minutes swishing it in her mouth and looking around the set.  With no words you could see her decide to stick it on a painting. It brought the house down.
"The next season, Shawn Fisher wrote a play for her called How To Make A Rope Swing in which she played a Cape May County principal with a racist past.  She was brilliant once again.  The actors in that play told me Lynn would call them years later telling them how brilliant they were.  When Lynn Cohen says something you listen.
"We did the most important and controversial play together in Cape May Stage history.  Samuel Beckett won the Nobel Prize in Literature and Happy Days is pure poetry.  Some hated it – others thought it the most profound work they had ever seen.  The Dodge Foundation gave us an extra ten thousand dollars that season because we were brave enough to bring that work to our community.  Lynn also read the world premiere of a Lewis Black play called Dottie's Home about Dorothy from the Wizard of Oz as an old lady driven crazy by her experiences in the Emerald City.
---
The article continues after this ad
---
---
"I have directed Lynn Cohen at Circle Repertory Company in a new play called The Marriage Fool with Farley Granger.  In New York, I directed her as Lady Bracknelll in The Importance of Being Earnest by Oscar Wilde.  She was always a consummate artist searching for truth.
"Lynn also directed me in New York at the Ensemble Studio Theatre.  She never stopped working.
"You'd find her in a loft reading a new play for no money and she would work in film and television for huge salaries.
"Lynn was an angel –now she is in their midst."
-- Roy Steinberg, Artistic Director, Cape May Stage
Pictured (RIGHT): Lynn & Ronald Cohen | Photo credit: Aleksey Photography
Some of the films you may have seen Lynn Cohen in include The Hunger Games: Catching Fire, Munich, Eagle Eye, Sex and the City, Across The Universe, and All In Time.