originally published: 02/13/2020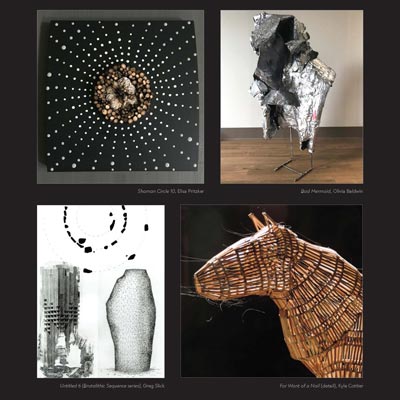 (TRENTON, NJ) -- Collective Expeditions is the second exhibition/installation by the council members of The (International Society of Antiquaries [ISA]: Olivia Baldwin, Kyle Cottier, Elisa Pritzker, and Greg Slick at BSB Gallery in Trenton. This exhibit features painting, sculpture and installation. The exhibition will be on view through March 14, 2020, and will include a gallery talk and closing ceremony. Gallery hours are Thursday-Saturday, 11:00am to 5:00pm.
The ISA is a learned and multidisciplinary society established in 2018. The council of artists have diverse practices. However, their work fits together in complex and interesting ways that speak to the importance of understanding our past—sometimes as far back as prehistory—in order to comprehend who we are as a species. "Individually and collectively, our work references tribal, shamanic, ancestral, as well as contemporary art; esotericism; anthropology; and archaeology in various direct and indirect ways. Our goal, thus, is to look back in order to look forward," explains the artists.
Olivia Baldwin's paintings elude clear trajectories; they embrace disruption and surprise.
"I think of them as containers for thoughts, places, and conversations," she says. Color heightens the drama and the joy. The sculptural work arrives through the language of painting. She collects scraps, found wood, old paintings, and discarded objects. Density and chroma figure prominently as she builds her forms. The work presents a collision of impulses; they coalesce as they fall apart.
Kyle Cottier's sculptural practice is rooted in the metaphysical study of underlying patterns and principles that give rise to the convalescence of the natural world. Utilization of reclaimed wood is fundamental to his practice—to bring new life and wholeness to discarded scrap. Within his work, the permanent cycle of growth and decay coexists with the presence of absence, informed by the essential human experience of processing loss. Through a union of terrestrial and architectural constructs, his work inhabits the territory where entropy and geometry in the universe converge. He navigates these dualities of chaos and order, and existentially, life and death, to kindle a deeper psychological awareness of the interconnectedness between nature and mankind.  
---
The article continues after this ad
---
---
Elisa Pritzker has been studying the Selknam for the last 14 years. The Selknam were one of the original people from Tierra del Fuego (The Land of Fire) in Patagonia. The Selknam suffered a brutal genocide, but fortunately their people and culture are alive. Her art is inspired by her research about the spiritual richness, cosmology, body art painting, and daily life of the Selknam; and it is a visual homage to an old society whose values are so relevant today. Taking her cue from this ethnic people, she utilizes whatever is provided by nature. "Considering that they had the most ancient way of living as hunter-gatherers, the Selknam were rich in rituals, had a remarkable set of principles, a profound sense of community, respect for family, reverence for nature, women's shamanic power and were re-using everything on earth," she says.
Greg Slick's work investigates the crossroads of art, archaeology, and anthropology, plus the influence of ancient cultures on contemporary art. Prehistoric structures, Informalism, the Earth Art movement, and the study of shamanism are some of the key influences on his practice. Slick's paintings feature the graphic qualities of Neolithic and Iron Age archaeological sites within an abstract language. The color scheme alludes to rural fields in which dolmens, cairns, and standing stones are found. His stone sculptures reference petroglyphs, ritual figures, and early Irish beehive huts, while attempting to explore a connection between an authentic experience of the past and a museum-mediated one of the present. His works on paper combine antiquarian-style ink drawing and mixed media to question our understanding of deep history and how knowledge is created through narrative transformation. "I feel that in order to know where our culture of aesthetic objects is going, we must know from where it has come," Slick notes.
The opening reception will be held on Saturday, February 22, 2020, from 5:00pm to 7:00pm.   BSB Gallery is located at 143 East State Street in Trenton, New Jersey.
---
ARTIST BIOS
Olivia Baldwin is a visual artist originally from the Boston area. She received her BFA in Painting and Photography and a BA in English-Creative Writing from the University of Wisconsin-Madison. Her work has been exhibited in solo and group exhibitions in Austria, Italy, and throughout the United States, including Boston University's Faye G., Jo, and James Gallery, the University of Wisconsin's Gallery 1308, and Jane Lombard Gallery. Baldwin is a 2018 recipient of a Wood/Raith Living Trust Fellowship, and a current MFA candidate at the University of Connecticut.
Kyle Cottier was born in 1993 in Louisville, KY. In 2014 he was awarded a gallery space at the New York Studio Residency Program in DUMBO, and he received his BFA in 2015 from the Art Academy of Cincinnati. Cottier has shown work extensively in the US at major galleries and museums, from the Contemporary Arts Center in Cincinnati to the Dorsky Museum in New Paltz, NY. His work is a part of 21c Museum's collection and has been shown at their locations in Oklahoma City, OK; Bentonville, AK; Cincinnati, OH; and Louisville, KY. Kyle's sculpture, Sometimes I wish we were an eagle, was commissioned and featured in the Carter Center's Foundation and live auction in 2019, where he raised over $17K for international health and peace. He has had work published in Hudson Valley Magazine, Chronogram, and through Artrepreneur's online publication, and in addition was awarded first prize for sculpture in their 2018 competition, where he installed work at Lazy Susan Gallery in Manhattan. Kyle currently lives and works in Hudson Valley, NY. 
Elisa Pritzker has exhibited at MoMA, Queens Museum, and Dorsky Museum in group exhibits. She has participated in the Affordable Art Fair NYC & London UK, London Biennale-Creative Village Medienparty in Berlin, Germany, Pinta Fair NYC, Fountain Art Fair and EGGO-Cordoba Art Fair andarteBA in Argentina. She was selected as the US artist for The Pyramids of Naxos, Greece, during the Olympics. From 2004 to 2012, she exhibited with the Franklin 54 Gallery, Chelsea, NYC.  Among many other venues: Dumbo Arts Center & Nurture Art, Brooklyn. Others in the Hudson Valley: Kingston Museum of Contemporary Arts [KMOCA] and Hudson Valley MOCA [former HVCCA], Peekskill. In 2012 she presented a solo-installation at the prestigious Galeria Arte x Arte, Buenos Aires, Argentina. Other exhibits were at Galerie Taste Modern Berlin in Berlin, Germany, and Auditorium-Centro Provincial de las Artes, Argentina. Among many publications, Pritzker was featured at PBS, CNN-in Spanish, Huffpost, and Chronogram Magazine, and was mentioned on Hyperallergic. Her "Eclectica Store" was showcased in the New York Times.  
Greg Slick lives and works in Beacon, NY, and has exhibited in NYC as well as internationally. Most recently, his work was featured in Take Back the Walls, a group exhibition at the Rochester Contemporary Art Center, Rochester, NY; Time Travelers, a group exhibition at The Samuel Dorsky Museum of Art at SUNY New Paltz, New Paltz, NY; Opened Ground, a solo exhibition at the Seligmann Center, Sugar Loaf, NY; Fieldwork, a solo exhibition at Matteawan Gallery, Beacon, NY; Carte Blanche, a group show at Adah Rose Gallery, Kensington, MD; and Taconic North, a group exhibition at LABspace, Hillsdale, NY. In 2016 he had a solo exhibition at WAAM (Woodstock Artists Association and Museum), Woodstock, NY. His work has been included in group exhibitions at TSA New York in Brooklyn, NY; the Katonah Museum of Art, Katonah, NY; Ann Street Gallery, Newburgh, NY; and Mad Dooley Gallery, Beacon, NY. His work was included in several art fairs in 2014 and 2015, including the Governor's Island Art Fair in Brooklyn with Ground Floor Gallery; JustMAD6 with TSA New York in Madrid, Spain; Select NYC with TSA New York; and Aqua Art Miami, Miami, FL, with Matteawan Gallery. In 2017 he was a juried fellow at the Saltonstall Foundation for the Arts in Ithaca, NY, and in 2013 he was an artist in residence at the Burren College of Art in Ballyvaughan, Ireland.
---
BSB Gallery is a 501(c)3 nonprofit contemporary art space located in downtown Trenton, established in 2018. It is our mission to cultivate creativity and community by offering exhibition, education, and networking opportunities for artists and curators. We strive to strengthen the local community by making the arts accessible and welcoming for all of Trenton's residents. This is achieved through art exhibitions, community events, and various workshops offered throughout the year.
BSB Gallery is supported by The Trenton Downtown Association from grant funding generously provided by the George H. and Estelle M. Sands Foundation and by Isles, Inc. with support from the New Jersey Neighborhood Revitalization Tax Credit Program.
---
The Trenton Downtown Association (TDA) is a nonprofit organization dedicated to making the capital city a more competitive location for business owners and an engaging center for workers, residents, and visitors. Since 1986, TDA has offered programs that promote economic growth and investment in New Jersey's capital city. Our staff is involved in business recruitment and retention, public relations, advocacy, marketing support, referrals, partnership development, and job creation. TDA also hosts events like the Capital City Farmers Market, Levitt AMP Trenton Music Series, and Patriots Week to attract visitors to experience the current growth in downtown Trenton. Through maintenance of a clean and safe commercial district, support for the arts and cultural heritage, promotion, and public policy planning, The Trenton Downtown Association is leading the revitalization of the City of Trenton.