originally published: 02/12/2020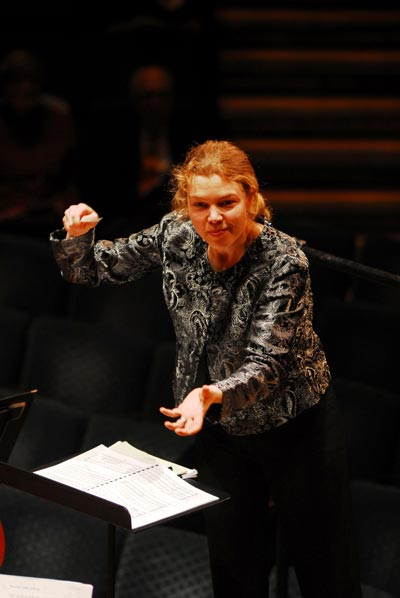 (PRINCETON, NJ) -- Westminster Conservatory will present its annual showcase featuring Westminster Community ensembles and students on Sunday, February 23 at 3:00pm in Richardson Auditorium in Alexander Hall on the campus of Princeton University. The performers will be the Westminster Community Orchestra conducted by Ruth Ochs and the Westminster Conservatory Children's Choirs conducted by director Patricia Thel, Chaequan Anderson, Yvonne Macdonald, and John Paul Velez. Other performers will be Westminster Choir College students enrolled in Westminster's Opera Workshop, and winners of the Westminster Conservatory Concerto Competition: Ethan Feng, clarinet; Abrielle Scott, flute; and Eugene Seong, tenor.
A highlight of the program will be the world premiere of Skyland, composed by Westminster Choir College student Sam Scheibe.  The second movement of Constellation, a larger orchestral work inspired by myths and legends surrounding the constellation commonly known as Ursa Major, Skyland is based on a myth from the Anishinaabe Native American Tribe of the Great Lakes.
The program also will include "Peasant Dance" from Grieg's Lyric Suite, Chaminade's Concertino for Flute and Orchestra, the first movement from Crusell's Concerto for Clarinet No. 3,  "The Wandering Minstrel" from Gilbert and Sullivan's The Mikado, "Duet" and "Chorale" from J.S. Bach's Cantata No. 93; Sanctus" from Fauré's Requiem, "Il core vi dono" from Mozart's "Così fan tutte, "Quel guardo, il cavaliere" from Donizetti's Don Pasquale and "Moldau" from Smetana's Má vlast.
Tickets for the concert are $15 for adults and $10 for students/seniors. They can be purchased through the Princeton University Box Office at 609-258-9220 or online at www.princeton.edu/utickets. For more information, visit www.rider.edu/arts.
PHOTO: Ruth Ochs will conduct the Westminster Conservatory Orchestra as part of the annual Westminster Conservatory Showcase featuring Westminster Community ensembles and students on Sunday, February 23 at 3:00pm.
---