originally published: 02/12/2020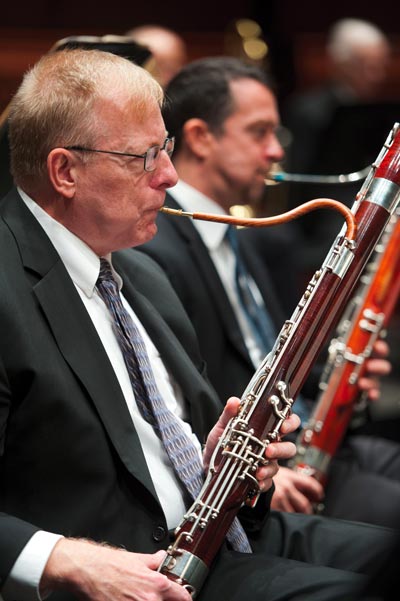 (NEWARK, NJ) -- The New Jersey Symphony Orchestra presents Beethoven's Third Symphony, "Eroica," and the East-Coast premiere of Christopher Rouse's Bassoon Concerto, March 26–29 in Newark, Red Bank and Morristown.
Principal Bassoon Robert Wagner performs the Rouse concerto—a work the NJSO co-commissioned from the late American composer in honor of Wagner's 40th anniversary season with the Orchestra. Music Director Xian Zhang conducts the program, which also includes Rossini's Overture to Guillaume Tell.
Performances take place on March 26 at 1:30pm and March 27 at 8:00pm at NJPAC in Newark; March 28 at 8:00pm at the Count Basie Center for the Arts in Red Bank and March 29 at 3:00pm at Mayo Performing Arts Center in Morristown.
On March 27, the NJSO's celebrated pro-am experience #OrchestraYou brings amateur instrumentalists and Orchestra musicians together for a fun post-concert session. Participants will rehearse and perform the main title from John Williams' epic Jurassic Park score under the baton of José Luis Domínguez. #OrchestraYou is free to the evening's concertgoers; there are no auditions, but registration is required by March 13. More information is available at njsymphony.org/orchestrayou.
NJSO Accent events also include a singalong on March 26 at 12:30pm and Classical Conversations on March 27 and 28 at 7:00pm and March 29 at 2:00pm. In addition, the NJSO will accept non-perishable food items for donation to local food banks as part of its annual food drive. More information on NJSO Accents is available at njsymphony.org/accents.
---
The article continues after this ad
---
---
Tickets start at $20 and are available for purchase at njsymphony.org or 1.800.ALLEGRO (255.3476). Student tickets are $10, available at njsymphony.org/students one month in advance.
More information is available at njsymphony.org/eroica.
The performances are part of Beethoven's Birthday Bash—the NJSO's celebration of the 250th anniversary of Beethoven's birth. Beethoven concerts this season also include performances of the composer's complete piano concertos across two programs with artist-in-residence Louis Lortie (March 19–22), as well as Beethoven's Second Symphony (May 1–3). Next season, the Orchestra performs Beethoven's Seventh Symphony and Wellington's Victory on opening weekend (October 9–11) and Fifth Symphony (April 8–11, 2021). Concertmaster Eric Wyrick performs the composer's complete violin sonatas across three programs, featuring pianists Simone Dinnerstein, Alan Feinberg and Drew Petersen, at the Concert Hall at Drew University (October 21, November 18 & December 16). More information is available at njsymphony.org/beethoven250.
Beethoven's "Eroica"' Symphony
Thu, Mar 26, at 1:30pm | NJPAC in Newark
Fri, Mar 27, at 8:00pm | NJPAC in Newark
Sat, Mar 28, at 8:00pm | Count Basie Center for the Arts in Red Bank
Sun, Mar 29, at 3:00pm | Mayo Performing Arts Center in Morristown
XIAN ZHANG conductor
ROBERT WAGNER bassoon
NEW JERSEY SYMPHONY ORCHESTRA
ROSSINI Overture to Guillaume Tell
ROUSE Bassoon Concerto (East-Coast Premiere, NJSO Co-Commission)
BEETHOVEN Symphony No. 3, "Eroica"
NJSO Accents
Singalong Fun – Mar 26 at 12:30pm - Sing along to an entertaining selection of favorites in the lobby.
Classical Conversation – Mar 27 & Mar 28 at 7:00pm & Mar 29 at 2:00pm - Enjoy a lively 30-minute Classical Conversation before the performance. Learn more about the music from NJSO musicians, guest artists and other engaging insiders.
#OrchestraYou – Mar 27 after the concert - Find your flute, tune up your trombone or dust off your double bass and join NJSO musicians in our premier Accent event. Registration by Mar 13 required. Register online.
NJSO Food Drive - Non-perishable food items will be accepted for donation to local food banks.
Northern Trust is concert sponsor of the March 28 performance; RBC Wealth Management is concert sponsor of the March 29 performance.
Named "a vital, artistically significant musical organization" by The Wall Street Journal, the New Jersey Symphony Orchestra embodies that vitality through its statewide presence and critically acclaimed performances, education partnerships and unparalleled access to music and the Orchestra's superb musicians.
Music Director Xian Zhang—a "dynamic podium presence" The New York Times has praised for her "technical abilities, musicianship and maturity"—continues her acclaimed leadership of the NJSO. The Orchestra presents classical, pops and family programs, as well as outdoor summer concerts and special events. Embracing its legacy as a statewide orchestra, the NJSO is the resident orchestra of the New Jersey Performing Arts Center in Newark and regularly performs at State Theatre New Jersey in New Brunswick, Count Basie Center for the Arts in Red Bank, Richardson Auditorium in Princeton, Mayo Performing Arts Center in Morristown and bergenPAC in Englewood. Partnerships with New Jersey arts organizations, universities and civic organizations remain a key element of the Orchestra's statewide identity.
In addition to its lauded artistic programming, the NJSO presents a suite of education and community engagement programs that promote meaningful, lifelong engagement with live music. Programs include school-time Concerts for Young People and the NJSO Youth Orchestras family of student ensembles, led by José Luis Domínguez. NJSO musicians annually perform original chamber music programs at community events in a variety of settings statewide through the NJSO Community Partners program.
Photo by Fred Stucker.