originally published: 02/12/2020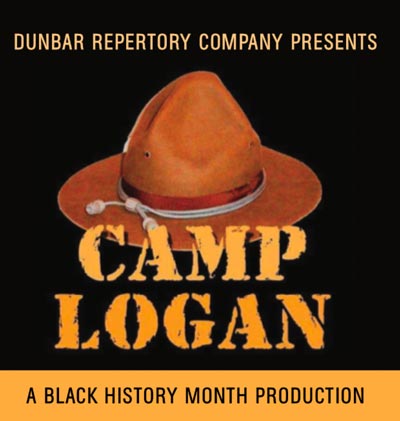 (MIDDLETOWN, NJ) -- This Black History Month, the Middletown Arts Center presents the Dunbar Repertory Company production of Camp Logan, the NAACP Image Award-winning play based on events of the 1917 Houston Riots. Written by Celeste Bedford Walker and directed by Darrell Lawrence Willis, Sr.,  performances take place February 21-22 at 8:00pm, February 23 at 4:00pm; February 28-29 at 8:00pm, and March 1 at 4:00pm.
Camp Logan depicts real-life events in Houston in 1917 when soldiers of the highly decorated all Black 24th United States Infantry Regiment mutinied after being subjected to extreme Jim Crow treatment. Walker's nuanced, suspenseful dramatization details the buildup to the riot that left dozens dead, including 17 African American soldiers hanged for mutiny and forty-one given life sentences. 
"The story of Camp Logan was something that I had heard as a young girl growing up, especially when there was some racial incident that happened in the city. The elders in the community whispered, 'We don't want another Camp Logan.' So I heard it all my life and I really started to listen to it with a writer's ear and imagination after I had written a couple of plays. I started to hear the Shakespearian-like aspects. The records of this incident were sealed for some 50 years. When I first wrote the play, it was very good that I could get the oral history.  But since then the records have been released. I've seen them. There are just boxes and boxes of them," quotes playwright Celeste Bedford Walker.
The cast includes Damien Berger, Grayson Berry, Kyle Blocker, Arthur Pugh, Collin Roach, Bellamy Shivers and Joseph Taylor. The Assistant Director is Mark Antonio Henderson and Production Stage Manager is Janet Clarke Graham. 
Ticket prices are $20. Purchase tickets online at middletownarts.org or call the MAC Box Office at 732-706-4100. The Middletown Arts Center is located at 36 Church Street in Middletown, NJ (next to the Middletown train station). Free parking is available onsite with additional free parking available in station metered lot weekday evenings after 6:00pm and weekends. 
---
The article continues after this ad
---
---
Camp Logan is the fourth official production by Dunbar Repertory as a Middletown Arts Center Resident Company.
About Celeste Bedford Walker

Celeste Bedford Walker's award-winning canon includes over forty plays, videos, documentaries and films that have been performed and viewed in major venues across the country. She has received numerous commissions to write dramas, comedies, and musicals for theaters, schools, museums, and organizations. 
Recognized by the U.S. Congress for her historical contribution as producer and author of works that bring to light lost stories of African American history, Walker has received several honors and awards in theatre. Awards include finalist in the international Susan Smith Blackburn Prize for outstanding work by a female playwright; The Beverly Hills/Hollywood NAACP Theatre Awards for Best Playwright/Best Play for positive portrayal of Blacks in the media; the National Black Theatre's August Wilson Playwriting Award for significant contributions to Black and American Theatre; finalist in 38th Annual Samuel French OOB Short Play Festival, Houston Ensemble Theatre's Salute to Texas Playwrights, New York's AUDELCO nominations and awards, Memphis Tennessee's Gyneka Award, and others.
About the Dunbar Repertory Company

Known to residents of Central New Jersey as "Monmouth County's African American Theater Company", Dunbar Repertory Company is committed to its mission of perpetuating an appreciation of cultural diversity and celebrating African American culture through live literary readings, main stage theatrical productions, education programs and services.  
About the Middletown Arts Center

The Middletown Arts Center (MAC) is an award-winning, state-of-the-art facility run by the nonprofit Middletown Township Cultural and Arts Council which is dedicated to bringing quality arts programming and events to Middletown and surrounding communities. The MAC offers enrichment programs and entertainment for all ages and abilities.