originally published: 02/10/2020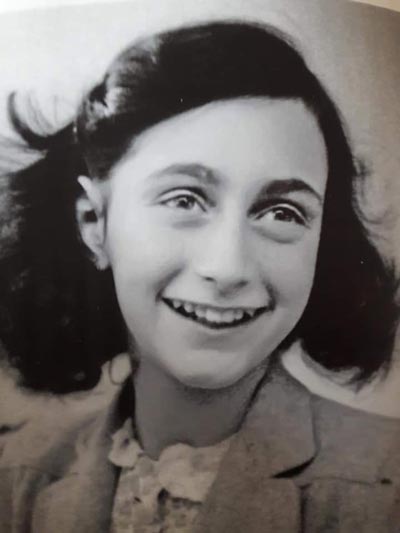 (HOPEWELL, NJ) -- The Diary of Anne Frank, a script-in-hand staged reading directed by Stephen Stahl, will have its Hopewell Theater premiere on Wednesday, March 11, 2020 at 7:30pm and Thursday, March 12, 2020 at 7:30pm. There will be a Q&A session with Stephen Stahl and cast following the performance. The memoir is one of the most famous and haunting stories to emerge from the 20th Century.
This worldwide celebration of Anne Frank's 90th birthday in 2019 was a reminder of what happens when democracy is denounced, making Anne Frank as timely today as when it was originally written. The memories of this young Jewish girl, forced to hide for nearly two years to escape Nazi persecution, are an essential part of how we remember one of the darkest periods of our human history.
Wendy Kesselman's adaptation of the original, Pulitzer Prize award-winning script by Goodrich and Hackett draws from previously unpublished parts of Anne Frank's real-life diary, allowing the audience to experience Anne in a way that breathes life into this passionate, complex young woman, allowing us to share her relatable experience of adolescence as a familiarly modern teenager. For nearly two years, Anne, her father, mother, and sister, joined with the Van Daan family, to hide in a secret annex space above her father's former office in Amsterdam, as the Nazis deported the Jews of Holland to their deaths. In her secret attic, Anne comes of age: she laughs, plays, fights with her mother, and falls in love for the first time. Despite her oppressive circumstances and the horrors that surround her, Anne's spirit transcends, as she voices her belief, "in spite of everything, that people are truly good at heart." Anne's dynamism, her luminous spirit, and her story of resilience continue to resonate deeply, making her story as vital today as when her diary first was published.
Stephen Stahl is an award winning film and theatre director, producer, writer and teacher. Critics worldwide have lauded him as a "a superb artist" who fills his work with "sincerity and passion". For more than 30 years, the Philadelphia native has been delighting audiences with his powerful direction and writing as well as sharing his knowledge and experience with students of all ages.
Tickets to the performance are $20 for general public, $18 for seniors 55+ and students with student ID, or $15 for Families First participants with valid ID, plus taxes and fees. Hopewell Theater is located at 5 South Greenwood Avenue in Hopewell, New Jersey and tickets can be purchased online. 
---
The article continues after this ad
---
---
Hopewell Theater offers a range of unique cultural experiences, from independent film and live music to guest speakers, artists and performances. Patrons can dine-in on small plates from local restaurants or just come for the show. Film buffs will particularly enjoy a state-of-the-art movie theater in Hopewell, NJ with a dine-in menu. A landing spot, a launch pad, and an incubator, Hopewell Theater is also a place where artists can play, practice, perform or show their passion project on the big screen. The theater is available to rent for private events, at both hourly and day-rates.