By Al Nigrin
originally published: 02/05/2020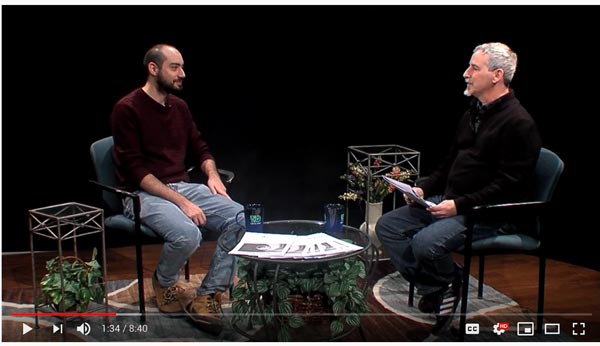 Check out the EBTV New Jersey Film Festival Interview with Etienne Labbouz -- Director of the poetic documentary Diwali which screens at the New Jersey Film Festival this coming Friday, February 7, 2020.


Here is more info on this screening:
Diwali – Etienne Labbouz (Highland Park, New Jersey) Diwali is a hybrid work mixing documentary film and poetry. This film-poem was shot in South India during the period of Diwali, the famous festival of lights. While commenting specifically on the position of women in Indian society, the film also marvels at the beauty of a celebration of light and spiritual renewal. 2019; 10 min. Q+A Session with Director Etienne Labbouz!

L'Eau Est La Vie (Water is Life): From Standing Rock to the Swamp – Sam Vinal (Los Angeles, California) This searing and timely documentary, set in the swamplands of Louisiana, focusses on a group of fierce Indigenous women who are fighting to preserve their way of life. They have set up the L'eau Est La Vie (Water is Life) camp, in active resistance against a planned oil pipeline. They are determined to risk everything to protect their environment from the predatory fossil fuel companies that threaten the health and well-being of their people. 2019; 25 min.

The Twelve Thousand – Eric Davis and Randy Watson (Langley, British Colombia, Canada) The Twelve Thousand narrates the true story of a young woman who survived the brutal sex-trafficking trade that exists on the border between Nepal and India.  Filmed on location in Kathmandu without any professional actors, this short film gives a voice to the 12,000 Nepalese children who are trafficked every year and invites the viewer to be part of the solution. In Nepali, subtitled. 2019; 30 min. Q+A Session with Director Eric Davis and Producer Randy Watson!

Co-sponsored by the Rutgers University Department of African, Middle Eastern, and South Asian Languages and Literatures Department!
Friday, February 7, 2020 at 7:00 PM
 in Voorhees Hall #105/Rutgers University, 71 Hamilton Street, New Brunswick, New Jersey


$14= Advance; $12=General; $10=Students+Seniors
---
The article continues after this ad
---
---
Information: (848) 932-8482; www.njfilmfest.com