By Al Nigrin
originally published: 02/07/2020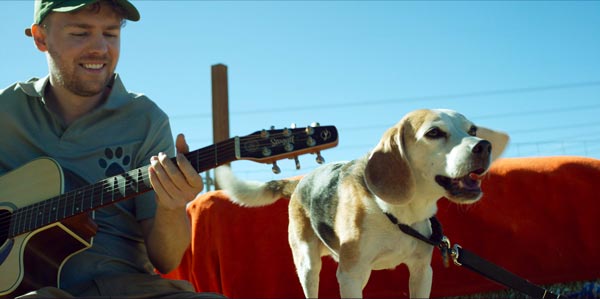 Here is my interview with Lab Dog Director Noemi Durivou:
Nigrin: Your touching and moving short film Lab Dog is about how Peter, a laboratory assistant in an animal testing facility, who goes on a mission to save Riley a dog from the lab. Please tell us more about how you got involved in making this film?
Durivou: For many years  my husband Justin and I have been animal rights activists. I have volunteered for a lot projects that benefit animals with various organizations and my husband and I have been supporting local animal shelters. When I came across an article about animal testing and read what horrific tortures these animals have to endure just to have our vanity and household items tested on over and over again, my husband and I wanted to bring awareness about these horrible practices that in our opinion should be replaced with much more accurate and safer methods like in vitro tissue sample testing, a practice where nobody gets hurt.
Nigrin: Who plays Peter and who plays Riley? How did you get them to act in your film? Tell us more about them.
---
The article continues after this ad
---
---
Durivou: Peter is portrayed by my husband and actor Justin Durivou. Justin helped a lot with doing extensive research for the film on people like Peter who once worked in laboratories before they changed their lives around to become animal rights activists (not uncommon). Justin was perfect for the role of Peter since he also was the producer of Lab Dog, he was invested in the project twice as much. Riley the laboratory dog is portrayed by Riley Rowland. Riley is a nine year old beagle whose life - in contrast to his movie character - is very carefree with his loving dog mom Szashe Rowland. I found Riley through Szashe who is a dog trainer. When we saw the personality of Riley shine through (he loves to sing to Bob Dylan's song It Takes a Lot to Laugh, It Takes a Train to Cry), we knew Riley would be perfect for our film and since he loved being around people we knew he would have no issues being in front of the camera without fear! Riley was adopted by Szashe from a shelter when he was around a year old. Fun fact, Riley and Molly the beagle from the film are actually a couple in real life!
Nigrin: Is that a real Research Lab in your film? Where did you shoot your movie?
Durivou: The research lab in the film in the film is not a real laboratory, it is actually a morgue movie set in Los Angeles, that we made out to resemble more like a laboratory.
Nigrin: In your press release, you mention that Lab Dog is a very important film for you. Please tell us more about this.  
Durivou: Lab Dog was a film we made because we wanted to give a voice to those who cannot speak up for themselves.  We wanted to shed light on a hidden topic that often is not talked about.  We wanted to not only focus on the physical pain these animals go through but also the psychological pain laboratory animals endure in a lifelong imprisonment in cages separated from their kind. Most, if not all, lab animals suffer from post traumatic stress disorder, a fact people should be made more aware of.
Animal testing is a method that is extremely cruel and outdated in today's age. Much safer and much more accurate testing methods such as in-vitro tissue sample testing are available to science today. I think in order for animal testing to stop, the public should be made aware of its cruelty more. This is why we wanted to make this film to bring awareness about the cruelty of animal testing.
Nigrin: Are there any memorable stories while you made this film or any other info about your film you would like to relay to our readers?
Durivou: We were shooting the emotional ending scene and we were hoping that Riley and Molly would greet each other or play like they usually do. We all watched in suspense to their reaction when Peter put Molly down on the ground, maybe they wag their tails and greet each other or maybe they play as the camera rolls... As Peter put Molly down on the ground, all she was interested in was the little treats that were scattered around instead of Riley and we tried this for many-many takes, when finally we had to edit around the ending scene and shot them separately. 
 Another extremely memorable story is that all the rest of the beagles in the film were from a shelter. After the shoot all of the furry little pups were adopted a week after shoot. Even a senior citizen beagle Mila being a 13 year old.  it just so happened that all of the beagles were adopted a week after the shoot!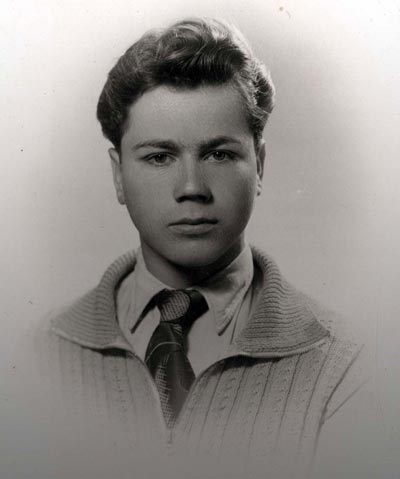 Still from 9 Degrees
Lab Dog is part of the New Jersey Film Festival Super Shorts II Program. Here is more information on this screening:

Super Shorts II
A Thousand Cranes – Leonard Chan (San Francisco, California)  Two stories play out in this lovely short film:  In the first story, set during China's Qin Dynasty, a warrior named Flying Arrow and a princess named Clear Clouds must face separation and sacrifice. Flying Arrow promises Clear Clouds that he'll love her through multiple reincarnations. The two young lovers yearn for a future that is not tangible. In the second story, set in the present day, an older couple, Claire and Aaron, must face the terrible sense of loss that comes with Claire's late-stage Alzheimer's, as they yearn for a past that doesn't exist anymore. The lovers from different lifetimes are determined to prove their love, not knowing their lives are intertwined. In Mandarin, subtitled.  2019; 7 min. Q+A Session with Director Leonard Chan!

Lab Dog – Noemi Durivou (Glendale, California)  When Peter, a laboratory assistant in an animal testing facility, is given the task to perform tests on a beagle dog named Riley, he has a total change of heart.  In the dark of night, he goes on a mission to save Riley, by taking him out of the lab.  As Peter begins to rehabilitate the traumatized dog, and discovers the dog's passion for singing, he realizes that he has to save other animals from the cruel and illegally run animal testing facility. 2019; 13 min.
The Quiet Pain – Timothy Amatulli (Glen Rock, New Jersey)  After discovering that her husband is having an affair, Kiriko must make a split-second decision between exposing her husband's infidelities or maintaining appearances for the sake of their young daughter. 2019; 13 min. Q+A Session with Director Timothy Amatulli!
9 Degrees – Demetre Papageorgiou and Kalim Armstrong  (Brooklyn, New York)  This compelling documentary tracks the co-director's personal journey after he discovers, through genetic testing, that he has eight siblings. Demetre Papageorgiou grew up as the oldest child of George and Cynthia, Greek immigrants, who settled in the Midwest. All of that changed when Demetre got a call from a man in Texas who turned out to be his half brother. This is the story of five brothers and four sisters, separated by distance and decades, coming together for the first time, thanks to online DNA testing. This is a story of brothers and sisters who beat all the odds and found the loving family they never knew they were looking for. 2019; 13 min. Q+A Session with Directors Demetre Papageorgiou and Kalim Armstrong! 

Another Round – Brandon Regina (New York, New York)  A man and a woman have a drink to rekindle their former relationship, but they may be harboring secrets that could lead to the ultimate betrayal. 2019; 15 min. Q+A Session with Director Brandon Regina!

A Missing Piece – Grace Chang (Brooklyn, New York)  Ling, a former Peking Opera performer, tries to enlist her teenage son, David to deliver a mysterious package to her aging Opera master. During their visit at her master's retirement home in Chinatown, something unexpected happens that leads Ling and David to find the "Missing Piece". In Mandarin, subtitled. 2019; 16 min.

Co-sponsored by the Rutgers University Cinema Studies Program and the Rutgers University Confucius Institute!
Saturday, February 8, 2020 at 7:00 PM
 in Voorhees Hall #105/Rutgers University, 71 Hamilton Street, New Brunswick, New Jersey


$14=Advance; $12=General; $10=Students+Seniors
Information: (848) 932-8482; www.njfilmfest.com