originally published: 02/05/2020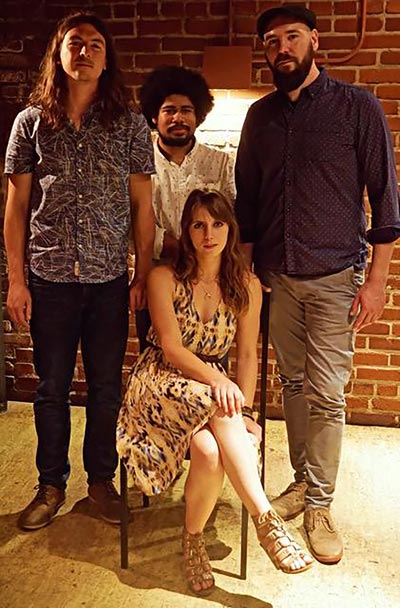 In support of "Peace of Mind," their fantastic debut LP expertly produced by Railroad Earth's Tim Carbone, Northwest Jersey jam band The Outcrops have a packed schedule of shows into the fall. Find out more at here. PHOTO COURTESY OF BLUE RAVEN ENTERTAINMENT
Like Tedeschi Trucks Band, Grace Potter, Spin Doctors and Edie Brickell & the New Bohemians, Northwest Jersey jam band The Outcrops expressively and joyously scratch a Grateful Dead and Allman Brothers Band itch with a psychedelic mix of blues, funk, soul and roots music. Their 2019 eight-song debut LP, "Peace of Mind," is expertly crafted by producer Tim Carbone of Railroad Earth, who gets exceptional performances out of the four-piece and their guest musicians in a way that showcases them as a soulful, bluesy jam band, yet compliments their strong songwriting.
Co-founding vocalist-rhythm guitarist Cassidy Rain stirs the sweetness of Edie Brickell, sass of Grace Potter and spice of Susan Tedeschi into her own soulful style. Meanwhile, longtime collaborator Bryan Schroeder on lead guitar alternates between a bubbly Jerry Garcia-like sound and an aggressive, yet tasteful and seemingly effortless blues-rock sound ala Duane Allman and Derek Trucks. Rounding out the regular lineup are the funk-steady rhythms of drummer Samuel Goldstein and bassist Jason Casanovas. In addition to Tim on string and percussion, joining them on "Peace of Mind" are exceptional keyboardist Joe Biglin of fellow Northwest Jersey band Doubleday and the swingin', soulful horn section of trumpeter Mathew Bricker, bari saxman Austin Zaletel and alto saxophonist-arranger Nathan Peoples.  
Engineered by Don Sternecker at his Mix O-Lydian Studios in the Delaware Water Gap, the mighty collection kicks off with "Your Girl," an upbeat unrequited love song slightly reminiscent rhythmically of the Dead's "He's Gone," but faster. It would be fun for The Outcrops to segue into the Dead classic from this tune live and even better if they went back into the song, which also sounds a bit like Van Morrison's singer-songwriter daughter, Shana Morrison. 
Joe demonstrates his piano prowess within the first 90 seconds of the opening track with a bouncy solo that immediately segues into organ accompaniment of Bryan's bubbly Jerry-like guitar solo. Both keyboard elements add to the track's blue-eyed soul. Gospel-like organ playing, as well as bright, swingin' horns well arranged by Nathan, compliments the richness of Cassidy's voice in a song dedicated to a man in the hopes he takes away the blues.
"Death at My Door" is a barn-burnin', juke-jivin', roots-rockin' Bourbon Street adventure about giving a guy a taste of his own blues. Joe delivers a soulful organ sound that strongly resembles a Hammond B-3, while Bryan switches to a cool Duane Allman vibe.
"Lost Days" mixes things up nicely. The pretty, highly percussive breakup song is about losing the love of and drifting apart from a drifter. The bridge picks up where the impressive percussion leaves off with a more uptempo spark of hope at the prospect of going it alone. Bryan's bubbly Jerry-atrics are accompanied by a vibes-like keyboard part.  
The soulful, gospel-rooted title track is the Makin Waves Song of the Week and can be heard 5 and 11 a.m., 5 p.m. and midnight daily through Wednesday at thepenguinrocks.com, plus 6:45 p.m. Friday and Monday on the station's "Radio Jersey" show. A bluesier take on Bryan's bubbly guitar playing lays the foundation for "Peace of Mind" and is sandwiched by sweet horns in the intro and outro arranged in the style of Allen Toussaint. A plinky piano part surprisingly and disappointingly is at the start of the soulful track, but thankfully the keyboards soar with a gorgeous dual solo between Bryan on guitar and Joe on what sounds like a Hammond B-3. Their tandem recalls Duane and Gregg Allman. 
What I also love the title track is that like many of my favorite gospel and soul classics, the song is about holding onto hope. In this case hope helps find the peace of mind needed to wash away the stress of everyday life and the strength to continue in the face of loneliness. To do that, The Outcrops suggest tapping into the beauty of nature. 
Another standout is the nine-minute jam "Cryptic Blues," the first third of which is a whiskey-soaked Led Zeppelin-like tale reminiscence of "Gallows Pole," but much longer and less sparse. Similarly about a prisoner, the protagonist is entrapped by negative emotions and lack of faith rather than Death Row. 
The rest of the tune is a bluesy swampadelic Radiators-meets-the-Dead-like jam layered beautifully by Tim and Don, especially a down 'n' dirty guitar solo by Bryan contrasted with a bright-sounding piano part by Joe. Bryan also has a swampy solo that recalls Bayou great Sonny Landreth. They are backed by the fierce, fuzzy rhythms of Jason and voodoo drums by Goldstein that sound like the death march of zombies rising from a swamp. Of the eight songs, Tim's thumbprint is most evident here in the complimentary way that a variety of different instruments snake in and out of each other, much like Railroad Earth, but in a different musical style and approach– swampy electric blues versus acoustic Americana and bluegrass. Fans of the Dead's exotic and trippy "Drums > Space" concert segments will dig the closing jam.
Up there in Rock 'n' Roll Heaven, Janis Joplin is beaming sunny rays of pride upon The Outcrops after hearing the blues strut of "Miss Melinda" and its quest for freedom. "Skeleton Key" is a rootsy mid-tempo groove reminiscent of the mellow fun of the New Bohemians and Spin Doctors.
Closing this excellent record is "Wishing Well," a funky blues with an inspiring reference to the Mississippi River. I don't know about you, but when I hear a funky blues about the Mississippi River, my soul soars. "Wishing Well" is a good-time rock 'n' roll tune that will appeal to fans of both Bob Seger and Mott the Hoople, especially the barrelhouse piano and ringing guitar solos that do battle one last time. 
The themes of hope and freedom throughout the LP both are examined here, making the reference to fishing in the Mississippi a metaphor for the Big Muddy of life. I love the chorus -- "There's a fire in your eyes, and it's burning up in me. Just a bird in a cage that's been opened or a soul that's been set free" -- as well as the second verse: "Wild western skies and hope on the horizon, the need for freedom ran deep in bones. I ain't running away from a good thing, but home is with me wherever I go." 
The album ends on a really high note that puts everything The Outcrops do best into one break with barrelhouse piano, ringing guitars and a soulful Hammond-like run. They lead into gang vocal that seems to say The Outcrops have arrived and are here to stay. 
I can't wait to see this band live, which I hope to do at one of the shows in their jam-packed schedule. Highlights include Backward Glance's annual Mardi Gras Masquerade with The VooDUDES on Feb. 22 at The Saint, Asbury Park; Feb. 27, Village Brewing Co., Somerville; Feb. 29, Big Brew Festival, Morristown; March 4, Rockwood Music Hall, New York City; March 6, Ruthie's Bar-B-Q & Pizza, Montclair; opening for Southern rockers The Outlaws on March 28 at Carlisle Theatre, Carlisle, Pa., and March 29,  The Lamp Theatre, Irwin, Pa.; May 2, Out of the Box Music & Arts Festival, Clinton; June 28, July 12, and Aug. 23, The Parker House, Sea Girt; Summerfest, July 7, Liberty State Park, Jersey City, and Musikfest, Aug. 6, Bethlehem, Pa.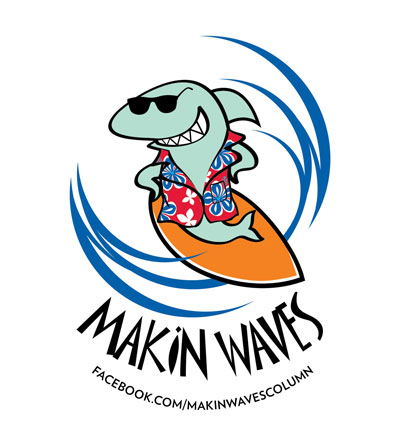 Bob Makin is the reporter for MyCentralJersey.comand a former managing editor of The Aquarian Weekly, which launched this column in 1988. Contact him at makinwaves64@yahoo.com. And like Makin Waves on Facebook.