By Jessica Birk, Stephanie Man and Al Nigrin
originally published: 01/31/2020



Here is our interview with the The Seahorse Trainer Directors Ricardo Bonisoli and Babak Bina:
Nigrin: Your wonderfully surreal film The Seahorse Trainer is about a lonely man with a passion for training seahorses.  Please tell us how and why you decided to make this film?
Bonisoli and Bina: Originally the idea was to make a fun and very short mockumentary about an old man who has the bizarre hobby of training seahorses to do circus tricks, a short video tutorial of sorts. Things kept evolving and later we decided to develop a narrative story of the idea and make it into a surreal film since we both find such films very inspiring. David Lynch, Jean Pierre Jeunet and Jan Svankmajer are all huge influences on us.
Birk/Man: What inspired you to choose seahorses as a central theme in your film?
Bonisoli and Bina: Ricardo's fascination for sea creatures and specifically seahorses was the spark of it all. We both agreed those magical creatures due to their rarity and exotic nature are ideal for telling a fantasy oriented story.
---
The article continues after this ad
---
---
Birk: How were you able to make the seahorses look so real and life-like?
Bonisoli and Bina: We work full time as visual effects artists for blockbuster films. Doing 3D characters and creatures is a big part of our daily tasks. Years of working in the industry has taught us the patience to spend countless hours of refining VFX . Another thing that really helped was having a good network of great visual effects artists and friends willing to collaborate with us.
Nigrin: How long did it take to make this film? Where did you get the funding to make it?
Bonisoli and Bina: It took about 2.5 years to make the film, we were and are employed full time as VFX artists and would work on our short film mostly during nights and weekends. The film was partially funded by the National Film Board of Canada and Indiegogo crowd funding.
Birk/Man: We loved the music score. How did the music come about? What influenced the tone of it?
Bonisoli and Bina: After we had our rough cut, we contacted the band "the Parlour Trick" and sent them the cut to ask for permission of using one of their songs which had a pivotal role in the mood of the film. We found their music on a puppet short called "The Mill at Calder's End". We were lucky that one of the band members (Dan Cantrell) who is also an Emmy Award winner expressed interest in composing the whole score, tailored to our short film after seeing the rough cut. Using our temp track as a guide he elevated the imagery with his composition and blessed the film with his music.
Nigrin: Are there any memorable stories while you made this film or any other info about your film you would like to relay to our readers?

Bonisoli and Bina: Many fun and interesting moments come to mind. But we agree our first day of shooting itself was a very memorable story (Definitely not fun at the time!)  We were handed a wrong liquid to put in the fog machine by the equipment rentals place, and that gave everyone coughs and headaches for half the day, we didn't know the cause until later, after that our lunch was late for almost 3 hours and two go pro cameras broke! Next days went smooth though.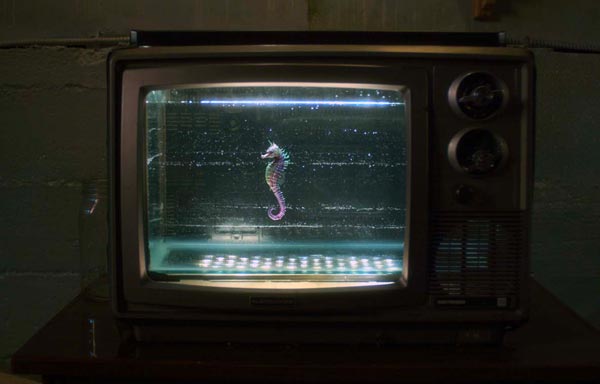 The Seahorse Trainer will be screening with two other great films, Fuck and Strive. Here is more info on this screening:
Fuck– Vern Hass (Philadelphia, Pennsylvania) One word says it all, in this hilarious short film about a female college student's sexual trials, tribulations, and revelations during her first semester of college. 2019; 3 min.

The Seahorse Trainer – Ricardo Bonisoli and Babak Bina (Vancouver, British Columbia, Canada) Enter the surreal and nautical world of Seamour, a lonely man with a passion for training seahorses. Desperate to have his most prized seahorse perform the highly ambitious "Triple Back Flip," he takes it through a final day of training. But when the fateful hour arrives, Seamour realizes that he must overcome his own troubled past if the trick will ever be achieved. 2019; 14 min.

Strive – Robert Rippberger (Los Angeles, California) In this touching feature film, Kalani is a teenager living in Harlem, New York with her older brother Jacob and her younger sister Bebe while her mother struggles to make ends meet. Her college counselor Mr. Rose (played by Danny Glover) sees great promise in her future. As Kalani's siblings get caught in a web of problems, Kalani teeters on the brink of ruin as she struggles to keep both her family and her dream of getting into college intact. Strive reminds us that hard work, optimism, and perseverance in the face of overwhelming adversity is the essence of what it is to be alive. 2019; 82 min.
Co-sponsored by the Rutgers University Cinema Studies Program!
Saturday, February 1, 2020 at 7:00 PM
 in Voorhees Hall #105/Rutgers University, 71 Hamilton Street, New Brunswick, New Jersey


$14= Advance; $12=General; $10=Students+Seniors
Information: (848) 932-8482; www.njfilmfest.com