originally published: 01/30/2020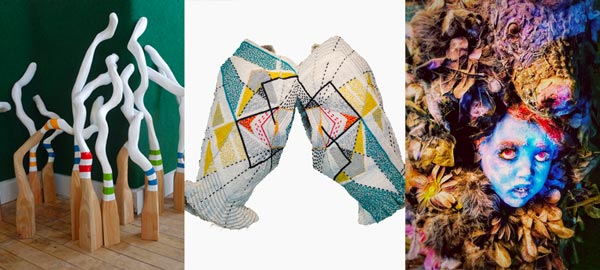 When crafting a story, the primary rule a writer must remember is "show, don't tell." This is true in other art forms, too. As an example, I offer "Seamless: Craft-Based Objects and Performance Practices," the exhibition on view at Rutgers-Camden Center for the Arts' Stedman Gallery through April 16. The title provides an apt description; the show presents the work of three artists – Angela Ellsworth, Caleb Weintraub, and Stephanie J. Williams – who each create craft-based objects, in this case with sewing as a common thread, as well as feature a performance element in video form. 
But, just like a written tale whose story and characters come to life only after the book is opened, this exhibition is guaranteed to deliver an experience and depth that goes well beyond what the title promises. 
"Seamless" is a visual bonanza and a puzzle for the mind and heart. The three artists come from different areas of the country and diverse backgrounds, but together they present a powerful and cohesive statement. 
"The connection is identity – Mormon for Angela, dual identity for Stephanie, outsider for Caleb," said Cheryl Harper, an independent curator who put together the exhibition. "The artists engage with this concept and specifically explore religion and race as factors in their lives."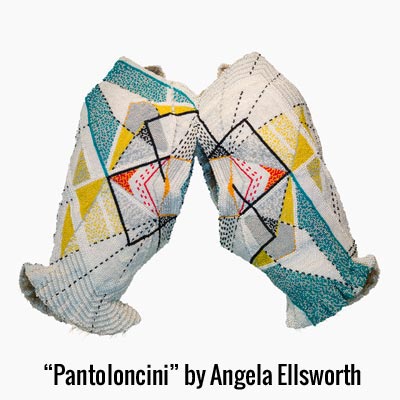 "They are not three separate shows," she said. "The artists complement each other in form and medium and encourage the viewer to think about their relationship to each other." 
Each artist created a video that is also on view in the gallery and will present related performances during the exhibition run. 
"The point is that the videos are part of the work; the artists are working work on both mediums simultaneously," said Harper, "to better understand her or him, the objects and the videos can and should be seen in the same space." 
"Sometimes, like in Ellsworth's case, a direct relationship between the objects and the video is easy to see," Harper continued.
Ellsworth was raised in Salt Lake City and in the Mormon faith, and "ran away from Utah as soon after high school as I could," she said in an essay from the exhibition catalogue. "But years later, I started digging into the archives from a different perspective, I explored my Mormon lineage from the outside-in to learn how my experiences shaped how I think and may inform art decisions I make now." 
Ellsworth's sculptural objects in the exhibition – seer bonnets and multi-colored bloomers called pantaloncini – are crafted from thousands of long, pearl-headed corsage pins, often used for proms, weddings, and other rites of passage.
Harper considers the pins to be a perfect symbol for Ellsworth's work. "The pins are seductive and represent beauty on one side," Harper said, "and dangerous and sharp on the other."
Ellsworth's video, "Stand back," explores the social and emotional dynamic within close-knit polygamist communities and, as her website states, "the sister-wife is at once monumental and weightless but, most importantly, a self-determined figure in control of her being, actions, and destiny."
"Sometimes, however, the link between objects and video is less obvious," Harper said, citing Williams's video as an example of a more complex connection. In her video, Williams talks about people asking, "What are you?" in reference to her ethnic makeup, and in her installation, she uses soft sculpture body parts to make the point that people all look the same on the inside.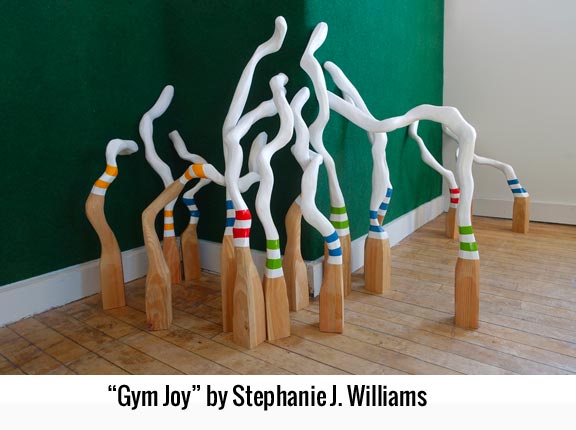 "With her objects that represent gym imagery and crew socks, Williams references her Catholic school upbringing – part of her Filipino religious tradition," said Harper. "And as part of her video, she is interviewing her Filipino mother about the Bataan Death March."
"She uses both mediums to explain who she is."
Weintraub spent a good part of his life in East coast cities, until 15 years ago when he moved to a small university town. In the exhibition catalogue, Harper and he discussed his Jewish heritage and the challenges of living an orthodox lifestyle in a Midwest town.
"My brand of observance is not exactly traditional," Weintraub said, "but I have a great deal of respect for tradition."
He believes that the same is true in his art practice. "I see the projects of art and religion as similar," he said. "Practitioners seek to organize memory and construct meaning in an overwhelming and unsettling reality."
Weintraub and his work were not new discoveries for Harper; the two have known each other for 10 years.
"I knew that he has been working across mediums throughout his career, which is why I thought of him for the exhibition," she said. "Besides, I was curious about what he was currently doing."
Harper was pleased to discover that Weintraub was "as complex as ever" and that the new element in his work is CGI (computer-generated imagery), which he taught himself.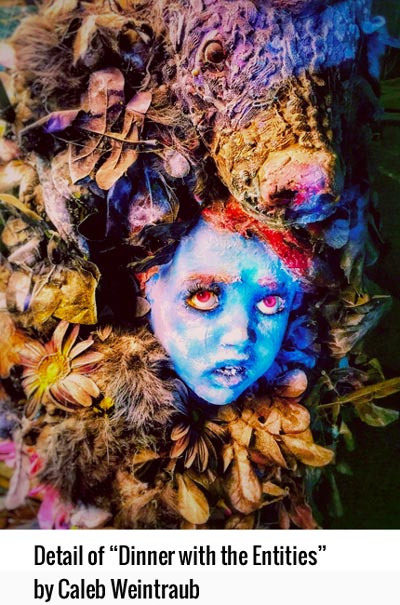 Weintraub's venture into the digital world began as part of his sculpture process – using a 3D modeling program to create a blueprint for his sculpted forms, which were then cut according to the digital plan from large blocks of foam. Next, he put his virtual forms into virtual environments that he used as sources for paintings.
But his eureka moment came when he started to look at the spaces not just as source material for paintings or sculpture, but as art in their own right. "I decided to develop them further and show them as part of my studio output," said Weintraub.
"His work is constantly evolving, but it is all him," Harper said. "Regardless of the medium, his works in the show are mostly self-portraits."
After seeing "Seamless," it is clear to me that Harper's curatorial process was both careful and experimental. While she meticulously researched the artists before selecting them to participate in the show, it must also have been necessary for her – considering the exciting and unpredictable variations in style, content, and artist vision – to relinquish a degree of control over the eventual product.
"I had a broad idea that became more and more fine-tuned," Harper said, "and because I am an artist as well as a curator, I brought my own visual sensibility and experience."
"I am not interested in curating a show where people just go through and read the labels," she said. "As an independent curator, projects like this provide me with the opportunity to forge new perspectives on contemporary art now." 
"That's why I do this."
Rutgers-Camden Center for the Arts's Stedman Gallery, at 314 Linden Street in Camden, is open Monday-Saturday 10 a.m.-4 p.m.
Lectures, Performances, Workshops
Angela Ellsworth will debut a new performance at 2 p.m. on International Women's Day, Sunday, March 8, in the Stedman Gallery and contiguous Black Box Theater. The artist and dancers will create the sensation of spiritualist female artists who inspired Ellsworth's newest body of work.
Caleb Weintraub will present a live performance and lecture, combining live augmented-reality painting with projection, at 12:45 p.m. Thursday, March 12 in the Stedman Gallery.
Stephanie Williams will present a workshop and interact with the greater Camden community; details are forthcoming.