originally published: 01/29/2020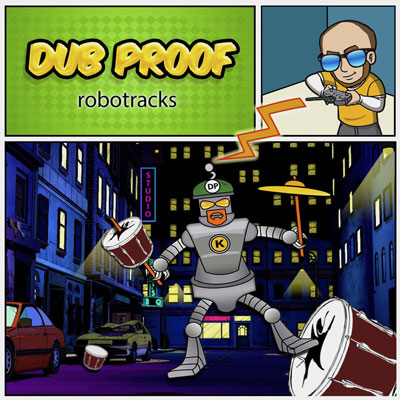 On their latest EP, "Robotracks," Asbury Park-based Dub Proof have collaborated with a robot of their own creation, as well as the late, great Joe Harvard for the last time. ARTWORK BY ANDY MEYER 
Today, boys and girls, we are going to put into the Makin Waves musical blender dub pioneer Lee "Scratch" Perry, Rock and Roll Hall of Fame funkateers Parliament-Funkadelic and overlooked electronica pioneers Tangerine Dream. Ready to give it a whirl?
Viola! We end up with Dub Proof, the awesome Asbury Park band whose latest EP, "Robotracks," is an instrumental record created in collaboration with a robot, as well as for the last time, the late, great Joe Harvard, whose contributes buzz-saw guitar to the opening "Quickness Dub." The quirky tune, which is introduced by a voicemail, also features the tasty melodica playing of Addis Pablo, the Jersey-based son of the great Jamaican dub producer and keyboardist Augustus Pablo.
The robot was built by the band in its practice garage and programmed by leader Nick "Dubproof" Paolise to augment new jams, as well as a couple of previously recorded tracks. The computerized colab continues with "Circles," which features a cool jazz-groove complete with a synth horn section. The more the horns kick into play, the more the robot expresses accompaniment. 
My favorite track is "Pancakes," a funk nugget that lives up to its title with a tasty jazz-groove along the lines of Parliament-Funkadelic if they teamed up with DJ Logic. The surprisingly soulful synthesis also recalls Tangerine Dream, the German band who, during their ongoing 50-year history, wrote and performed the original score to the 1983 Tom Cruise breakout film, "Risky Business," as well as the "Grand Theft Auto" video games. As the Makin Waves Song of the Week, "Pancakes" can be heard at 5 and 11 a.m., 5 p.m. and midnight daily through Wednesday at thepenguinrocks.com, as well as at 6:45 p.m. Friday and Monday on its "Radio Jersey" show. 
The stoner delight "Medication" follows with hypnotically haunting rhythms and an intoxicating guitar loop that breaks off into a dreamy Pink Floyd-like synth-scape. The sum of the parts add up to an irresistible attraction to the dance floor. 
With funk and jazz making up the bulk of the seven-song outing, a little less than half of "Robotracks" is dub. But a fine example of the namesake genre is "Sitar Dub," which adds greatly to the EP's most exotic elements with a worldly blend of styles. 
One of the most chill records I've heard in 40 years of covering local music, "Robotracks" lives up to that with a Tangerine Dream-like electronica-jazz tune called "Chillout," the mellow beats of which still are very danceable, kind of like if we threw P-Funk and Pink Floyd into the  Makin Waves blender. 
The EP closes on the dub tip with the appropriately entitled "Digital Dub," which features a break that seems to be inspired by R2-D2. That makes sense considering it's performed by a robot. 
What's fascinating and really impressive about "Robotracks" is that you would think the robotic results would sound synthetic, but they don't. They're surprisingly soulful, most likely because they also are jazzy. Because of that jazz sensibility, no other Asbury band sounds like Dub Proof. On "Robotracks," they're relaxing, yet never boring; a joy to listen to, especially on a long drive, and they can make a dead man dance, which makes their work as entertaining as it is artistic.
It doesn't look like the band will be playing out until spring, but in the meantime, pick up this fun, fascinating EP. I don't know what the Proof means in Dub Proof, but with "Robotracks," they certainly prove that they write tunes so well that even a robot can make them sound great.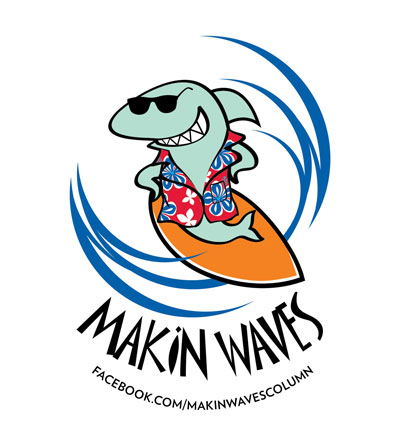 Bob Makin is the reporter for MyCentralJersey and a former managing editor of The Aquarian Weekly, which launched this column in 1988. Contact him at makinwaves64@yahoo.com. And like Makin Waves on Facebook.