originally published: 01/28/2020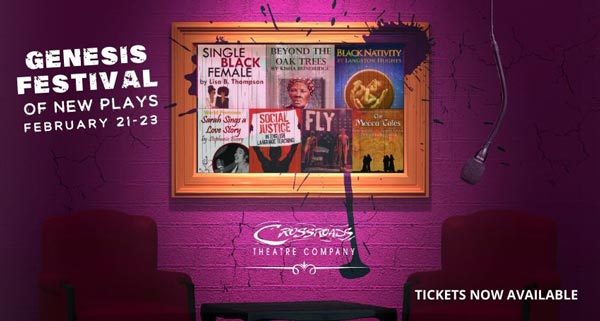 (NEW BRUNSWICK, NJ) -- Crossroads Theatre Company's Genesis Festival of Plays is back for a three-day run of three new works that stand true to the theatre's history of telling stories that highlight issues and start conversations across ethnic, racial and cultural spectrums, Crossroads announced today.  The Genesis Festival, which will run February 21-23, is a playwright laboratory experience that consists of three separate shows of stage readings for the audience to enjoy and critique that will be held in the performance studio of The New Brunswick Performing Arts Center (NBPAC).
The plays being featured will spotlight the works of Pia Wilson (Iseult et Tristan); Crossroads Co-Founder Ricardo Khan (Letters From Freedom Summer); and Lisa B. Thompson (Dinner). The readings will be hosted by Marshall Jones, Artistic Director of Crossroads Genesis Festival of New Plays.
"We are excited about the return of Genesis Festival and the intimate audience participation and engagement that it offers," said Anthony P. Carter, President of Crossroads Board of Trustees. "Crossroads is the people's theatre and as a testament to that we invite our members and non-members to join us to be part of the playwriting development process and the types of performances we consider to be a part of our upcoming seasons," he added.  
Since it began 41 years ago, Crossroads has been dedicated to creating and producing professional theatre at the highest standards of artistic excellence that brings the voices of the African Diaspora to life and to light.
The Genesis Festival of Plays is free to Crossroads Theatre Company Members. Tickets for non-members are $18 and can be purchased via www.crossroadstheatrecompany.org or at the NBPAC Box Office located at 11 Livingston Avenue New Brunswick, NJ.
---
The article continues after this ad
---
---
About The Genesis Festival Plays


February 21 - Dinner, by Lisa B. Thompson, is an insightful and comedic look at the inter-cultural dynamics between African-Americans and Africans when two families meet to celebrate their children's unexpected engagement. This play asks not "who's coming to dinner" but what's on the political and cultural menu when the African Diaspora gathers to dine.




February 22 - Letters From Freedom Summer, by Ricardo Khan, actress Denise Nicholas and Sibusiso Mamba, is the sequel to Crossroads' upcoming production of Freedom Rider (April 9-19).  Letters, while taking place during the civil rights era, is pertinent to concerns present today around the right to vote and the need for people to work together, not apart in polarizing times. Live music from the era shades the color of the times with the sounds of Motown, gospel, blues, and 60s folk tunes.  Like Freedom Rider, Letters is about mobilization, and how black and white students courageously journeyed through the American south to address unequal and inequitable treatment due simply to the color of one's skin.




February 23 - Iseult et Tristan by Pia Wilson is an adaptation of the 12th century tragic romance centered on the adulterous love affair between Cornish knight Tristan and Irish princess/healer Iseult, who is set to marry King Mark of Cornwall. In this 21st century retelling of the story, a young, African-American boxer, Iseult, struggles with addiction and her love for her sister Margot's fiancé, Tristan — all while she pursues her dream of being a gold medalist at the Olympics.


The 1999 Tony® Award-winning Crossroads Theatre Company (CTC), now a resident member of the New Brunswick Performing Arts Center (NBPAC), is in its fourth decade of being a preeminent gateway for black theatre that has been the stage for many actors, directors, designers, writers and other theatre professionals. Since opening in 1978, CTC has built a rich and storied history, celebrating the culture, history, spirit and voices of the African Diaspora.  
NBPAC is a state-of-the-art performing arts center that is certain to be hailed as the region's premier venue for musical, dance and theatrical performances. NBPAC will offer a critically-acclaimed and diverse program of show-stopping theatrical experiences that will captivate, entertain and leave audiences chanting "Encore!" The New Brunswick Performing Arts Center (NBPAC) Member Companies are among the region's most diverse, critically-acclaimed and multi-talented musical, dance and theatrical performing arts groups and include the American Repertory Ballet, George Street Playhouse, Rutgers University Mason Gross School of Arts and Crossroads Theatre.