originally published: 01/27/2020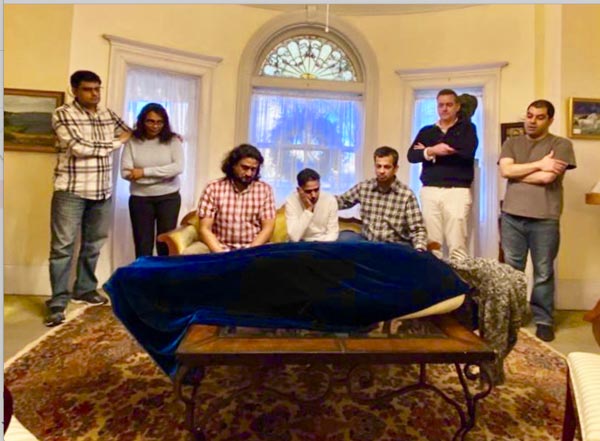 (PLAINFIELD, NJ) -- Dragonfly Multicultural Arts Center will present the New Jersey premiere of the quirky comedy Death in San Francisco February 20-23 at duCret School of the Arts in Plainfield. Written by San Francisco playwright Sujit Saraf, Death in San Francisco is the story of an Indian American family in California dealing with the instructions in a family member's will.
The will asks that the deceased be cremated on the shore the way his father was 30 years earlier in India. It's Memorial Day weekend, it's hot, the AC is broken, the body's in the living room, and no one can agree on what to do. Funny and ultimately moving, the play is appropriate for both Indian and non-Indian audiences as it examines the culture of Indian Americans while at the same time presenting a universal story of loss.
Death in San Francisco had its premiere at the NAATAK theatre in Santa Clara, California. Dragonfly Multicultural Arts Center, a community theater based at Plainfield's duCret School of the Arts, is dedicated to offering diverse programming that is meaningful for the various populations of New Jersey. With the large number of immigrant and first-generation Indians in central New Jersey, co-directors Catherine LaMoreaux and Anna Paone believe that it is important to produce works that examine the Indian experience in America. This is LaMoreaux's and Paone's second experience with Indian drama, having presented Dragonfly's adaptation of Indian folktales about the ancient poet Tenali Raman. 
Death in San Francisco features talented actors from central New Jersey. Sanket Bakshi of South Plainfield is back for his second Dragonfly production, having appeared in The Government Inspector. Anil Joseph of East Brunswick and Sanjay Kripalani of Marlboro have appeared in many plays produced by the Indian Cultural Society of East Brunswick (ICS). Seema Shahane of Warren has also performed in productions with ICS and is a core member of the not-for-profit organization Theatrix. Tim O'Connor of Plainfield is performing in his fourth Dragonfly production, and Noah Stanzione of Morristown is back for his third production. Rounding out the cast are Anand Rao, Neeta Vyas, Utkarsh Sharma, and Zeb Jafri. Justine D'Souza of Piscataway is serving as Dramaturg. 
The production is co-sponsored by Queen City Pride, based in Plainfield. A reception and talk-back will take place after the performance on Friday, February 21. Tickets cost $20 for adults if purchased in advance from the Dragonfly website and $25 if purchased at the door. Student and senior prices are $18 in advance and $20 at the door. Tickets are available for purchase online.
---
The article continues after this ad
---
---
Performances take place on: Thursday, February 20; Friday, February 21; Saturday, February 22 at 8:00pm. Sunday, Febfruary 23 at 3:00pm. Location: duCret School of the Arts, 1030 Central Ave., Plainfield, NJ
Photo by Anna Paone. Pictured (left to right): Utkarsh Sharma, Neeta Vyas, Anand Rao, Sanket Bakshi, Sanjay Kripalani, Tim O'Connor, and Noah Stanzione.