By Al Nigrin
originally published: 01/27/2020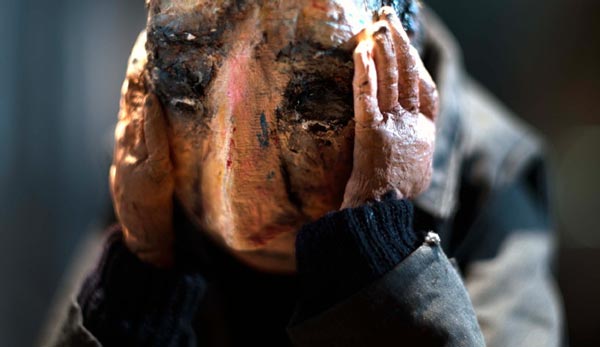 Here is the short interview I conducted recently with Daughter Director Daria Kashcheeva who is based in Pargue, Czech Republic:  
Nigrin: Your amazing and touching animated film Daughter is about a daughter and father relationship.  Please tell us about the motivation to make this film?

Kashcheeva: I had been carrying the idea for the animated drama Daughter in my head for three years, before I actually started making it. I wrote it for the entrance exams for FAMU (Film and Television School of the Academy of Performing Arts) in Prague. I decided to write about myself. And started to drag up from deep down in the past memories and feelings that bothered me. I was searching for answers to why I am the way I am. While processing these childhood memories I found moments that really shook me and as I understood later, influenced my behaviour. And after all this it was much easier to write up the subject of the movie, even though it was making me quite emotional and sometimes I cried. I discovered that parents sometimes can't express their love for their child, even though they feel it inside. Or express it in such a way the child cannot understand. Sometimes there is estrangement. During childhood there are moments when a child feels something, but is not able to understand and express those feelings, and needs just some attention or a simple hug. But the parents often lack the time, mood or do not feel the importance of their child's feelings and don't pay the moment enough heed, considering the child's behaviour a whim. These moments can stay in the child's memory as scars, influence their behaviour for life, and as adults, such children won't be able to express their feelings not just with their parents, but generally in contact with other people. And such misunderstanding can happen from the other perspective as well. Within several days my film topic was finished. This subject matter needed time, and when I was thinking about the topic for my bachelor's film I decided to return to it.  
Nigrin: Your camera movements are really very engaging and almost effortless. How did you achieve this movement using stop motion? 
Kashcheeva: I started my test with studying the camera movement in my favourite acted feature films by the Dardenne brothers, Lars von Trier, Thomas Vinerberg, Susanne Biere and the all the Dogma filmmakers. I studied The Son by the Dardennes and Breaking the Waves by Von Trier frame by frame. I watched this film maybe a thousand times.
---
The article continues after this ad
---
---
I must say that at school at the department of animation we have studios and technical equipment, but we do not have the technology, e.g. motion control, that would help me do the complicated movement of the camera. We managed to get an old three meter stop motion camera dolly track with crank handle mechanism, and a huge crank handle camera mount from the former Barrandov Short Film Studios, and I started doing the animation tests. I was trying out various combinations of gentle movement of the handle frame by frame, comparing this movement with the movement of the camera in the above mentioned feature films. The hand held movement of the camera was slowly coming together, and after a while I was happy with the result.  
Nigrin:  What are the figures made out of? How long did it take to make this film?
Kashcheeva: All the sets are made by wood, after covered by paper mache and painted by acrilic paints. Puppets (the main characters) have ball joint armatures, their heads are made from wood, covered by paper mache and painted by acrilic paints as well. All the process from the script till post production took 1.5 years. The building of sets took 4 months, and animation took 4 months.
Nigrin: Are there any memorable stories while you made this film or any other info about your film you would like to relay to our readers?
Kashcheeva: There is one funny story how we built the "dream" scene, when the girl with bird mask falls down to the pavement. We built the pavement in the studio from more than 200 pieces of stone cubes, that are normally used in Prague for paving the sidewalks. Luckily it was summer and the pavements in Prague were being repaired, therefore in dark alleys and parks I was collecting paving stones and carrying them in a suitcase to the studios. I hope the city will forgive me, and hope the workmen didn't miss these stones too much…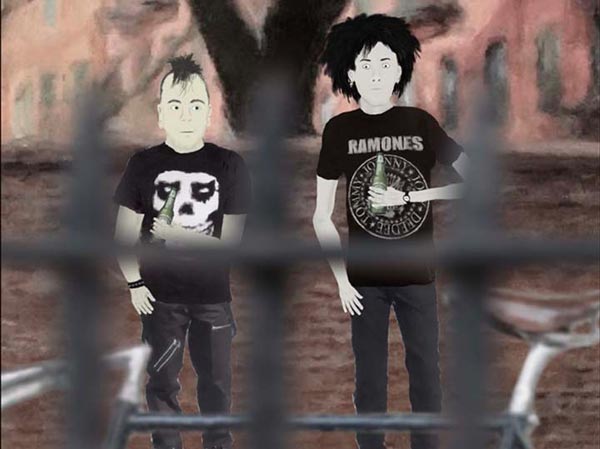 Still from Smoke -n- Suds.

Daughter is part of the New Jersey Film Festival Super Shorts 1 Program. Here is more information on this screening:
Time Trance – Benjamin Ridgeway (San Francisco, California) A fittingly brief, animated meditation on the perception of time and the ever-changing state of reality. 2019; 2 min.
His Eyes Behind Mine –Qin Ziwei (San Marino, California) An emotional journey through love, sex, obsession, and violence, based on a true story.  2019; 6 min.
Two – Vasilios Papaioannu (Syracuse, New York)  Two is structured as a conversation—between sound and image, seasons come and gone, natural and altered landscapes, and an unseen man and woman.  It begins as a duet between a video diary and a field recording, and ends as an archive of the possibilities hibernating within each moment. 2019; 8 min. Q+A Session with Director Vasilios Papaioannu!
Mixed Movie – Vasco Diogo (Covilhã, Portugal)  This short film was entirely made using a mobile phone and several apps.  Inspired by a surrealistic aesthetic, in which creativity, randomness, and the imagination play important roles, it reflects on the possibilities of contemporary social media short videos, neither as an absolute celebration nor as a technophobic critique. 2019; 10 min.
Smoke -n- Suds – George  Nicholas (Mamaroneck, New York)  Two punks meet at a laundromat in the late 80's, in New York's Hell's Kitchen, in this animated film. 2019; 13 min. Q+A Session with Director George Nicholas!
Daughter – Daria Kashcheeva  (Prague, Czech Republic)  This animated film from the Czech Republic asks many questions. Should you hide your pain? Close yourself inside your inner world, full of longing for your father's love? Or should you understand and forgive before it is too late? 2019; 15 min.
Greene Dreams – Quinn Turon and Nadia Boyea (Greenville, New York)  A young small-town girl, searching for answers to a suspicious occurrence, realizes that a high school friend, who might have been involved, must be the subject of her investigation. 2019; 24 min. Q+A Session with Directors Quinn Turon and Nadia Boyea!
Co-sponsored by the Rutgers University Cinema Studies Program!
Friday, January 31, 2020 at 7:00 PM
 in Voorhees Hall #105/Rutgers University, 71 Hamilton Street, New Brunswick, New Jersey


$14=Advance; $12=General; $10=Students+Seniors
Information: (848) 932-8482; www.njfilmfest.com