originally published: 01/25/2020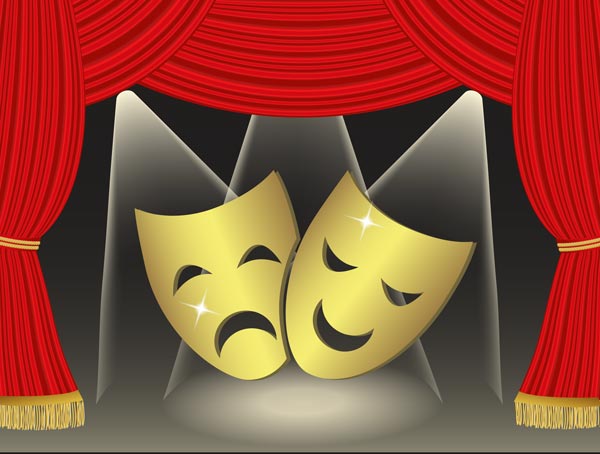 Brighton Beach Memoirs - January 25 - February 1 at Algonquin Arts Theatre, Manasquan. Set in Brooklyn, New York, Brighton Beach Memoirs tells the story of a large Polish-Jewish family living in one household during The Great Depression. The events are told through Eugene's honest, sarcastic "memoirs" and follow the Jerome family through a financial crisis, health concerns and a search for identity. A Broadway classic and one of Neil Simon's most popular plays.
---
The Color Purple - January 30 - February 1 at State Theatre, New Brunswick. Don't miss the Tony Award®-winning revival that exhilarated Broadway! With a soul-raising, Grammy®-winning score of jazz, gospel, ragtime, and blues, The Color Purple is an unforgettable and intensely moving revival of an American classic. Based on the Pulitzer Prize-winning novel and Academy Award®-nominated feature film, The Color Purple leaves its mark on the soul. 
---
Twelfth Night - Now through February 2 at Two River Theater, Red Bank. Unexpected love triangles, separated twins, and mistaken identities propel this gender-bending tale. A play saturated in perilous excesses—of love, of grief, of ego, of drink, of mischief—Twelfth Night is one of Shakespeare's most celebrated plays and, perhaps, his most perfect comedy.
---
Sweet Charity - Now through February 2 at Ritz Theatre Co., Haddon Township. A newly imagined production of this high-energy, comedic musical with dancing inspired by the late, great Bob Fosse. Inspired by Federico Fellini's Nights of Cabiria, this play explores the turbulent love life of Charity Hope Valentine, a hopelessly romantic but comically unfortunate dance hall hostess in New York City. With a tuneful, groovy, mid-1960s score by Cy Coleman, sparkling lyrics by Dorothy Fields, and a hilarious book by Neil Simon, Sweet Charity captures all the energy, humor, and heartbreak of Life in the Big City for an unfortunate but irrepressible optimist.
---
Goodnight Nobody - Now through February 9 at McCarter Theatre, Princeton. What are the consequences of love? In this hilarious and powerful new play, a group of old friends reconnect after years apart. They reminisce with wild abandon, until the things they aren't telling each other come hurtling to the surface. Featuring two-time Emmy Award winner Dana Delany. Written by Rachel Bonds.
---
---
The article continues after this ad
---
---
Bone On Bone - Now through February 9 at New Jersey Repertory Company, Long Branch. A comic-drama about a NYC couple who realize that their lives are moving in separate trajectories. Jonathan is a successful attorney, pretty set in his ways, who likes his life and the way his 35 year marriage has been going. Linda is an artist who has just been offered a top position at a prestigious art school - the career path she has always dreamed of having. Neither want to end their marriage, but neither want to divert from their chosen path. Who will bend, and who will break? Written by Marylou DiPietro.
---
Unmasked: The Music of Andrew Lloyd Webber - now through March 1 at Paper Mill Playhouse, Millburn. One of the most successful musical theater composers of all time takes audiences behind the scenes in Unmasked, a world-premiere featuring stories and songs from Andrew Lloyd Webber's remarkable life and celebrated work. This funny and warm musical portrait, a concert for the theater, offers an intimate look at Lloyd Webber's five decades in the spotlight and beyond, from his quirky family and bohemian youth in London to the creation of such smash hits as Jesus Christ Superstar, Evita, Cats, Phantom of the Opera, and Sunset Boulevard. You'll hear new and sometimes unexpected interpretations of his best-loved songs, rediscovered gems, and some new material written for this musical.
---
Midwives - January 21 — February 16, 2020 at George Street Playhouse, New Brunswick. This gripping tale of suspense and riveting courtroom drama will keep audiences on the edge of their seats from start to finish. When a major snowstorm breaks out during a routine at-home birth, cutting off all communication with the outside world, midwife Sibyl Danforth is forced to make an impossible decision.  This world premiere play is adapted by Chris Bohjalian from his bestselling novel of the same name – an early selection of Oprah's Book Club.   
---
How The World Got Wisdom - January 31 - February 9 at Burgdorff Center For The Performing Arts, Maplewood. In celebration of Black History Month, the Maplewood Strollers community theater presents this multi-ethnic, multi-generational celebration - a collection of folktales mined from the rich treasure of African legend. These fables are enacted through dance, music, stories, and scenes. While portraying the colorful wealth of African history and folklore, the fables also make their morals relevant to contemporary life.
---
Winter One-Act Comedy Festival - February 1 at the Company, Hackensack. Produced by Teddy Coluca, written by Ian August.
---
Hamlet - February 6-23 at Hudson Theatre Works, Weehawken. The searing tragedy of young man, tormented by his father's death and confronting each of us with the mirror of our own mortality in an imperfect world. Written by William Shakespeare.
---
Pass Over - February 6 - March 1 at Luna Stage, West Orange. Moses and Kitch stand around on the corner talking smack, passing the time, and hoping that today a miracle will come. They stand by a lamppost in a present-day ghetto, but it's also a plantation, and it's also Egypt, a city built by slaves. A provocative mashup of Waiting for Godot and the Exodus saga, Pass Over exposes the unquestionable human spirit of young black men who dream about a promised land they've yet to find.  Written by By Antoinette Nwandu.
---
Rent - February 7-8 at Mayo Performing Arts Center, Morristown. RENT, Jonathan Larson's Pulitzer Prize and Tony Award®-winning masterpiece, returns to the stage in a vibrant 20th anniversary touring production. With its inspiring message of joy and hope in the face of fear, this timeless celebration of friendship and creativity reminds us to measure our lives with the only thing that truly matters—love.
---
All Shook Up - February 7-9 at Hackensack Performing Arts Center, Hackensack. It's 1955, and into a square little town in a square little state rides a guitar-playing young man who changes everything and everyone he meets. Loosely based on Shakespeare's Twelfth Night, this hip-swiveling, lip-curling musical fantasy will have you jumpin' out of your blue suede shoes with such classics as "Heartbreak Hotel," "Hound Dog," "Jailhouse Rock," and "Don't Be Cruel."
---
9 to 5, The Musical - February 7-16 at Levoy Theatre, Millville. The hilarious Broadway musical based on the blockbuster 1980 film. Pushed to the boiling point by their boss, three female co-workers concoct a plan to get even with their sexist, egotistical, lying, hypocritical boss. They conspire to take control of their company and learn there's nothing they can't do! Set in the late 1970s, this is a story of friendship and getting ahead in the Rolodex era. Outrageous, thought-provoking and even a little romantic, with music by Dolly Parton.
---
Abigal/1702 - February 7-29 at South Camden Theatre Company, Camden. In this tale of New England witchery, Abigail/1702 is ten years after the harrowing and tragic events of the Salem witch trials. Abigail Williams—the lead accuser who sent twenty people to their doom as a young girl—now lives under an assumed name on the outskirts of Boston, quietly striving to atone for her sins. Written by Roberto Aquirre-Sacasa.
---
Black Like Me - February 8 at Monmouth University, West Long Branch. A multidisciplinary work that explores the reverb of a single word in a global community. It considers the effects of the "N"- word , all its permutations, its history, and its casual use in Hip Hop culture. In collaboration with two of America's leading Black media-design technologists and local activists, it asks if it is possible to redefine a word that was intended to belittle a people. Black Like Me combines physical, verbal, visual and sonic language to tell five narratives and perspectives in a unique way.
---
Love Conquers - February 8 at Hopewell Theater, Hopewell. An evening of six staged one-act play readings by Playmate Playwrights. Featurning work by five playwrights: Jonathan Chiccino, Joanne Eisenberg, Meghan Malloy, Jennifer Nelson and Susan Sandor.
---
Bunny Boy - February 8 – 16 at The Growing Stage, Netcong. Through a series of accidents, Peter, a sixth grader, develops superpowers and becomes Bunnyboy. Now what?  Peter and his friends, Skip and Karen, discover its complicated being a superhero – there's no manual.  And when Bunnyboy has to face an actual super villain, the Animal Master, is he up for the task?  And will he get his homework in on time? Written by Philip Kaplan.
---
Rent - February 13 at Count Basie Center for the Arts, Red Bank. RENT, Jonathan Larson's Pulitzer Prize and Tony Award®-winning masterpiece, returns to the stage in a vibrant 20th anniversary touring production. With its inspiring message of joy and hope in the face of fear, this timeless celebration of friendship and creativity reminds us to measure our lives with the only thing that truly matters—love.
---
Love Letters - February 13-16 at Grunin Center, Toms River. Ocean County College Repertory Theatre Company presents a Pulitzer Prize winning play that centers on two characters, Melissa Gardner and Andrew Makepeace Ladd III, as they sit side by side at tables reading the notes, letters and cards they have sent to each other over nearly 50 years. They discuss their hopes and ambitions, dreams and disappointments, and the victories and defeats that they have shared throughout their separated lives. Written by A.R. Gurney
---
For the Love of Charlie Brown - February 14-16 at Montclair Art Museum, Montclair. A Vanguard Theater Company Production! All your favorite Peanuts characters with skits and songs from "You're A Good Man Charlie Brown," Snoopy," and Peanuts television specials, especially created for a Valentine's Day celebration! There will be special art and craft activities (limited to 25 participants) for each performance.
---
The Sunshine Boys - February 14 - March 1 at Centenary Stage Company, Hackettstown. Al and Willie as "Lewis and Clark" were top-billed vaudevillians for over forty years. Now they aren't even speaking. When CBS requests them for a "History of Comedy" retrospective, a grudging reunion brings the two back together, along with a flood of memories, miseries, and laughs. Written by Neil Simon.
---
Little Wing - February 15-16 at Art House Productions, Jersey City. A workshop presentation of a startling theatrical exploration of survival and self-preservation adapted from Octavia E. Butler's final novel, Fledgling. Combining found text, objects, 70s Blaxploitation films Blacula (1972) and Ganja & Hess (1973), and movement, Little Wing is an existential vampire dramedy pushing the limits of what it means to be human and just how far one is willing to go to completely purge oneself of ignorance and confusion. Adapted/Directed by Christopher-Rashee Stevenson, Theatre of War.
---
Five Times In One Night - February 19 - March 15 at Mile Square Theatre, Hoboken. A riotous comedy about what we talk about when we talk about sex. Through a quintet of comedic sketches, we see five different couples explore the joy, excitement, danger, disappointment, and hilarity that comes from our attempts at romance. From Adam and Eve to the only humans left in a post-apocalyptic planet, this is an insightful examination of intimacy through the ages.
---
Songs For A New World - February 20-22 at Hamilton Stage @ UCPAC, Rahway. Jason Robert Brown's "Songs For A New World" beautiful song cycle comes to life fully staged for four performances only! Directed by Brian Remo and Musically Directed by Bruce De La Cruz.
---
Be Here Now - February 20 - March 8 at Dreamcatcher Repertory Company, Summit. Surrounded by painfully cheerful co-workers, Bari is deeply cynical and woefully underemployed. After an unexpected and unexplainable turn of events, Bari finds herself on an enlightening new path. When she meets Mike, it's her turn to pull another out of the darkness. Written by Deborah Zoe Laufer.
---
Think Fast One Act Play Competition - February 21-22  at The Theater Project, Maplewood. 2020 finalists include "Finding Forrest Gump" by Carol Barden; "It's Regula" by Della Brown; "A Man Walks into a Bar" by Nathan Christopher; "Just Desserts" by Noelle Gizzi; "Stiff" by George Cameron Grant; "Brian's Poems" by  Lawrence Rinkel; "Bum Deal" by Gabrielle Wagner; "The Accident" by  Phillip Way.
---
Sex n' the City - February 22 at Count Basie Center for the Arts, Red Bank. Sex n' the City: The "Super" Unauthorized Musical Parody follows our favorite single gals looking for love in the big city. We tackle serious questions like "will I ever find the one", "can you ever really be over your ex" and "for the third time, it's a neck massager!". Come join Carrie, Miranda, Charlotte, and Samantha on a hilarious trip through New York in the 90s.
---
A Few Good Men - February 22 - March 1 at Algonquin Arts Theatre, Manasquan. US Navy Lieutenant Daniel Kaffee, an unmotivated lawyer always looking for a plea bargain, is assigned to represent two marines on trial for the murder of another marine. Kaffee is joined by US Navy Lieutenant Commander Jo Galloway, who convinces him that the murder was ordered by a commanding officer. Instead of dropping the case, Kaffee goes on to call Colonel Nathan R. Jessep to the stand, in order to uncover the conspiracy. Kaffee takes a chance on Jessep, who yells the iconic line, "You can't handle the truth!" The play was adapted into a 1992 film directed by Rob Reiner with a star-studded cast, including Tom Cruise, Jack Nicholson and Demi Moore.
---
Till: A New Musical - February 27 - March 8 at American Theatre Group, South Orange. This stirring and powerful new musical is about Emmett Till, whose murder in 1955 helped ignite the civil rights movement. Written by Leo Schwartz and DC Cathro.
---
A Year with Frog and Toad - February 29 - March 1 at Hackensack Performing Arts Center, Hackensack. Waking from hibernation in the Spring, Frog and Toad plant gardens, swim, rake leaves, go sledding and learn life lessons along the way. The two best friends celebrate and rejoice in the differences that make them unique and special. Part vaudeville, part make believe… all charm, A Year with Frog and Toad tells the story of a friendship that endures throughout the seasons. The jazzy, upbeat score of A Year with Frog and Toad bubbles with melody and wit, making it an inventive, exuberant and enchanting musical for the whole family. It is a perfect show to be performed by an ensemble group of actors and can be produced with either simple or extravagant staging and sets.
---
Radio Golf - February 29 – March 22 at Two River Theater, Red Bank. Director Brandon J. Dirden (King Hedley II, Seven Guitars) returns to Two River to direct our sixth production from August Wilson's American Century Cycle—Radio Golf, the Cycle's 10th and final play, set in 1997. Real-estate developer Harmond Wilks is determined to become the first black mayor of Pittsburgh, and to revitalize the Hill District. Starbucks, Barnes & Noble and Whole Foods are ready to move in. But one particular house on the development site, at 1839 Wylie Avenue, must be torn down, a casualty of urban blight. And that house belonged to Wilson's legendary Aunt Ester—forcing Harmond, and the Hill District itself, into a battle between the past and the future.