originally published: 01/25/2020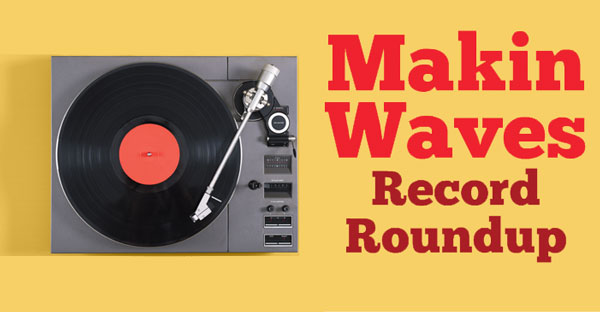 Singer-songwriter-guitarist Candace Schur has that irresistible combination of Marilyn Monroe-like qualities: charming, cute, sweet, sexy, beautiful, naughty and trashy. The fact that she is surrounded by a band of burly, bearded macho men in Candy Cavity makes her even more fascinating.
Together, they have released a five-song self-titled debut EP, the bitter-sweetness of which exemplifies the band's dichotomous name as it chronicles relationships good and bad with a pop foundation cemented by the shudder of grunge and painted with the verve of punk. Recorded at AntFARM (studio) in Freehold by Tony Appleseed (Accidental Seabirds, Bone & Marrow, Thomas Wesley Stern), the steamy collection kicks off with "Do You Wanna?," an intoxicatingly erotic look at having sex and getting high, kind of like a cross between "Do Watcha Wanna" and "What I Like About You." The opener also references the band's name with the lines, "Changing the tune, I got a brand new attitude. It's sugary sweet. It might even rot your teeth."
The EP's eroticism also encompasses the closing "Fuck Boy," a toxic entanglement that finds an unsuspecting lass infatuated with an Asbury Park player, a fate Candy compares to "swimming with the sharks." Lead guitarist Steve Markow plays fantastically throughout with searing, seething solos, particularly on this Nirvana-like menacing but melodic track.
The single, "Happy New Year's," is a lament about a deadbeat ex-con ex who spends the holiday in the county jail. "Mr. Good for Nothin'," as Candy describes him, otherwise wastes his time on the couch rather than being a good provider. Candy Cavity turn the drama into charm with the front woman's tongue placed firmly in her cheek.
The EP also features "What You're Missin'," a Ramones-like romp that aims to make that deadbeat ex jealous about a new boyfriend, and "Like Her," a creepy case of stalking and stolen identity that musically recalls the pioneering punk of Iggy Pop. Candy Cavity, also bassist Brian Bethke and drummer Jon Arban, are in writing mode to follow the EP soon with a single and a slew of shows.
---
Beatles-inspired The Weeklings are New Jersey's take on the Traveling Wilburys with all-star rockers banding together to form a great super group whose members each have a nickname. Glen Burtnik, a cast member of "Beatlemania" who did two turns on A&M -- solo in the mid-'80s and a few years later as a replacement member of Styx -- is Lefty Weekling on a McCartney-like Hofner bass. Guitarists Bob Burger (Paul McCartney, Bruce Springsteen, Jon Bon Jovi, Billy Joel, Southside Johnny) and John Merjave, a longstanding member of the Fest for Beatles Fans house band, respectively are Zeek and Rocky Weekling. And the Ringo-like Joe Bellia (Dave Mason, Southside, Springsteen) keeps the beat as Smokestack Weekling.
Like The Beatles, all four members contribute vocals with excellent harmonies and counter harmonies on their studio albums, the third of which is aptly entitled "3." Like its 2016 predecessor, "Studio 2," parts of the forthcoming LP were recorded at London's Abbey Road Studios, a mecca for Beatles fans, along with their birthplace of Liverpool. But the 11-song collection also was produced by the band at several other locations, including label mates The Grip Weeds' House of Vibes studio in Highland Park and Lakehouse Recording Studios in The Weeklings' base of Asbury Park.
The album opens with the sentimental "I Want You Again," the latest single, which is a cross between The Beatles' "You Won't See Me" and "It's Won't Be Long," which The Weeklings perform live quite nicely. An excellent use of a pregnant pause into the final chorus concludes with a tasty guitar bend.
A mix of Lennon-composed/sung early and mid-Beatles a la "She Loves You" and the psychedelic tinges of "Revolver" inform the album's early single, "In the Moment." The power-poppin' title track energetically expresses a heart broken in three of a guy who's too tough to cry, yet losing his mind due to lost love. A scorching guitar solo flambes the sugary track, which may be a wounded response to Burtnik's cocky "Heart in 3" from his 2004 solo album, "Welcome to Hollywood."
Like The Weeklings' label mates The Anderson Council's "Mrs. Kirkby's Refrigerator," a cover of The Easybeats' "Friday on My Mind" features a guest lead vocal by Peter Noone of Herman's Hermits. Together, they turn the 1966 smash from Down Under into Who-like Maximum R&B.
"1,000 Miles Away," a Carl Perkins-inspired break-up rave-up, segues nicely into The Beatles' "Baby, You're a Rich Man." The meaty cover features bass lines and harmonica solos in the intro and the outro that make The Weeklings' version as funky as it is rootsy, and certainly their own.
"Change Your Mind" is classic Burtnik along the lines of the hit "Follow You" from his 1987 sophomore solo album, "Heroes & Zeroes." The layered track is among those that feature excellent Beatlesque three-part harmonies, as does "I Got the Love," a pretty love song that recalls Badfinger's "No Matter What." However, like McCartney can be, "I Got the Love" at times is corny, such as the line, "Listen to my heart. Don't you know it's beating for you?"
Meanwhile, "Running Away" is a soulful Lennonesque breakup song reminiscent of "Hey Bulldog." An excellent dual guitar solo concludes with a funny reference to "Revolution No. 9." I love the line, "Everybody has their demons, and I've got mine on my sleeve."
The energetic McCartneyesque romp "Baby Let Me Take You Home" leads to the closing count off of "765," a sunny, funny California-set Tom Petty & the Heartbreakers-like rocker complete with tasteful Mike Campbell-like guitar solos. Sweet slide playing throughout also is reminiscent of Mick Taylor-period Stones, which ends the album on a rewarding Beatles vs. Stones note.
Upcoming Weeklings shows include Jan. 24, Daryl's House Club, Pawling, N.Y.; Jan. 25, Maryland Theatre, Hagerstown, Md., opening for Noone & the Hermits; Feb. 1, Bull Run, Shirley, Mass., and Feb. 21, Hard Rock Cafe, Atlantic City.
---
When I was a young upstart in the New Jersey music scene during the alternative-rock boom of the late-'80s into the mid-'90s, four bands rattled my spine a bit more than most others: Monster Magnet, Nudeswirl, Big Nurse and Godspeed.
Monster Magnet went on to stardom, especially in Europe. Nudeswirl put out an amazing album on Megaforce Records to which fans still are waiting for a follow-up. Big Nurse broke up before they could realize their potential and industry interest. And Godspeed dropped a great album produced by Skid Row's Rachel Bolan on Atlantic Records, and then evolved into Solace, a stoner rock-friendly doom metal band greatly influenced by Iron Maiden, Motorhead and Black Sabbath, much like Godspeed, as well as the other three bands I mentioned.
Together since 1996, Solace have been on a long recording hiatus, but finally have followed the acclaimed 2010 outing "A.D." with "The Brink," a mighty, meaty collection of 11 songs weighing in at 77 minutes. A double colored vinyl LP nearly is sold out, as is a test-pressing edition. Single CD and digital copies also will be available when "The Brink" drops on Dec. 13 on Blues Funeral Recordings, which is run by Jadd Shickler, the co-founder of the stoner rock/doom metal label MeteorCity Records, which put out much of Solace's initial output starting in 1999.
As great as "A.D." is – iTunes named it the best metal album of 2010 – "The Brink" tops it largely because of the furiously intense guitar interplay between co-founder Tommy Southard (who also founded Godspeed, as well as the legendary hardcore band Social Decay) and Justin Daniels, who's been with Solace more than half their run. Holding their own alongside the swelteringly scorching rhythms and menacingly blistering dual leads are two of Tommy's childhood friends from Toms River: Godspeed drummer Timmy Schoenleber and bassist Mike Sica of Lethal Aggression and the guitarist in Oblivion. Timmy not only contributes monstrous fills but also funky breaks that showcase his veteran talent, while Mike plays in a melodic style that perfectly complements the fury the guitar tandem unleashes throughout.
Unfortunately, the amazing music often drowns out the vocals of co-founding vocalist Jason Goins, which is shocking because he's such a powerful singer live and on other Solace records. Doubled throughout and at times quadrupled with backing moans and groans on a high and low end, Jason's vocals seem muddled, sometimes even buried within the mix. And that's a damn shame because the foreboding lyrics about collapse, mistrust and drowning in the defeat of self-destruction and the sorrow of self-doubt -- often within medieval settings and other days of antiquity, as well as hell and back -- are fascinatingly fantastic. But I had to request and delightfully read the lyrics in order to understand what he was singing.
Other than the vocal mix, "The Brink" is a damn near perfect album. Highlights include demonic-sounding single, "Desert Coffin," the Sabbath-fueled opener, "Breaker of the Way," powerful title track about a personal and literal ship wreck and its gorgeous acoustic blues intro, "Shallows Fade," which shares the same melody, just not as thickly or fiercely.
The 2017 single "Bird of Ill Omen" also surfaces with its philosophic psychedelics. Perhaps the next single should be "Until the Last Dog Is Hung," featuring a cascading guitar run that makes it the album's most accessible track.
For fans of the sea, as well as Maiden, there's the nautical epic "Dead Sailor's Dream," a largely instrumental reprise of which dynamically and cathartically closes and calms this beast of an album with a beautiful acoustic guitar duet. Hear it all live when Solace play Feb. 7 at 1984 in Wilmington with Kingsnake, Ringrust and Omen Stones.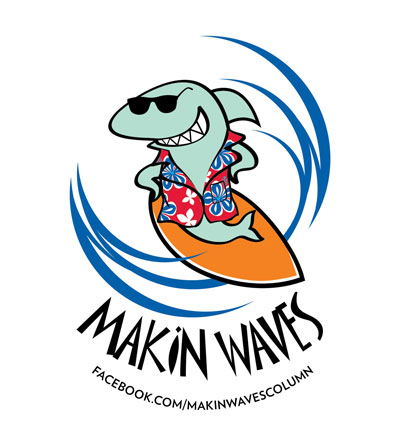 Bob Makin is the reporter for Home News & Tribune and a former managing editor of The Aquarian Weekly, which launched this column in 1988. Contact him via email and like Makin Waves on Facebook.