originally published: 01/22/2020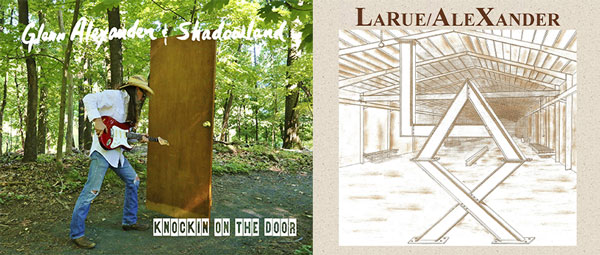 Jersey guitar great Glenn Alexander of Southside Johnny & the Asbury Jukes recently released two albums: "Knockin' on the Door" by Glenn Alexander & Shadowland and "L.A.X." by LaRue/AleXander with Jersey bass great Dave LaRue of Dixie Dregs, Steve Morse Band, Flying Colors and Stretch, his prog-rock/fusion band with Glenn. PHOTOS COURTESY OF GLENN ALEXANDER
Jersey guitarist extraordinare Glenn Alexander, the latest lead guitarist of Southside Johnny & the Asbury Jukes, has two relatively new albums out. "Knockin' on the Door" is the sophomore release of the Jukes-like Glenn Alexander & Shadowland. The September release follows a 2016 self-tilted debut. And "L.A.X.," the long-awaited debut of LaRue/AleXander, his funky Southern-rockin' swamp boogie band with Stretch mate and Jersey bass great Dave LaRue of Dixie Dregs, Steve Morse Band and Flying Colors drooped in November.
Both records are great, but "L.A.X." is better because of Dave's amazing playing, including three jaw-dropping solos, and because Glenn's vocals, which channel Gregg Allman for most of the record, are better suited to the bluesy sounds and styles on each. I have no idea why, but for some inexplicable reason, Glenn mainly uses a pop voice on the Shadowland record, which eventually begins to wear thin compared to the music mastery all around him, especially his own guitar playing on a mix of blues, soul, R&B and funk. If he sang like Gregg Allman throughout, "Knockin' on the Door" would have been one of the best albums of last year, but unfortunately, the vocals are mismatched with the music. Exceptions are the tongue-in-cheek "Hind Tit Blues," closing "I'm the One," which does have that Allman sensibility, and New Orleans-flavored "Laudie Laudie Lee," which sounds like Lloyd Price fronting the Rebirth Brass Band. Of the two albums' 22 tracks, "Laudie Laudie Lee" stands out and is the Makin Waves Song of the Week at thepenguinrocks.com and its "Radio Jersey" show. 
Glenn produced Shadowland by himself. Maybe he needed somebody to come alongside him to tell him to punch up the vocals. Perhaps that's one of the roles Dave played as co-producer of "L.A.X.," featuring perfectly suited vocals by Glenn, which, for the most part, have rough-edged Allman-like grit and soul.
That's not to say Glenn sings badly with Shadowland because he doesn't. The vocals are largely just too poppy sounding, along the lines of Glen Burtnik. That's what Shadowland sound like: Glen Burtnik fronting the Asbury Jukes instead of Southside. It's good, but after a while, jarring.
So is the guest lead vocal turn by Oria, Glenn's daughter, who sings like Whitney Houston on "I Had to Go Thru Hell to Get to Heaven." Yet the lyrics to the soul-scorcher about a woman scorned sound as if they were written for New Orleans queen Irma Thomas. If Irma's kind of vocals matched the blazing R&B accompaniment, the great track would be even better. A more discerning producer might have realized that.
The standout on "L.A.X." is "I Can Have the Blues," a soulful ZZ Top-like ode to such musical cities as Memphis, Muscle Shoals, Chicago and New Orleans, on which both great soloists take a back seat to the blues harp of special guest Southside Johnny. Vocally, Glenn rips the blues on this track in a way that would have served the Shadowland record well.
Other "L.A.X." highlights include the funk nuggets "Phoney Baloney" and "Primal Need," the breezy J.J. Cale-like "Highway 96," the Stevie Ray Vaughan-like shuffle of "Stone Cold," and "Noble Red Man," a sincere, heartfelt, emotional number inspired by Steve Wall and Harvey Arden's of "Wisdomkeepers: Meetings with Native American Spiritual Elders."
Both albums feature exceptional performances by Steve Morse Band/Dixie Dregs drummer Van Romaine and Jimi Hendrix/Janis Joplin organist Mike Finnigan, whose credits are long as Glenn and Dave's if not longer. Other impressive personnel and performances in Shadowland are Jukes horn players Chris Anderson on trumpet, John Isley on saxophones, and Neal Pawley on trombone; bassist Greg Novick, who used to play with the late, great Bernie Worrell, and drummer Dave Anthony (Dennis DeYoung, Glen Burtnik).  
"L.A.X." also features drummer Shawn Pelton, whose endless credits include the "Saturday Night Live" Band, Bon Jovi, Sheryl Crow, Bob Dylan and Johnny Cash; drummer Dru Betts, who plays in Dave's solo trio, and organist Michael Mancini, who's also played with Bob Dylan, as well as Whitney Houston.
Spring and summer shows by both Shadowland and L.A.X. will be announced soon. In the meantime, you can see Glenn with the Southside & the Jukes on Feb. 7, Mount Airy Casino Resort, Mount Pocono, Pa.; Feb. 8, Suffolk Theater, Riverhead, N.Y.; Feb. 13 and 14, City Winery, Philadelphia; Feb. 15, Stone Pony, Asbury Park; Feb. 20, Narrows Center for the Arts, Fall River, Mass.; Feb. 22, Lynn Memorial Auditorium, Lynn, Mass.; March 18, The Tin Pan, Richmond; March 19, The Grand Opera House, Wilmington; April 4, Seneca Niagara Resort & Casino, Niagara Falls; April 17, Ridgefield Playhouse, Ridgefield, Conn., and June 12, The Birchmere, Alexandria, Va. And Dave will be touring with Flying Colors, a prog-rock super group also featuring guitarist Steve Morse, drummer Mike Portnoy, keyboardist-vocalist Neal Morse, and singer Casey McPherson, but dates have yet to be announced.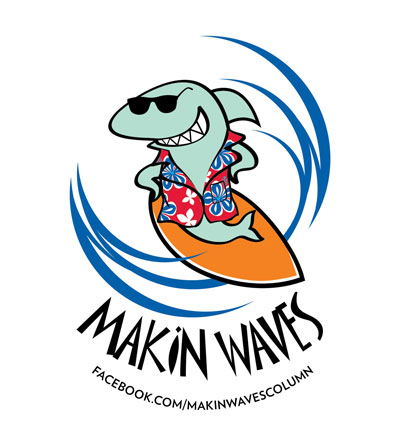 Bob Makin is the reporter for MyCentralJersey.com and a former managing editor of The Aquarian Weekly, which launched this column in 1988. Contact him at makinwaves64@yahoo.com. And like Makin Waves on Facebook.