By Shelley Bromberg
originally published: 01/22/2020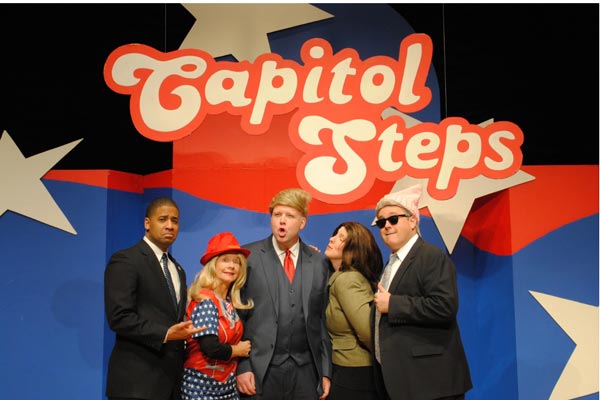 It is an unseasonably warm Saturday evening on January 11th as we stroll through charming downtown Englewood and make our way into the pristine Bergen PAC, where fans of political humor are getting ready to view The Capitol Steps performing its current tour entitled The Lyin' Kings.
The Capitol Steps is an American political-satire group that performs parodies to well-known Broadway and contemporary songs as well as skits based on current events in Washington, D.C.  The lyrics are written by Elaina Newport and Mark Eaton. There are many actors who make up the Capitol Steps and they rotate for different performances, although there are generally five actors per show. 
The Capitol Steps has been performing since the early 1980's and has appeared on the "Today Show," "Nightline," CNN's "Inside Politics," "Good Morning America," "20/20" and National Public Radio's "All Things Considered." The group has also performed for five American Presidents and has recorded several albums, including tonight's show, The Lyin' Kings.   
Before the show starts, we have an opportunity to catch up with some audience members. We meet Jacqueline and Howard from Paramus, who came to see the Capitol Steps last year at the Bergen PAC and decided to come back again after enjoying last year's performance. Howard reveals that, "There has just been so much going on in the political spectrum this past year that we just had to see how Capitol Steps would satirize it." 
Jacqueline adds, "The skits and songs are just so creative. There is nothing else like it that I've seen. We giggled throughout last year's show. I'm sure tonight's performance will be no exception. You are definitely going to hear me laughing!"
We also chat with Liz from Edison and Stephanie from Weehawkin, who decided to make it a lady's comedy night out.  Liz tells us that, "although I've never seen the Capitol Steps live, I have a few of their albums, and I love them. I love the impersonations of politicians, because they are spot on!" Stephanie adds, "Being it's a Presidential election year, I'm especially eager to see how they handle the Democratic electoral candidates. I can't wait!"
---
The article continues after this ad
---
---
As we take our seats the stage lights come up and audience members are treated to various impersonations and musical numbers. Tonight's cast includes the following actors: Kevin Corbett, Corey Harns, Delores King Williams, Ann Margaret Schmitt, and Brian Ash.  Howard Breibart accompanies them on piano.
One highlight of the evening is when "President Trump" takes the stage. The impersonation is spot on in voice, inflection, and vocabulary. He tells the crowds, "So I think we should talk about this latest glorious year of my presidency, 2020. No President has ever had a higher number year. Never been done before," and the audience bursts out in laughter.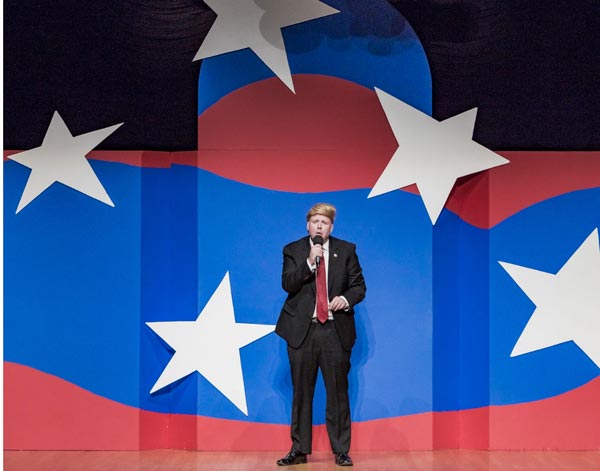 He expresses his disdain for having to deal with Robert Mueller's investigation, then sings new lyrics to Leslie Gore's hit song: "It's my party and I'll lie if I want to. Lie if I want to. Lie if I want to. You would lie, too, if it happened to you." 
Apparently neither political party is safe from ridicule, when an actor portraying Bernie Sanders enters wearing an enormous silver wig, and the audience erupts in laughter at the resemblance in body and voice.  
He states, "As you know, a while ago, when Barack Obama was running for President, Donald Trump wanted to see his birth certificate. If he tries that with me, he will be out of luck, because mine has expired."
He also reveals a campaign strategy for 2020 to help people get to know him. "So, I have decided to go door to door asking people one simple question: 'Do I live here?'"  
His message to the audience is sung to Simon and Garfunkel's The Sound of Silence, but he sings, The Sound of Sanders.  He sings, "I may not like technology. I may still use my iPhone 3. Keep getting texts from someone I don't know. I think her name is battery low."
Fans are thoroughly entertained when "Elizabeth Warren" shares a children's story entitled "Angry Progressive Nursery Rhymes" with them. 
One of them reads, "Trump de Dumpty wanted a wall. But Trump de Dumpty made a bad call. Make it 12 feet tall because security matters. Mexico is building 13-foot ladders."
And yet another: "Roses are red, books give us knowledge.  Let's erase the electoral college."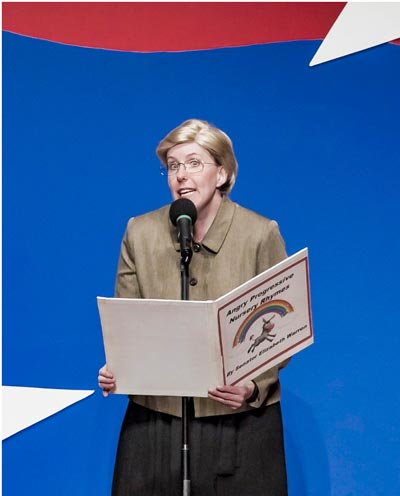 By the end of the evening, the audience has had an opportunity to be entertained by actors portraying such politicians and icons as Queen Elizabeth, Prince Charles, Joe Biden, Barack Obama, Alexandria Ocasio-Cortez, and Nancy Pelosi. Each skit and song is received by more and more laughter, and by the show's conclusion, the audience erupts in hearty applause and laughter. 
We speak with a few fans after the show to get their take on tonight's performance. Patrice from Northvale, a huge fan of political satire,  tells us that the show was "better than expected. The Trump impersonator sounded just like him! The entire show is very clever and all persuasions would enjoy this. It brings us all together."
Bert from Roselle states, "It was so much fun! I wasn't sure how they would be able to include all of the democratic nominees for president, but they pulled it off, by covering their own faces with headshots of the candidates and introducing themselves. I thought that was a clever way to introduce all of them and it was very up to date." His wife Rosemary adds, "It was just hysterical! Capitol Steps takes aim at both political parties!"
For more information about the Capitol Steps, please visit capsteps.com. For more information on future great performances at BergenPAC -- including Patton Oswalt on February 7th, Bob Saget on February 21st, and Jay Leno on April 4th -- please go to bergenpac.org.