originally published: 01/19/2020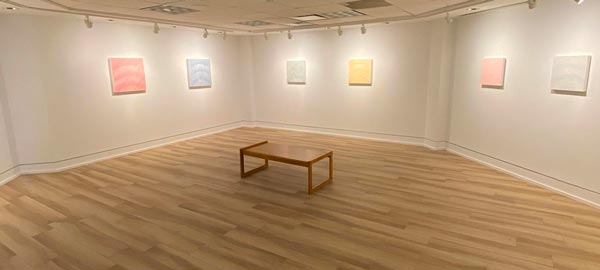 Nadia Haji Omar really wants you to see her latest collection of paintings. Not just in the photos available on the internet. But in person.
There's a reason for that.
The exhibit is called "Ascension," and it runs through the end of the month at the Visual Arts Center in Summit.
Walk into the room, and you'll find seven paintings lined on the walls. Each is made of acrylic paint on dyed canvas. Each is bigger than the next. Each has a different color palate. And each represents one of the seven layers of heaven according to the Islamic religion.
They feature hundreds of brush strokes that form little lines the size of rice grains, all of them with a tiny dot of metallic paint in the middle. And in each painting, the lines shift to reveal an Arabic numeral — 1 through 7.
It all creates an optical effect, Haji Omar says, that you can fully appreciate only if you're right there, staring at the pieces.
"It's like a physical experience," she explains. "When you look at the paintings, they kind of vibrate and become a little bit 3-D. It's a visual thing that happens based on the direction of the line changes. They definitely feel like they're moving or something."
Actually, it's a bit like those Magic Eye posters you may have stared at as a kid.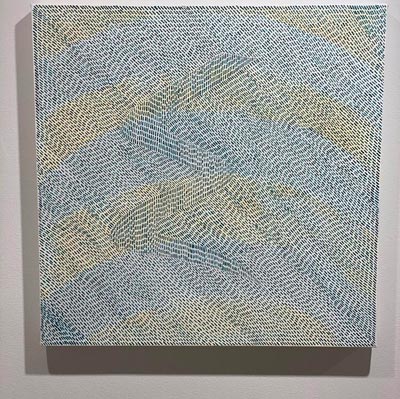 "Your eye immediately starts searching for patterns in the line," Haji Omar says. "And that makes every person's experience different with the work."
A lot about Haji Omar — and her work — is different.
The 34-year-old was born in Australia (where her grandparents lived), raised in the South Asian island country of Sri Lanka, moved to the Philadelphia suburbs as a teen, majored psychology in college, switched to fine art, studied in London, and now lives in Rhode Island.
She's had exhibits of her work everywhere from New York City to Miami to, yes, Sri Lanka.
She speaks English, Sinhalese, and a little bit of Tamil — the languages of her home country. And she's studied French and Arabic, as well.
No one in her family was an artist. And though she always loved art, taking classes in school, it wasn't something Haji Omar considered as a career.
"It was something I just did by myself," she recalls. "I didn't know anything about the art world."
Then, at 15, she and her mother moved to Pennsylvania, where her sister was going to college. The goal, Haji Omar explains, was to get an education — and escape the civil war that tore Sri Lanka apart for years.
"Growing up, it was very tense, and I think my parents were always worried about us," she remembers.
Haji Omar went to Bard College in Annandale-on-Hudson, New York, majoring in psychology and French.
"I was very interested in languages," she says.
But she took an art class at the end of her freshman year, and her professor encouraged her.
"He told me the progress I had made was very unusual and I should really consider doing it as my main focus," Haji Omar recalls. "It was the right encouragement at the right time."
The following semester, she went to art school in London. Later, she received a master's degree in fine arts from the School of Visual Arts in New York City.
Still, thousands of miles away from her home country, Haji Omar continues to cull inspiration from her past, calling her childhood her "visual foundation."
"Just being in a tropical country, the landscape is so different, the colors are different," she says. "It's not something I'm always conscious of, but I think my reference and how I see things has been influenced by living in different places."
After living in New York City, Haji Omar moved to Rhode Island with her boyfriend — also an artist — four years ago. Distractions are fewer there.
"For the type of work I'm doing, I think it's useful to have peace and quiet," Haji Omar says.
Her new show in Summit is actually two exhibits. The other is called "Natural Selection" — a series of 26 connected drawings.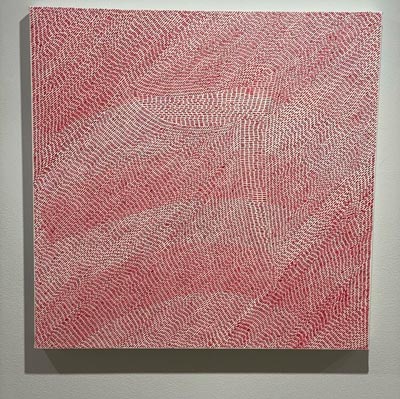 It's based on a painting she made in 2015 called "Deep Sea Topography." There were so many intriguing shapes in the piece that Haji Omar later just drew them with pencil on paper, picking them out at random and assembling them in a grid that she used as a template. Each drawing features one of those shapes enlarged. 
"But there's no background and foreground," she says. "It's kind of all happening on the same plane. All of the shapes are drawn with little dashes, which look kind of like stitches in sewing or just short lines. Each of the drawings is different."
The first half are done in pink and warmer colors — oranges and reds. The second half are done in cooler colors — blues and greens.
Also hanging in the exhibit is the original painting — so "you can kind of see everything," Haji Omar says.
Then there's "Ascension," the main exhibit in the show.
Often, Haji Omar's paintings have explored the Sinhalese and Tamil languages of her homeland, using their alphabets. But this time, she wanted to make a piece about numbers.
The result was also her first paintings about Islam, one of the religions of her family. Haji Omar was raised by a Muslim father and a Christian mother, but she said she connected more strongly with her dad's religion. 
She was always intrigued by Islam's seven layers of heaven — each of which is made up of a different material, such as water, pearls, silver, or rubies. As an artist, Haji Omar was drawn to the descriptions.
"The words they use — rainbows and all these precious stones and metals," she explains. "I had been wanting to make some paintings using metallic paint. And it just all kind of clicked at the same time."
Haji Omar also realized she made the paintings when she was 33 — a number important to many religions. For example, it's the age Jesus is said to have died.
"There's this thing people say — that when you turn 33, it's the year of enlightenment," Haji Omar says. "I just spent that whole year reading and learning all kinds of different things, from Zen Buddhism to more about Islam. I was really researching spirituality and doing a lot of meditation."
"It's funny that it coincided with making this work," she adds. "Because everything felt very intertwined. It was a year where I feel like I changed a lot internally, through exploring all these various spiritual practices."
And you can see the result in these paintings — in person, preferably.