originally published: 01/09/2020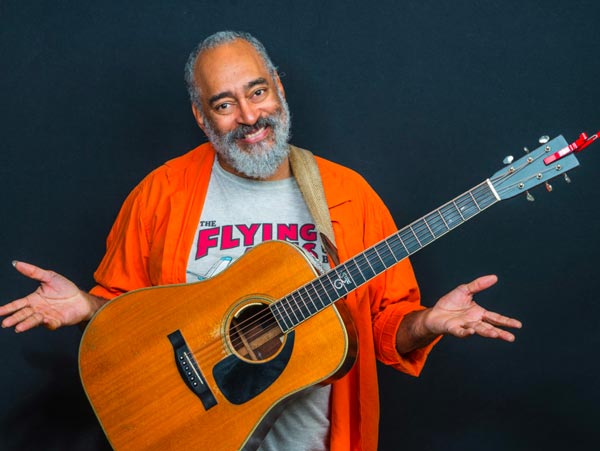 (PARK RIDGE, NJ) -- Acoustic Café Music Series presents singer-songwriter Vance Gilbert on February 16 at 4:00pm.  The concert takes place at Our Lady of Mercy Church in Park Ridge.  Tickets are $18 in advance and $21 at the door. Proceeds benefit the OLM Haiti scholarship Fund.  Special guest singer-songwriter Sophie Buskin will open the show. 
Vance Gilbert will celebrate his new release, Good Good Man, at the Acoustic Café, highlighting the new songs and also fan favorites! He burst onto the singer/songwriter scene in the early 90's when buzz started spreading in the folk clubs of Boston about an ex-multicultural arts teacher who was knocking 'em dead at open mics. Born and raised in the Philadelphia area, Vance started out hoping to be a jazz singer, and then discovered his affinity for the storytelling sensibilities of acoustic folk music. Once word got out about Gilbert's stage-owning singing and playing, Shawn Colvin invited him to be special guest on her Fat City Tour. Along with being opener of choice for artists as varied as Aretha Franklin, Arlo Guthrie, and Anita Baker, Gilbert also opened 140+ shows for the late comedian George Carlin. Most recently he's the opener of choice for Paul Reiser and The Subdudes.
Considered by many to be an integral part of the national folk scene, Gilbert's approach to the acoustic singer songwriter idiom is significant. Gilbert's compositions, while frequently employing sophisticated melodies and harmonies that attest to his jazz roots, remain sublime attestations to the storyteller's craft.  "The voice of an angel, the wit of a devil and the guitar playing of a god," said Fort Worth Star Telegram.
Brooklyn based singer/songwriter Sophie Buskin has been a 2019 Formal Showcase artist at Nerfa and  a 2019 Kerrville Folk Festival New Folk finalist. Her first solo release, Sweet Creature, has garnered airplay on folk radio and is a testament to her ongoing journey of artistic self discovery.
Our Lady of Mercy Church is located at 2 Fremont Avenue in Park Ridge, New Jersey.  For more on the Acoustic Café Music Series, click here.
---