By Spotlight Central
originally published: 01/02/2020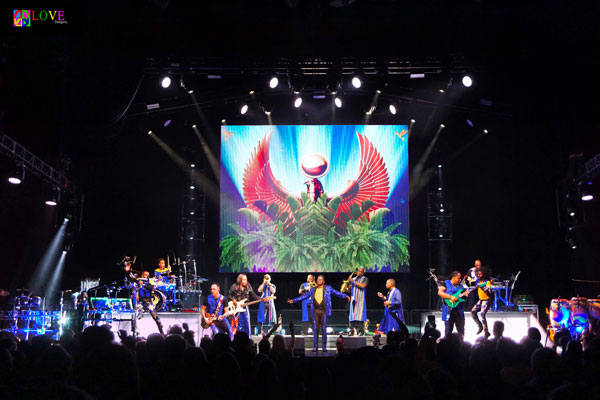 The crowd is filled with excitement this Saturday, December 28, 2019 evening at Atlantic City, NJ's Hard Rock Hotel and Casino as music lovers inside the stunning Etess Arena ready themselves for a concert by one of the world's greatest bands — Earth, Wind and Fire.
Says Adrian from Atlantic City, "We're huge fans of Earth, Wind and Fire. My daughter got tickets for my wife, Rose, and me, and I can tell you we've never been this close before at any concert."
Adrian's wife, Rose, adds, "We've never seen Earth, Wind and Fire live, so I'm really excited — and I can't wait to hear lead singer, Philip Bailey, hit those incredibly high notes."
Concludes Adrian, "Hard Rock really knows how to bring great acts to Atlantic City."
Andrea from NJ tells us, "I got front row tickets from my boss for my 30th anniversary working at his company. I brought my childhood friend, Mary, along with my newlywed daughter and son-in-law. My daughter is a fan of Earth, Wind and Fire because I played their music at home while she was growing up."
---
The article continues after this ad
---
---
"Mary and I are long-time Earth, Wind and Fire fans," continues Andrea. "We just saw them last week on the Kennedy Center Honors TV show and it reminded us of all the times we used to go dancing and clubbing to their songs — we always had so much fun listening to their music."
Andrea's friend, Mary, agrees adding, "This will be my fourth time seeing Earth, Wind and Fire, and our second time seeing them together. Everybody loves their music — you can be any age and still enjoy it!"
A deep rumble fills the arena and red lights rain down on the stage as a large assemblage of musicians — Myron McKinley on keyboards, Morris O'Connor and Serg Dimitrijevic on guitars, John Paris on drums, Gray Bias on saxophone, Bobby Burns, Jr. on trumpet, Reggie Young on trombone, and B. David Whitworth and Philip Bailey, Jr. on vocals and percussion — take the stage.
Audience members stand and cheer as the group's blaring horns and tight rhythm section start to play before the three original members of Earth, Wind and Fire — Verdine White on bass, Philip Bailey on vocals, and Ralph Johnson on vocals/percussion — enter to an eruption of emotion from the crowd.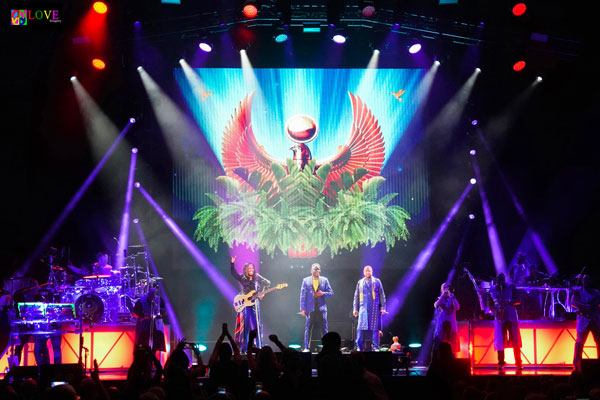 Following this spectacular introduction, the band launches into their 1975 Top 5 hit, "Sing a Song." As seven vocalists share the lead on the catchy "Sing a song/Sing a song" chorus, band members joyfully do high kicks as they dance. Verdeen White plays his bass low and funky while Philip Bailey and the rest of the EWF musicians sing, play, and dance in sync.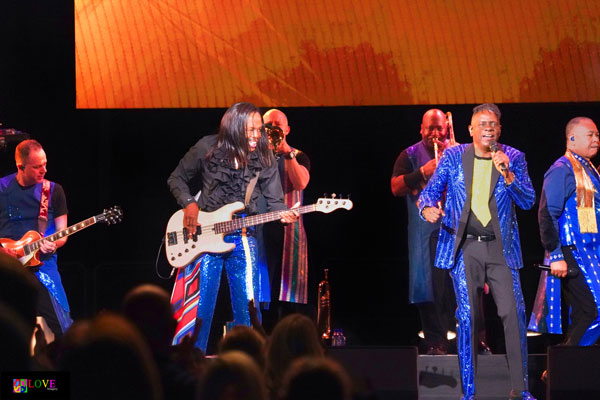 Bailey gets everyone to clap along while sax, trumpet, and trombone soulfully punctuate the happy arrangement.
The crowd cheers and, with a flash of light and sound, the group segues into their 1975 #1 hit, "Shining Star." Morris O'Connor and Serg Dimitrijevic play tasty guitar licks on this R&B classic before multiple EWF vocalists including Ralph Johnson, Philip Bailey, R. David Whitmore, and Philip Bailey, Jr. dance center stage while singing, "You're a shining star/No matter who you are/Shining bright to see/What you could truly be."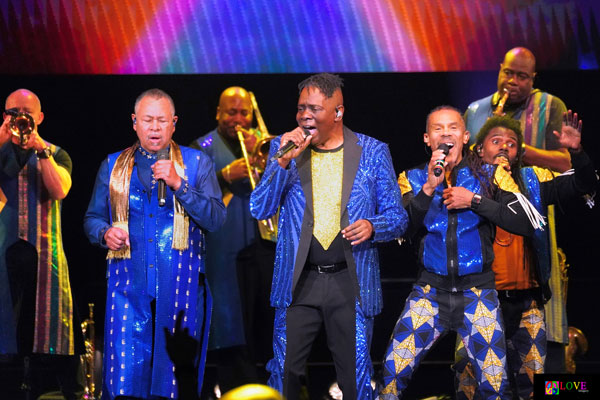 The horn section grooves along to the choreographed stage show before Verdeen White is again featured on bass.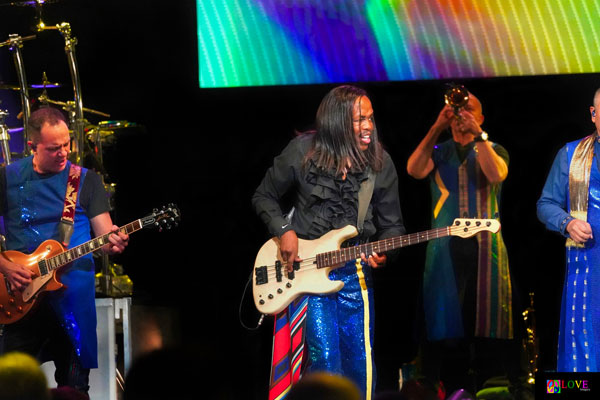 The audience stands and dances along with the musicians as they segue into the band's funky 1976 Top 20 hit, "Getaway." A party atmosphere pervades the Etess Arena as Philip Bailey's voice reaches the stratosphere. A wall of sound envelopes the crowd with positive energy and good vibes as kaleidoscopic colors morph on the big screen behind the band.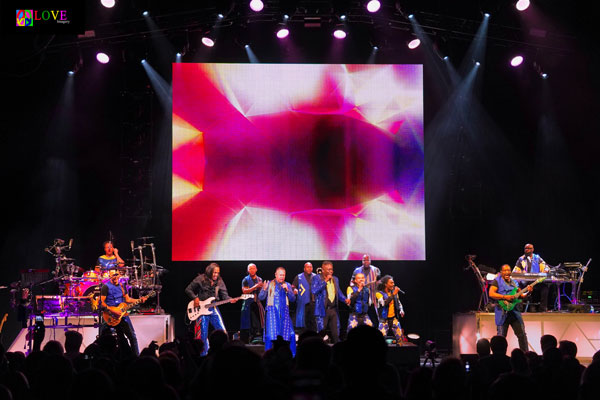 Following their rendition of 1978's funky "Jupiter," Philip Bailey, Ralph Johnson, B. David Whitworth, and Philip Bailey, Jr. start off the band's next song — the 1977 Top 20 hit, "Serpentine Fire" — playing multiple percussion instruments. As a classic video of Earth, Wind and Fire flickers above them on the screen, the vocalists wail, "Gonna tell the story/Morning glory/All about the serpentine fire," while the EWF horn players impress with their killer staccato runs.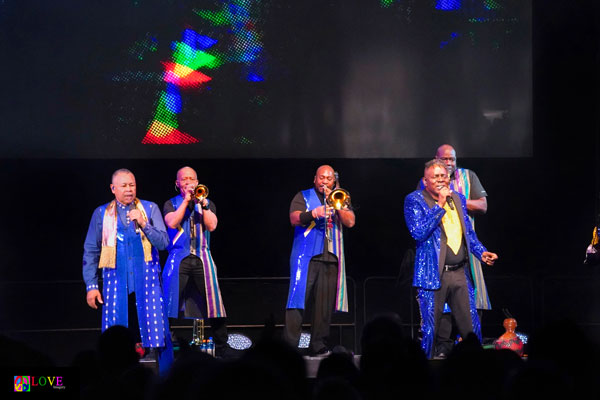 The musicians move as they play, the song's infectious rhythm and groove taking over the entire venue before Philip Bailey has the crowd singing along with him on the number's catchy coda.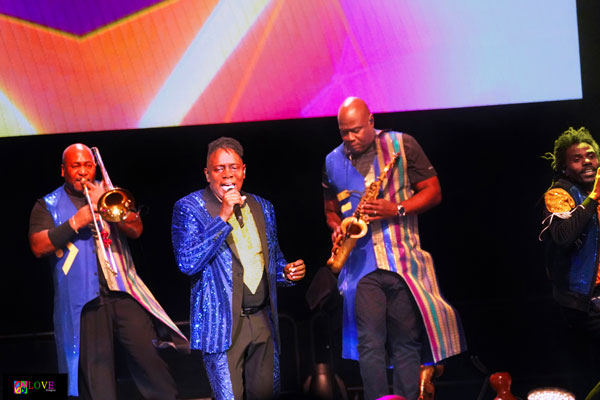 Taking a moment to greet the sold-out house, Bailey asks, "How many true Earth, Wind and Fire fans do we have here?" The crowd cheers and Bailey replies, "True Earth, Wind and Fire fans don't mind hearing songs that weren't on the Top 10, cause they were on the Top 10 in their hearts."
Here, Bailey has the audience echo-sing with him on the Latin-influenced "Evil," before Verdeen White struts to the center of the stage impressing the crowd with his tight and funky bass playing.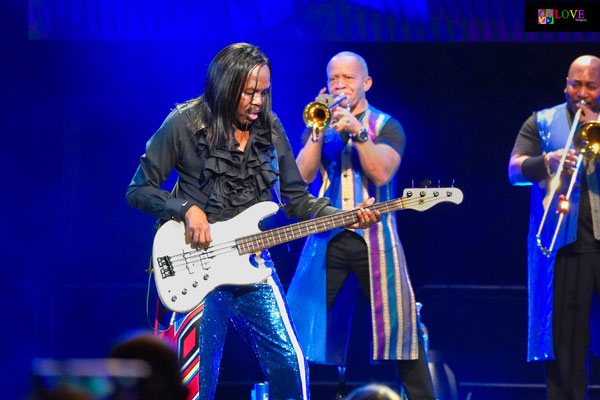 The song building in intensity, White soulfully dances as he plays to the cheering throng before the group segues into "Kalimba Story."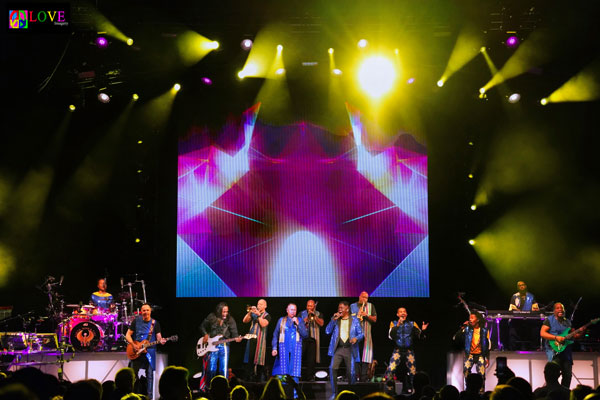 While Ralph Johnson moves over to percussion, Philip Bailey plays the kalimba — an African thumb piano. Striking the instrument's metal tines with his thumbs, Bailey releases a beautiful melody that mesmerizes the audience as percussion instruments shimmer and Myron McKinley's synthesizer fills. The singers and horn players dance and play percussion instruments — B. David Whitworth twirling his sticks as he plays — while Philip Bailey sweetly sings, "Kalimba, ooh kalimba/Play me a tune."
The crowd instantly rises to its feet as the group — featuring Bailey, Whitworth, and Bailey, Jr. — performs its 1978 Top 10 version of The Beatles' "Got to Get You Into My Life."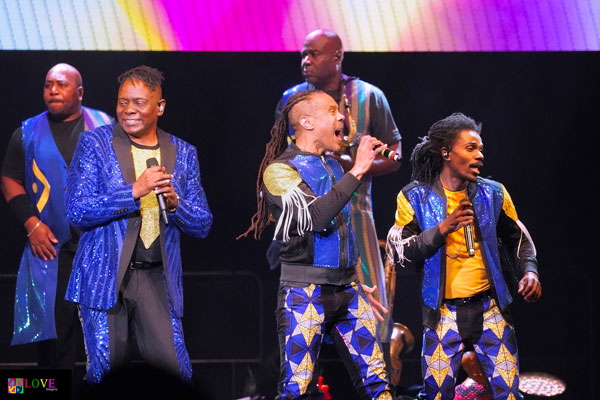 Audience members happily sing along on the well-known Lennon/McCartney lyric, "I was alone, I took a ride/I didn't know what I would find there," as the EWF horns and rhythm section add their voices to the carnival of sound coming from the stage.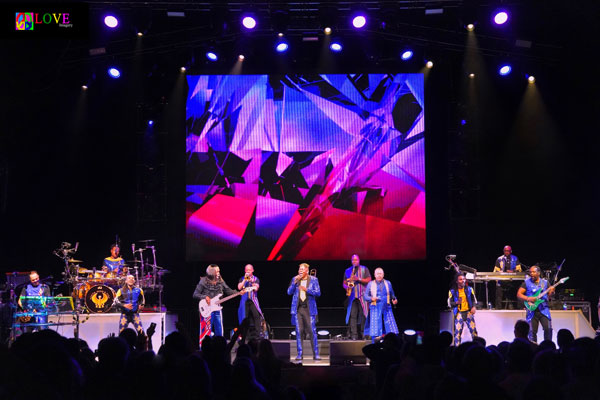 During the performance, Whitworth throws a neon green tambourine into the air and catches it to audience cheers and applause.
Bailey takes to the mic again to say, "What an audience! Wow! Thanks for coming out tonight!" Continuing, "Can you believe the Kennedy Center Honors — the first African-American Band ever?" Bailey acknowledges, "It's hard to believe it's been almost 50 years for this music with its message of hope and positivity," before inquiring, "Is the music still making you feel good?"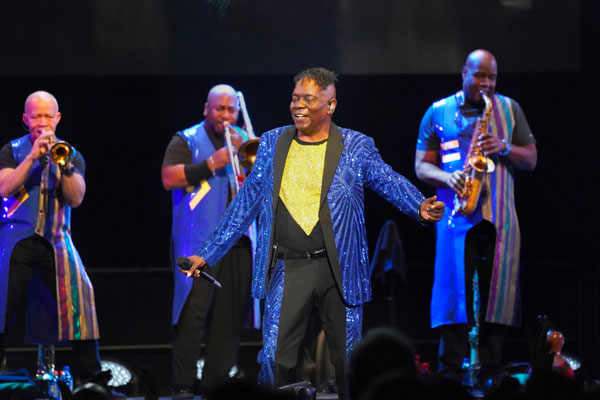 The crowd responds in the affirmative and the group launches into their 1974 Top 40 hit, "Devotion." As the band sings "Through devotion/Blessed are the children," hands in the audience sway in sync with the musicians onstage on this soulfully smooth R&B ballad which features lovely vocal harmonies.
Philip Bailey and Ralph Johnson are the lead singers on the 1976 Top 40 funk masterpiece, "Can't Hide Love." On this infectious ballad, Ralph Johnson vocalizes the falsetto descant and Philip Bailey handles the melody.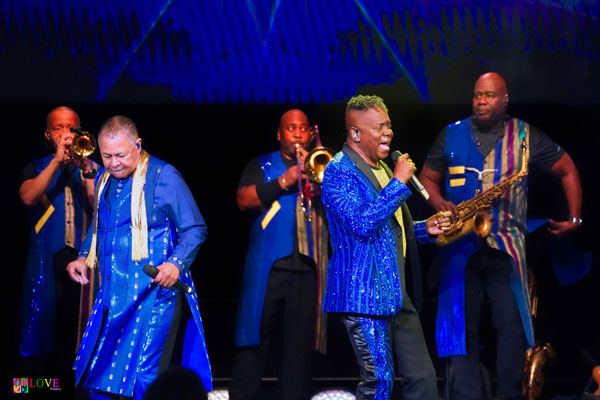 The audience joins in with the entire band singing on the "Ah/Ah-ah/Ah-ah ah-ah ah-ah ah" coda before Bailey ends the song by blowing a heartfelt kiss to the audience.
The sound of chirping birds accompanies guitarists Morris O'Connor and Serg Dimitrijevic as they take center stage, fingerpicking the slow and sweet introduction to "I'll Write a Song For You." On this number, Philip Bailey performs solo — holding out notes as the crowd cheers — singing high and free like a world-class jazz scat singer.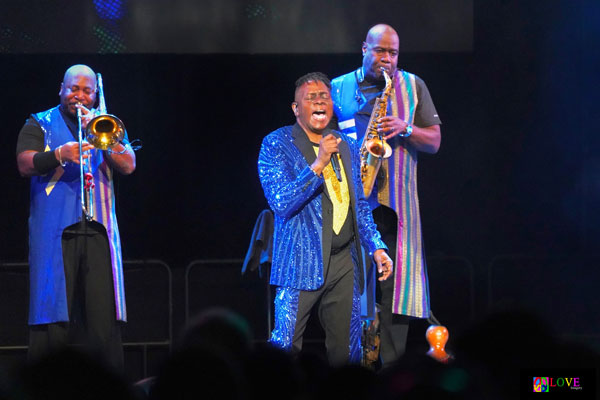 His rich tone soars throughout the entire arena as he's accompanied by flugelhorn, trombone, and tenor sax on this soulful folk-rocker.
Photos of original EWF members light up the screen on the group's 1975 Top 20 tune, "That's the Way of the World." After Bailey, Johnson, Whitworth, and Bailey, Jr. smoothly deliver the "Hearts of fire/Create love desire/Take you higher and higher to the world/You belong" lyric, Morris O'Connor is featured on a lyrical guitar solo.
Following a lively rendition of the Sérgio Mendes-inspired "Brazilian Rhyme," the group performs its 1979 Top 5 hit co-written by composer/producer David Foster, "After the Love is Gone." Accompanied by flugelhorn/trumpet, trombone, and saxophone, the male vocalists outdo themselves as they sing together, "Oh/After the love has gone/What used to be right is wrong/Can love that's lost be found." The crowd responds by hooting and hollering and leaping to its feet.
Up next is the catchy 1974 funk ballad, "Reasons," where Philip Bailey's voice reaches the heavens singing, "Reasons, the reasons that we hear/The reasons that we fear/Our feelings won't disappear."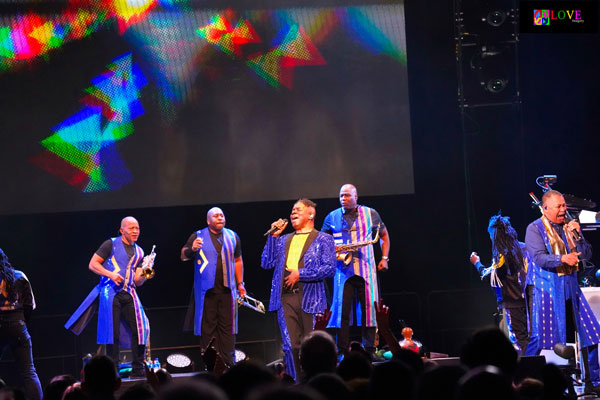 After bowing graciously as the crowd stands and cheers, Bailey's sky-high vocal ad lib is echoed by Gray Bias' alto sax to flashing lights and applause.
Launching into the band's 1978 Top 40 hit, "Fantasy," the arrangement's infectious funk permeates the room. Bailey handles the lead on this crowd pleaser, the audience joining in on the "And we will live together/Until the twelfth of never" chorus. The entire EWF band jumps in unison to the beat as the song continues to build in intensity and Bailey vocally ad libs his way up to the stars.
Bailey moves over to play the congas and B. David Whitworth takes his turn in the spotlight on EWF's 1979 Top Ten hit, "Boogie Wonderland." Doing the floss dance as he sings, Whitworth leads the audience while the enthusiastic crowd stands and sings on the happy "Dance/Boogie wonderland" chorus.
Lights flash and the party continues with the band's 1981 Top 5 hit, "Let's Groove."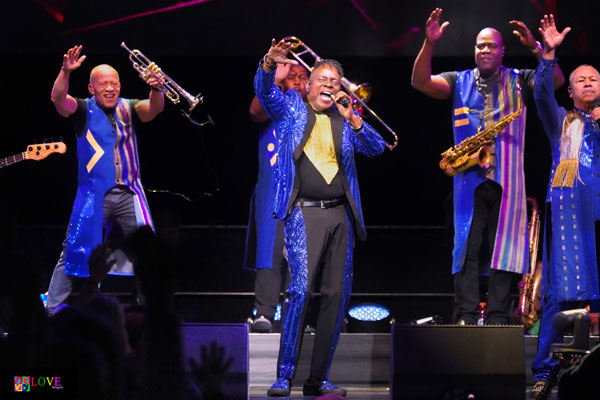 As hands move and lights flash, all around, people can be seen and heard dancing and singing, "Let's groove tonight/Share the spice of life/Baby slice it right/We're gonna groove tonight" on this infectious disco-inspired pop/funk concoction.
For their final number, EWF performs its 1978 Top 10 R&B classic, "September." As the crowd joyfully joins in on the "Ba de ya/Say do you remember/Ba de ya/Dancing in September" chorus, the entire Etess Arena is alive with the soulful vibe that is Earth, Wind and Fire.
With the crowd on its feet hooting and hollering, the band takes a well-deserved bow before the three original members of the group — Verdeen White, Philip Bailey, and Ralph Johnson — smile while they take multiple bows before leaving the stage.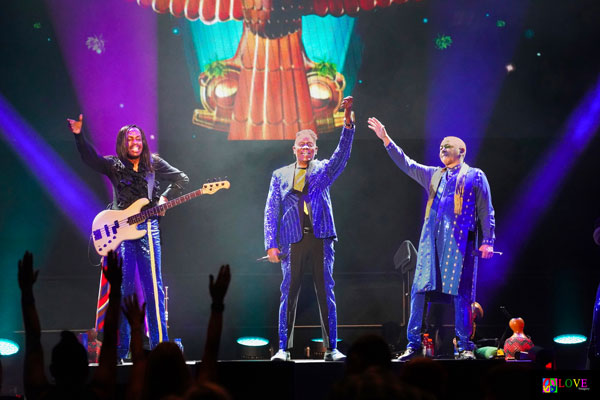 As lights swirl, the crowd continues to cheer until the band returns for an encore of the brassy and funky "In the Stone," the audience continuing to dance the night away as the EWF horns take a turn in the spotlight performing downstage.
At the song's ultimate conclusion, the three original EWF members take another bow and shake hands with audience members while Ralph Johnson delivers a gift of drumsticks to several lucky fans.
Still dancing and smiling as they exit the arena, several audience members share their thoughts with us about tonight's Earth, Wind and Fire performance.
Declares Latanya from Philadelpha, "This was my first time seeing Earth, Wind and Fire, and they are so energizing!" before explaining, "This is generational music — my parents played it, so I heard it growing up — and now I play it for my daughter, too."
Remarks Latanya's daughter, Faith, "There was so much energy on that stage," before exclaiming, "and Philip Bailey has such high pitch!"
Next, we chat with a family of three from Staten Island including mom Elizabeth who reveals, "We only had three tickets, but we had three generations of fans — including my parents and my two kids — all fighting to see tonight's show."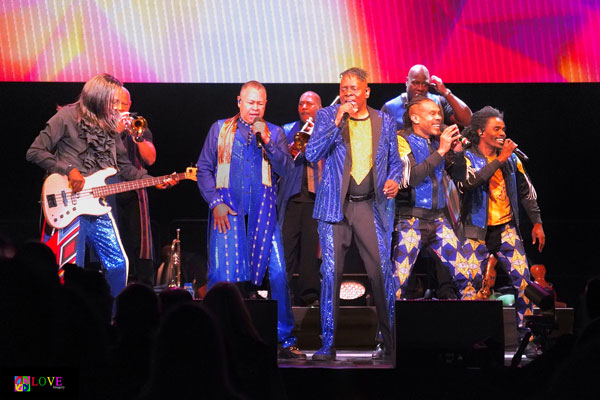 Joking, "My kids won," Elizabeth acknowledges, "It was a fantastic experience for them — just awesome." Explaining, "This music is something to share," she recalls, "I heard this music from my mother and father, and now my kids like it, too. In fact, of all of us, it was my 12-year-old son who most wanted to come see the show tonight."
Explains son, Michael, "I like Earth, Wind and Fire's music because it's so catchy, it's fast-paced, and I find all the instruments they play so interesting, too."
Elizabeth's daughter, Giana, agrees, adding, "I liked everything about this show — I was standing, clapping, singing, and dancing the entire time!"
Finally, we chat with a family of four adult siblings from Philadelphia. Whereas sister Sandra declares, "We all really enjoyed Earth, Wind and Fire's performance tonight," sibling Carlita calls the evening's concert, "Absolutely fantastic — nothing short of spectacular," before declaring, "And when Philip Bailey hit those high notes, he hit every note!"
Exclaims sister Brenda, "This band is phenomenal, awesome, amazing, electric, energetic, and full of power!" while sibling, Clarissa, from Williamstown, concludes by asserting, "We loved this show — there's just nobody better than Earth, Wind and Fire!"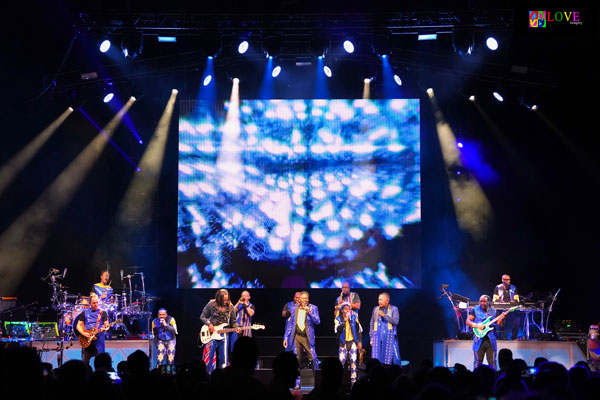 To learn more about Earth, Wind and Fire, please check out earthwindandfire.com. For information on upcoming concerts at Atlantic City, NJ's Hard Rock Hotel and Casino — including Sugar Ray on February 7, Adam Sandler on March 14, and Jim Steinman's Bat Out of Hell: The Musical from March 27-April 5 — please go to hardrockhotels.com.
Photos by Love Imagery
Spotlight Central. Your source for Jersey entertainment news and reviews
Love Imagery Fine Art Photography. all you need. peace/love/flower/power