originally published: 01/01/2020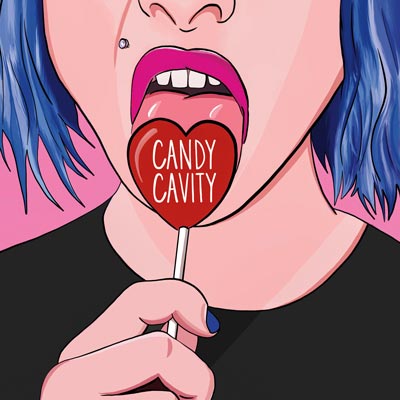 Candy Cavity will celebrate the release of their self-titled five-song EP on Jan. 4 at the Brighton Bar, Long Branch, with Venus Envy, Black Light Medusa and Graveyard Yard School. ARTWORK BY JULIANNE MARKOW
Singer-songwriter-guitarist Candace Schur has that irresistible combination of Marilyn Monroe-like qualities: charming, cute, sweet, sexy, beautiful, naughty and trashy. The fact that she is surrounded by a band of burly, bearded macho men in Candy Cavity makes her even more fascinating.
Together, they have released a five-song self-titled debut EP, the bitter-sweetness of which exemplifies the band's dichotomous name as it chronicles relationships good and bad with a pop foundation cemented by the shudder of grunge and painted with the verve of punk. Recorded at AntFARM (studio) in Freehold by Tony Appleseed (Accidental Seabirds, Bone & Marrow, Thomas Wesley Stern), the steamy collection kicks off with "Do You Wanna?," an intoxicatingly erotic look at having sex and getting high, kind of like a cross between "Do Watcha Wanna" and "What I Like About You." The opener also references the band's name with the lines, "Changing the tune, I got a brand new attitude. It's sugary sweet. It might even rot your teeth."
The EP's eroticism also encompasses the closing "Fuck Boy," a toxic entanglement that finds an unsuspecting lass infatuated with an Asbury Park player, a fate Candy compares to "swimming with the sharks." Lead guitarist Steve Markow plays fantastically throughout with searing, seething solos, particularly on this Nirvana-like menacing but melodic track.
The Makin Waves Song of the Week is the single "Happy New Year's," a lament about a deadbeat ex-con ex who spends the holiday in the county jail. "Mr. Good for Nothin'," as Candy describes him, otherwise wastes his time on the couch rather than being a good provider. Candy Cavity turn the drama into charm with the front woman's tongue placed firmly in her cheek.
The EP also features "What You're Missin'," a Ramones-like romp that aims to make that deadbeat ex jealous about a new boyfriend, and "Like Her," a creepy case of stalking and stolen identity that musically recalls the pioneering punk of Iggy Pop. Candy Cavity, also bassist Brian Bethke and drummer Jon Arban, will celebrate the release of the EP on Jan. 4 at the Brighton Bar, Long Branch, with fellow female-fronted acts Venus Envy, Black Light Medusa and Graveyard Yard School.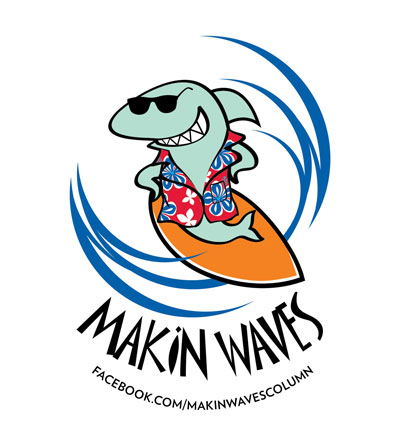 Bob Makin is the reporter for MyCentralJersey.com/entertainment and a former managing editor of The Aquarian Weekly, which launched this column in 1988. Contact him at makinwaves64@yahoo.com. And like Makin Waves at www.facebook.com/makinwavescolumn.