originally published: 12/26/2019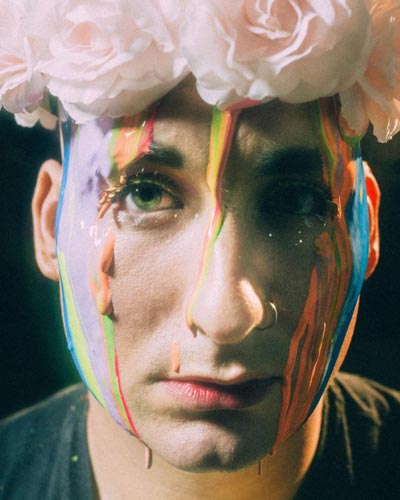 Asbury Park alt-pop singer-songwriter Blaise is among the many artists performing at Telegraph Hill Records' annual What a Wonderful Year celebration at the Wonder Bar. Co-presented by Asbury Park Music Foundation, the two-day Makin Waves-sponsored event will be Dec. 26 and 27. Blaise will play the latter date. PHOTO BY CIARA PERRONE
For the past decade, the flamboyant, glittery Bowie-like alt-pop singer-songwriter Blaise slowly but surely has built a huge buzz at his native Jersey Shore, growing to the point where most folks want to share the stage with or present him. On Dec. 27 at the Wonder Bar, he'll participate in Telegraph Hill Records' annual What a Wonderful Year celebration of what was and will be within the Asbury Park music scene. Blaise is billed with Lowlight, Mercury Brothers, Drew the Recluse, The Foes of Fern, The Extensions, 8Days, Tara Dente, and Ashley McKinley. 
Co-presented by Asbury Park Music Foundation, the two-day Makin Waves-sponsored event also will feature on Dec. 26: Cranston Dean Band + Patty C, Bobby Mahoney & the Seventh Son, Rachel Ana Dobken, Beautiful Scumbags, Natalie Farrell, Bulletproof Belv, Jarod Clemons and the Late Nights, Katherine Quintana, and Martin Howth. 
In the New Year, Blaise will finish up his third album, his second songwriting collaboration with Deal Casino's Joe Parella and Makin Waves Producer of the Year Erik Kase Romero (Deal Casino, The Front Bottoms), both of whom helmed Blaise's well-received 2018 sophomore LP, "Velvet Noir,". That followed the 2012 debut, "Dirty Pretty Thing."
In the following chat, Blaise shares plans to continue to spread his message of self-acceptance, pride and love, and explains his colorful, charismatic approach to music, as well as its various influences.   
Before I ask any questions, would you would like to say anything about you, your music and anything else.

My name is Blaise. I am a singer-songwriter of alternative pop music, alt-pop. I am a visual artist, and I am an entertainer. I use my platform to promote fluidity over all aspects of gender, style and music, and I challenge the preconceived perceptions of what is 'normal.' all while singing my ass off. Through my music and performance, I want to make the audience fall in love with themselves and the limitless possibilities of what they can be and create.

Tell me about the song 'Kevlar' from last year's 'Velvet Noir' LP.

It is the mission statement of my album Velvet Noir and everything I do. It is about taking responsibility and pride in all aspects of who you are: good, bad, indifferent. It also speaks on the importance of allowing yourself to be anything and everything you want, and celebrating and living that to the fullest. Being boxed or being one thing is the death of creation. If you feel it, BE IT. If you want it, GET IT. Never let ANYONE tell you who you are or what you can or cannot do.
How do you sexually identify and how does that impact your music, stage show and their image?

Sexual identity is a huge part of what I do, as sex is a huge part of life for all people. I personally identify as Queer, as I refuse to be boxed. I fall in love with people, with the way someone looks at you, with hands, with a person's laugh, a mind, with they way they make you feel. To me that has nothing to do with what's in their underwear. Mind you, I find underwear and all that wonderful, I just believe in falling for hearts, not parts. 
What did you think of Tallie Fest and being asked to participate in that?

Tallie Fest was a complete honor to be included in. As the only man on the bill, as well as performing with one of my best friends and favorite artists, Ella Ross, and her incredible band, I had an amazing time. Tallie Fest was a beautiful thing. Celebrating women in any way, and especially celebrating women with art and music, is not only so very important, but vital. We must protect women at all costs. CisGender, Trans, Female Identifying. ALL WOMEN.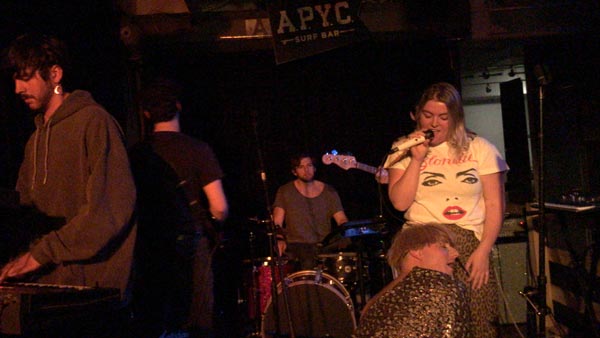 Blaise with Ella Ross and her band during Tallie Fest last month at Asbury Park Yacht Club. Both Blaise and Ella are produced by and co-write with Joe Parella of Deal Casino. PHOTO BY BOB MAKIN



Where did you grow up, and how did that town influence your pursuit of music?

I grew up in Middletown and Red Bank, romping around neighborhoods with my brothers, listening to the music they loved, as well as branching out on my own styles and music artists. It truly helped me to create a mixed genre of influences. From punk and ska and hip hop to pop and jazz and R&B to bluegrass, I've been inspired by it all. 
For college, I moved to NYC, and that is when my love and talent for my visual styling and performance was honed and furthered, with the city creating the artist I am today.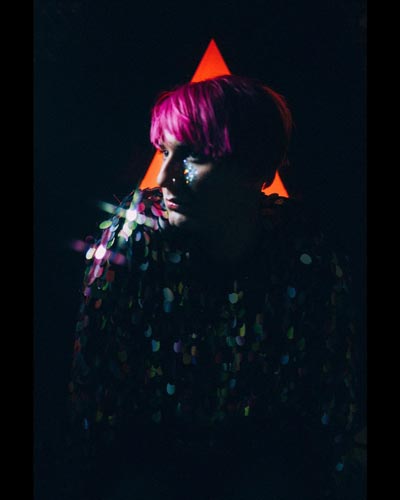 Middletown-raised Blaise honed his musical craft while in college in New York City. PHOTO BY CIARA PERRONE



What artists most influenced your initial desire to make music, how and why, and what artists most influence the music you're making right now and your approach to it, how and why?

The artists currently inspiring me and that inspired me in the past are always artists that pushed boundaries and did what people never thought they could. Artists that created something that changed the world and raised the bar. Madonna, Beyoncé, Solange, Christina Aguilera, Billie Holiday, Etta James, Queen, David Bowie, BJÖRK. The thought process. The intent. The work. These are the elements that not only made them who they are and successful, but made them inspiring legends. 

You are ending the year on a very high note with participation in What a Wonderful Year. Comment on what that event means to you and the Asbury Park music scene.

The Asbury Park music scene means so much to me and to many people. Not only is it a testing ground to get out there to see what works to find what you want to be and create, it's filled with so much talent and so much appreciation for MUSIC. It is an iconic location with an incredible past, and being a part of and knowing the artists of this generation now, it has an even brighter future. 
Being asked to participate in What a Wonderful Year is an honor. It has always been such a wonderful show that brings together some of the best of the best, to come together and create something real. 2020 is going to be an amazing year of growth and success for myself and for the artists included. They will talk about this time in the AP scene, and having my name in the conversation was always a goal and a dream.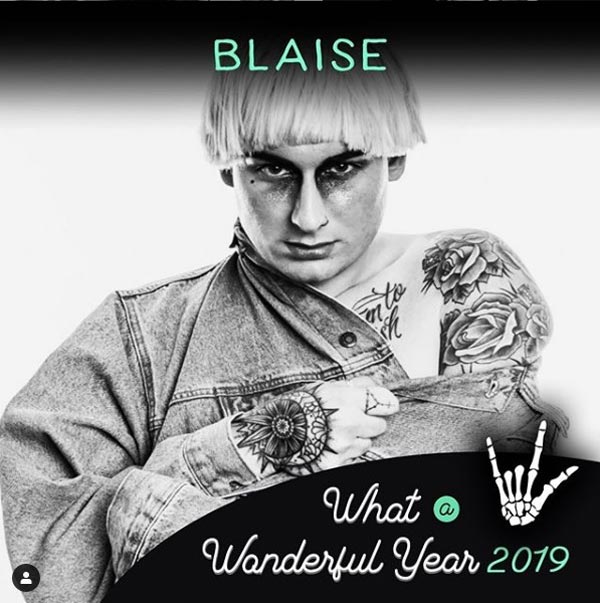 Blaise will share the Dec. 27 What a Wonderful Year bill with Lowlight, Mercury Brothers, Drew the Recluse, The Foes of Fern, The Extensions, 8Days, Tara Dente, and Ashley McKinley. PHOTO BY CODY CUTTER GRAPHIC BY MADISON VAN HOUTEN



Who are you most looking forward to sharing the bill with at WAWY and why?

Every single artist on the bill is so talented and wonderful. It is so exciting to be included with all of them, and I cannot wait to see them perform. Seeing artists like Fern, Connor Bracken, Rachel Anna Dobken, Tara Dente, and Drew the Recluse are always so amazing, but I am even more exciting to see artists perform I just discovered this year, like the incredible Beautiful Scumbags. Their album was fantastic. 

Will there be anything special about your WAWY set that you would like to share and announce?

I'm also very very excited for my set, as I am honored to be accompanied by David Ross Lawn, and we are performing stripped renditions of some of my best songs. It will be something you do not want to miss.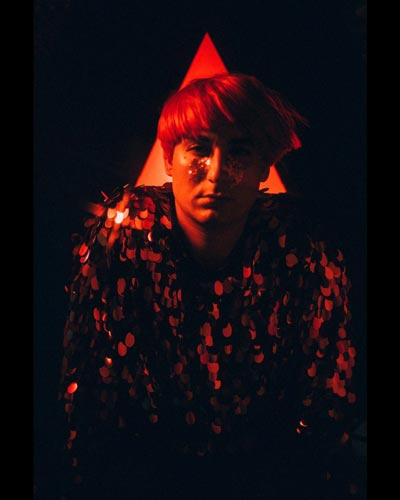 Blaise is working on his third album with co-writers and producers Joe Parella of Deal Casino and Makin Waves Producer of the Year Erik Kase Romero. PHOTO BY CIARA PERRONE



Will you also be included in WAWY organizer Telegraph Hill Records' annual compilation? If so, what song will you contribute, what inspired it, what does it sound like, what was the recording process like, and what plans do you have to release subsequent material on Telegraph? If not, what plans do you have to release new music and how does that compare musically to what you already have released?

I am not on the Telegraph Records release, but so many artists playing are, as well as one of my favorites MALIBU. This is actually the first time I am working with Telegraph Records, which I love and am very thankful for. I love what they do, I love the family aspect and the drive Joe has.
Currently, I am writing my next project with Joe Parella (of Deal Casino). We worked together on 'Velvet Noir,' and it was without question, we would work together for this next project. I am beyond excited and inspired, and as songs are coming together, as my life and message deepens and comes into even clearer focus, songs have been pouring out of me. It's a very inspiring time and I'm taking full advantage of my heart's need to feel and express. I love the growth that the new music has from 'Velvet Noir.' I'm letting the listener live and grow with me, with the heartbreak and heartbeats I experience. It's this beautiful relationship I'm creating, and it's the most important one in my life.
2020 will be a beautiful year of even more creation and success. I will be playing many, many more shows, going on my first tour, releasing new music and visuals, and getting my message of love and self acceptance out there. I am currently unsigned and will remain unsigned until it feels right. Until a label has the same vision and dream of the success and global domination we could have together, I will do it myself.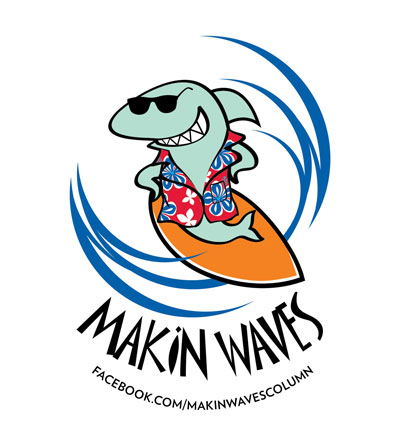 Bob Makin is the reporter for MyCentralJersey.com/entertainment and a former managing editor of The Aquarian Weekly, which launched this column in 1988. Contact him at makinwaves64@yahoo.com. And like Makin Waves at www.facebook.com/makinwavescolumn.