By Spotlight Central
originally published: 12/26/2019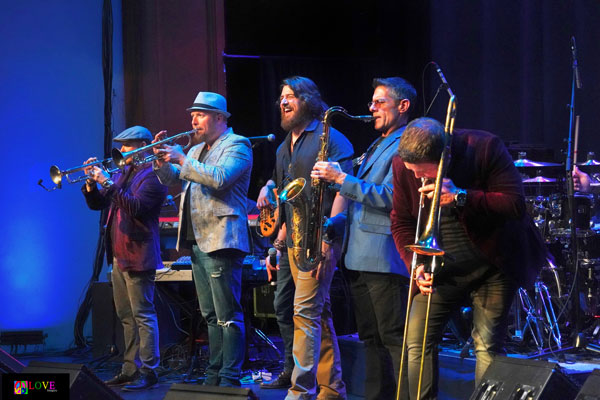 Music lovers at the Newton Theatre this Sunday, December 8, 2019 are anxiously awating a concert by perennial favorites, Blood, Sweat and Tears.
It's been over 50 years ago since drummer/music producer Bobby Colomby and several of his musical friends started the band, Blood, Sweat and Tears — one of the first groups to successfully blend the musical styles of rock and jazz.
The idea for Blood, Sweat and Tears was originally conceived by keyboardist Al Kooper in 1967. Kooper had been toying with the notion of forming an electric rock band that would include horns and use jazz as the basis for their sound, just as groups like The Buckinghams and the Maynard Ferguson Orchestra had recently begun to do.
In New York City, Kooper found three musicians interested in working with him on his musical experiment — drummer Bobby Colomby, bassist Jim Fielder, and guitarist Steve Katz — in addition to a top-flight horn section including jazz trumpeter Randy Brecker.
The new group signed to Columbia Records, and the name "Blood, Sweat and Tears" reportedly came to Kooper after a performance at NYC's Cafe au Go Go, where a cut on his hand left Kooper's organ keyboard covered in blood.
---
The article continues after this ad
---
---
In 1968, BS&T released their debut LP, Child is Father to the Man. In 1969, with the addition of Canadian vocalist David Clayton-Thomas, the group released its 1969 self-titled album, Blood, Sweat & Tears. The album's first single, "You've Made Me So Very Happy," catapulted to #2 on the Billboard Hot 100 chart and also lifted the album to the top of the Album chart.
More hits like "Spinning Wheel" followed, and the rest is history.
Over the next half-century, Blood, Sweat & Tears went on to become one of the most popular touring acts of all time. With over 140 members who have — at one time or another — been a part of the band, the current line-up includes such talented musicians as Glen McClelland on keyboards, Ric Fierabracci on bass, Dylan Elise on drums, Jonathan Powell on trumpet, Brad Mason on trumpet, Ken Gioffre on sax and flute, and Michael Boscarino on trombone.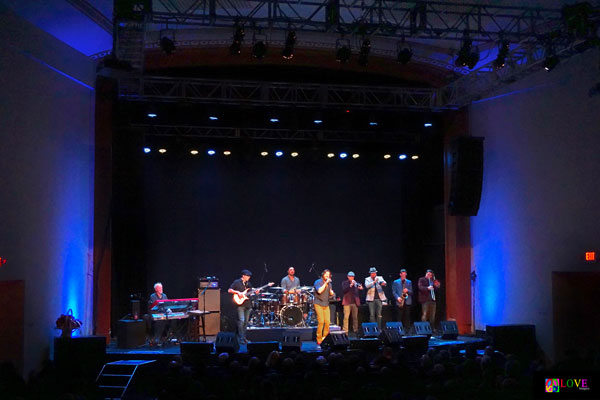 In addition, on vocals, Blood, Sweat and Tears currently features a singer whom audience members may recognize from his appearances on TV's The Voice — Keith Paluso.
The lights in the theatre dim and the members of Blood, Sweat and Tears hit the stage running with a powerhouse version of the Blood, Sweat & Tears album cut, "More and More." With his powerful voice, Paluso sings, "That's why my love for you/Keeps on growin'/More and more/All the time."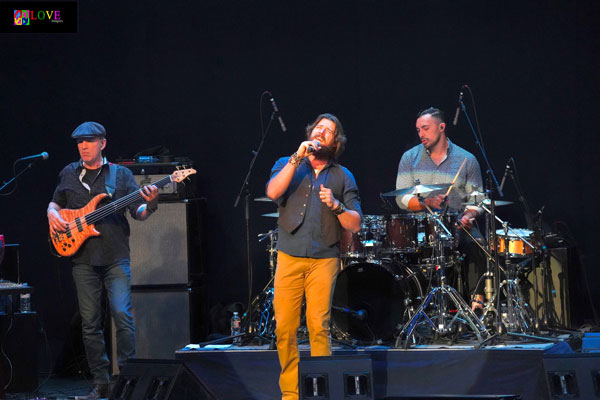 Glen McClellan plays a bluesy organ solo, and the crowd reacts with cheers and applause.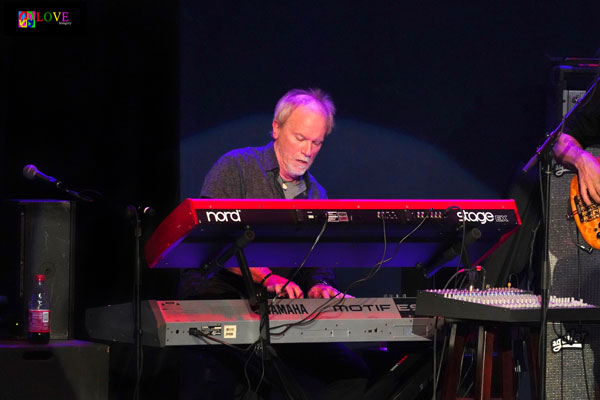 Paluso greets the audience asking, "How are you doing tonight?" before revealing, "This is our last show of 2019."
The group launches into a rendition of their Child is the Father to the Man cut, "I Can't Quit Her." On this rhythmic R&B number, the horns are dynamic, the rhythm section is tight, and Paluso's voice is soulful and strong.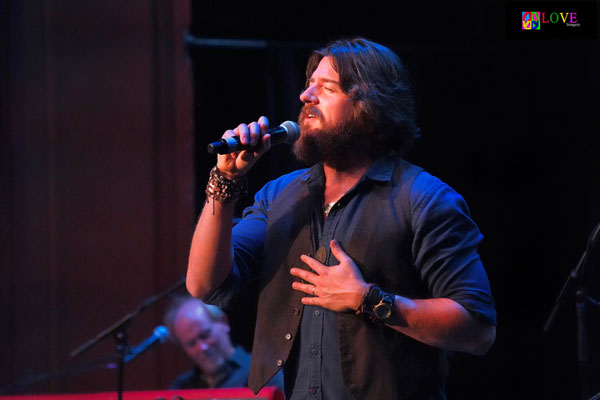 The audience applauds, and Paluso responds by telling them, "I've been with the band for seven months now. Before that, I was on The Voice where I was coached by Blake Shelton and Kelly Clarkson, but even before that, I was a Tennessee State Park Ranger."
Next, Paluso and BS&T perform the group's 1970 Top 20 hit, "Hi De Ho," featuring it's swing-struttin' vibe, a swirling organ solo by Glenn McClelland, a low and funky bass solo by Ric Fierabracci, and horn lines played by the world class BS&T horn section.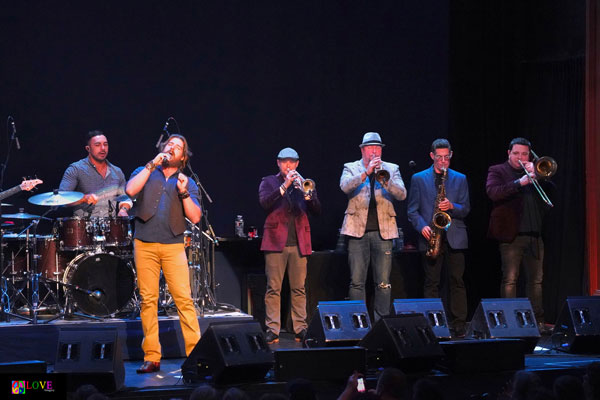 Heads nod to the beat as audience members mouth the words and respond with hearty cheers at the end.
The band follows up with the group's 1970 hit, "Lucretia McEvil." On this number, Paluso sings his heart out and Glen McClelland tears it up on keys before trumpeters Brad Mason and Jonathan Powell trade riffs while the rhythm section percolates below.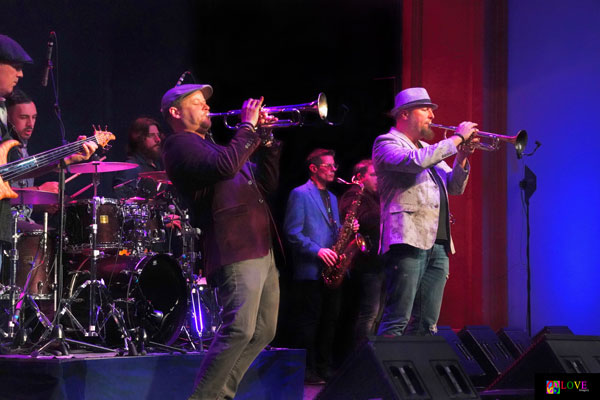 A rhythmic rendition of another Child is Father to the Man cut, "I Love You More Than You'll Ever Know," follows. This number features a funky bass solo by Rick Fierabracci, a soulful sax solo by Ken Gioffre in which he incorporates snippets of "The First Noel" into his improvisation, and Paluso's vocal ad libs during the coda which are tightly punctuated by the horns.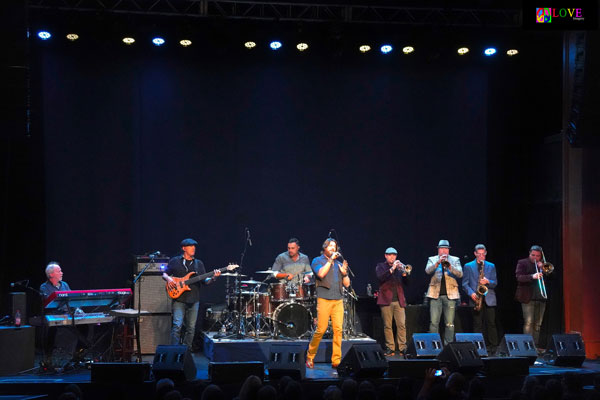 Audience members cheer and Paluso responds by saying, "Tonight, we finish up our 53rd year of touring. Blood, Sweat and Tears is a fraternity of musicians dedicated to their craft. We have taken other musicians' songs and put our spin on them, like this one."
Here, the band presents its unique take on Duffy's 2008 hit, "Mercy.'" Featuring tight harmonies from the horn players, lights blink on this tune which sounds reminiscent of Gladys Knight's 1974 hit, "I've Got to Use My Imagination." Before the horns bring the number to a screaming conclusion, the band rocks and jives under Paluso's lead vocal.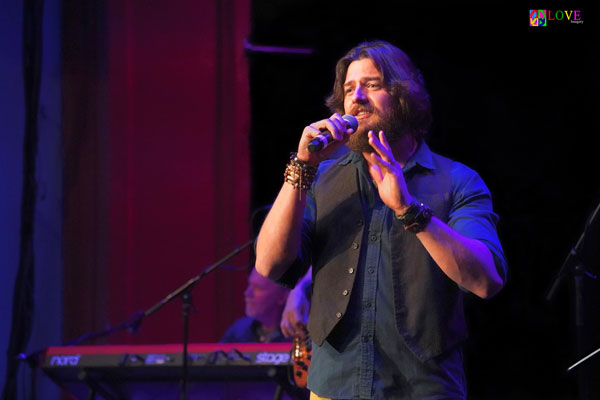 As he leaves the stage, Paluso announces, "On the next couple of songs, we're going to let the whole band loose."
Ric Fierabracci handles the lead vocal on the group's lovely Blood, Sweat & Tears ballad, "Sometimes in Winter." His tone sounding sweet and fine, the group ultimately morphs the piece into a large-scale swing jazz number which sets the audience's fingers tapping, and Ken Gioffre impresses the crowd with a fluttering flute solo.
One of the highlight numbers of the evening follows — the band's interpretation of a high-energy jazz-rock fusion instrumental piece entitled "Surreptitious."
With solid support from BS&T's tight rhythm section — notably Dylan Elise, whose drums roll fast and furiously, and Glen McLelland on a rocking keyboard solo — the number also features a horn duel by Brad Mason on flugelhorn and Ken Gioffre playing a soulful tenor sax.
The two horn players face each other as they seamlessly perform melody lines that evoke the spirit of a 1950's-era Dizzy Gillespie/Charlie Parker bebop performance. Communicating as only horn players can do, they elicit cheers from the crowd, after which Paluso invites the audience to take a short intermission and "put your face back on after Ken melted it off!"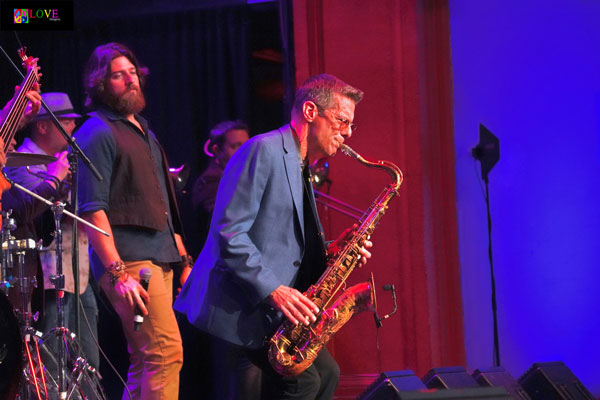 During intermission we chat with several audience members who share their impressions of tonight's performance thus far.
States Holly from Andover Twp. "Blood, Sweat and Tears is just fantastic — I especially love their horn section."
Remarks Suzanne from Cedar Knoll "Their sax player is amazing, as is the entire horn section — they really got my attention."
Lee and Bill from Byram comment, " Blood, Sweat, and Tears is great, and we love seeing concerts like this at the Newton Theatre." Explaining, "We come to this venue often and we bring our children," the couple notes, "We've seen everything from old-time movies like White Christmas to concerts by The Glenn Miller Orchestra and Don McLean — there are such great opportunities to expose kids to all kinds of offerings here at the Newton Theatre."
Act II begins with Keith Paluso taking a moment to recognize Blood, Sweat and Tears' longtime sound man, Harold Smick, who, after 35 years on job, is retiring after tonight's show. The band members stand and salute Smick as Paluso thanks him for all he's done for the group for so many years.
Dedicating their next song to all of the teachers in the audience, Paluso and the band perform the band's 1969 album cut, "God Bless the Child."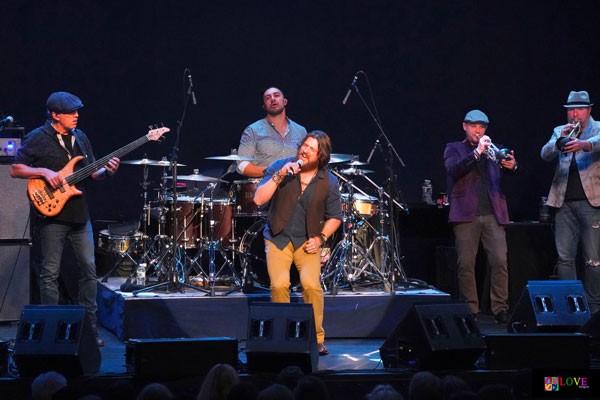 Michael Boscarino takes center stage for a rollicking trombone solo, moving his slide up and down as his beautiful round tone echoes throughout the auditorium. Jonathan Powell follows with a trumpet solo that's so high, nearly all of it is "off the horn" — meaning beyond the normal range of the instrument. After Ken Gioffre plays a steamy sax solo, supplemented with organ fills deftly provided by keyboardist Glen McLelland, Paluso returns to wrap up the song.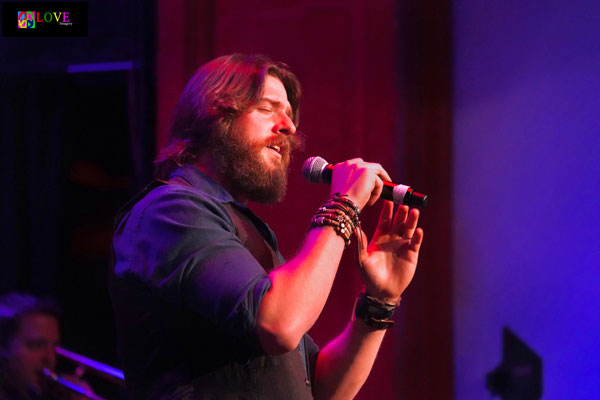 The crowd cheers and the band breaks out into their interpretation of Steve Winwood and Traffic's "Smiling Phases." The song's famous horn fanfare sets the stage before Paluso sings with gusto, "You'll be amazed at the gaze on their faces as they sentence you."
Glen McLelland plays a jazzy piano solo — cascading up and down the keyboard — as Ric Fierabracci's bass speed walks along. Then, Fierabracci goes to town on his bass while Paluso moves to the groove.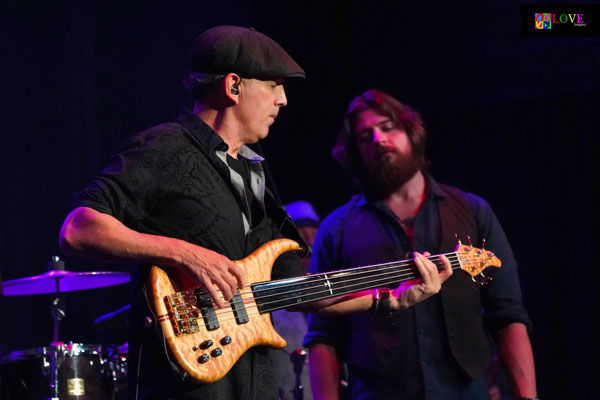 Strumming and playing with the dials on his instrument and amp, Fierabracci alters his tone to create a stunning feedback solo.
Lastly, Dylan Elise takes a turn in the spotlight marching along on his drums, both hands and feet creating a wave of intricate rhythms which bring cheers from the audience.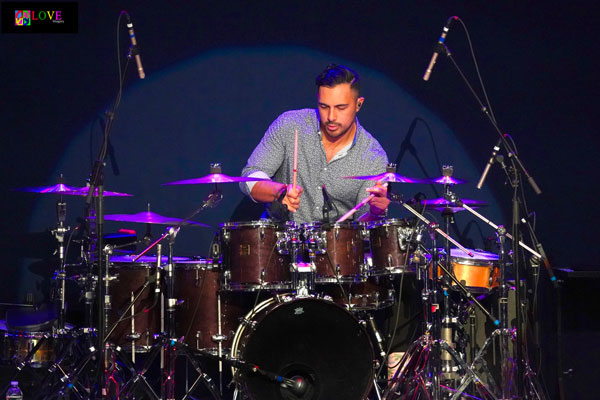 Perfectly executing every complex rhythm while still keeping impeccable time to the beat, Elise twirls his drumsticks as he plays with both hands just like an acrobat.
Crossing his arms as he plays, building in intensity, the crowd rises to its feet for this talented musician before the rest of the band reenters playing Vince Guaraldi's "Linus and Lucy."
"Dylan Elise on drums!" exclaims Paluso as a fan yells out, "Alright, Dylan!"
At this point, Paluso dedicates the group's next song to all "veterans, police, and firefighters," and the group launches into a crowd-pleasing rendition of Laura Nyro's "And When I Die." Audience members happily clap and sway to the music created by Paluso, the rhythm section, and the mighty BS&T horns.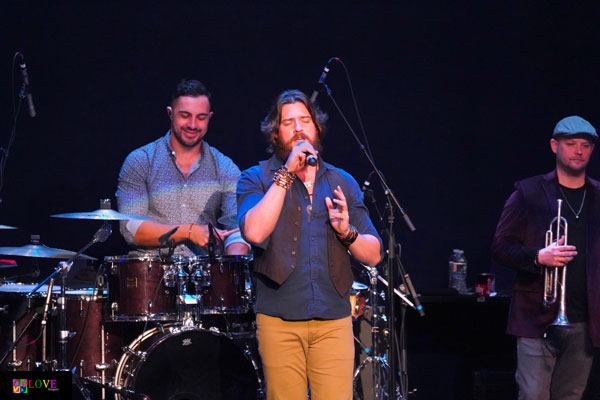 The group follows up with their final song of the evening — a thrilling rendition of their 1969 mega-hit, "Spinning Wheel," where the crowd dances in their seats and sings along with Paluso on the tune's famous "What goes up/Must come down" lyric.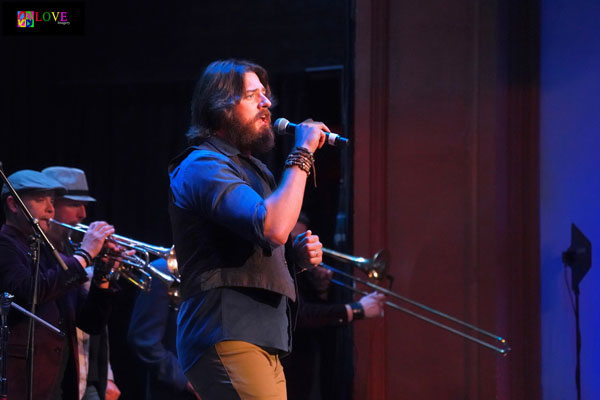 Jonathan Powell plays a sweet and high trumpet solo and Glen McLelland's keyboard calliope sound brings giggles from the audience as the song rolls to a ending filled with screaming horns.
The audience hoots and hollers, and BS&T prepares to play their first encore. Saying, "Let's pretend this next song was recorded by Blood, Sweat and Tears," Paluso and Co. launch into an energetic rendition of The Ides of March's "Vehicle," the smoking horns and hot rhythm section taking the audience "everywhere they want to go."
For a second encore, BS&T presents a jazzy, yet soulful, arrangement of The Allman Brothers' "Midnight Rider," where Paluso wails, "I'm not gonna let them catch me, no/Not gonna let 'em catch the midnight rider," and Gioffre plays a funky and tight sax solo accompanied by Fierabracci on bass.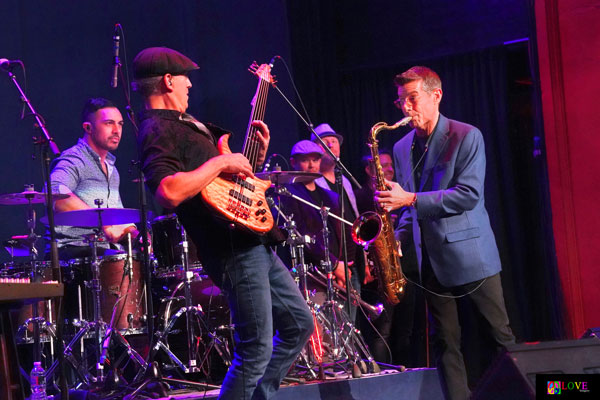 For their third and final encore, Blood, Sweat and Tears performs the group's 1969 gold record, "You've Made Me So Very Happy." Bringing their 2019 tour to an end, the horns come downstage to share the spotlight with Paluso before trombonist Michael Boscarino provides a nod to the current holiday season by playing a jazzy trombone solo which incorporates elements of "Jingle Bells."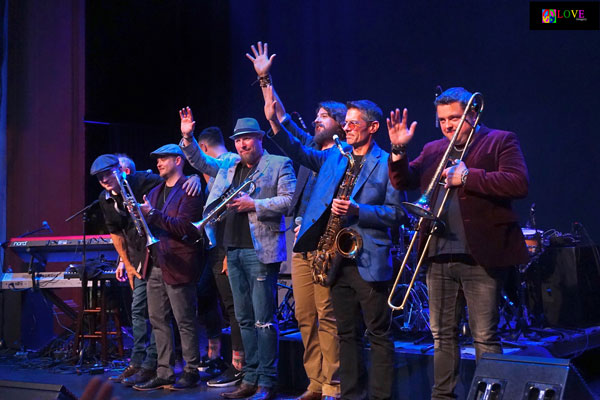 As the crowd filters out of the Newton Theatre auditorium, we chat with several music lovers in the audience who share their reactions to tonight's BS&T performance.
Remarks Doug from Vernon, "This show was great!" Acknowledging, "I came tonight as a spur of the moment thing," Doug explains, "I noticed that the Newton Theater had a really good lineup of shows this weekend. With all the great venues we have in New Jersey, The Newton Theater is a nice surprise — they always present such good names and such great talent — and it really is a great value coming here."
David from Brick calls BS&T's performance tonight "Fantastic," declaring, "They have as tight a horn section as I've ever seen." Noting, "It was interesting that the show's first half had some lesser-known album cuts and the second half had more radio hits," David concludes by asserting, "I thought their rendition of The Allman Brothers' 'Midnight Rider' was really tasty."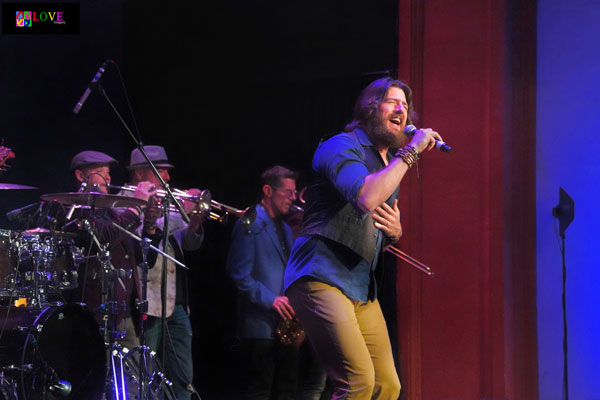 Susie from Denville comments, "All the Blood, Sweat and Tears musicians are so talented," before exclaiming, "I was dancing the whole time!"
Lastly we catch up with Ken from Boonton and his daughter Emma.
Reveals Ken, "I've been a fan of Blood, Sweat and Tears forever. They are excellent musicians." Continuing, "I wasn't sure what to expect tonight, but the band was really hot. I'm so glad I brought my daughter, Emma, who is a trumpet player."
Remarks Emma, 11, about the show, "I liked it," adding, "It's kind of crazy, I guess, but the drum solo was my favorite part."
Concludes Ken, "We both had a great time tonight," before acknowledging, "When they played 'You've Made Me So Very Happy,' I told Emma that's the song she and I are going to dance to at her wedding."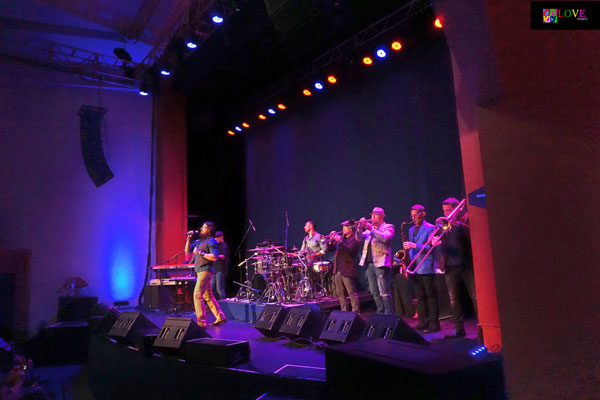 To learn more about Blood, Sweat and Tears, please go to bloodsweatandtears.com. For information about future performances at The Newton Theatre — including Big Bad Voodoo Daddy on January 10, 10,000 Maniacs on February 29, and Jim Messina on March 13 — please click on thenewtontheatre.com.
Photos by Love Imagery
Spotlight Central. Your source for Jersey entertainment news and reviews
Love Imagery Fine Art Photography. all you need. peace/love/flower/power