originally published: 12/25/2019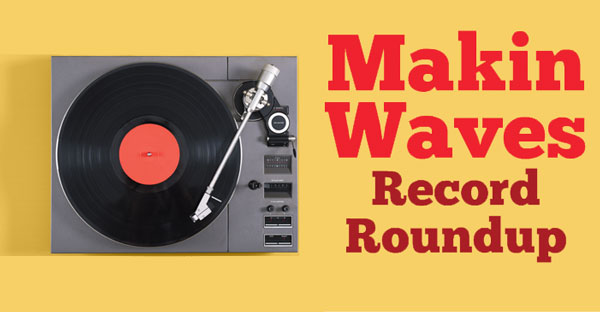 Do you believe in the Rock Gods? 
Well, they smiled upon a festival I co-produced last month called Tallie Fest that brought attention to New Jersey's many talent female and female-front acts, who often get overlooked, like the event's namesake, Asbury Park icon Tillie's little-known GF. Co-producer Brittney Dixon of Brittney on Fire thankfully brought in the amazing new band Honey Wild. 
It's just so incredibly fitting that "Don't Call Me Baby," the lead-off track to the eclectic rootsy, yet edgy five-piece's three-song debut EP, is a Pat Benator-like Me-Too anthem made the perfect theme song for Tallie Fest. The expose of pig men who undress women with their eyes and cop cheap feels is the Makin Waves Song of the Year in the 21st Annual Makin Waves Awards, which can be found here.
"Honey Wild" also contains "Dreaming," a country-esque duet between front woman Hana Denson and guitarist Christian Fernandez. The rootsy power ballad defies their respective jazz/classical and punk backgrounds, demonstrating the breadth of their growth as musicians.
Closing the mighty mini collection is the single "Heart," which boasts really rad drum parts in which Russell Grimm only plays toms throughout. Rounding out the band are bassist Michael Notarmaso and Brazil-raised keyboardist Daniel Rofer. 
All hail, Jenny Cat, an extremely talented singer-songwriter and guitarist who has been slugging it out in the local scene for a while, both solo and in bands. She's finally getting her due with the excellent female punk trio Black Light Medusa, an all-star outfit also featuring drummer Kat DaVille of Tight Lipped and The Bloody Muffs and bassist Cathy Berg of Devil's Bubble Gum and The Infamous Lost Cause.
The lasses have unleashed a three-song demo that they're selling at shows and streaming on YouTube. But they are not selling it digitally, so I highly recommend picking one up when they play Jan. 4 at The Brighton Bar in Long Branch, where they'll help their pals in Candy Cavity celebrate the release of their debut EP.
The three-song outing features the standout "Brenda," a '50s-flavored feminist anthem perhaps inspired by rockabilly princess Brenda Lee. Equally good is the deliciously irresistible pop punk of "I Can't Shake It," a pretty pleading lamenting lost love. This one was glued to cranium, much to my delight.
The EP's opener is the Ramones-tinged psyche-surf garage nugget "Don't Want to Be Your Baby," which rips into a two-timin' fool. All three tracks feature exceptional guitar playing by Jenny, especially the leads. You also can check it out live in April when Black Light Medusa open for Mikell's Plot at Sayreville Theatre.
Wow! Young Ella Ross has released her third EP in as many years. "Is Anyone Listening?" continues with the danceable alt-pop, but shows a great maturity lyrically commenting on struggles in life and art, hence the title in an age when it's difficult to get peers to put down their lattes and give a good listen to live music above a conversational level.
The six-song outing's standout track is "Walls," a heartfelt attempt to hurdle the obstacles standing in the way of a better relationship, mainly the fear of commitment. The edgy-sounding "Monster," which juxtapositions Ella's sweet voice with dark and haunting dance rhythms, also is a treat, along with "Open House," an examination of the trappings and failings of the party life, like a sequel to the 2018 track, "Basement Parties." And the tasty "Strangers" recently came to life with a hot new video by auteur du jour Nick Wolff.
Fans of Katy Perry, Taylor Swift and Pink who haven't heard Ella will be thoroughly impressed with her new EP and its two predecessors, 2018's "Wasted Youth" and her 2017 debut, "Uncharted Waters." So will fans of The Eurythmics and other acts able to make you dance, while also making you think.
Kudos once again go to Asbury studio guru Erik Kase Romero for another great job by him, this times as co-producer of "Is Anybody Listening?" with Joe Parella (lead singer-songwriter of Deal Casino), who co-wrote all of the songs with Ella.  The young songstress also seems to have made an impression on Jersey-raised pop star Tor Miller,  who co-wrote "Open House" and "Walls."