By Gary Wien
originally published: 12/25/2019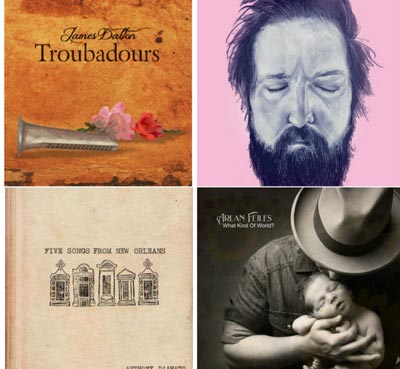 I gave up writing CD reviews many years ago, but like to highlight records from time to time.  As the 2010s come to an end, it dawned on me that four of my favorite artists from New Jersey had all released albums throughout the entire decade with new releases in 2019.  There's something comforting about knowing these artists (James Dalton, Rick Barry, Arlan Feiles, and Anthony D'Amato) are not just continuing to produce music, but continuing to make great music.  So here's a look at their 2019 releases.
We will start with James Dalton, the artist I've known the longest.  For many years, he released albums under the name JPAT and Troubadours - his first release in many years - is very much a JPAT type album.  It's acoustic folk music featuring the amazing vocals and harmonica playing of James Dalton with a mix of a few older songs and some new ones.
My three favorite tracks are "Take Me To Helsinki", "Where There Ain't No Sickness" and the terrific "Sweet Son Of Mine."  On the bandcamp page where the album is sold he writes, "I consider this a creative new beginning, a fresh place.  I'm hoping you all enjoy it!" Mission accomplished and it's great to hear some new tunes.
The EP kicks off with Dalton singing the blues, "Take me to Helsinki baby / where the sun don't shine" - a reminder that this is an artist who has indeed performed all over the world. As a storyteller, his travels often form the basis of his songs.  "Take me to Helsinki now / where the sun don't shine / I got a girl in New York City / drives me out of my mind / Put me on a plane / fly me across the sea / Put me on a plane / fly me across the sea / I've got to find myself a new place / where I can go and be happy." This is one of many to feature his harp playing, of which I am very much a fan. James has one of the best sets of pipes of any Jersey artist and he shows it off on this album.  He has the rare ability to create so many layers of sound (from harmonica, guitar, and mandolin) even as a solo performer.
---
The article continues after this ad
---
---
In the beautiful "Where There Ain't No Sickness" he sings, "I want to go where there ain't no sickness / ain't no sickness / ain't no sickness / I want to go where there ain't no sickness raining down from the sky / I want to go where there ain't no crying / ain't no crying / ain't no crying / I want to go where there ain't no crying / I don't want to die". It's a sweet lullaby type song that follows the guttural expression of "Bangs Avenue" in which he bellows "Asbury's gonna be the death of me" using his voice almost like a weapon. Dalton has always been able to drastically change from one type of song to another - whether live or on record.  While this does not work for others, it works for him.  It allows for him to soften the blow of the previous song and let us peer into his rambling, artistic mind.  
In "Sweet Son of Mine", he imagines the life ahead for his young son while recognizing how quickly time is sure to pass.  "What ya gonna do my little man? / When ya going to jump up and shake my hand? / What ya gonna do my little man? / What ya going to do, my baby boy? / When ya going to jump and shout with joy? / What ya gonna do my baby boy" - it's a beautiful and touching song that you can imagine was written one day while watching his son play with some toys on the floor.  It captures a father in awe and wonder and thinking about his boy's future.
Next is Rick Barry's latest release is called A Sunk Cost Fallacy and the Enduring Mirage and it is my favorite album by him in quite some time.  In many of his recent releases, I thought he went a bit too far with the use of strings, trying to forge a path beyond the acoustic guitar songs that originally earned him national acclaim by winning the John Lennon Songwriting Contest.  I have nothing against artists changing their sound or evolving, but Rick has always been foremost a brilliant lyricist with songs that did not need the added musical atmosphere in my opinion. This album is closer to a bridge between the two worlds and it benefits greatly from it.  Songs on this album use the extra layers of music as highlights rather than the focal point, leaving the lyrics to be the star as they should be.
My three favorites include "Bury Me", "No Such Luck (Surprise, Surprise)", and "Finish What You Started."  As a long-time fan I know I'm biased, but this is one of the best releases of the year in my opinion and it shows Rick on top of his game as a lyricist.
Few people can write a Morrissey-like tune like the hauntingly beautiful "Bury Me" in which Rick sings about his never-ending love in a sweet, kind of morbid way.  "I have promised to give all my life / to love forever true / So if you ever up and die / they can bury me with you / The days would not be worth waking for / not waking up next to you / So before they close that casket door / they can bury me with you."
"No Such Luck (Surprise, Surprise)" is one of the closest songs to something Rick might have released back in 2010. It's the kind of warped love song that only Rick could write - one about two people in love who are literally driving each other crazy and both wish it would end, but love keeps them together. "When I awoke it was to a sound I'd heard a million times before / the sound of your keys jingling in the door. / I was not surprised by any means I guess, but half of me did half expect this time you had finally left for sure/ Did you finally run out of things to say? / Once and for all you'd be on your merry way… / but we got no such luck / yeah, we're still fucked / fucked and stuck in love."
"Finish What You Started" features the kind of meandering Dylan-like lyrics which once were the norm for Rick.  Lines like "Your mother used to play the flute / your father was a prostitute for corporate pimps / he slaves away day and night to fight the good conformist fight / but, in the end, it destroyed the best of him" show that Rick can still run off a myriad of phrases that rhyme in rhythm like the best of them.
Arlan Feiles has remained one of the best songwriters in the state ever since he moved to New Jersey many years ago.  He's also one of the best piano players and that side of him shines greatly on What Kind of World - an album that is an uplifting and soul searching ode to his young children.  He imagines the type of world they will encounter as well as the type of life he will give them and his wife.  While some albums that have this direction wind up being sappy, Arlan turns it into a wonderful look at self reflection.  His vocals, piano playing, and lyrics are all in top form on this album.  And, of course, a few of the tunes bear his political stances.  He's a true folk artist in that manner - one who sings and writes from conviction, but who can create beautiful love songs just as easily as political statements.  While the album has been online for months, it will be officially released at the end of January and available on all streaming services.
My three favorites are "Homeward", "This Broken Heart", and "If I Were A Dinosaur."  If you're a fan of piano, you'll love this album which has showcases the instrument in many styles.
"Homeward" is an example of his fine use of metaphors.  In this track, a man is lost at sea on a spiritual quest.  He sings, "Sailed off on the inner sea / to see what fate had in store for me / I got washed up in salty tears / Seemed I lost my way / No sign of man today / and the wind just can't find my sails my dear."
In the soft ballad "This Broken Heart", Arlan sings "I can't bear my these woeful tears / I've got an old man's aches / and a young boy's fears / Hands are trembling / and a sweaty brow / I've got to learn how to love / so I can show you how."
My favorite track might be the rollicking "If I Were A Dinosaur" which reminds me of something Randy Newman might write for a Pixar film. It's a fun song that includes rather powerful lyrics. He sings, "If I was a dinosaur / we wouldn't have to strike no more / Setting up a felony score / knocking off the company store / and if I was a dinosaur / I could bear the weight of the world."
Anthony D'Amato released an EP called Five Songs From New Orleans that was written and recorded over the course of a month-long break from tour spent housesitting an old 1800's Garden District home.  The EP features all local New Orleans musicians that he met during his time in town.  As someone who loves NOLA, the songs on this EP not only made me smile but made me miss the city a little more.  The additional players make this a special album as much as a special memory. My three favorites include "Everything Between", "Wrong Side of Blue", and "Party's Over."
The EP begins with "Everything Between" and Anthony singing  "I don't care who's above me / I don't care who's below / I don't care who's in charge / you don'y even want to know / I don't care who gets sacrificed, bishop or the queen / because what really matters is everything between."  His songwriting and singing is so confident on this track.  It's one of those songs that sounds like you've known it your entire life even on the first listen because it's performed so well.  It's like an instant classic.
In "Wrong Side of Blue" he sings, "I met a man in a coonskin hat, but he won't say where he's from / I think he got it at the truck stop a couple miles back on the 101 / What a strange little secret I thought after he had left / Everybody's got a reason they don't want to wake up how they slept / I'm a long way from home / I'm a long way from you / I'm the wrong kind of stoned / and the wrong shade of blue."  I love the way Anthony creates stories and imagery within his songs.  Songs like this are like mini movies playing out for the listener.
The EP closes with "Party's Over" with lines like "Head is achin', feet are sore / there's a stranger passed out on the bathroom floor / now that the party's over, I can go to sleep". The song features beautiful clarinet playing that reminds me of the opening of the film Midnight In Paris.  It's hard to listen to this tune and not imagine yourself the night after a boisterous party on Frenchman Street.
There's something special about growing older with artists you love, experiencing the changes in their lives via lyrics, and watching them grow as artists.  All four of these guys are worth checking out if you are unfamiliar with them.  They are among Jersey's finest.
---
Gary Wien has been covering the arts since 2001 and has had work published with Jersey Arts, Elmore Magazine, Princeton Magazine, Backstreets and other publications. He is a three-time winner of the Asbury Music Award for Top Music Journalist and the author of Beyond the Palace (the first book on the history of rock and roll in Asbury Park) and Are You Listening? The Top 100 Albums of 2001-2010 by New Jersey Artists. In addition, he runs New Jersey Stage and the online radio station The Penguin Rocks. He can be contacted at gary@newjerseystage.com.
---