originally published: 12/18/2019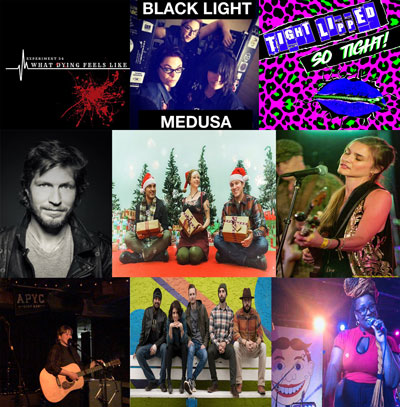 A look at some of the 21st Annual Makin Waves Awards winners, left to right from top right: Experiment 34, Black Light Medusa, Tight Lipped, Frank Lombardi, Dentist, Katie Henry, Stella Mrowicki, Des & the Swagmatics, and Honey Wild. PHOTO COLLAGE BY BOB MAKIN
My annual holiday gift to the New Jersey music scene is a salute to what I thought were the state's best independent artists of 2019. To qualify, acts have to be based in New Jersey. Members can live in surrounding states, but not farther away than that and not shared with another state. 

Band of the Year: Dentist:  --  Out of the many Jersey bands makin waves, Dentist seem to be surfing some of the largest. With a couple of national and several regional tours under the Asbury Park-based indie trio's collective belt, as well as three stellar LPs and plenty of fun and inventive videos since 2014, Dentist are one of the hardest-working acts in the Dirty Jerz and, therefore, one of the most in-demand for bills that need a good draw.
Best Male Artist: Frank Lombardi -- If there still was such a thing as a New Dylan, this Asbury Park folk-rocker definitely would be one because he sounds like so many of those tunesmiths. His passionately philosophical and painfully psychological third LP, "Predawn," was among the best released by a Jersey artist this year.
Best Female Artist: Katie Henry -- This young Northwest Jersey blues-rocker has been makin alotta waves lately in support of her debut album, "High Road." The young multi-hyphenated talent toured nationally, headlined The Stanhope House and The Cutting Room, and played Crawfish Fest and the 12th annual Blues Blast Music Awards, for which she was nominated Best New Artist.
Best New Artist: Black Light Medusa -- The excellent female punk trio Black Light Medusa are an all-star outfit that feature singer-songwriter-guitarist Jenny Cat of Jenny & the Felines, drummer Kat DaVille of Tight Lipped and The Bloody Muffs, and bassist Cathy Berg of Devil's Bubble Gum and The Infamous Lost Cause. A new three-song EP is just the start of what will be some great things for this fun feminist band.
Album of the Year: Experiment 34, "What Dying Feels Like" -- If you love Rage Against the Machine, you'll like this must-hear album that is critical of the ignorance, apathy and greed that has divided and devastated our nation. I am extremely proud of my son Matt for having written such powerfully insightful lyrics that more people need not only to hear but take to heart and action.
Best EP: Tight Lipped, "So Tight" -- From TV Tramps vixen Joy Vay and her punk gal pals -- bassist-vocalist Samantha Slick (Overdrive, Planet Sorrow, lead guitarist-vocalist Lauren Blue Fox (Blue Fox, Speed Queen) and drummer Kat DaVille (The Bloody Muffs, Black Light Medusa) -- comes this raucous affair that lives up to its title with seven songs expressed in a succinct 16 minutes. Fans of The Cramps and The Runaways will totally dig it.
Song of the Year: Honey Wild, "Don't Call Me Baby" -- This "me-too" anthem from the sultry, soulful, bluesy, jazzy female-fronted modern-rock outfit Honey Wild's self-titled three-song debut EP was the theme to Tallie Fest, a female-focused Asbury Park festival of which they were a part. The Pat Benatar-like rocker sparks a creep flair that exposes all the unwanted stares and cheap feels that can lead to more dangerous and demoralizing actions from pig men. 
Songwriter of the Year: Stella Mrowicki -- With a Liz Phair sense of lo-fi and a Dylanesque stride to her lyrics, Stella Mrowicki has proven herself to be one of New Jersey's best songwriters, as well as one of its most promising producers. I can't wait to see what the young Rowan music technology grad will do next. 
Best Live Band:  Des & the Swagmatics -- Oh how I love me some Des & the Swagmatics to brighten my nights. They remind me of two of my favorite artists, Louis Armstrong and Bruce Springsteen, because no matter how bad you're feeling, you will feel a whole lot better if you experience the fun and joy Des & the Swagmatics bring to the stage. In their case, it's with the suped-up super-funky soul-soaring R&B that they deliver night after sweaty night.
Tsunami Award: Greg Macolino, The Brighton Bar – This annual non-performer nod goes to the person who did the most for the local scene. May the Rock Gods bless Greg for keeping the longtime punk, indie and hard rock haven of the Brighton open when so many others -- City Gardens, The Green Parrot, CBGB, Court Tavern, Maxwell's, The Dirt Club -- are gone. And for being such an ardent community supporter, including many fun benefits for good causes, including one in May that helped keep Makin Waves alive. As the co-founder of two legendary Jersey punk bands, Chronic Sick and The X-men, Greg knows why it's important to sacrifice personally and professionally for a scene that may not always appreciate him as much as it should. On behalf of the entire Jersey scene, many thanks Greg!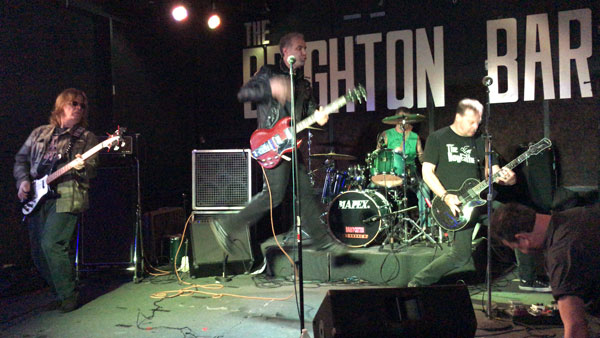 The X-men, featuring Brighton Bar owner Greg Macolino, center, at Makin Waves Fest in May. PHOTO BY BOB MAKIN
Best Vocalist: K. Desireé, The Band Called Fuse: This band is far from just another rap act. They have a great rock sound akin to Rage Against the Machine, as well as a funky groove, but the soulful K. Desiree brings all that to a whole other level with her stunning vocals, helping The Band Called Fuse make even bigger and better waves. 
Best Guitarist Tommy Southard and Justin Daniels, Solace: These fellas' dual leads are to doom metal what Duane Allman and Dickey Betts were to jam bands, especially live when Solace's amazing music is even more intensely bone-crushing and spine-rattling than on a great new album, "The Brink," Solace's first in a decade.
Best Drummer, Bassist & Keyboardist: Craig Lawlor (drums), Kevin Stryker (bass) and Ray Saada (keys), Des & the Swagmatics: The funk never stops with these guys, which is a large part of what makes people flock to see Des & the Swagmatics whenever and wherever they play.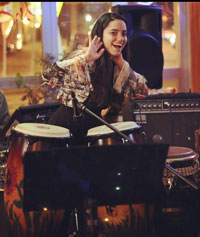 Best Instrumentalist: Evelyn Da Costa, percussionist, Contact High Vibration, Green Knuckle Material, The Band Called FUSE, Silent Knight, Newark Nights. E.La.She, as her Instagram following knows, is an infectiously passionate percussionist whose exotic drumming raises the levels of everyone with whom she plays and highly entertains their audiences.

Popular Jersey percussionist Evelyn Da Costa performing at Delta's in New Brunswick. PHOTO COURTESY OF EVELYN DA COSTA
Producer of the Year: Erik Kase Romero – Another win for this happening helmsman, whose 2019 credits included impressive releases by Jackson Pines, Ella Ross, and his own bands, stillhungry and The Front Bottoms.
Video of the Year: Tide Bends, "Keeper" -- Great animation by L.A.-based auteur Andrew Knives makes for a really fun and trippy ride through the Tide Bends' tasty pop-edelic track.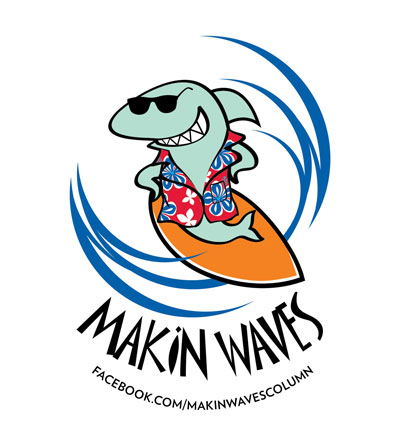 Bob Makin is the reporter for MyCentralJersey.com/entertainment and a former managing editor of The Aquarian Weekly, which launched this column in 1988. Contact him at makinwaves64@yahoo.com. And like Makin Waves at www.facebook.com/makinwavescolumn.