originally published: 12/16/2019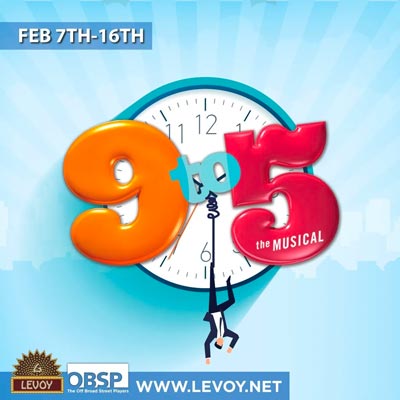 (MILLVILLE, NJ) -- The Off Broad Street Players presents 9 to 5: The Musical at the Levoy Theatre from February 7-16. The musical is based on the blockbuster 1980 film in which three female co-workers are pushed to the boiling point by their boss and concoct a plan to get even with their sexist, egotistical, lying, hypocritical boss.
The women conspire to take control of their company and learn there's nothing they can't do! Set in the late 1970s, 9 to 5: The Musical is a story of friendship and getting ahead in the Rolodex era. Outrageous, thought-provoking and even a little romantic, 9 to 5: The Musical features music by the one and only Dolly Parton and a book by Patricia Resnick.
The production is directed and choreographed by Kaitlin Davis with Walter A. Webster as music direction.  The cast includes Maura Jarve (Violet Newstead), April Lindley (Judy Bernly), Holly Birch (Doralee Rhodes), Christian Milazzo (Franklin Hart), Alicia Discepola (Roz Keith), CJ Jarema (Joe), Austin Satinsky (Dwayne), Jared Deshields (Josh), Norris Glass (Dick), Yasenia Wagner (Maria), Katie Kiessling (Kathy), Julie Morell (Margaret), and Lea Matarazzo (Missy).
The ensemble includes Marti Wynne, Sarah Reynolds, Dudley Dickerson, Lindsay Nakai, Brianna Lund, Jason Reynolds, Aimee Ferenz, Raven Stewart, Parice Sharkey, Lauren Fazenbacker, Lena Dougherty, Jared Deshields, Lea Matarazzo, Julie Morell, Norris Glass, Katie Kiessling, Yasenia Wagner, Austin Satinsky, Jason Smith, and Gabriel Johnson.
---
The article continues after this ad
---
---
The Levoy Theatre is located at 126 - 130 N. High Street in Millville, New Jersey.
9 TO 5, The Musical is presented through special arrangements with Music Theatre International (MTI). All authorized performance materials are also supplied by MTI.  
In 1998, Walter A. Webster and a group of ten dedicated supporters of the arts set out to form a community theatre. With support from the Trinity United Methodist church, located on Fayette Street, just off of Broad Street in Bridgeton, New Jersey, The Off Broad Street Players (OBSP) were born. By 2000, OBSP had found a new venue –  the banquet hall at the Seabrook Volunteer Fire Company, where they stayed for the next five years.
In the summer of 2002 due to a need for increased seating, OBSP moved its summer musicals from Seabrook to larger venues. First, the Fine and Performing Arts Center at Cumberland County College. Then, in 2003 with the addition of a full professional orchestra, the group moved to Cumberland Regional High School. In 2005, OBSP formed a partnership with the Bridgeton School District, and the Robert L. Sharp Auditorium became their new performance venue.
The group had always dreamed of one day having their own theater building, however, the desire to provide an affordable, quality theatre experience to the community was and still is the organization's first priority. Then, after 10 years of existence, and opportunity arose that might help OBSP achieve their dream.
In the spring of 2008, OBSP joined forces with the Levoy Preservation Society to renovate the historic Levoy Theatre. With this renovation completed, OBSP has become the resident theatre company of the Levoy Theatre. After fifteen years of moving from venue to venue, OBSP has finally realized their dream of having a permanent home. What a glorious and exciting opening night it was, when OBSP raised their first curtain on the 100 year old Vaudevillian stage!