By Spotlight Central
originally published: 12/16/2019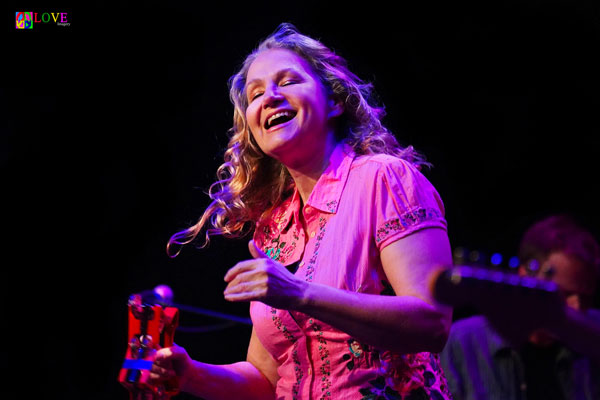 Even though a winter storm warning is in effect in Northwestern New Jersey this Sunday, December 1, 2019 evening, the vibe inside the Newton Theater is warm and friendly. Here, music lovers willing to brave the elements are ready to enjoy a special Dylanology Bob Dylan tribute concert by Joan Osborne along with special guests Jackie Greene and Anders Osborne.
Says Nicky from Berlin, Germany, "I'm visiting America from Germany to see Bob Dylan in New York City and in Washington, DC. I'm also a fan of Joan Osborne going back to her recording with Dylan in 1998, so I'm here to see her Dylanology concert tonight."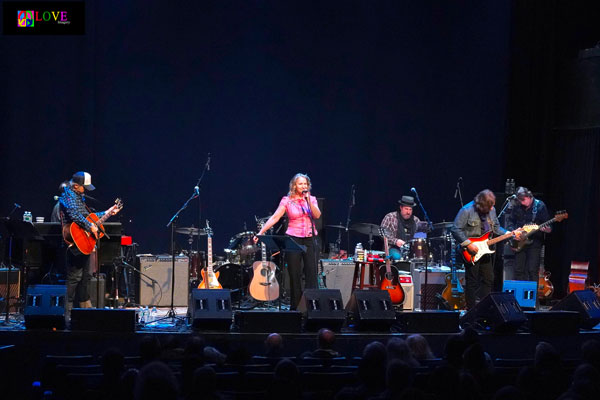 Nicky's friend, Alrik from Bremen, Germany explains, "There are a lot of Dylan fans in Germany. Since we're already here to see Dylan, it all came together for us to see Joan Osborne along with Jackie Green and Anders Osborne," adding, "I like what Joan does with Dylan's music; she performs all different material of his — she doesn't just perform the 'usual suspects.'"
Scott from Norristown PA, remarks, "I've seen Joan Osborne before, but I've never heard her do her Dylanology tribute," noting, "I'm a big Dylan fan — anyone in rock and roll was influenced by Dylan."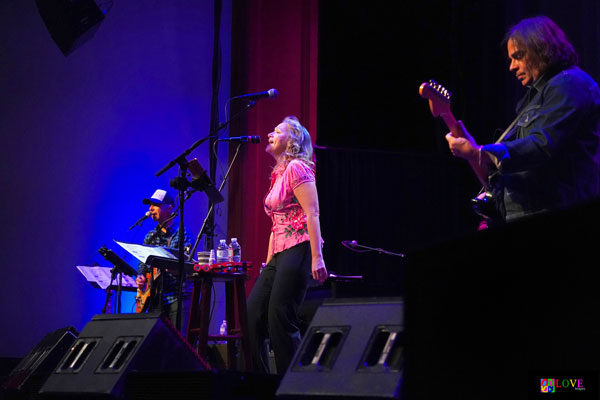 Scott's wife, Karen, agrees explaining, "Bob Dylan is one of the greatest songwriters of all time, and it will be great hearing Joan Osborne sing his material. We've seen her before when she and Jackie Greene were part of the band Trigger Hippy, and she is quite the talent."
---
The article continues after this ad
---
---
The lights dim and a group of musicians including keyboardist Keith Cotton, guitarist/keyboardist Jack Petruzzelli, drummer Aaron Comess, guitarist Andrew Carillo, and bassist Richard Hammond take their places on stage as the crowd applauds and Joan Osborne walks out.
Here, Osborne and Co. open the show with their rendition of Dylan's "Quinn the Eskimo (The Mighty Quinn)," a Dylan tune that became a Top Ten hit for Manfred Mann in 1966.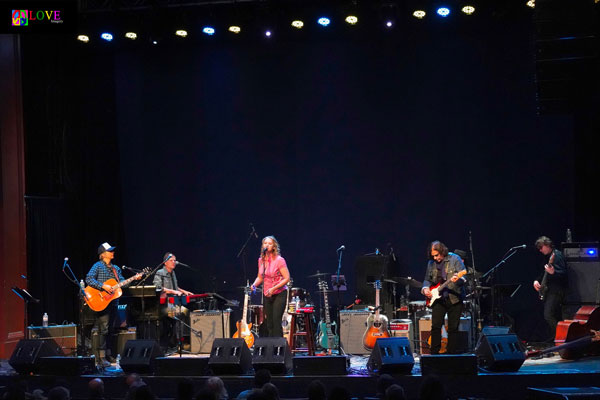 Her bourbon-laced vocal washing over the audience, Osborne sways to the music creating her own groove while jangling her blue tambourine. On this rhythmic arrangement, Jack Petruzzelli impresses with a tasty guitar solo and Keith Cotton rocks out on an inspired keyboard solo.
Following large applause, Osborne greets the crowd saying, "Hello, Newton, NJ — thank you for coming out in the storm! We're gonna do all Bob Dylan songs tonight — there'll be something for everyone," adding, "Later, we'll bring out our special guests, but right now it's gonna be me with this incredible band."
The crowd cheers and Osborne and her colleagues launch into Dylan's 1965 classic, "Highway 61 Revisited." On this number, Joan's bluesy voice conjures up mental images of a diverse selection of individuals whose lives intersect "on Highway 61."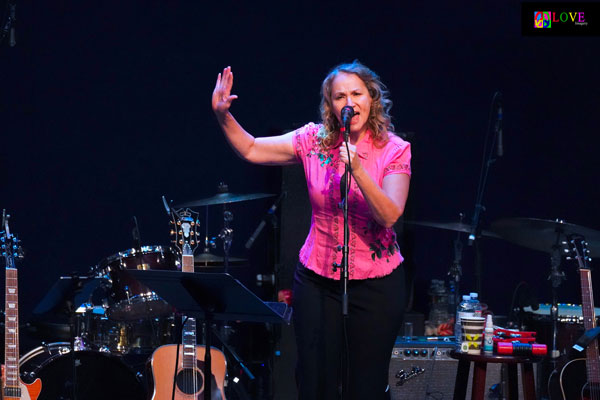 Petruzzelli strums his acoustic and Andrew Carillo's electric wails as guitars intersect with bass, drums, and keyboards, moving the groove ever forward.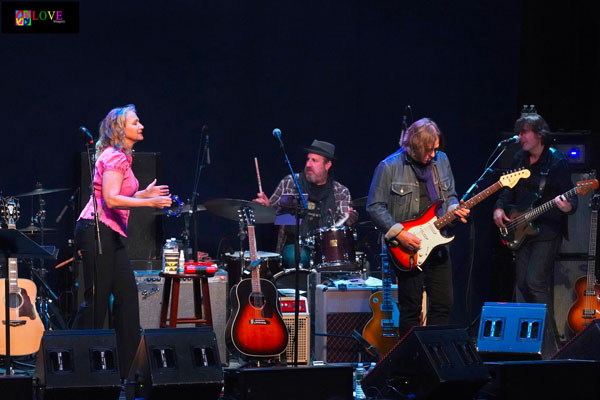 Osborne picks up an acoustic guitar prior to segueing into a lovely version of Dylan's 1962 classic, "Don't Think Twice, It's All Right." As flat-picked and finger-picked guitars — along with stand-up bass — provide the backdrop for her bluesy lead vocal, Osborne's voice cries, "Look out your window, and I'll be gone/You're the reason I'm a-traveling on/But don't think twice, it's all right."
The crowd cheers and the guitarists switch back to electric instruments for Osborne's rendition of a Dylan tune which reached #2 on the U.S. charts in 1966, "Rainy Day Women #12 and 35."
Snapping as she sings, Osborne's sultry voice is moaning and pleading, bluesy and beautiful. Cotton plays a bluesy keyboard solo and Petruzzelli plays a tremolo guitar solo — strumming rapidly — while Osborne comes over to dance by him before dancing back across the stage to sing. As Aaron Comess' drums crescendo, Osborne invites the audience to clap and sing along on the coda of this irresistible blues number and the crowd happily obliges before bursting into cheers and applause.
Osborne introduces the first of tonight's guest artists exclaiming, "Put your hands together for the incredible Jackie Greene!"
Entering to large applause, Greene and Osborne sing in two-part harmony on Dylan's 1965 effort, "Subterranean Homesick Blues." Crooning, "Johnny's in the basement/Mixing up the medicine/I'm on the pavement/Thinking about the government," heads bop to the upbeat country feel. Greene solos brilliantly on guitar, adding his own flavor to the mix, before lights flash on the ending and a fan yells out, "Do it again!"
Osborne laughs and straps on her acoustic guitar as Greene handles the lead vocal on "Señor (Tales of Yankee Power)." Four-part backup vocals accompany Greene as he sings, "Señor, señor/Can you tell me where we're headin'? Lincoln County Road or Armageddon?" Carillo plays electric to Petruzzelli's acoustic as Greene channels Carlos Santana with a wailing solo, standing on tiptoe as he coaxes out a masterful improvisation on his guitar.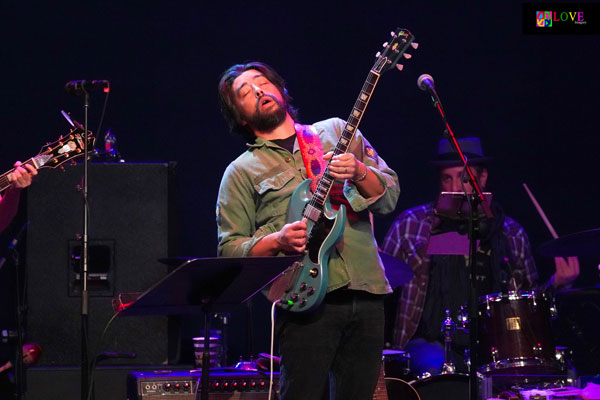 The audience cheers and a fan yells, "Blow it up, Jackie!"
Greene also takes the lead on "Sweetheart Like You," a Dylan song from 1983. Osborne plays acoustic as the rest of the musicians play electric instruments, bass and drums leading the band on this country ballad. Greene's voice is strong and compelling as he sings, "What's a sweetheart like you doing in a dump like this?" Heads softly move to the groove as the guitars cry on this Southern rock tune.
Following hoots and hollers, Joan says, "Here's a gentleman from New Orleans, Louisiana," as Anders Osborne takes the stage. Launching into Dylan's 1997 Grammy-winning composition, "Cold Irons Bound," Anders rocks as he plays accompanied by both Aaron Comess and Jackie Greene on two drumsets, giving the song a distinct rhythm and blues feel.
Richard Hammond's bass is featured on a funky low bass line, and Petruzzelli's solo winds its way through the wall of rhythm before Anders solos, moving as he plays, to crashing cymbals and Keith Cotton's swirling keyboard.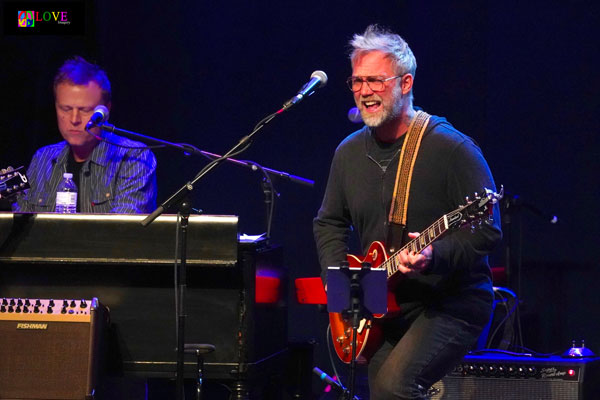 Following cheers and applause, Anders says, "New Jersey — you're beautiful! Give a round of applause to Joan and the band. Thank you for coming out in the storm!"
Four-part harmonies echo on "The Man in Me," a 1970 Dylan effort which is featured on The Big Lebowski soundtrack. Anders' happy-go-lucky lead vocal breezes along before Jackie Greene plays a swirling organ solo and Andrew Carillo plays slide guitar on this country rocker.
After Anders announces, "Everybody grab your partner — step on up — here we go!" he and the band launch into one of the highlight numbers of the show — the group's interpretation of a Dylan classic which was also recorded by Jimi Hendrix, "All Along the Watchtower."
As Anders sings, "There must be some way out of here/Said the joker to the thief/There's too much confusion, I can't get no relief," Joan plays acoustic guitar, Hammond moves to acoustic bass, and Greene and Comess play on dueling drumsets. After Keith Cotton tinkles the ivories with his stellar piano skills, the band changes things up to a bluesy 6/8 shuffle and Anders' vocal cries along to the easy groove. Soon, Anders solos on electric, the arrangement building as his dramatic improvisation takes the song to a new level. Heads bop to Anders' soaring guitar playing — driving and crescendoing — and people rise to their feet cheering for this powerful high-energy performance.
Bringing things down a bit, Joan takes the lead on "Buckets of Rain," a tune with a lilting old-fashioned feel.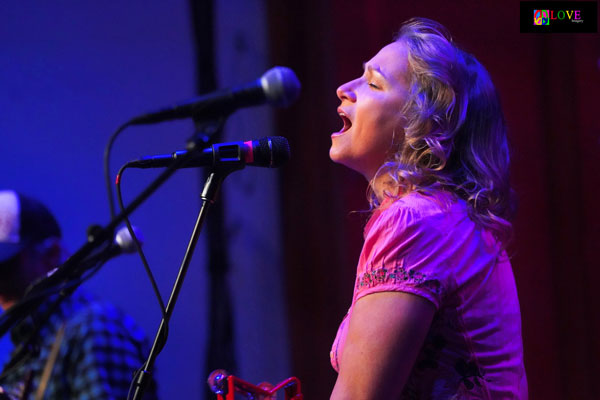 Audience members tap their feet and snap their fingers to the sweet percussive acoustic sound which features a Keith Cotton solo on which he incorporates a snippet from Scott Joplin's "The Entertainer" as he plays up and down his keyboard with style. A twangy fingerpicking acoustic solo by Carillo is followed by Joan who whistles a sweet solo at the end eliciting cheers for her soulful interpretation.
Joan follows up by performing Dylan's 1979 composition, "Gotta Serve Somebody." Singing, "You may be an ambassador to England or France/You may like to gamble, you might like to dance/You may be the heavyweight champion of the world/You may be a socialite with a long string of pearls/But you're gonna have to serve somebody," she proves that her voice is the perfect messenger to communicate Dylan's thought-provoking lyrics.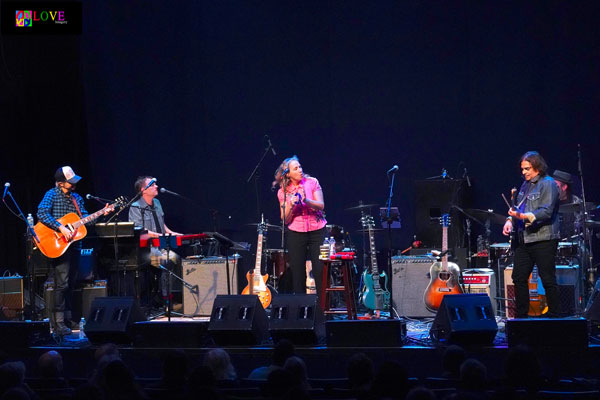 People stand and dance while others move in their seats and the male singers back up Joan's funky lead vocal. Anders plays a bluesy solo on this R&B arrangement and Greene follows up with a swirling organ solo before Joan exclaims, "Keep it up — come on now!" and the group vocalizes "Serve somebody" in harmony to hoots, hollers, and whistles from the captivated crowd.
Backed up by both Jackie Greene and Aaron Comess on drums, Anders takes the spotlight for Dylan's 1964 number, "Ballad of Hollis Brown." With its driving world music beat, Anders sings, "Hollis Brown/He lived on the outside of town/With his wife and five children/And his cabin fallin' down." On this number, Joan dances as she sings backup harmony on this high energy interpretation of an early Dylan tune.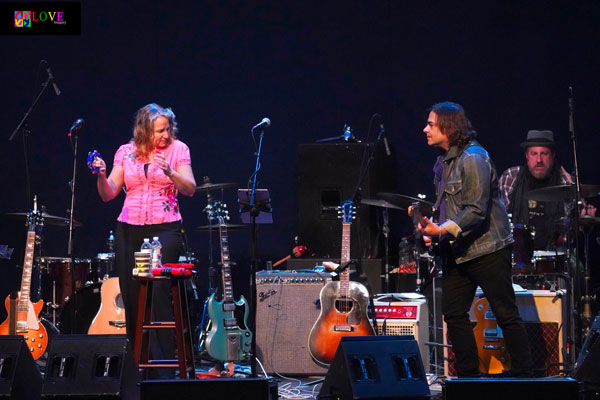 Anders also sings lead on the bluesy 1975 Dylan effort, "Meet Me in the Morning." As Joan plays drums along with Aaron Comess, Petruzzelli plays a guitar solo prior to Anders softly scatting as he solos on guitar. Flashing lights signal the end, after which Anders exclaims, "I had the blues, you understand!" and Joan gives him a hug.
Following a rocking version of "Isis," where Greene sings lead and Anders plays a wailing slide guitar solo to Keith Cotton and Jack Petruzzelli's keyboards, Greene also handles the lead on "Protect My Child," where Joan provides excellent backup vocals and Keith Cotton plays a Wurlitzer electric piano solo.
Joan takes a moment to thank her band members by name and, also, thanks the audience for coming prior to stating, "We have one more for you."
Here, Joan performs Dylan's 1975 piece, "Tangled Up in Blue," her voice effectively communicating the story as she vocalizes, "She was married when we first met/Soon to be divorced/I helped her out of a jam I guess/But I used a little too much force/We drove that car as far as we could/Abandoned it out west/Split up on a dark sad night/Both agreeing it was best/She turned around to look at me/As I was walkin' away/I heard her say over my shoulder/We'll meet again some day/On the avenue/Tangled up in blue."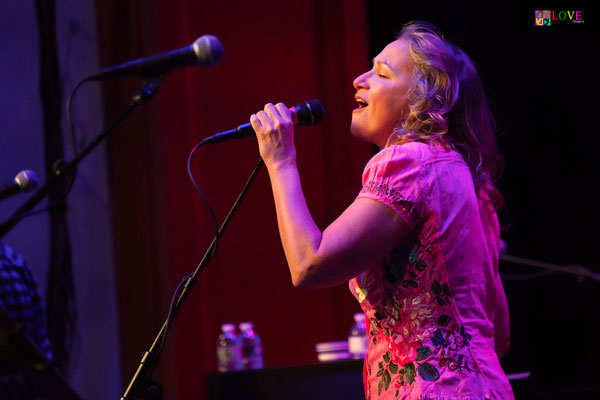 Audience members stand and dance to the slow Southern rock groove while others dance in their seats. Heads bop to The Allman Brothers Band sound as each musician gets a chance to shine.
First, Greene solos, and he's followed by Petruzzelli as Joan sings and plays the shaker. Then, Cotton solos, and the band decrescendos while Joan vocally handles a verse. Joan dances with Anders as Carillo solos before Anders takes a solo and Joan ad libs vocally while she dances. Lastly, Greene plays a guitar solo and lights flash for the big ending which elicits hoots, hollers, cheers, and a standing ovation as the musicians take a bow and leave the stage.
With the audience continuing to stand and make noise — refusing to allow this concert to end — Joan retakes the stage saying, "It's a privilege doing music as a job. We try to give it 110%. We appreciate you being here with us tonight — especially during a snow storm."
Concluding the evening's presentation with a heavenly rendition of Dylan's 1973 classic, "Knockin' on Heaven's Door," five-part harmonies support the beauty of Dylan's melody and lyrics which are perfectly illuminated by Joan's soulful voice and the instrumental talents of her impressive band.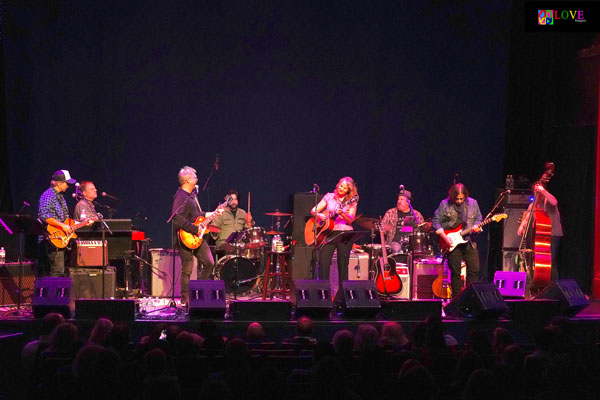 While the crowd continues to stand and cheer, the group takes a final downstage bow and Joan says, "Drive carefully and get home safe!"
As audience members make their way out of the cozy Newton Theatre and back onto the icy streets, we chat with several in attendance tonight who share their thoughts on Joan Osborne's Dylanology concert.
First, we chat with Carly from Livingston who declares, "This concert was awesome!"
Her husband, Michael, agrees calling it "Fabulous!" Revealing, " I've seen Joan Osborne a number of times," Michael acknowledges, "but this concert was special — I think the musicians were having as much fun as we were — I'd see it again any time."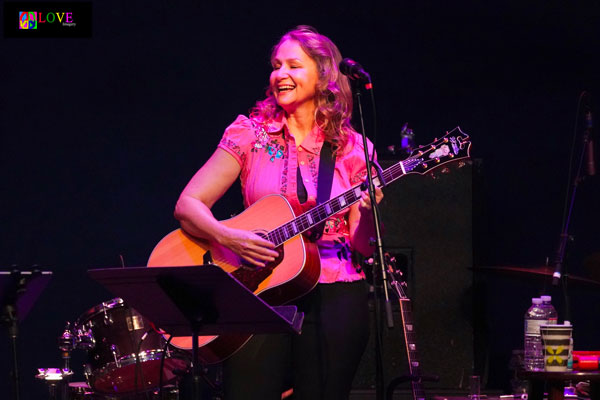 Robert from Highland Lakes remarks, "I saw Dylan perform last week and both he and Joan Osborne are each great in their own way." Explaining, "I like the way Joan put her own take on each and every song," Robert adds, "and the band was rocking, which made for a really great concert."
Lastly, we chat with our new friends from Germany, Alric and Nicky.
Exclaims Alric, "This show was fantastic! I liked all of the interpretations of Bob Dylan's songs — plus there were some unusual songs I never expected."
His colleague, Nicky, concurs adding, "I totally enjoyed it," before concluding, "There was absolutely something here for everyone!"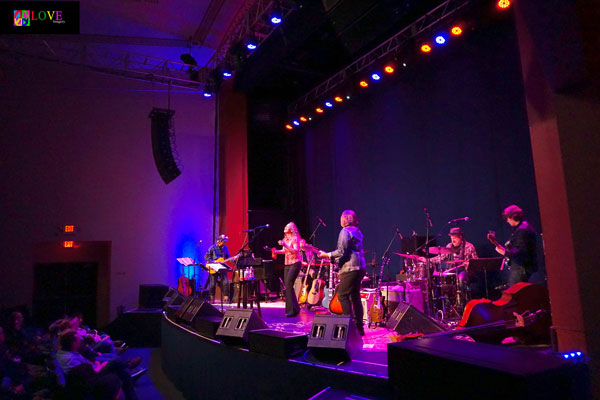 To learn more about Joan Osborne — including information about upcoming concerts and/or about her new album, Songs of Bob Dylan — please go to joanosborne.com. For information about future performances at The Newton Theatre — including Big Bad Voodoo Daddy on January 10, 10,000 Maniacs on February 29, and Jim Messina on March 13 — please click on thenewtontheatre.com.
Photos by Love Imagery
Spotlight Central. Your source for Jersey entertainment news and reviews
Love Imagery Fine Art Photography. all you need. peace/love/flower/power