originally published: 12/12/2019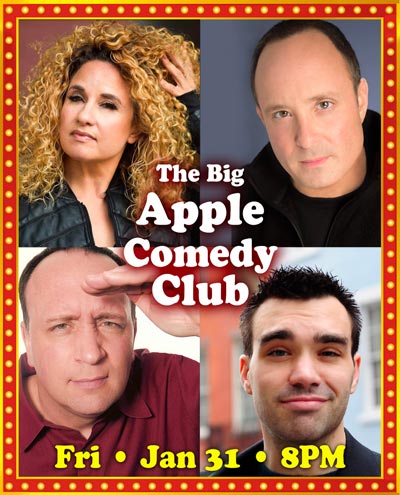 (NEWTON, NJ) -- Four comedians, one hilarious night, when The Big Apple Comedy Club returns to The Newton Theatre Stage on Friday, January 31st, 2020 at 8:00pm. The Night features Maija DiGiorgio, Dan Wilson, Brad Trackman, and Joe Larson. Tickets are $19 to $24.
Maija DiGiorgio is a comedian, actor, writer, radio personality, filmmaker, musician, and an NY-to-LA transplant. In her first year doing stand up, Maija took the comedy world by storm taping five national TV appearances, receiving a standing ovation at NBC's Live from the Apollo, and performing at the HBO Aspen Comedy Festival. Since her impressive start in comedy, Maija has taken her talents to countless prestigious venues worldwide—including the Beacon Theater, the New Orleans' Essence Festival, and Scotland's Edinburgh Festival—as well as TV performances across most major networks— including HBO's Def Comedy Jam, NBC's Comics Unleashed, Fox's Laughs, Uncontrolled Comedy Hour, Bet's Comic View, and Showtime's Michael Vick Comedy Explosion. Through her work, she has had the opportunity to perform alongside many industry standouts— including Dave Chappelle, Kevin Hart, Bill Burr, Dane Cook, Wanda Sykes, Mike Epps, and Tracy Morgan. Maija has been described as "Fantastic" by Dave Chappelle and been referred to her as "A f**king star!" by Bill Burr.
Dan Wilson is one of those breezy, gentle types that will hit you like a building collapsing if you're not paying attention. He is one of the great "class clowns" in the business. This is good-time comedy, clean and inoffensive but still mondo humorous and it'd be a darn good idea to see for yourself. Dan Wilson is a comedic force to be reckoned with. Long a favorite on the college and club circuits, Dan began to branch out with a talked about appearance at Budd Friedman's American Comedy Convention, held at The Riviera in Las Vegas. With that industry exposure under his belt, he began a string of television appearances including "Star Search," A&E's "Evening at the Improv," MTV's "Half Hour Comedy Hour," ESPN, Lifetime and Comedy Central. His rubbery face and keen ear for voices earned him status as a recurring sketch performer on HBO's "Hardcore T.V." Dan has opened for Dana Carvey, Richard Lewis and Richard Belzer appearing at showrooms in Las Vegas, Atlantic City and Reno. He continues to headline Comedy Clubs nationwide as well as entertaining many families aboard Royal Caribbean Cruises. His quirky style mixes keen observations with outrageous physical humor, all delivered in a genial "I'm-only-trying-to-fix-the-world-beforeit's- too-late" deadpan. 
Brad Trackman is a national touring comedian who has been featured as a stand up on CBS's The Late Late Show with Craig Ferguson, Comics Unleashed with Byron Allen, Star Search with Arsenio Hall, AXS tv's Gotham Comedy Live, MTV's The Buried Life, New Joke City with Robert Klein, NBC's Later, NBC's Friday Night and numerous appearances on Comedy Central. Trackman also had his own commercial campaign on Spike TV where he played the fictitious Presidential Candidate Biff Wolanski. Brad started his career in NYC and is a regular at The Comedy Cellar, Gotham, The Comic Strip Live, Carolines on Broadway and Stand Up NY. Also a regular in Atlantic City at the Borgota Casino and Las Vegas at Brad Garrett's Comedy Club in the MGM casino. Trackman has also opened for such legendary comedians as Joan Rivers, Robin Williams, Dana Carvey and Weird Al Yankovic. Brad has two comedy albums of him headlining The D.C. Improv which were produced by XM Sirius comedy programmer Joel Haas. Both are critically acclaimed and available on iTunes. Most recently Brad became a published author. He acquired a major book deal with Post Hill Press/ Simon & Schuster. He wrote the biography of shock jock Anthony Cumia who was part of the legendary radio show Opie and Anthony. The book, entitled Permanently Suspended, was released nationwide in November 2018.
Joe Larson started comedy at an early age and has always had a knack for making light of any situation. At 20 he really began to seriously pursue stand-up, comedy acting and improv as a potential career when he was chosen "College Comedian of the Year" at The Las Vegas Comedy Festival. Then the Seattle born and raised Comedian decided he didn't have enough traffic, smog, and pastrami in his life so he moved to New York City. Working the comedy circuit on the east coast, Larson found early success. He was nominated "Best Up-And-Coming Comedian" at the NYC MAC Awards, and was a finalist in both the prestigious Johnny Carson Great American Comedy Festival and the Boston Comedy Festival. His popular blog, "Man with A Baby" is read and enjoyed by many, and online sketch comedy pieces with "Grandma's Favorite" are a Youtube favorite. If you haven't see him killin' it on stage, you might have heard Joe on the nationally syndicated "The Bob & Tom Show"... or seen him in television appearances on The Tonight Show's Laugh Squad, "Laughs" on FOX, Gotham Comedy Live and on The Speed Channel. He's even had the time to fit in an appearance on the film, "Stand-Up 360." From a colleges to comedy clubs, Joe has been funny everywhere. And he will do his damnedest to continue entertaining the masses. Don't miss the chance to see this great act in action!
---
The article continues after this ad
---
---
The Newton Theatre is located at 219 Spring Street in Newton, New Jersey.