originally published: 12/12/2019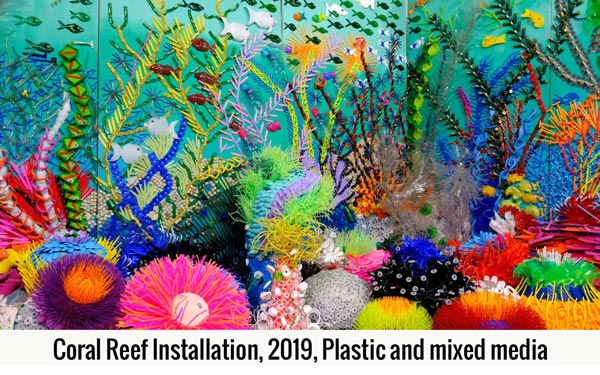 (MONTCLAIR, NJ) -- Federico Uribe: Animalia, a new exhibition at the Montclair Art Museum (MAM), showcases a major collection of relief and three-dimensional sculptures created by famed Colombian-American artist, Federico Uribe. The exhibition is open February 8 through June 21, 2020.
Uribe's animal-themed works are as complex as his own upbringing in Colombia, where civil war and political instability have long been part of everyday life.  His pieces embody multilayered meanings in the haunting and provocative use of materials, their gestures and poses, and the sense of introspection and social critique. By layering mundane objects such as colored pencils, shoes and shoelaces, plastic waste and recycled bullet shells, the artist fashions creatures that reflect his alchemical, intuitive and imaginative process. For viewers, the bullet animals evoke hunting, a reminder of the horrors of war or the epidemic of gun violence in the U.S, and, for environmentally conscious individuals, they may appear to be statements about defending endangered species.
Although not reflective of a particular political ideology, Uribe's brightly-colored landscapes and life-sized animal sculptures address modern day's turmoil, and represent his conviction that destruction and death can be turned into peace and beauty.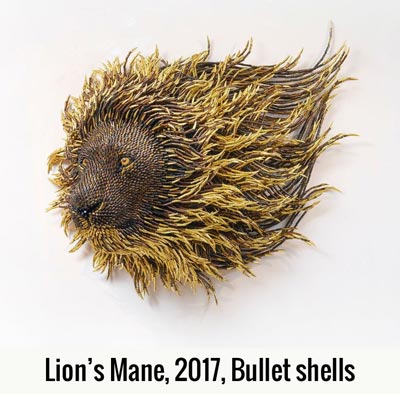 "I'm trying to make beauty out of these testimonies of death," said Uribe. "There are all these ugly memories related to these objects and I am trying to make something that makes people find beauty in pain."
Audiences will experience the breadth and depth of recent Uribe's work, such as Coral Reef Installation (2019), 13 panels each measuring 8'x4' comprised of hundreds of pieces of plastic waste, carefully cut and arranged to raise awareness of the effects of pollution on marine ecosystems worldwide. These panels are making their U.S. debut after being on exhibition at the 2019 Venice Biennale through November. The show will also include Uribe's monumental 8'x16' mural, Zebras (2011) made from tire treading and bicycle parts; Panda Bear (2018) made from bullet shells; and Tree (2015) made from old books.  With more than 60 pieces on exhibition at MAM, Uribe's colorful, larger-than-life works will inspire many Instagram-worthy shots for MAM's guests. 
---
The article continues after this ad
---
---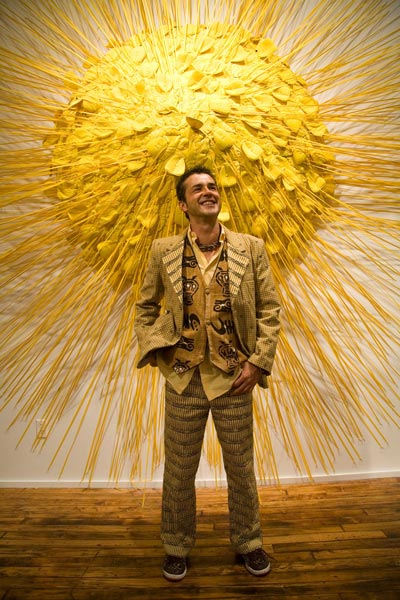 Although urban Miami is his primary base, Uribe regularly returns to his native country to immerse himself in the peace and quiet of his family's farm and the lush countryside. Having started his career as a painter inspired by the art of the Renaissance and Surrealism, Uribe has worked with found objects since 1996 to create highly inventive artworks that resist classification. Uribe's whimsical yet haunting mixed-media paintings and sculptures draw on a difficult childhood, his complicated relationship with Roman Catholicism, his knowledge of art history, and the violence of his homeland to explore issues of sex/gender, passion and the body, among others. Viewers are the beneficiaries of Uribe's talents as he enables his audience to contemplate complex aspects of the world. 
Federico Uribe: Animalia presentation at the Montclair Art Museum is curated by Chief Curator Gail Stavitsky. The exhibition runs February 8 – June 21, 2020 and will be located in the Weston Gallery and Elevator Lobby. 
RELATED PROGRAMS
The Vance Wall Art Education Center at MAM will present a series of programs and art classes for all ages in conjunction with the special exhibition of Federico Uribe: Animalia.

 

Family Guide:

Our youngest visitors and their grown-ups are invited to go on a safari in the exhibition Federico Uribe: Animalia. Get ready to go on a scavenger hunt, learn more about the animals you find, and think about ways you can help the environment.

 

Educator Programs:

Educator Evening: The World of Federico Uribe

April 23, 4–6 p.m.

FREE

Educators are invited to explore the themes of climate change and endangered animals in art, focusing on the exhibition Federico Uribe: Animalia. A docent-led tour of the exhibition will be followed by a discussion on strategies for integrating lessons about climate change into your classroom and an art-making workshop of animal sculptures using recycled and upcycled materials. Light refreshments will be served. Advance online registration requested at www.montclairartmuseum.org/calendar

 

TOURS

Insider Highlights: Wild at Art Themed Tours

3rd Sunday of the month, 2 p.m.

FREE with admission

Discover the best of the Museum's collection and special exhibitions on a tour with a knowledgeable and engaging docent. Advance online RSVP requested at www.montclairartmuseum.org/calendar

 

Private Tours: Wild at Art Themed Tours

Bring your college class to see world-class art, celebrate a family milestone, entertain out-of-town guests, or reconnect with alumni groups and community members by booking a Museum tour. Tours are offered for groups of six or more guests.  

 

School Tours: Wild at Art Themed Tours

Led by MAM docents and educators, gallery tours and hands-on workshops in the art studio are available for visitors from preschool to high school. Gallery conversations promote literacy and evidential reasoning, content knowledge and critical thinking, communication, collaboration, and creativity.   

 

Kids Class

Fab Lab: Eco Design

Wednesdays

4-5 p.m.

$245 members

$275 nonmembers

Protect our planet! Inspired by exhibiting artist Federico Uribe, students will use recycled materials and a variety of mixed media techniques to create artwork exploring the rich diversity of our planet and designing a sustainable future. Incorporating drawing, painting, printmaking, assemblage and sculpture, students learn how different mediums interact with each other and are encouraged to experiment and find their own voice in creating one-of-a-kind works of art.

 

Drop-In Studio

Sundays, 1-4 p.m. Select weeks will highlight artwork by Federico Uribe.

FREE with admission

Get creative in our Drop-In Studio! Each week features a new art-making activity and gallery talk inspired by current exhibitions. Reservations not required and visitors of all ages are welcome!

 

Adult Class

Pet Portraiture

5-week course, 1/14-2/11

Tuesdays, 7-9:30 p.m.

Capture your pet's personality! Create a tribute to your furry or no furry friend. Anyone can create a pet portrait regardless of art experience. No guess work and no pressure. Bring an 8.5" x 11" photo print of your pet to the first day of class.

$130 members

$150 nonmembers

 

Adult Workshop

Protest & Mobilize!

Silkscreen Workshop

2-Day Workshop

Saturday & Sunday

Feb. 8 & 9, 1-4 p.m.

Call to action! Whether you're making a global statement on climate change or a local community issue, silkscreen is an intrinsic form of protest art. Learn to make paper stencils for quick printing on both paper and t-shirts. Please bring your own white t-shirt.

$105 members 

$125 nonmembers 

 

Creative Aging

Art in the Afternoon 

2nd and 4th Wednesday of the month

2-3:30 p.m.

Animal themes will be the topic of select Winter/Spring 2020 Art in the Afternoon sessions.

Learn about art through tours, conversation, and related art projects. This studio-based program is designed for older adults. Advance online RSVP requested at montclairartmuseum.org

Refreshments served. All levels of experience welcome.

 

About the Montclair Art Museum (MAM)

The Montclair Art Museum (MAM) boasts a renowned collection of American and Native American art that uniquely highlights art making in the United States over the last 300 years. The Vance Wall Art Education Center encompasses all the Museum's educational efforts, including award-winning Yard School of Art studio classes, lectures and talks, family events, tours, and the mobile MAM Art Truck. MAM exhibitions and programs serve a wide public of all ages, from families and seniors to artists, educators, and scholars.

 

Address: 3 South Mountain Avenue, Montclair, NJ 07042

Website: montclairartmuseum.org

Phone: 973-746-5555

 

Gallery & The Store at MAM Hours: Wednesdays through Sundays, 12–5 p.m.

Free First Thursday Nights: 1st Thursday of the month (October–December, February- June), 5–9 p.m.

Student & Senior Fridays: 1st Friday of the month, 12–5 p.m. Free admission for students and seniors with valid ID

 

Admission:

FREE members

$12 nonmember adults

$10 veterans, seniors, and students with valid ID

FREE children under 12

 

All Museum programs are made possible, in part, by the New Jersey State Council on the Arts/Department of State, a Partner Agency of the National Endowment for the Arts, and by funds from the National Endowment for the Arts, Carol and Terry Wall / The Vance Wall Foundation, the Geraldine R. Dodge Foundation, and Museum members.