originally published: 12/12/2019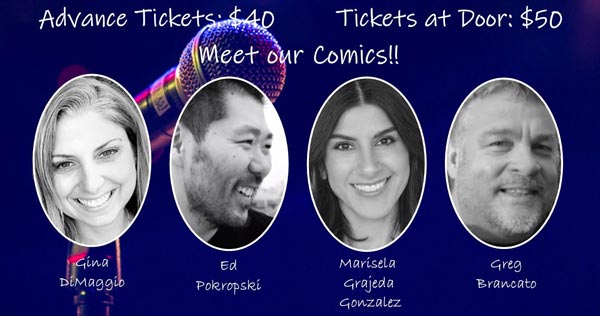 (LEONIA, NJ) -- Leonia Limelighters will hold a comedy fundraiser on Sunday, January 19 at 7:30pm featuring Gina DiMaggio, Greg Brancato, Ed Pokropski, and Marisela Gonzalez. The event takes place at American Legion Post No. 1, Sgt Clendenon S. Newell in Leonia.
Gina DiMaggio is a comedian, comedic improviser, and teacher from New Jersey. Gina's stand up examines her experiences with dating, parenting, and the changes she has seen in the world in her 40+ years. She has been doing improv since 2000, most recently in the troupe Cherub Improv. She has appeared on Date Night Live on Lifetime and has performed stand up at New York Comedy Club, Greenwich Village Comedy Club, and Broadway Comedy Club, recently opening for Judy Gold and Janeane Garofalo. She recently was a finalist in the Jeanne Robertson Comedy Competition and Meadowlands Comedy Festival Competition and performed at the Big Little Comedy Festival in San Antonio, the Tim Northern Comedy Festival in Louisville, the North NJ Comedy Festival, 5th Borough Comedy Festival, and Meadowlands Comedy Festival. She is a featured performer in the Inspired Word series in NYC.
Ed Pokropski was born in Seoul, South Korea and then adopted at 19 months old. He was raised mostly in Philly. He doesn't like cheesesteaks, but has been boxing since he was 17, so some stereotypes do stick. Throughout the week, he host open mics under Laughing Buddha Comedy at Klimat in East Village. He performs standup in various clubs and bars throughout the country (but mostly NY, Philly and NJ) and have hosted numerous charity events as an emcee. He also writes, produces, directs and edits content for NBCUniversal. He lives in NYC, loves food and shamelessly promotes Asian Americans everywhere, any chance that he get.
Marisela Grajeda Gonzalez is an actor and comedian living in NYC. She can be seen performing stand-up at venues all across NYC including Caroline's on Broadway. Marisela co-hosts and co-produces a monthly stand-up show in Brooklyn called We Put Jokes in Your Face. As an actor Marisela is active in New York Theater, appearing in several world premiere's of new plays over the past few years. She has also worked in film, playing the lead in a feature drama to be released in 2020 and is currently filming a short comedic film in which she plays the character. As a writer Mariselas' satire has been published in McSweeney's Internet Tendency, The Belladonna, Weekly Humorist and Little Old Lady Comedy, among others.
Greg Brancato is a former NYC Investigator, who regularly performs at NYC's premiere Comedy venues including Gotham, Dangerfield's and Broadway Comedy Clubs.
---
The article continues after this ad
---
---
There will be a cash bar and silent raffle. Tickets are $40 in advance or $50 at the door. You can pay for tickets online - be sure to enter "Comedy Night" at time of purchase. American Legion Post No. 1, Sgt Clendenon S. Newell is located at 399 Broad Avenue in Leonia, New Jersey.