originally published: 12/10/2019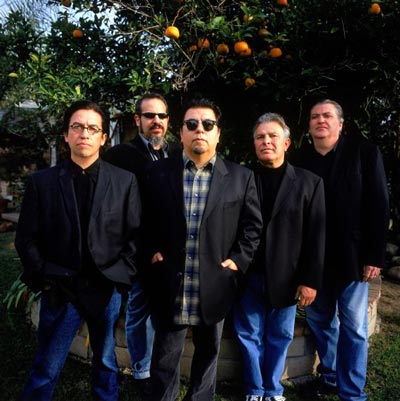 Los Lobos have shared the first music video from their first-ever Christmas album Llegó Navidad, which is out now on Rhino. The visual piece accompanies "Christmas and You," Los Lobos' lone original on the twelve-track record, written by the band's David Hidalgo and Louie Pérez. Llegó Navidad also shines a light on regional classics from across the Spanish-speaking world, from Veracruz to Panama to the Texas border.
Since Los Lobos have spent the past five decades as such passionate ambassadors for the East LA community, it's only natural they set the "Christmas and You" video against scenes from their Boyle Heights neighborhood, captured during the recording of Llegó Navidad at local studio Nest Recorders.
After researching nearly 150 possible holiday song selections for Llegó Navidad, Los Lobos ended up with a holiday song spanning South, Central and North America – each reinvented in the band's own inimitable style. Esquire has already named Llegó Navidad their #1 Christmas album of this holiday season, and the New Yorker praised it as perfectly embodying Los Lobos' "trademark mixture—English and Spanish, longing and joy, the homegrown and the imported." The Associated Press highlighted "Christmas and You," claiming "for heartbreak, it puts Elvis Presley's 'Blue Christmas' to shame," while Billboard added the track among their Best Holiday Songs this season.
Los Lobos will bring Llegó Navidad across the country this December, including local performances in New York on December 14 and two dates at City Winery in Philadelphia (December 14-15).
Los Lobos includes: Louie Perez- Drums, Guitars, Percussion, Vocals; Steve Berlin- Saxophone, Percussion, Flute, Midsax, Harmonica, Melodica; Cesar Rosas- Vocals, Guitar, Mandolin; Conrad Lozano- Bass, Guitarron, Vocals; David Hidalgo- Vocals, Guitar, Accordion, Percussion, Bass, Keyboards, Melodica, Drums, Violin, Banjo; and Enrique "Bugs" Gonzalez - Drums/Percussion.
---