By Spotlight Central
originally published: 12/06/2019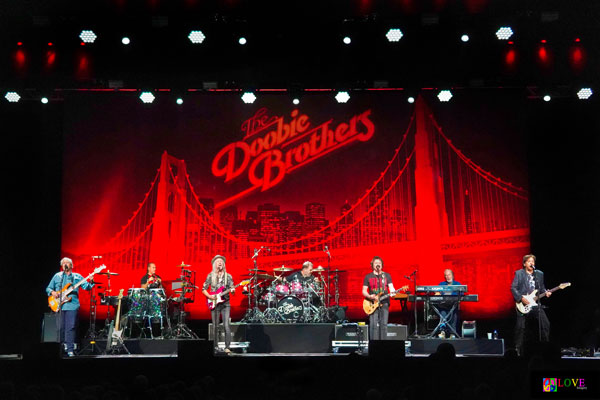 Audience members at Atlantic City, NJ's Hard Rock Hotel and Casino are ready to "Listen to the Music" of the Doobie Brothers at this evening's November 22, 2019 concert in the venue's ultra-sleek and modern Etess Arena.
As we wait for the show to begin, we chat with fans including Michael from Bluebell, PA who declares, "I'm really excited to see the Doobie Brothers tonight! Every song they do is a hit."
Betsy from Jersey City agrees adding, "I'll be singing every song — I've been practicing for a month," recalling, "When I was a kid, I knew all the words to their songs because my parents had an 8-track player in the car and a Doobie Brothers' tape was stuck in it."
Lastly, we chat with Evan from Melbourne, Australia who reveals, "I came all the way from Australia for this concert — it was 26 hours on a plane to get here." Explaining, "The first thing on my agenda in the USA was seeing the Doobie Brothers in Atlantic City," Evan relates, "Years ago, my parents saw the group and I've always wanted to see them. Their music is amazing — call me a fan!"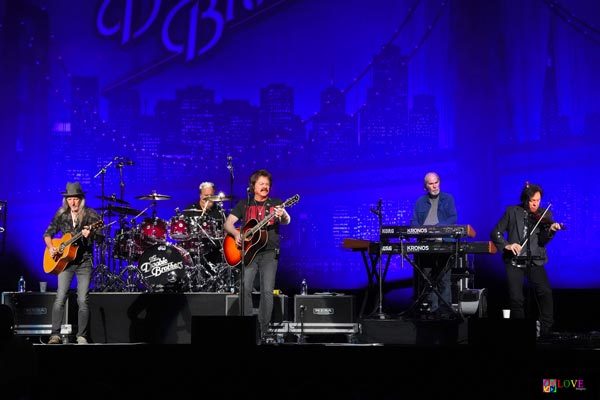 The lights dim and as a recording of an early blues musician plays, the Doobie Brothers — guitarists Tom Johnston, Patrick Simmons, and John McFee, in addition to bassist John Cowan, drummer Ed Toth, keyboardist Bill Payne, saxophonist Marc Russ, and percussionist Marc Quinones — take the stage.
---
The article continues after this ad
---
---
The crowd cheers as the Doobies open with their 1972 hit, "Rockin' Down the Highway."
The audience claps and sings along on the well-known "Ooh, rockin' down the highway" chorus where four-part vocal harmonies envelop the crowd and colored lights rain down as Tom Johnston wails on his electric guitar.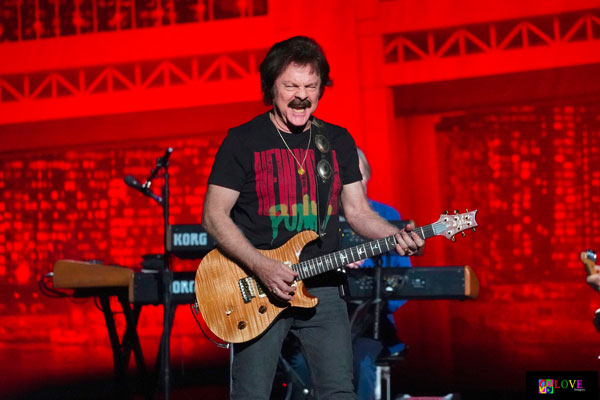 Following avid applause, the band launches into their 1975 hit, "Take Me in Your Arms (Rock Me a Little While)." Opening up with bassist John Cowan on lead vocal, founding member Patrick Simmons takes over the lead and lights flash on the elated crowd as Bill Payne on keyboards, Marc Russ on tenor sax, and Patrick Simmons on guitar trade off solos on this Motown-inspired crowd-pleaser.
Audience members stand and cheer as Tom Johnston says, "That's what we want to do — have a good time!" After the group switches over to acoustic instruments, Johnston announces, "Our next song is 'Spirit' — it's acoustic — let's go!" Here, John McFee switches over from guitar to fiddle, adding to the country feel of the tune.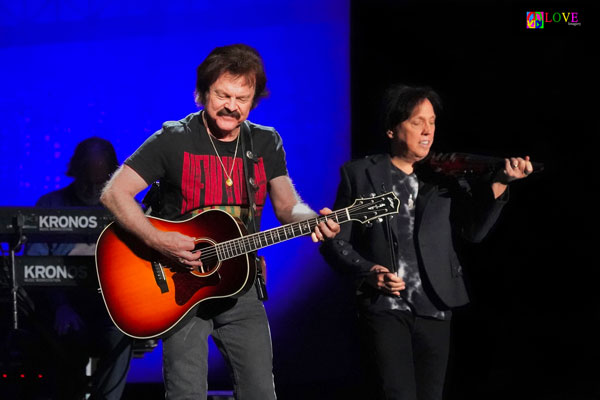 As acoustic guitars twang to Johnston's lead vocal, he's accompanied with tight three-part background vocals which elicit hoots and hollers from the crowd.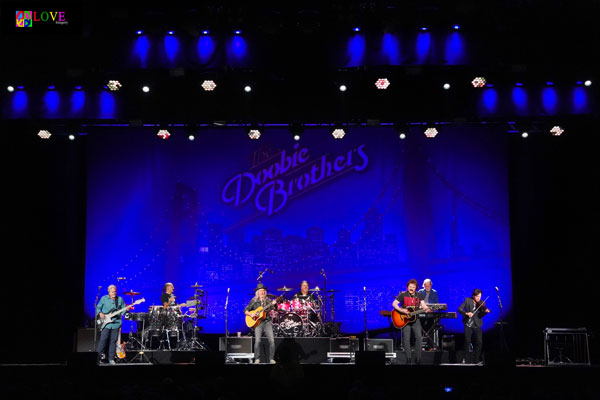 Changing back to electric instruments, Johnston says "We're gonna do something from our The Captain and Me album right now."
Here, the group launches into "Dark Eyed Cajun Woman," a funky minor blues where John McFee cleverly responds with tasty guitar licks to each of Tom Johnston's vocal lines.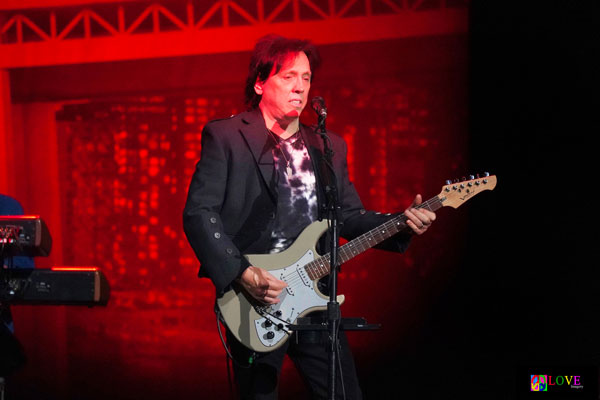 As lights spin, Marc Russ plays a jazzy and soulful tenor sax solo before Johnston impresses with a wailing guitar solo playing directly for the fans in the house who react with excited cheers and applause.
Patrick Simmons shines in the spotlight on "Busted Down Around O'Connolly Corners" playing an acoustic guitar on a stand before switching over to an electric guitar strapped around his neck.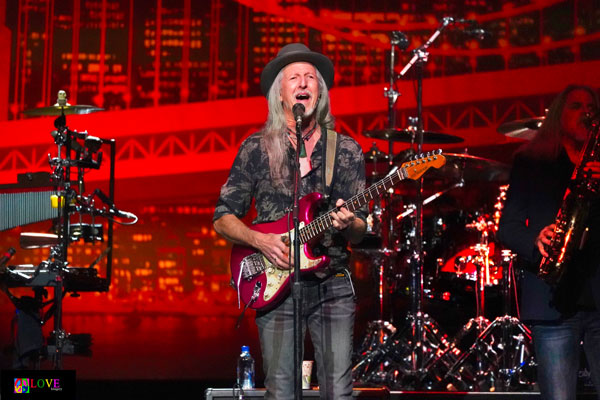 The band accompanies Simmons with a swirling Bill Payne organ solo, a funky reggae-influenced John Cowan bass line, and a growling Marc Russ sax solo. Guitarist John McFee rips off a fast and furious solo before he, Johnston, and Simmons play downstage together on a featured riff.
After Johnston introduces all the members of the band, ending with "but most of all, we've got you — New Jersey, Pennsylvania, and New York," Patrick Simmons adds, "Thanks for coming back. We've played at this cool concert hall before."
Lights gleam off the guitars on the stage as the band segues into the shuffle beat of "Ukiah." With harmonies sounding like a choir, the Brothers sing, "Gonna keep my cabin at hand/Retreat and live off the land/All around Ukiah," prior to John McFee impressing with a swirling guitar solo.
Four-part harmonies and open guitar tunings abound on the group's next piece, "Clear as the Driven Snow." Opening like a folk song with jazz vocal harmonies, the tune morphs into a full-blown rocker in 6/8 meter. Patrick Simmons and John McFee pick together in tandem on electrified classical guitars before the mood changes to feature an explosive electric guitar solo by Johnston which is accompanied by precision percussion work by Ed Toth on drums and Marc Quinones on congas.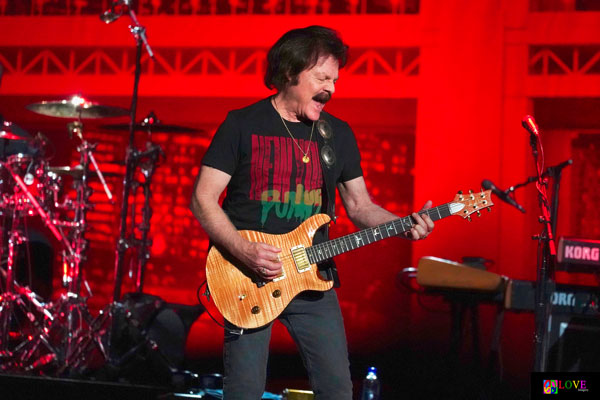 The audience responds with an enthusiastic standing ovation, at which point the group performs the straight-ahead rocker, "Without You." On this number, the band clearly has fun as they sing in four-part harmony, "I get a feelin', lost without you baby/Livin' alone is drivin' me crazy." Simmons plays a classic '80s hair band electric guitar solo and Johnston and McFee perform with their guitars above their heads. McFee follows up with an electrifying turn on guitar before he's joined by Johnston, Simmons, and John Cowan on bass as all four musicians come to the edge of the stage and dance up and down with their instruments while they rock.
After holding his guitar up in the air, Simmons wiggles his guitar's whammy bar before flashing a peace sign, smiling, and exclaiming, "Now we're rockin'!"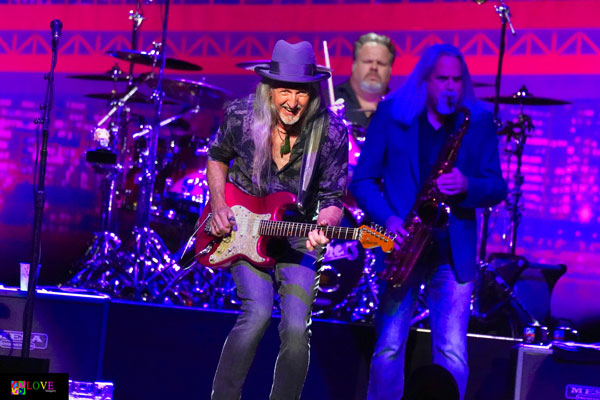 John McFee switches over to steel pedal guitar and Patrick Simmons plays acoustic while singing lead on "South City Midnight Lady." McFee's steel pedal echoes after the sweet harmonies of the vocalists as they sing, "South city midnight lady/I'm much obliged indeed/You sure have saved this man whose soul was in need." Marc Russ plays an alto sax solo, Tom Johnston plays an electric guitar solo, and John McFee plays a nifty pedal steel solo on this appealing country rocker.
As the crowd whistles and claps, Johnston asks, "You all having a good time?" prior to announcing, "We're gonna do some R&B for you — 'Eyes of Silver' — rock it!"
Johnston's lead vocal is funky and soulful on this number as he croons, "Eyes of silver hungry and aware/Eyes of silver, your mystic love I share." Marc Russ plays a bebop-inspired alto solo to rhythmic percussion before Bill Payne adds the funky percussive sound of a clavinet to the mix. Under purple and white lights, Russ plays notes on his sax which are beyond the traditional range of the instrument before he and Payne create their own horn section with just a saxophone and an organ.
The audience reacts with hoots and hollers and Simmons jokes, "Here's a song that doesn't belong in the set but I need to practice it."
Here, he and the Brothers launch into "Evil Woman." Opening with a classic rock guitar riff, Simmons handles the lead singing "Well, the light's turning gray, nearly every day/Come a walkin' into town and try to find the way." Four-part vocal harmonies rock the "Evil woman" refrain before Johnston announces, "Rock and roll, Bill Payne, on keyboards." The band exits the stage leaving Payne to play a keyboard solo accompanied only by drums and percussion. With his cascading keyboard part flowing, the trio echoes the sound of Bruce Hornsby and the Range's "The Way It Is," before the rest of the band returns and launches into the Doobies' 1976 Top 20 hit, "Takin' it to the Streets."
Opening with the famous, "You don't know me but I'm your brother lyric," Simmons beautifully handles the lead before bassist John Cowan takes over and dynamic four-part vocals ring out on the catchy "Takin' it to the streets" refrain.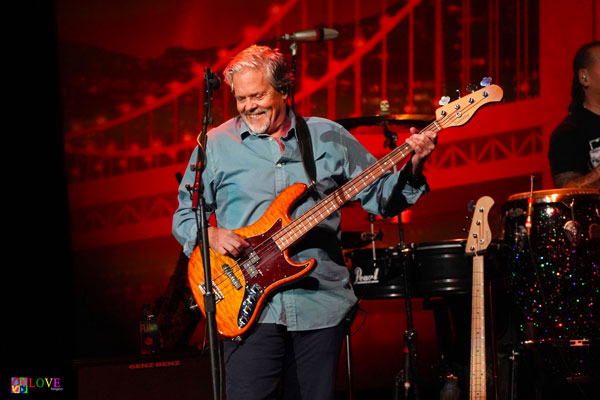 Marc Russ plays an inspired tenor sax solo while Simmons gets the crowd to clap with their hands above their heads as the entire band builds the sound to a frenzy.
The audience goes wild and the Doobies respond with the roadhouse rocker, "Sweet Maxine" where Johnston sings lead and McFee plays an elegant slide guitar solo as lights dance.
From here, the group segues into their 1972 hit, "Jesus is Just Alright." The song's unmistakable guitar intro leads into dynamic four-part vocal harmonies which have the audience singing along on the famous "Jesus is just alright with me" refrain. Patrick Simmons' lead vocal is bluesy and his guitar skills are on sharp display on this classic tune which inspires an enthusiastic standing ovation from the crowd.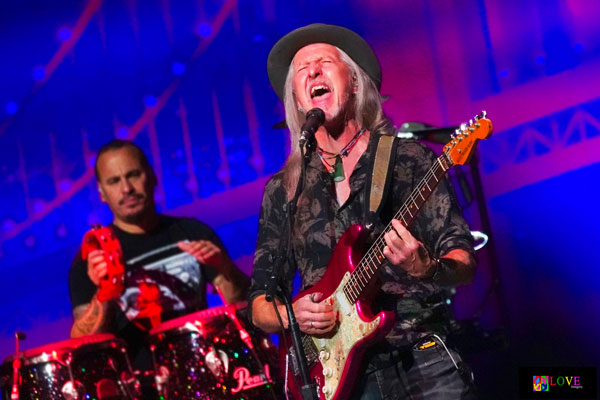 Johnston replies exclaiming, "Now's the time to get the feel. Let's tear the roof off this sucker!"
The entire audience rises to its feet and the Doobies respond with their 1973 Top 10 hit, "Long Train Runnin'." John McFee impresses with a soulful harmonica solo and both the band and the crowd have a rockin' good time as they sing together the famous "Without love/Where would you be now" chorus. Marc Russ' saxophone wails its approval and Tom Johnston urges the crowd to clap double time to Ed Toth's drums and Marc Quinones' percussion sounds which fill the air and turn the Etess Arena into an Atlantic City dance party.
For their final number, The Brothers perform their 1973 Top 20 hit, "China Grove."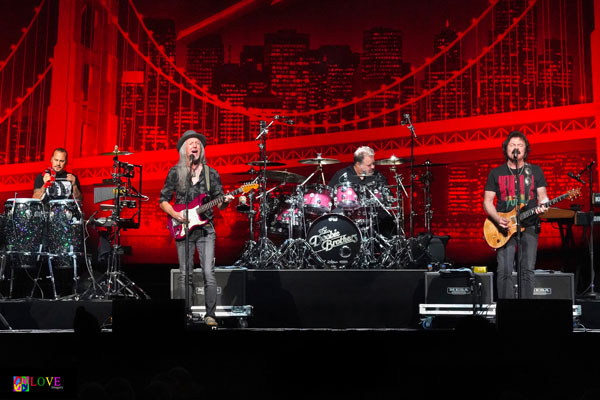 Singing along to the "Well, you're talkin' bout China Grove/Oh, China Grove" chorus on this driving rocker, the audience continues to clap along while the Johnston/Simmons/McFee guitar trio rocks the edge of the stage, the crowd erupting into applause and cheers as the band takes their exit and Johnston exclaims, "God bless you, we love you! Rock and roll, New Jersey!"
The crowd roars with cheers, whistles, and even foot stomps from the bleachers demanding more from this talented group of musicians.
Upon their return, Johnston says, "It's great to be back in Atlantic City! We need to play some more music! You want to rock the place?"
The crowd responds in the affirmative and the Doobie Brothers' launch into their 1975 #1 hit single, "Black Water." Switching back over to acoustic instruments, Patrick Simmons handles the introduction on acoustic guitar before John McFee deftly enters on fiddle.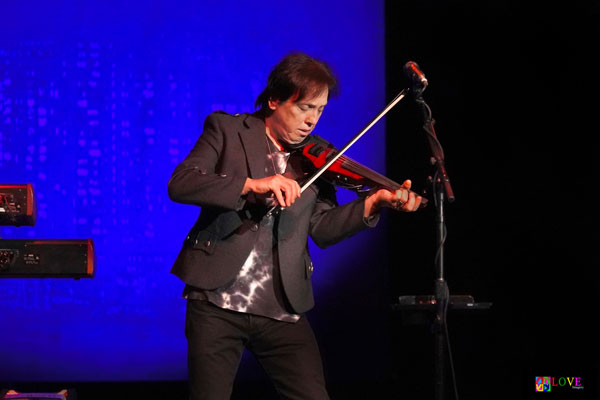 The audience sings along on the "Old black water, keep on rollin'/Mississippi moon, won't you keep on shinin' on me" chorus before Simmons changes the lyrics to "New Jersey moon, won't you keep on shinin' on me" to avid audience applause.
The crowd continues to happily sing along on the "Take me by the hand, pretty mama/Gonna dance with your daddy all night long" interlude, with the band adding all of the intricate vocal parts to create a living and breathing music masterpiece.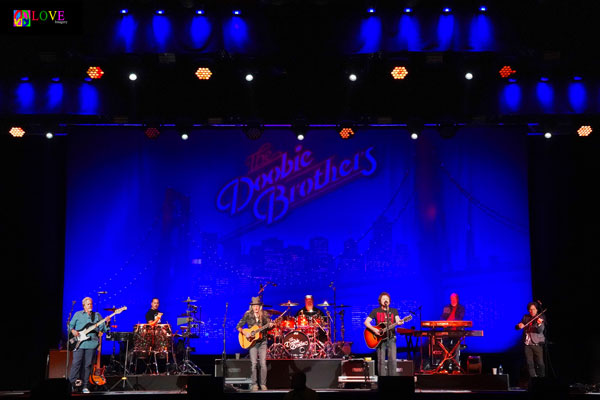 As they switch back to electric instruments, audience members stand and scream when they recognize the opening strains of the band's final encore — their 1972 smash, "Listen to the Music."
The entire crowd sings along on the famous, "Whoa oh, listen to the music" chorus before Johnston says, "The people out there are gonna sing the song!" and the band drops out to feature the audience on lead vocals. Soon, Simmons and the Doobies join back in on the accompaniment while the audience continues to sing.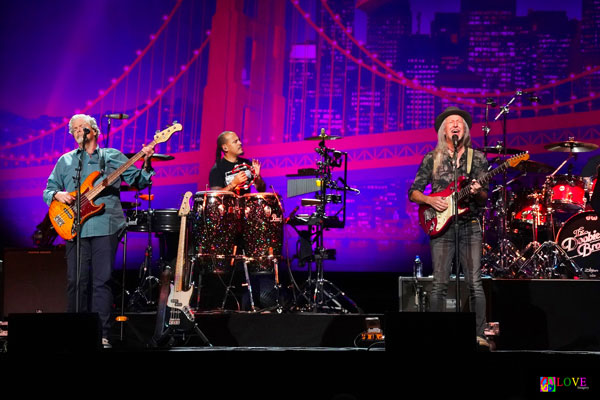 Everyone cheers and applauds at the conclusion and the band waves and throws guitar picks to the crowd before taking a final bow together as Johnston exclaims, "We love you people!"
As audience members filter out of the arena, we take a moment to chat with several in the crowd who share their thoughts with us about the Doobie Brothers' performance tonight.
Whereas Sue from Port Republic exclaims, "They're still great — just fantastic!" Mike from Long Island remarks, "They're dynamite — they've still got it." Explaining, "They did a great job — they brought me back 50 years," Mike adds, "I always enjoy seeing concerts here at the Hard Rock in Atlantic City."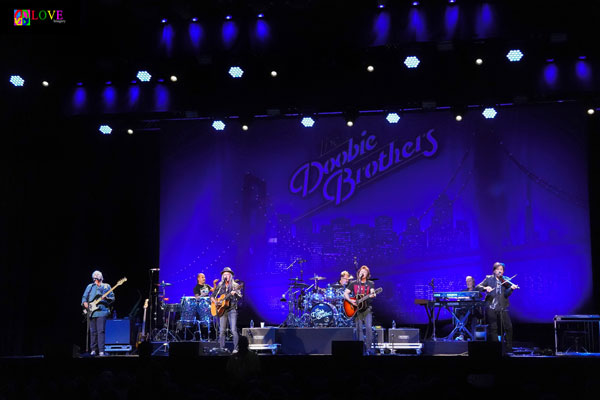 Journey, a professional musician from Woodstock NY, calls the Doobie Brothers "Awesome!" Explaining, "These guys got the spirit!" Journey acknowledges, "I was raised on music, and these musicians are so connected to the audience. They just give and give — and they gave it their all," before declaring, "As a musician, someday I would love to be their opening act!"
Self-described "super fan" Linda from Lawrence, NY — who is carrying a sign that says, "I'm a fan for 46 years" — tells us, "I'm a real Doobie Brothers' fan — a very dedicated one since 1973," before commenting, "This band only gets better with age. They're better every time I see them."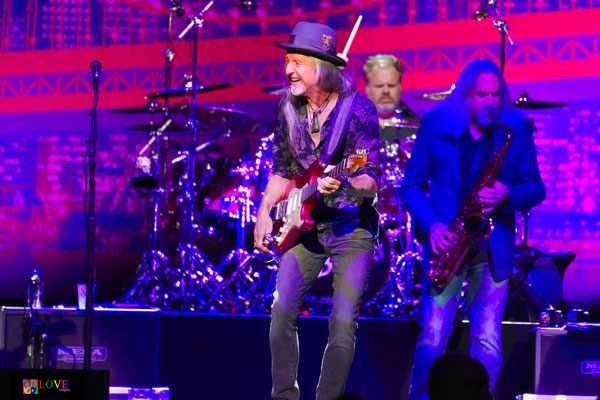 Lastly, we chat with Don from Gettysburg, PA, who says, "I've been following the Doobie Brothers since 1974. I've seen them at least a hundred times," before confessing, "When I got my driver's license, the first concert I ever took myself to see was The Doobie Brothers. My ticket cost $6.50."
Continuing, "Tonight they were as rockin' as ever," Don acknowledges, "I can't wait until they're inducted into The Rock and Roll Hall of Fame, but until then, I'm looking forward to the new year and the group's 50th anniversary tour," before exclaiming, "They're my favorite of all favorites!"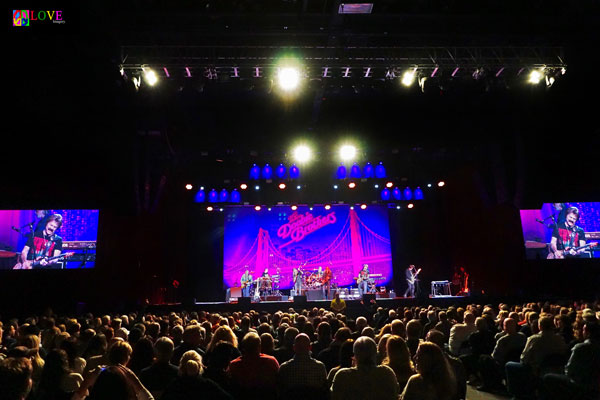 To learn more about The Doobie Brothers, please go to thedoobiebrothers.com. For information on upcoming concerts at Atlantic City, NJ's Hard Rock Hotel and Casino — including Earth, Wind and Fire on December 28 and Kool & The Gang with KC & The Sunshine Band on December 31 — please go to hardrockhotels.com.
Photos by Love Imagery
Spotlight Central. Your source for Jersey entertainment news and reviews
Love Imagery Fine Art Photography. all you need. peace/love/flower/power