originally published: 12/05/2019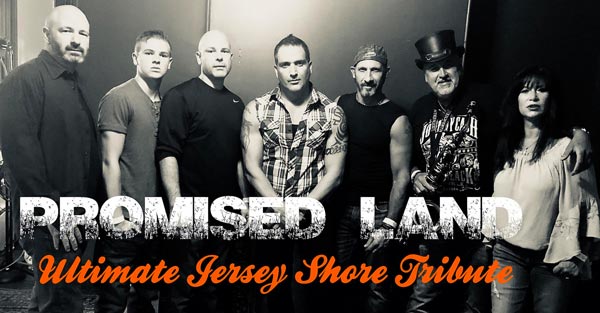 (ASBURY PARK, NJ) -- Spring-Nuts will hold a toy drive at The Stone Pony on Friday, December 13th on a night that highlights Jersey music with Promised Land (classic Asbury favorites from Southside Johnny, John Cafferty, Bruce Springsteen, Gary U.S. Bonds, etc.) and sets by Bob Polding Band and Mike Rocket.  Attendees are encouraged to bring new unwrapped toys to drop off at the Stone Pony door.  Toys collected will go towards the Asbury Park toy drive.
The core members of Promised Land - Kenny, Mike and Rob have been playing music together since they were just 15 years old.  The first time they played at the Jersey Shore was in the summer of 1990 at the Stone Pony where they opened for E STREET band member - Nils Lofgren.  Ever since that show the Jersey Shore was permanently injected into their blood and they have been a fixture on the Jersey Shore music scene ever since. They've gone on to headline rooms like The Tradewinds, The Wonder Bar, The Stone Pony, Headliners, The Green Room, Club Bene, The Saint, The Rocking Horse, Fast Lane, and Birch Hill.
The band originally toured the country as ArthurKill, but decided to create a Jersey Shore tribute band to showcase their favorite artists from Bruce Springsteen to Southside Johnny, Bon Jovi, Little Steven, and more. Promised Land consists of Toni Nostro on piano, Tommy Dowd on bass, Alex Mahoney on saxophone,  Brian Miesegaes on trumpet, Mike Petillo on guitar, Rob Petillo on drums and Kenny English lead vocals and rhythm guitar.
With a soulful sound and meaningful lyrics, the Bob Polding Band has created their own unique blend of Acoustic/Electric/County Rock, which can be dubbed as "Americana." Never straying far from their roots, the band credits each member for bringing a part of themselves into every song. Being from New Jersey, the band's sound is influenced by many of the great acts that hail from the Garden State. The band has been enjoying local success and has opened for some of Rock's legendary performers such as Leslie West, Nils Lofgren, Southside Johnny. Pat Green, Peter Frampton and more. Bob has also performed with Toby Keith and will continue to in the not so distant future.
The band always plays with the same level of intensity whether performing at intimate local clubs like The Stone Pony, The Saint, The Wonder Bar and The Starland Ballroom, or larger venues such as The Sands Casino, The Paramount Theater. The Hard Rock Hotel and Casino (Las Vegas) and GIANTS Stadium twice with Bob singing the National Anthem as well as the whole band performing during halftime.
---
The article continues after this ad
---
---
Mike Rocket performs solo and with a band in NY, NJ, and around the country. Passionate, energetic, and infectious, his music appeals to a diverse audience. To date, he's performed in lineups with some of music's top acts at clubs as well as at major festivals like SXSW, Firefly Music Festival, Light of Day, and CMJ. At clubs, he's opened for Whiskey Myers (The Shop in Brooklyn, NY), Bret Michaels (Spicy Cantina in Seaside Heights, NJ during WCBSFM Summer Kickoff), Jim Peterik (BB Kings NYC), as well as Southside Johnny and John Cafferty (The Stone Pony in Asbury Park, NJ).
Credited by some people in the industry as "the hardest working man in music", Mike Rocket is unique in his relentless, fearless, self-promoting, and outside the box strategies. In order to promote his music to the masses, he shows up with his guitar and banner so he can perform outside festivals, by concerts, and at network television shows like The TODAY Show. He has been on the shout outs several times in the past couple years on The TODAY Show, where he has appeared over 40 times altogether.
The Spring-Nuts Facebook group was founded in August 2015 by Howie Chaz and his now wife Julie Chaz. Started out as a small group of a couple of a couple of hundred members. Five years later they are up to over 6000 strong, and have been acknowledged by Springsteen and the E-Street Band members. The group's foundation is all about friendships, making connections, and doing good things through Springsteen and the E-Street Bands music. Along with partner Amy Kalman, it all culminates each year in their yearly extravaganza in Asbury Park called the Spring-Nut Seaside Serenade where literally hundreds of people around the world make the pilgrimage to Asbury Park for a weekend of Springsteen and E-Street Band events. Proceeds from the event go to various charities such as The Pink Fund, WhyHunger, The Kristen Ann Carr Fund, and The American Association Of Cancer Research.  This coming May 1st will be their 4th consecutive event. 
"We are so proud and honored to be a part of this Toy Drive and to team up with the Legendary Stone Pony while rocking with the Ultimate Jersey Shore sound of The Promised Land, The Bob Holding Band and Mike Rocket," said Howie Chaz. "Along with all the friendships and connections we've made over the years, and of course our Serenades, doing the charity work and supporting these causes is what we're most proud of and makes it all mean something bigger. Like Bruce stated during the 2016 River Tour: Time slipping away. And once you enter that adult world, the clock starts ticking and you've got a limited amount of time to do your work, to raise your family, to try and do something good." That is Spring-Nuts. And we all cannot wait for the December 13th event!"
The Stone Pony is located at 913 Ocean Avenue in Asbury Park, New Jersey.