By Spotlight Central
originally published: 12/01/2019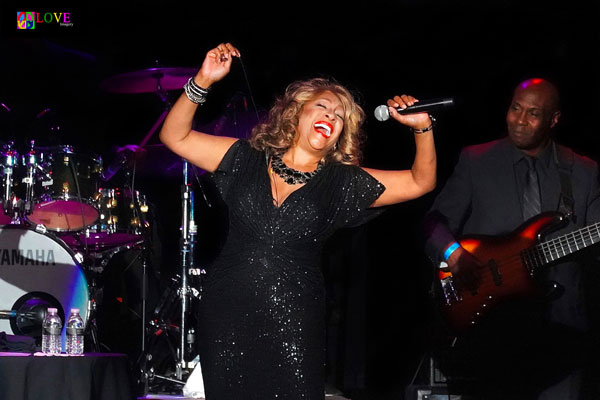 Motown music fans are ready and waiting for An Evening of Motown at Atlantic City, NJ's Hard Rock Hotel and Casino this Saturday, November 16, 2019. Starring in this special concert in the venue's Sound Waves theater are Junior Walker's All-Star Band, Martha Reeves and the Vandellas, and Mary Wilson of The Supremes.
Before the show begins, we chat with several concertgoers including Sherri, a Motown fan from Delaware, who reveals, "I love oldies music," explaining, "Back in the day, music had meaning."
Adding, "I've been celebrating my birthday all month and I'm still celebrating with this concert," Sherry jokes, "The show hasn't even started and I'm already dancing in my seat!"
Likewise, Claudette from Philly remarks, "I love oldies music, too," declaring, "I'm here to dance the night away!"
Jean from Englewood Cliffs recalls, "I grew up with this music. When I was in high school, these are the songs we danced to," before acknowledging, "I've always liked that with Motown songs you could always understand all the words."
---
The article continues after this ad
---
---
We also chat with Paul, Karen, and Mark — a family from Bayonne.
States Paul, "We all are big Motown fans so whenever we can, we go see Motown acts. We've traveled all over — Las Vegas, Detroit, and more — and it's a nice hobby," before revealing, "My son, Mark, is the one who really got me into the music and going to the concerts."
Paul's wife, Karen, agrees adding, "I was a fan of Motown throughout my high school days. I would play it in the house when my kids were young and my son, Mark, really liked it."
Says Mark, "I've been a huge Motown fan since I was two years old, mainly because I love the energy of the music — plus I enjoy singing along."
Continuing, "I have such respect for Motown founder Berry Gordy and all he accomplished pursuing the American dream and the entrepreneurship of his company," Mark explains, "My family and I follow Mary Wilson and Martha Reeves — along with Diana Ross and her daughter, too," before concluding, "For us, it's a family affair — it's a fun way for all of us to spend time together."
The lights dim and tonight's opening act, Junior Walker's All Star Band, takes the stage.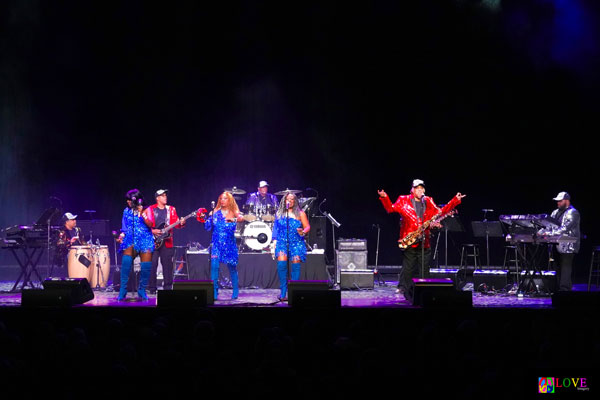 Opening with "Shake and Fingerpop," the group warms up the crowd with their upbeat sound. Segueing into Marvin Gaye's "How Sweet It Is," the band's backup singers — The Ladeez — shake and shimmy and the group's saxophonist handles the lead.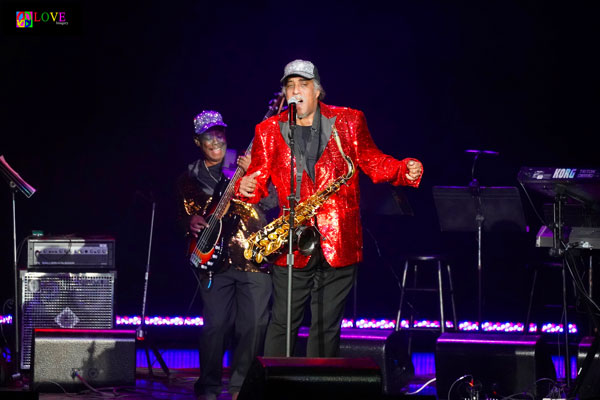 Next up for the All Stars is a cover version of The Guess Who's "These Eyes," where the band's slow funk version builds in intensity. Audience members' heads bop and people move to the groove in their seats to the funky 1966 Jr. Walker tune, "(I'm a) Road Runner."
A low and funky bass opens Jr. Walker's 1971 recording, "Way Back Home," as a guitar picks the melody and the sax ad libs. Then, The Ladeez sing the "Way back home" lyric in three-part harmony with a country flavor on this R&B number.
The band's drummer dances out front to welcome the crowd saying, "How are you, Atlantic City? We are Jr. Walker's All Star Band from Detroit. We've got a lot of golden oldies Motown sounds coming at you!"

Here, the band launches into a sampler of Motown songs including a medley of Jackson 5 tunes starting with "I Want You Back," where smoke billows and lights flash as the vocalists trade leads.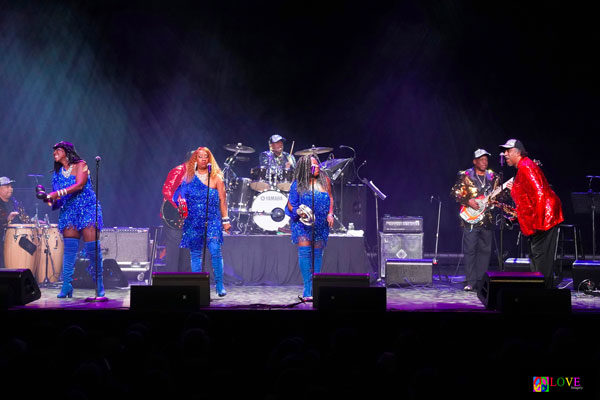 Up next is "The Love You Save" where the crowd sings along on the famous "Stop, the love you save may be your own/Darling, take it slow/Or some day you'll be all alone" chorus.
To conclude the medley, audience members wave their hands in the air on "I'll Be There," happily singing along on the "I'll be there/I'll be there/Just call my name/I'll be there" chorus.
The All Stars follow up with another Motown tune — Smokey Robinson's "What Does It Take to Win Your Love" — with an arrangement that features a vocal duet and a saxophone solo.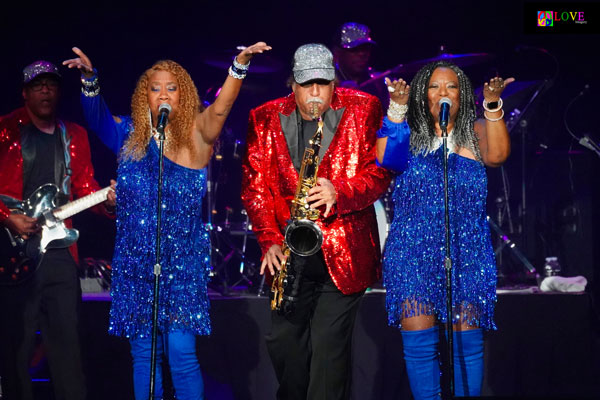 After the group announces, "Stand up as we pay tribute to Tina Turner!" audience members move to the slow groove of "Proud Mary" before the band ramps things up to double time.
In their sparkling blue fringed outfits, the women shake their stuff doing their best Tina Turner impressions while audience members wave their hands in the air signifying their approval.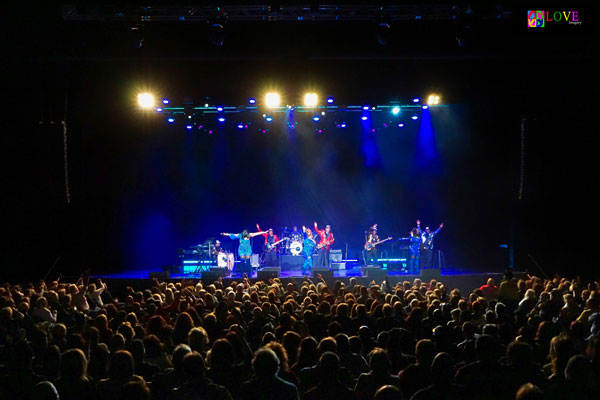 For the group's final number, the band performs Jr. Walker and the All Stars' 1965 hit single, "Shot Gun." With its driving sax solo, the band rocks out on this classic R&B party song. The vocal trio and saxophonist dance their way off stage as the rhythm section continues to jam to hoots and hollers from the crowd.
Following a short intermission, Martha Reeves and the Vandellas take the stage along with a backup band which includes a rhythm section and horn section.
Opening with 1966's "I'll Follow You," Martha sings center stage as sisters Lois Reeves and Delphine Reeves skillfully accompany her, looking classy in their gold outfits which contrast with Martha's silver ruffled pantsuit.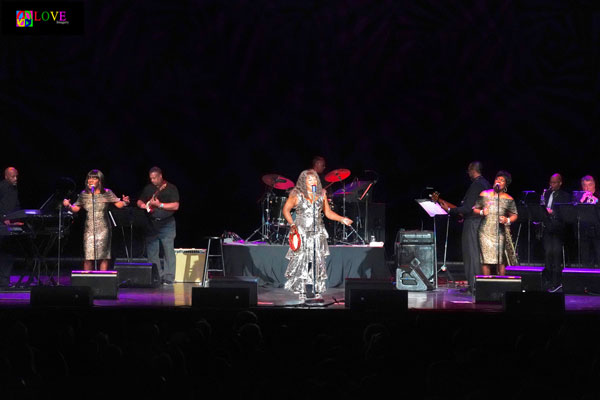 The crowd cheers and Martha, Lois, and Delphine launch into the group's 1965 Top Ten hit, "Nowhere to Run." Audience members clap along and dance at their seats as Martha tunefully belts out the lyric, "Nowhere to run to, baby, nowhere to hide" while jangling her tambourine.
Announcing, "Can you clap your hands with us and help us keep this groove? We hope everybody has a good time and sings along," Martha and the Vandellas have audience members echo clap after them starting with one clap and working their way up to eight lighting-fast claps.
Following large applause, Martha announces, "I'm one of 12 children," introducing sister Delphine as "Sister 10" and sister Lois as "Sister 7," before exclaiming, "I'm #3!"
Here, Martha invites the audience to get up and dance on a song which she describes as "our first recording." Audience members clap along to Martha and her siblings' R&B groove on 1963's "Come and Get These Memories."
At the end of the song, a fan comes to the foot of the stage to give Martha and the Vandellas teddy bears, at which point Martha says to the admirer, "We have friends all over the world, and you never forget to bring us a teddy bear!"
Holding her 1940's style microphone out to the crowd so they can sing along, Martha, Lois, and Delphine launch into The Vandellas' 1967 Top Ten hit, "Jimmy Mack."
The crowd happily joins in on the catchy "Jimmy Mack/Jimmy/Oh, Jimmy Mack/When are you comin' back" chorus and smile on the verse when Martha changes the lyric from "Now he calls me on the phone about three times a day" to "He calls me on the cell phone about three times a day."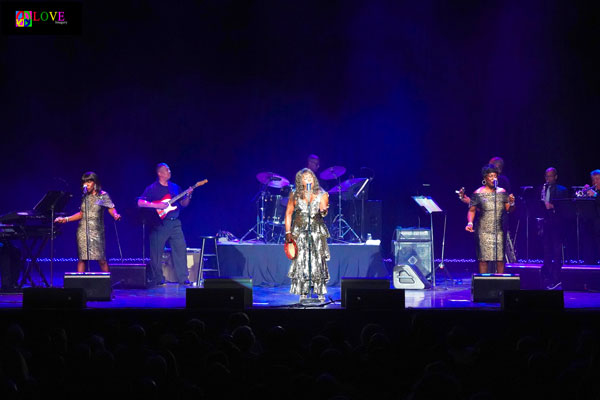 Following a guitar solo which rocks out to swirling lights, the trio segues into their 1964 single, "In My Lonely Room." What follows, however, is one of the highlights of the evening — Martha, Lois, and Delphine's rendition of the Vandellas' 1963 smash, "Heat Wave."
Revealing, "We cut this song at a Motown Christmas party," Martha rattles her tambourine as she sings with conviction, "Whenever I'm with him/Something inside/Starts to burning/And I'm filled with desire."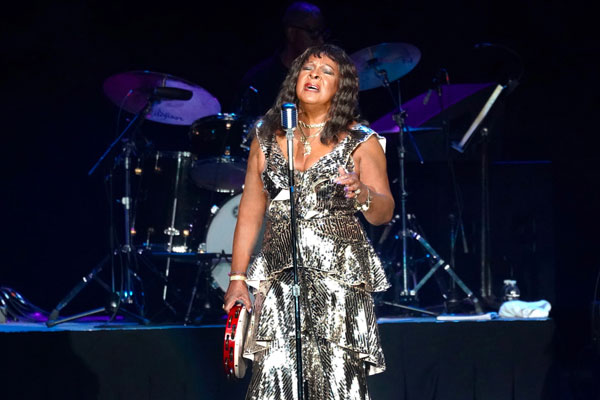 Audience members dance in their seats on this upbeat arrangement which features a guitar solo, a baritone sax solo, and Martha exclaiming, "I'm on fire. I better calm myself down!" before joking, "I might get a hot flash!" Lois and Delphine expertly back up their sibling with their sterling vocal talents.
The crowd cheers and Martha responds by stating, "Take off all your inhibitions! We came all the way to New Jersey to see the joy you have when you hear our national anthem."
Here, she and the Vandellas knock the audience's socks off performing their 1964 hit, "Dancing in the Streets." Martha gets down as the band heats up on this high-energy version where audience members sing along on the "Calling out around the world/Are you ready for a brand new beat" lyric and they smile once they realize Martha has changed the lyric, "In New York City" to "In Atlantic City."
As the crowd cheers, the trio dances off stage but then back on again at which point Martha says, "God bless your hearts!" and she and the trio impress the crowd with their '60s moves on "the twist" and the "hully gully."
To conclude the show, Martha, Lois, and Delphine launch into their rendition of The Staples Singers' "I'll Take You There" before segueing back into "Dancing In the Street" to emphatic cheers and whistles.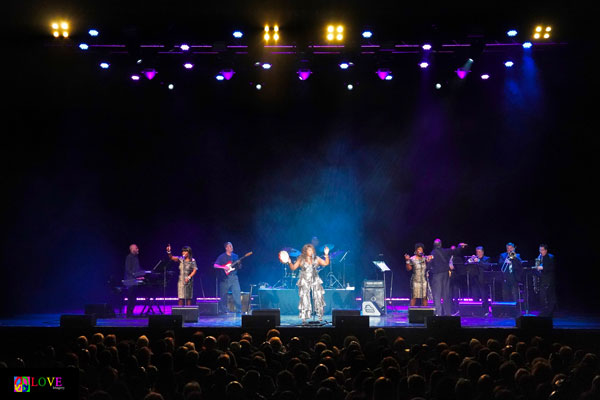 After a short break, Mary Wilson — accompanied by two background singers and a backup band consisting of a rhythm section and a horn section — takes the stage. Looking glamorous in her black sequined gown, Wilson opens her set with The Supremes' 1968 #1 hit, "Love Child," her voice sounding smooth and strong.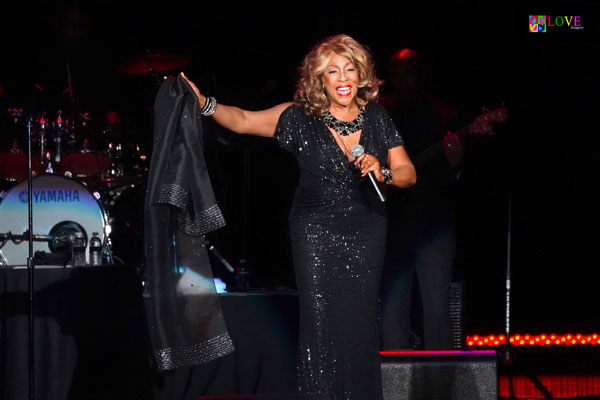 Pointing to the audience as she sings the lyric, "I'll always love you" the crowd responds with waves and smiles showing how much they do love her and her music.
Accompanied by backup singers Parnell Damone Marcano and Lucy Shropshire, Wilson segues into The Supremes' 1966 Top 5 hit, "My World is Empty Without You" and follows up by singing the group's 1967 Top 5 hit, "Reflections." As backup vocals float over the band, Wilson effortlessly sings, "Reflections of the way life used to be/Reflections of the love you took from me" with grace and style.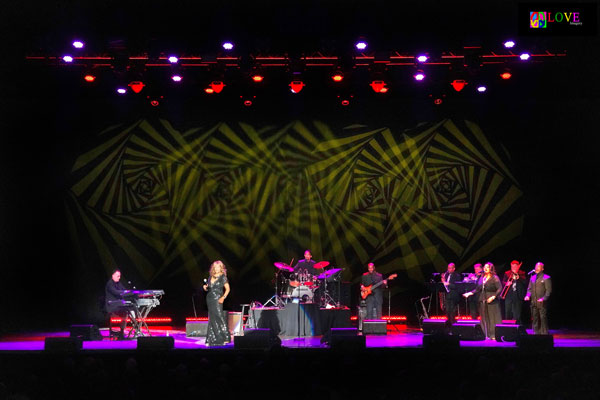 Taking a moment to welcome the audience, Wilson announces, "This has been a spectacular year — it's the 60th Anniversary of Motown — and I have a new book that on it's way to the top of the NY Times Best Seller list," her new coffee table book, Supreme Glamour.
Here, she and her colleagues launch into a Supremes' medley. People stand and dance to the easy groove of 1966's #1 "You Can't Hurry Love" as Wilson sings with spunk and flair on this upbeat R&B number. After shaking it to the music on the instrumental break, she and her tight musicians segue into 1964's #1 "Come See About Me." Finally, hands clap overhead on the 1965 #1 hit, "Back In My Arms Again," as Wilson sings in her velvety voice, "But now, he's back in my arms again/Right by my side."
The crowd cheers and Wilson responds with her rendition of Sting's "Fields of Gold."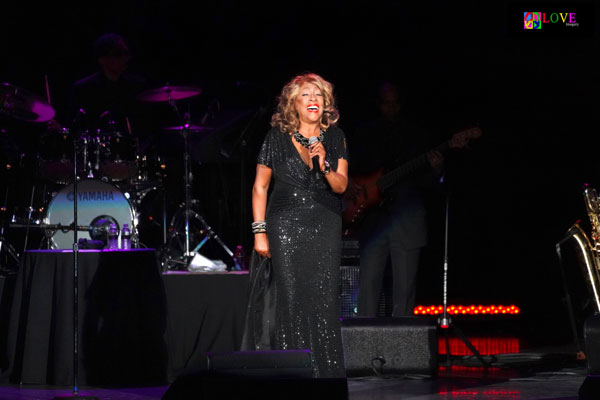 With its slow sultry groove, Wilson impresses with her smooth, natural sound before Parnell Damone Marcano handles the lead and Wilson and Lucy Shropshire sing harmony while they dance. Guitarist Paul Livant adds to the mix by playing a lyrical guitar solo on his Fender Telecaster.
After asking for volunteers from the audience to come up and sing and dance, two women from the audience take the stage to join in on a Supremes' medley. Starting with The Supremes' 1964 #1 hit, "Baby Love," the two fans dance with attitude as they joyfully sing along. When the medley segues into the group's 1965 chart topper, "Stop! In the Name of Love," the women dance with "stopping" hand motions as Wilson energetically sings lead. Impressing the crowd with their spontaneity and enthusiasm, the two fans give Wilson a "We're not worthy" bow as they dance off to large applause.
After Wilson takes a moment to have a stagehand switch out a defective wireless earphone set — at which point her backup singers huddle around her to prevent the audience from seeing — she continues to hang on with The Supremes' 1966 #1 smash, "You Just Keep Me Hanging On." Audience members move to the foot of the stage dancing, having fun, and creating a rhythmic sea of music and movement while Wilson joyously sings with her talented back up singers and band.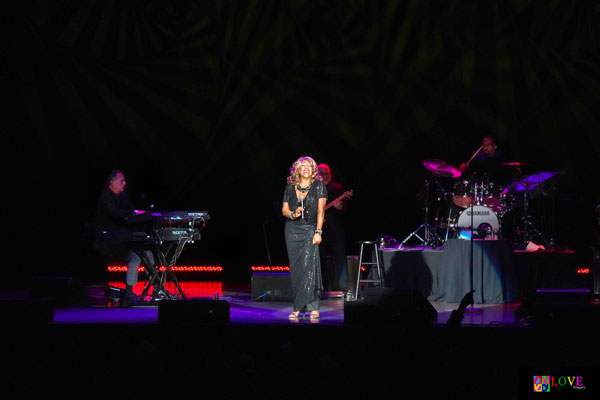 Announcing, "We're gonna do some '70s for you," Wilson shines on Ike and Tina Turner's "River Deep — Mountain High." On this energetic interpretation, she lights up the stage as she sings and dances before Parnell Damone Marcano takes over the lead on the song's second verse and the band rocks out.
The crowd cheers and Wilson responds by stating, "Thank you for all the love you've given The Supremes all these years." Dedicating her next song to former Supremes' colleague Florence Ballard, Wilson performs "I'm Changing" from the musical, Dreamgirls. Singing, "I am changing/Trying every way I can/I am changing/I'll be better than I am," she gives a dynamic and powerful presentation, the audience loving her sincere and heartfelt performance.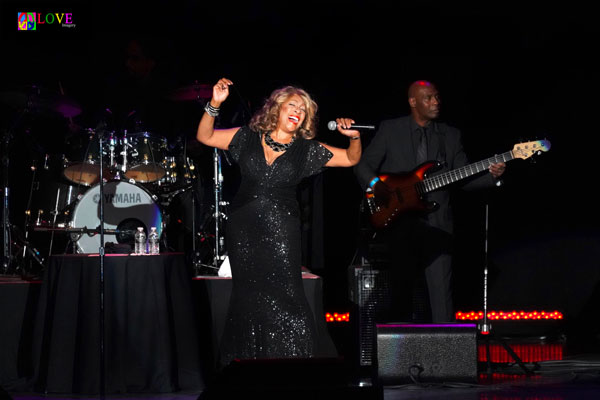 She follows up with an emotional rendition of The Supremes' 1970 #1, "Someday We'll Be Together," telling the audience, "Someday we will be together in our happiness."
After leaving the stage, backup singer Parnell Damone Marcano introduces the band members prior to Wilson returning. Here, she, her band, and her backup singers perform a sensational medley of Rolling Stones' songs consisting of "(I Can't Get No) Satisfaction" and "Brown Sugar" while audience members happily sing and dance along.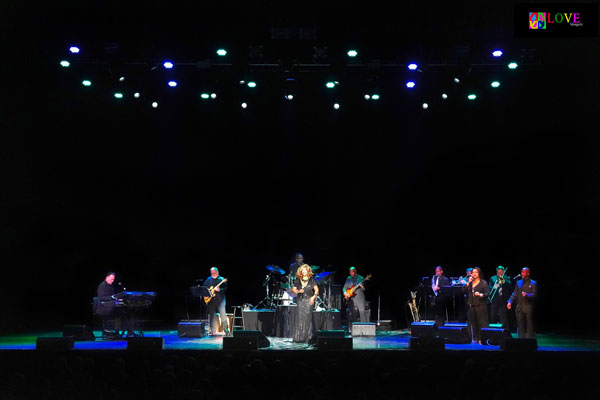 The crowd rises to its feet and Wilson leaves the stage, returning in a dramatic red drape. Here, she performs Donna Summer's "Last Dance." Opening with a slow intro, the arrangement shifts into an up-tempo disco beat. Looking like a diva, Wilson works the crowd and creates a party atmosphere which puts everyone in a good mood thanks to her expert singing and alluring personality.
For her final number of the evening, Wilson performs John Lennon's "Imagine." Singing with feeling, she makes the song her own as she croons, "You may say that I'm a dreamer/But I'm not the only one/I hope someday you'll join us/And the world will be as one," on this universal anthem of hope.
As audience members filter out of the Hard Rock's Sound Waves auditorium, we take a moment to chat with Mary Wilson and Martha Reeves who are happily meeting and greeting their fans in the theater lobby.
When we ask Ms. Wilson, 75, if there's anything she'd like to say about this evening's performance, she happily exclaims, "The audience was wonderful tonight!"
Likewise, Ms. Reeves tells us, "I wanted the audience to sing along with me, and they not only sang, but danced — and we had a house party!"
Continuing, "Our music always makes us happy," Reeves, 78, confesses, "People ask me when I'm going to retire and I always say the same thing — 'I'm going to chirp like a bird and I'll stop when I fall off the limb!'"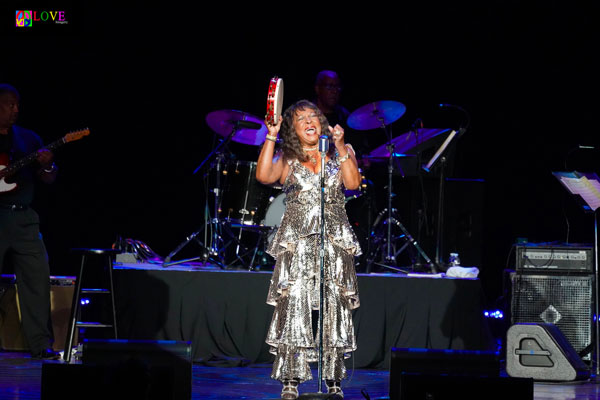 We also chat with several audience members who share their opinions of tonight's An Evening of Motown concert with us.
Comments Elaine from Egg Harbor Twp. "This show was so well done! I go way back with The Supremes," before acknowledging, "It was lovely to see an audience filled with middle agers, and to see them all dancing!"
Remarks Audrey from Mount Laurel, "I enjoyed this show! I wasn't sure what to expect, and it was a nice surprise getting to see Jr. Walker's All Stars."
Sheila from Cheltenham, MD exclaims, "I thought it was a great night! We've never seen any of these artists before but we enjoyed all of them so much."
Sheila's husband, Eric, concurs adding, "I like that they did so many songs."
Explaining, "Mary Wilson sounded great tonight," Eric notes, The sound here was very professional — it sounded just like the record," before adding, "My favorite songs were Mary Wilson's 'Stop! In the Name of Love' and Martha Reeves and the Vandellas' 'Heat Wave.'"
Acknowledges Gwen from Mount Laurel, "I was born listening to Martha Reeves and The Vandellas so I know all their music — and I loved Mary Wilson, too!" Continuing, "This concert was like turning back the clock for me," Gwen concludes, "I had a really great time."
Kathy from Cinnaminson agrees adding, "Mary Wilson is the best Supreme there ever was — and that includes Diana Ross. She's really cool — just amazing," before adding, "She still sings with all the passion she had all those years ago."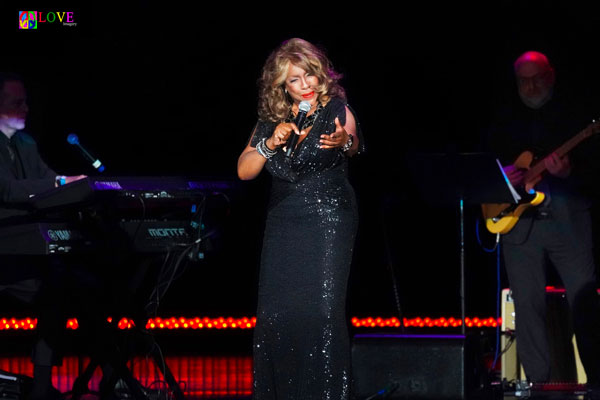 Lastly, we chat with Sandy from Horsham, PA — one of the two fans who danced on stage with Mary Wilson on "Baby Love" and "Stop! In the Name of Love."
When asked about being selected to come up on stage with Ms. Wilson, Sandy explains, "Our being on stage tonight was not preplanned — my friend and I just raised our hands when they asked for volunteers and they picked us."
Continuing, "I'd never seen Mary Wilson perform before, and she was awesome!" Sandy adds, "This entire An Evening of Motown show was great," before declaring, "Motown is the soundtrack of my life!"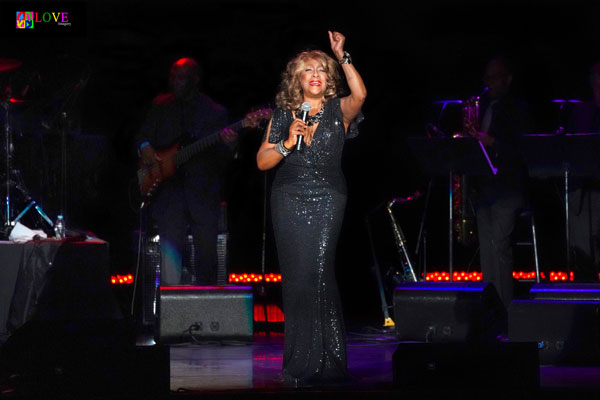 To learn more about Mary Wilson, please go to marywilson.com. For further information on Martha Reeves and the Vandellas, click on missmarthareeves.com. For more on Jr. Walker's All Stars, go to mspentertainmentagency.com. Lastly, for info on upcoming concerts at Atlantic City, NJ's Hard Rock Hotel and Casino — including LeAnn Rimes' You and Me and Christmas tour on December 6 and Mariah Carey's All I Want for Christmas show on December 7 — please click on hardrockhotels.com.
Photos by Love Imagery
Spotlight Central. Your source for Jersey entertainment news and reviews
Love Imagery Fine Art Photography. all you need. peace/love/flower/power